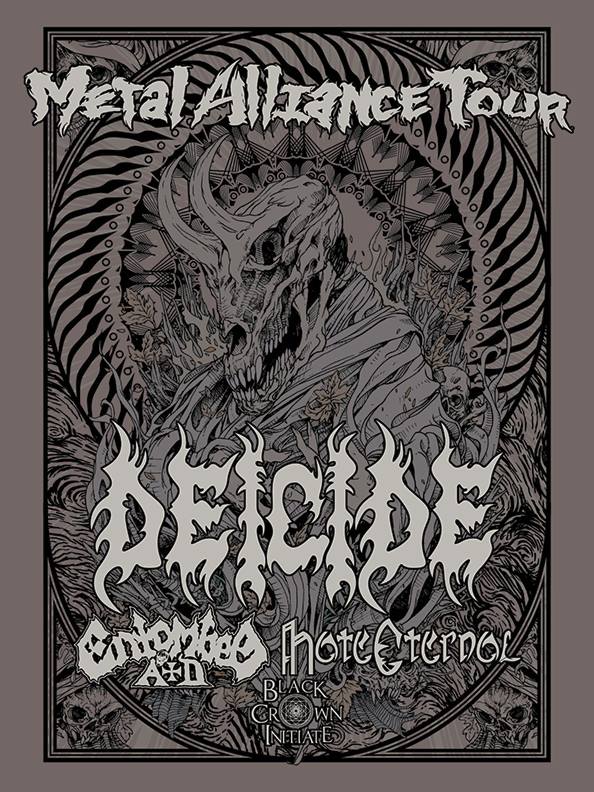 Since 2011, the annual Metal Alliance Tour has consistently produced quality tour poster art and lineups that enlist bands with comparable genres but unique approaches. Not to mention that the 2013 installment of the tour saw Anthrax headline each night with a full performance of Among the Living. This year's installment  was announced yesterday and has a clear death metal theme, with Florida DM legends Deicide topping off the bill. Head past the jump to see which other three bands will join them (in case you are unable to recongize/read band logos):
Alongside Deicide will appear Swedish buzz-sawers Entombed A.D., fellow Florida DM heavyweights Hate Eternal and progressive newbies Black Crown Initiate. While it will be interesting to hear the new Hate Eternal material that Erik Rutan and company have been chiseling in the studio, Entombed A.D.'s latest offering should leave crowds hoping that Left Hand Path and Clandestine compose a majority (if not all) of their set list. As for Deicide, it will interesting to see if they follow Anthrax's example and play a classic in full, with Legion being the preferable choice.
No dates or ticket information for the tour have been announced thus far, but they will be posted here once they are made available.
-SM