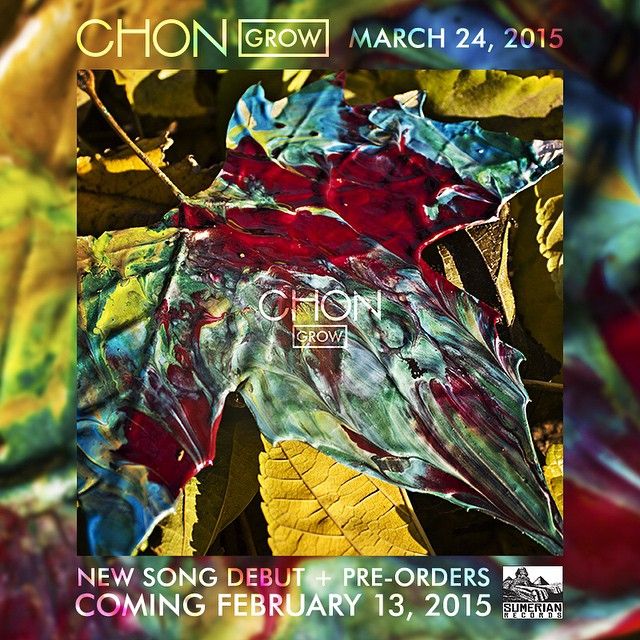 Youthful instrumental quartet CHON have just announced that their debut album Grow will be released on March 24th via Sumerian Records, with a new song and pre-orders landing on February 13th. Check out the track list for the album after the jump.
Track List:
01. Drift – 0:36
02. Story – 3:51
03. Fall – 3:41
04. Book (feat. Matt Garstka) – 2:44
05. Can't Wait – 3:11
06. Suda – 3:05
07. Knot – 3:05
08. Moon – 1:21
09. Splash – 2:30
10. Perfect Pillow – 3:38
11. Echo – 2:54
12. But (feat. Matt Garstka) – 3:53
The album runs a grand total of 34 minutes 29 seconds, which is 6 seconds more than the run time of both their EPs (Newborn Sun and Woohoo!) combined. Also, we see three tracks that are being re-recorded for this release, those tracks being 'Suda', 'Knot' and 'Perfect Pillow'. I'm not entirely sure if 'Echo' is supposed to be a re-recording of 'Ecco', otherwise known as the only CHON song with vocals,  because of the spelling. However, they are both the same length, so it's either a possibility or one hell of a coincidence. The most exciting thing about this track list definitely has to be seeing that not one, but TWO Matt Garstka (Drummer for Animals as Leaders) features are here. It's not every day that you see a drummer as the featured musician on a song, so seeing one as excellent as Garstka only makes it all the more sweet. Incredibly excited for this release and I think you should be too.
-RC