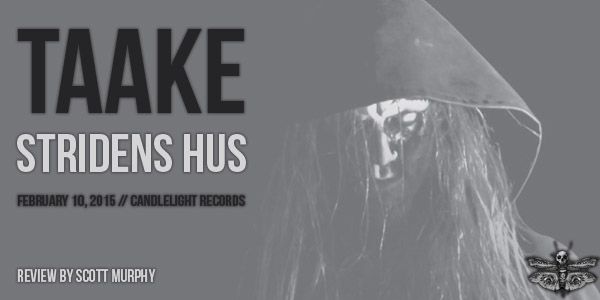 Quite frankly, an abundance of commentary is not necessary for Stridens Hus, the sixth full-length from Norwegian black metal veterans Taake. This one-man project (maintained by Hoest) presents its M.O. very clearly from the opening tremolos of 'Gamle Norig' – derive tactics from a familiar blueprint but produce quality material in the process. Stridens Hus is neither a late-career reinvention nor folly; it is merely a quality band maintaining the efficacy of their craft.
Musically and vocally, this means a comfortable nestling within the Second Wave, with strong nods to Taake's own nineties output as well as fellow Bergen, NO natives likes Burzum, Immortal and Gorgoroth. Each track works capably as individual statements that ultimately compose a solid set of songs rather than a meticulously landscaped album. Ranging from a consistent driving pace reminiscent of Transylvanian Hunger ('Stank,' 'Kongsgaard Bestaar' & 'Vinger') to a more mid to slower paced melancholia (parts of and/or the majority of all seven tracks), Stridens Hus provides a decent amount of variety that accurately portrays the output of the Second Wave for modern listeners. Hoest emerges from within his compositions quite satisfyingly, with vocals that do not push boundaries but certainly suite the music's tone. Accompanying all of this is a style of production that favors clarity while still retaining the basic tenants of the genre's rawness.
Furthermore, a handful of these tracks provide striking guitar lines that highlight their respective tracks and provide welcome moments of intriguing variety. Hearing midsections that implement drawling, perverse Americana vibes ('Orm' & 'Stank') and dueling guitars that weep and bleed all over one another ('Kongsgaard Bestaar') both add depth and flow surprisingly well into the surrounding guitar fuzz. The only track that truly misses its mark is 'En Sang til Sand om Ildebrann,' as it remains stale throughout its run time and explores no particularly invigorating territory.
On the whole, however, Stridens Hus is an enjoyable slab of black metal that achieves its goal of career constancy without noticeable effort. Sure, this will not be remembered as a classic of the genre or even the strongest offering from this year (one would hope). But Taake does more than enough in terms of fulfilling the urge for Second Wave nostalgia and proving that "playing it safe" can occasionally provide satisfying results.
Taake – Stridens Hus gets…

3.5/5
-SM