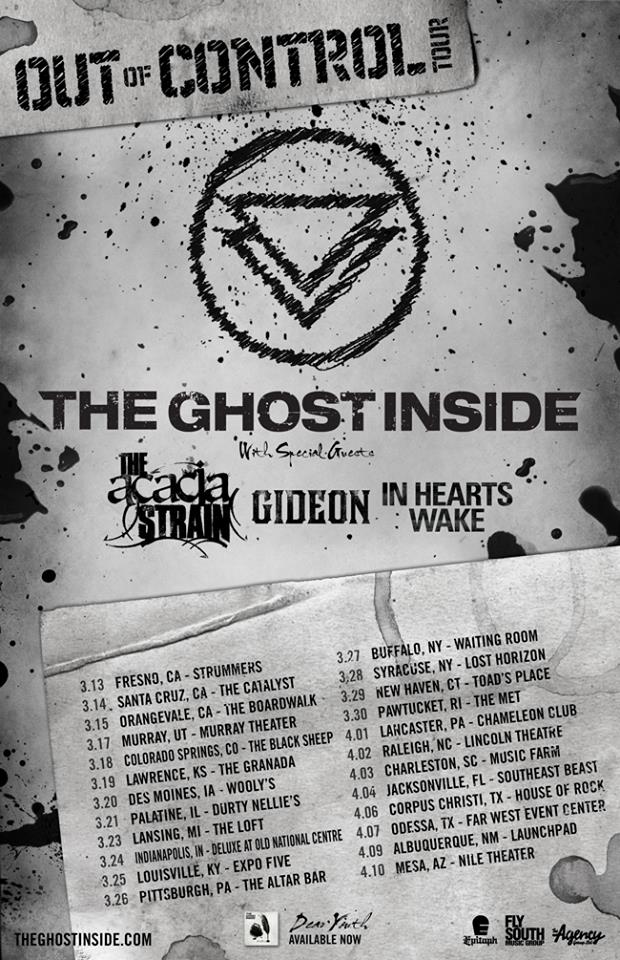 Mosh happy melodic hardcore outfit The Ghost Inside expertly bridge the gap between tough guy hardcore and the kind of hardcore you can play to your nan. Last years Dear Youth was well received around these parts with our editor Eden Kupermintz waxing lyrical about several tracks from the record. The band have now unleashed a one-two punch containing a brand new video for 'Out Of Control' and a similarly titled US Tour. Check the video and tour details after the jump.
What is at first glance a straight up performance/action music video soon takes a page from Mary Shelley's Frankenstein. The band are seen doing their thing in the attic of an all too familiar looking windmill before, you guessed it, the riled up villagers take it upon themselves to dish out some angry mob justice and they burn that sucker down. Nothing revolutionary or unique here but a smart video for one of the more memorable tracks from Dear Youth. Don't stop there though, The Ghost Inside are taking this mother on tour with some support from The Acacia Strain, Gideon and In Hearts Wake. The Out Of Control Tour will hit the US from March to April and will probably be presented the Bounciest Pit award at this years Cruncheez.
Check the tour dates below and get your ass to one of the shows. Capiche?
3/13 – Fresno, CA – Strummers
3/14 – Santa Cruz, CA – The Catalyst
3/15 – Orangevale, CA – The Boardwalk
3/17 – Murray, UT – Murray Theater
3/18 – Colorado Springs, CO – The Black Sheep
3/19 – Lawrence, KS – The Granada
3/20 – Des Moines, IA – Wooly's
3/21 – Palatine, IL – Durty Nellie's
3/23 – Lansing, MI – The Loft
3/24 – Indianapolis, IN – Deluxe at Old National Centre
3/25 – Louisville, KY – Expo Five
3/26 – Pittsburgh, PA – The Altar Bar
3/27 – Buffalo, NY – Waiting Room
3/28 – Syracuse, NY – Lost Horizon
3/29 – New Haven, CT – Toad's Place
3/30 – Pawtucket, RI – The Met
4/01 – Lancaster, PA – Chameleon Club
4/02 – Raleigh, NC – Lincoln Theatre
4/03 – Charleston, SC – Music Farm
4/04 – Jacksonville, FL – Southeast Beast
4/06 – Corpus Christi, TX – House of Rock
4/07 – Odessa, TX – Far West Event Center
4/09 – Albuquerque, NM – Launchpad
4/10 – Mesa, AZ – Nile Theater
-MM