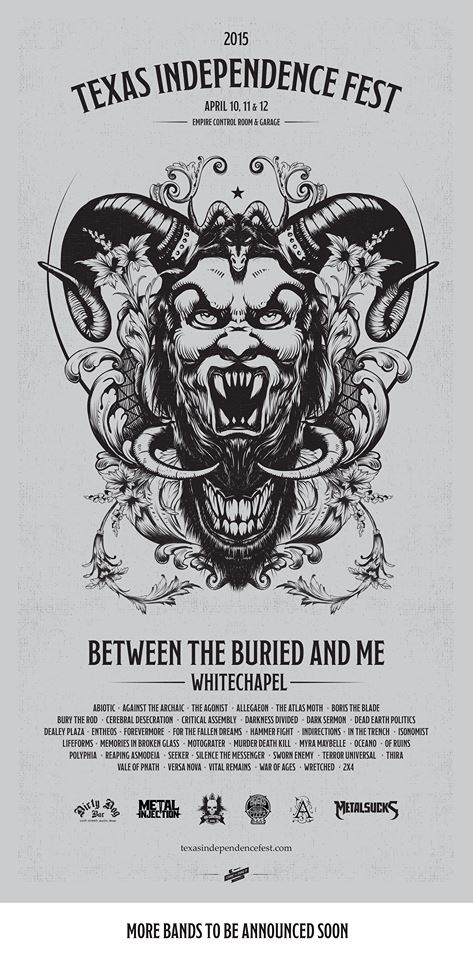 To celebrate the 170th anniversary of Texas not being independent, Texas Independence Fest has released the lineup for their 2015 festival from April 10th to 12th.
The list of bands is long and crazy, featuring some performances that are inevitably going to be fantastic. From deathcore titans like Oceano and Whitechapel to the technically-laden Vale of Pnath and headliners Between The Buried And Me, the grouping looks intense and diverse. More bands are to be announced in the (hopefully near) future.
So far, the bands that have been announced are:
Between The Buried And Me
Whitechapel
Abiotic
Against the Archaic
The Agonist
Allegaeon
The Atlas Moth
Boris the Blade
Bury the Rod
Cerebral Desecration
Critical Assembly
Darkness Divided
Dark Sermon
Dead Earth Politics
Dealey Plaza
Entheos
Forevermore
For the Fallen Dreams
Hammer Fight
InDirections
In the Trench
Isonomist
Lifeforms
Memories In Broken Glass
Motograter
Murder Death Kill
Myra Maybelle
Oceano
Of Ruins
Polyphia
Reaping Asmodeia
Seeker
Silence the Messenger
Sworn Enemy
Terror Universal
Thira
Vale of Pnath
Versa Nova
Vital Remains
War of Ages
Wretched
2X4
Keep up with Texas Independence Festival on Facebook for news as it comes in.
– SH