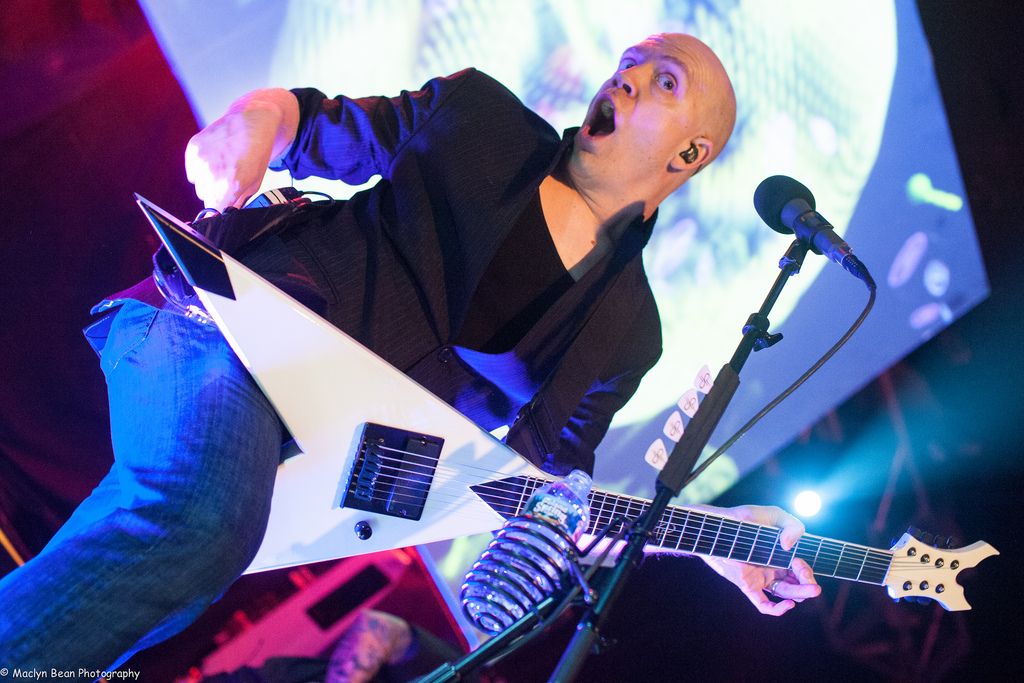 It's no secret that Devin Townsend is influenced by pop music and mainstream rock, at least from a production standpoint. Leading up the release of his 2010 album Addicted, Devin openly admitted to being influenced by Nickelback's record Dark Horse, saying, "I had a real think about this and I thought that I would go out and buy the record. Maybe it's some sort of high-art that I'm not getting. So I got it and it sounds phenomenal! Mutt Lange did it and Randy Staub did it, it sounds incredible, but every song is about [Chad Kroeger's] penis!"
On top of this, it's undeniable that some of Devin Townsend's latest material — specifically, 2012's Epicloud and its spiritual successor in 2014's Sky Blue — is the musician's most accessible work to date, with explosive hooks and major orchestrations that mirror Devin's more positive outlook on life in recent years. Naturally, one would expect Devin to want the music to sound the part, and no matter how you feel about pop music, its more reliable flow and volume of income provides the genre with the best music production around.
However, it wasn't until recently — via an interview with Decibel Magazine — that Hevy Devy admitted to going as far as working directly with the people responsible for the music of chart-topping pop rock acts such as Nickelback and Daughtry, and it turns out, the whole process rubbed Townsend the wrong way and he now refuses to let the track see the light of day.
Devin opens up about his experience in going to LA and recording with a proven songwriting and production team:
I went to L.A. two months ago because some people in my world thought, "This [uncertainty] is dangerous for your future, so you need to go write with somebody. So I went to L.A. and I wrote with a team who produced all the Nickelback stuff recently, Daughtry, all the American Idol people who win, and I wrote a song with them. And I hate it in such a way that is hard for me to quantify.
Hate the song or hated the process?
Both. I really like the guys, I think they're really talented, but I told them yesterday or the day before that I'm not putting it out. There's no fucking way I'm putting it out. I can't spend twenty-five years sticking to my guns to try and sell people this. It's everything I dislike about music, with my voice on it. It's fucking disgusting. It's not their fault, but with my voice on it, it's just not where I'm at.
So I told everybody that I'm not putting it out, and now we have to pay for it, but what are you gonna do? To put that out, all of a sudden you have to pay fifty grand to put it on active rock [radio] and then you have to go and do interview and try and sell something you don't like. I have honesty Tourette's, man, and that's gonna cause me nothing but grief. But I tried it. With that whole scene, you pay to get a Number 1 song. This is how it works: these are the chords you can use in the summer, these are the chords you can use in the winter, here are the topics that sell…
After some searching, it's safe to assume that Devin spend some time at Van Howes Studios, named after production duo David Howes and Jay Van Poederooyen. If that second name looks familiar, you'd be correct: Jay Van Poederooyen's brother is none other than Devin Townsend Project drummer Ryan Van Poederooyen. Together, Howes and Poederooyen boast production and songwriting credits for other acts such as Hinder, Taylor Swift, Skillet, Puddle of Mudd, and more. It's also worth noting that JVP has worked with Devin multiple times in the past, including credits for additional engineering and mixing on the drum sounds for Z2.
I don't think anyone can fault Devin for trying something new, especially if it could potentially fall in line with his vision. Devin deserves all the success in the world, and if you have an in with an award-winning and money-making songwriting team, you would be a fool to not at least entertain the idea.
Props to Devin for staying true to himself though and bowing out when the results weren't up to snuff. It's just further evidence that the pop music that does escape his filter is genuine; Devin had the ticket to "selling out" within his reach, and it speaks volumes that he literally could not bring himself to do it. Regardless of your opinion of the recent additions to the Devin Townsend discography, you have to admire the man's artistic integrity.
Read the rest of the interview over at Decibel Magazine.
– JR