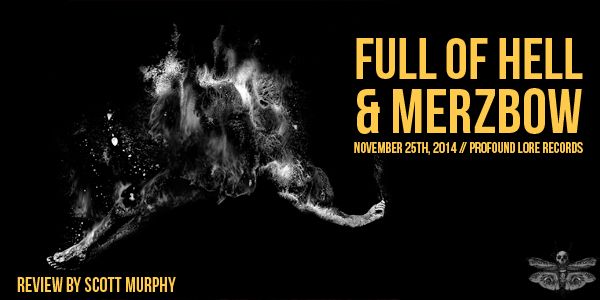 With genre tags like powerviolence, grindcore and noise, last year's collaboration between Full of Hell and Merzbow (creatively titled Full of Hell & Merzbow) turned out to be as ferocious as it sounded on paper. Our staff agreed with this sentiment, with the album landing at #36 on our top albums of 2014 list and at #6 on both the personal top ten lists of contributors Maclyn Bean and Damien Leech.  So considering the sluggish nature of January release schedules and the fact that our only "review" of the album is currently Maclyn's short (but poignant) blurb, we decided to take a moment to properly discuss this raucous record.
While this conglomeration of hardcore offshoots and noise music stirred anticipation, it did not solicit any surprise: Full of Hell have always demonstrated an appreciation for sonic chaos by incorporating sporadic bursts of noise within their songwriting. Both of the bands full-lengths, Roots of Earth Are Consuming My Home and Rudiments of Mutilation, are proper precursors for what Full of Hell & Merzbow's compositions have to offer.
Yet, the term "compositions" is used here merely out of formality, as a majority of the album can best be described as manifestations of sheer aggression. Half of the album's tracks rest around the one minute mark, which is more than enough time for Full of Hell to demonstrate their discontent. Seconds in to album opener "Burst Synapse" and continuing through fourth track "Blue Litmus," Full of Hell make one thing abundantly clear: they take their moniker quite literally. A flurry of percussion, riffs and howls are jammed into each moment, only slowing for an occasional dismal beat down. This remains a consistent theme for the remaining tracks that are dominated by Full of Hell's sound, the only exception being "High Fells," which feels like a synthesis of the Converge tracks "Phoenix in Flight" and "Jane Doe" with some added noise and avant-garde trumpet riffing.
As for Merzbow's part in the album, it is not until fifth track "Raise Thee, Great Wall, Bloodied and Terrible" where he makes his presence known, at which point he proceeds to subject the listener to two and a half minutes of cacophonous feedback that provides a suffocating atmosphere for vocalist Dylan Walker's tortured shrieks. But where Merzbow truly leaves his mark is with "Ludjet Av Gud," a bleak and morbid piece of experimental darkness that becomes more unsettling the longer it festers. Rasps and whispers echo within a sonic fog of wind and static as a consistent drum beat consistently bellows over it all. The track continues to build before exploding into album closer "Fawn Heads and Unjoy," perhaps the most visceral performance by Full of Hell on the entire record.
If there is a flaw within all of this, it is the fact that the ampersand within Full of Hell & Merzbow ends up being more indicative of division than collaboration. Discussing the album's music ultimately boils down to a commentary on each artist's individual portions and not necessarily what they composed together. The result is more or less a typical Full of Hell offering, albeit with a bit more sonic experimentation than usual. While this is almost certainly a result of the manner in which the two were forced to communicate (with Full of Hell being based out of the Eastern United States and Merzbow residing in Japan), it would have been interesting to see what a truer synthesis of their sounds could have sounded like.
Still, this critique seems a tad nitpicky, as the album itself is a solid offering with worthwhile contributions from both artists. Hopefully fans of Full of Hell will appreciate the slightly increased emphasis on experimental noise on Full of Hell & Merzbow and utilize the opportunity to delve deeper into the genre, perhaps with other 2014 noise releases such as the excellent Bestial Burden by Pharmakon and Totem by White Suns. If not, at least they can continue to enjoy one of the best hardcore releases of last year.
Full of Hell & Merzbow's Full of Hell & Merzbow gets…


4/5
-SM