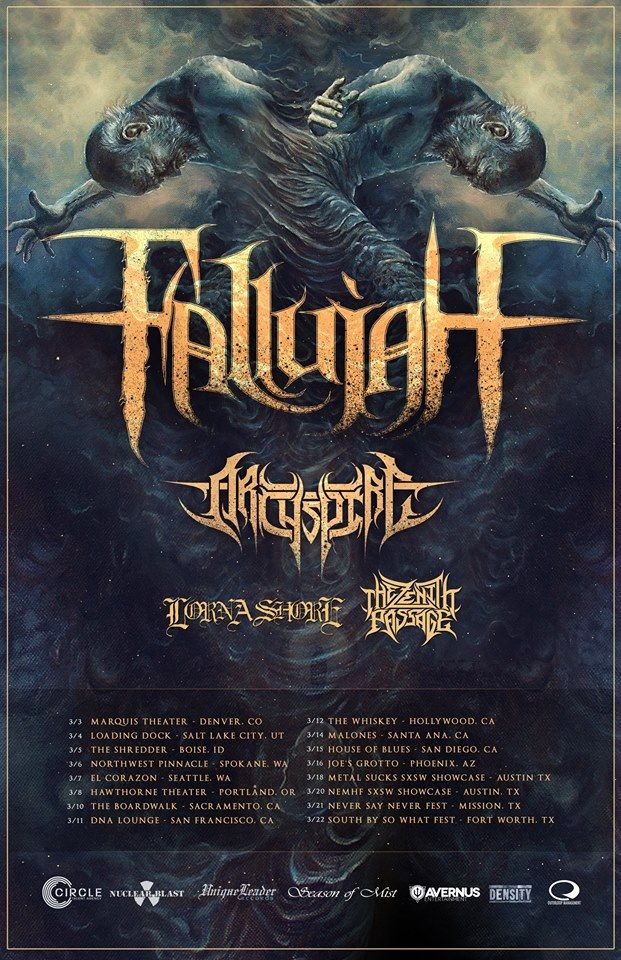 Fallujah continued their evolution into the world of atmospheric death metal last year with their celebrated sophomore full-length The Flesh Prevails. Around these parts, there's some behind-the-scenes disputes on the album's quality and importance among staff, but that didn't keep it from landing at #12 on our Best Of 2014 countdown.
Unfortunately we haven't had much opportunity to see the band in a headlining capacity since its release, so hopefully we'll begin seeing more of that throughout 2015. We're already beginning to see some signs of life out of the Bay Area act and their 2015 touring schedule for the act's recently announced East Coast / Midwest tour in support of The Contortionist, but now the group has expanded their touring plans to include West Coast headlining dates with support from Archspire, Lorna Shore, and The Zenith Passage. Get dates below.
03/03/15 Denver, CO – Marquis Theater
03/04/15 Salt Lake City, UT – Loading Dock
03/05/15 Boise, ID – The Shredder
03/06/15 Spokane, WA – Northwest Pinnacle
03/07/15 Seattle, WA – El Corazon *early show*
03/08/15 Portland, OR – Hawthorne Theater *early show*
03/10/15 Sacramento, CA – Boardwalk
03/11/15 San Francisco, CA – DNA Lounge
03/12/15 Hollywood, CA – The Whisky
03/14/15 Sanata Ana, CA – Malone's
03/15/15 San Diego, CA – House of Blues
03/16/15 Phoenix, AZ – Joe's Grotto
03/18/15 Austin, TX – Metal Sucks SXSW Showcase
03/20/15 Austin, TX – New England Hardcore & Metalfest SXSW Showcase
03/21/15 Mission, TX – Never Say Never
03/22/15 Fort Worth, TX – Quik Trip Park
While the touring package certainly makes sense, perhaps it's a bit too homogenous? I think it's safe to say that none of the bands on this tour will be playing to any new audiences, but at least it's a treat for fans of the genre. Make it out if you're in the region!
– JR