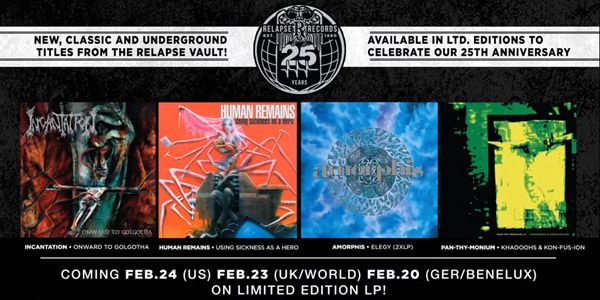 We've been excited for months about Relapse Records' plans for 2015. Late last year, the label announced plans that throughout their 25th year of operation, they will be tapping into their extensive back catalog of records and re-pressing a selection of favorites that have long-since been out of print or are just now seeing vinyl release for the first time ever. The first round of represses have been announced and include influential albums from Human Remains, Pan.Thy.Monium, Amorphis, Incantation.
After the jump, be sure to check out cuts from each album. You may end up making an incredible musical discovery.
Amorphis – Elegy
First released in 1996, Amorphis' third album was the first in their long line of records to feature mostly clean vocals, a vast departure from 1994's Tales from the Thousand Lakes. Vocally led by then-new frontman Pasi Koskinen, the lyrics were inspired by Finnish poetry and ballads compiled in Kanteletar by Elias Lönnrot in 1840. The album mostly focused on it's clean tone, but retained tinges of melodic death metal and clearly had traditional heavy metal influences, as well.
Human Remains – Using Sickness as a Hero
A cult classic in its own right, Using Sickness As A Hero spanned a wide range of metal sub-genres and influenced generations of bands to follow. Human Remains used death metal, grindcore, punk, and hardcore as a springboard, weaving a web of distorted volume swells and manic tempo shifts over hyperblast drumming. The sense of humor and creativity is what set the album apart, evidenced in the trippy riffing style and movie samples between songs, including the famed Dead Alive line "Rich and creamy, just the way I like it!" Unfortunately, this was the band's sole proper album release, as they split up soon after.
Pan.Thy.Monium – Khaooos & Kon-fus-ion
Pan.Thy.Monium were an incredible avant-garde death metal act that were well ahead of the curve. Formed in 1990, the band continued to weird up death metal until their disbandment in 1996, shortly after the release of their swan song Khaooos & Kon-fus-ion. Pan.Thy.Monium were seemingly lost in time with little to no mention of the act after their short-lived underground existence, which really is a feat considering that the act was founded by the prolific Dan Swano and featured several members of his other band Edge of Sanity. It's a shame, because as you can certainly tell by 'The Battle of Geeheeb' (above), Pan.Thy.Monium were bizarre and well ahead of their time.
Incantation – Onward to Golgotha

Being billed as being one of the most blasphemous, harrowing, and uncompromisingly heavy death metal records ever, Onward to Golgotha was the 1992 release from long-standing death metal mainstays Incantation. Onward to Golgotha has the honorary distinction of not only being the debut album from the pioneering New York act, but the first record ever produced by Steve Evetts (The Dillinger Escape Plan, Every Time I Die). Both Incantation and Evetts have gone on to do great things and become legends in their own right, but outside of being a sonic product of the early 90's obscurity, Onward to Golgotha hasn't aged much since.
These records are currently available for pre-order over at Relapse Mailorder and will see release on February 24, 2015. We'll be sure to keep you posted when Relapse rolls out another selection of re-releases, which are slated to include Mastodon, Nile, Dillinger Escape Plan, Neurosis, and more! Thanks Relapse!
– KG, JR, DW