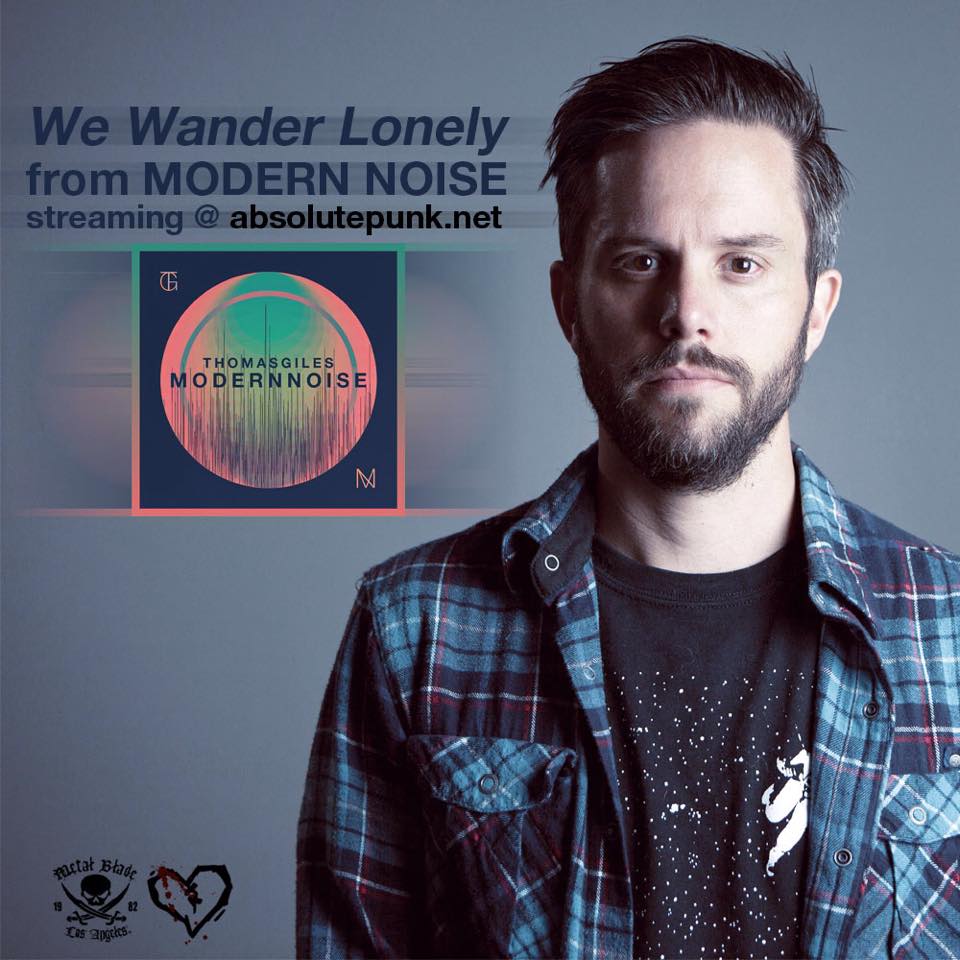 With his solo album, Modern Noise, out next week, Thomas Giles (also known as Tommy Giles Rogers of Between the Buried and Me) has premiered yet another track from the upcoming electronic record.
Absolute Punk unveiled the new song, but if it catches your fancy, you can check out "Siphon the Bad Blood" and "I Appear Disappear" that we have here on Heavy Blog.




Metal Blade released a press release to accompany the track's reveal.
Thomas Giles, the solo project from Between the Buried and Me front man, Tommy Rogers, is set to released "Modern Noise" on November 25th, 2014. Today, AbsolutePunk.net has been tapped to debut a different sounding cut from the album. "We Wander Lonely," as described by Tommy Rogers, is "about musicians being constantly lonely and depressed but will never admit to it." The electronically-driven "We Wander Lonely" is streaming now HERE.
Last week, All Music launched the music video for "Siphon the Bad Blood." The video was shot last month with Rogers in Los Angeles and features colorful visuals from throughout the "Modern Noise" album art. The abstract video is streaming exclusively at AllMusic.com. Additionally, an interview with Tommy has been published on the site. Watch "Siphon the Bad Blood" now at AllMusic.com HERE.
Visit metalblade.com/thomasgiles to listen to the previously released track, "Mutilated World," and visit the Thomas Giles youtube channel for exclusive studio videos from the album tracking process youtube.com/thomasgilesmusic. Subscribe to be the first to hear about new entries in the "Creating Modern Noise" video series.
What is "Modern Noise"? The title is merely a statement that reflects what they are creating: their take on the modern rock sound. Tommy Roger explains the title and music: "This record was an outcome of me creating songs while not wanting to over evaluate the music. I wanted to record things that naturally came to me and because of this, the record feels like an accurate extension of myself. I took a more rock approach and really focused on writing simple yet dynamic songs. Lyrically, I feel it's a great mix of storytelling and personal experience. "Modern Noise" is basically just saying this is my current noise on the earth. We all are here for a short amount of time and the noise we make is our memory."
Fans of Tommy's work with Between the Buried and Me, as well as fans who steer clear of anything metal related, will find plenty to enjoy here as this is nothing short of a well written, genuine, and intensely passionate modern rock/progressive album. This is Tommy's take on music, or as he says: "Music is always Modern Noise. I'm just a person in current time trying to create something somewhat new."
-KG