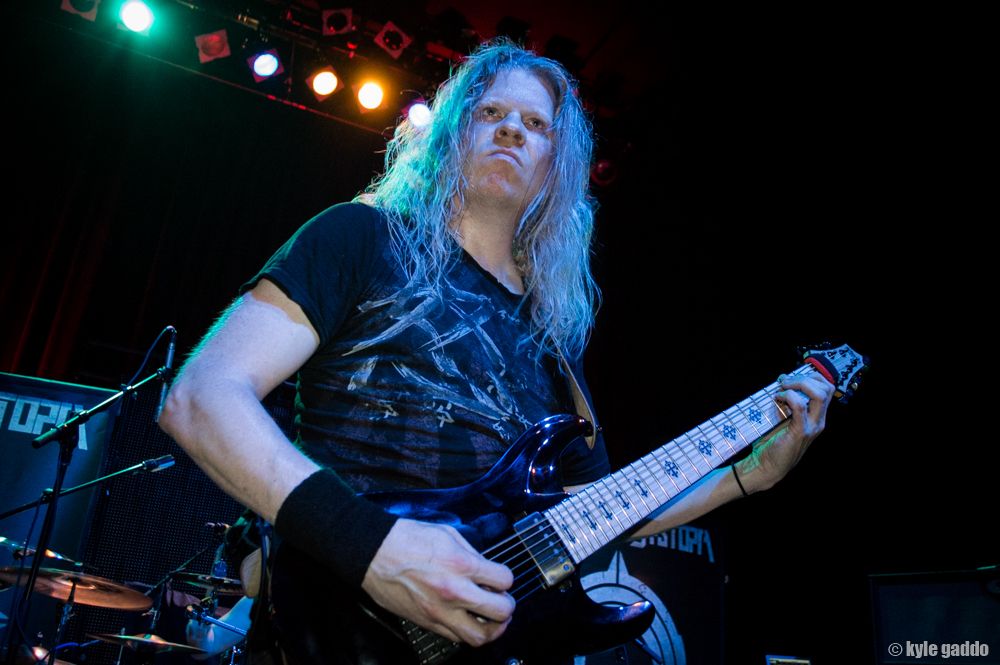 Continuing a trend of recruiting musicians the outfit will underutilize, ex-Nevermore musical mastermind Jeff Loomis will be filling the empty slot where Christopher Amott, Gus G., and Fredrik Åkesson once resided.
The band states that they are parting ways with current guitarist Nick Cordle and Michael Amott's brother, Christopher, will be taking up the second guitar for the remainder of the North American tour. Loomis will then join the European leg with Kreator starting on November 26th.
ARCH ENEMY welcomes Jeff Loomis as their new guitarist!
Metal icons ARCH ENEMY are proud to announce that guitar legend Jeff Loomis (ex-Nevermore) will be joining their ranks for their upcoming European tour which kicks off November 26, as well as all future tours in 2015.
Jeff Loomis states:
"I'm very excited to be playing with Arch Enemy. Michael Amott and I have stayed in contact over the years since we toured together when I was playing in Nevermore. Not only do I admire his guitar playing and songwriting, but I also consider him a close friend. To be able to share the stage with Michael, Sharlee, Daniel and Alissa is something I'm really looking forward to. 2015 is going to be a great year… See you all on tour!"
After a great year of intensive touring in support of their critically acclaimed album, War Eternal, Arch Enemy are parting ways with guitarist Nick Cordle who states: "With War Eternal I believe we wrote an album together which will stand the test of time, and I wish them well for the future."
USA fans will be able to catch a special reunion as Christopher Amott (the brother of ARCH ENEMY founder/bandleader Michael Amott) has joined the band for the remainder of their American headlining tour.
Michael Amott (guitars) comments: "We all wish Nick the very best in his new endeavors and we are sure that you will hear much more from him. We're also super grateful to my brother Christopher for stepping in to finish the current American tour!"
"The prospect of working with Jeff Loomis moving forward is truly awesome! Jeff Loomis is one of the best guitar players in the metal world in my opinion, as well as being a long time friend. I look forward to tearing it up on stages around the world together as we continue on the War Eternal' touring cycle throughout all next year and beyond!"
Remaining tour dates below!
ARCH ENEMY – live in North America with KREATOR, HUNTRESS, STARKILL
Nov. 18, 2014 – Mill City Nights – Minneapolis, MN *
Nov. 19, 2014 – Mojoes – Joliet, IL
Nov. 20, 2014 – The Intersection – Grand Rapids, MI
Nov. 21, 2014 – Majestic Theatre – Detroit, MI
Nov. 22, 2014 – Bogarts – Cincinnati, OH
Nov. 23, 2014 – House of Blues – Cleveland, OH
*=without STARKILL
ARCH ENEMY – live in Europe with KREATOR
Nov. 26, 2014 – Le Transbordeur – Lyon, France
Nov. 27, 2014 – L'Usine – Istres, France
Nov. 28, 2014 – Razzmatazz – Barcelona, Spain
Nov. 29, 2014 – La Riviera – Madrid Spain
Dec. 1, 2014 – Le Bikini – Toulouse, France
Dec. 2, 2014 – Le Bataclan – Paris, France
Dec. 4, 2014 – 013 – Tilburg, Netherlands
Dec. 5, 2014 – MHP Arena – Ludwigsburg, Germany
Dec. 6, 2014 – Turbinenhalle – Oberhausen, Germany
Dec. 7, 2014 – Garage – Saarbrücken, Germany
Dec. 8, 2014 – Docks – Hamburg, Germany
Dec. 9, 2014 – Huxleys – Berlin, Germany
Dec. 11, 2014 – Schlachthof – Wiesbaden, Germany
Dec. 12, 2014 – Eventhall – Geiselwind, Germany
Dec. 13, 2014 – Tonhalle – München, Germany
Dec. 14, 2014 – Z7 – Pratteln, Switzerland
Dec. 16, 2014 – Institute – Birmingham, UK
Dec. 17, 2014 – O2 Academy – Bristol, UK
Dec. 18, 2014 – The Forum – London, UK
Dec. 19, 2014 – Academy – Manchester, UK
Dec. 20, 2014 – Academy – Dublin, Ireland
Dec. 21, 2014 – QMU – Glasgow, UK
Dec. 22, 2014 – O2 Academy – Newcastle, UK
ARCH ENEMY – live 2015
Jan. 22-26, 2015 – 70,000 Tons Of Metal – Miami, FL
Jan. 29, 2015 – Teatro Estudio Cavaret – Guadalajara, Mexico
Jan. 30, 2015 – Jose Cuervo Salón – Mexico City, Mexico
Feb. 01, 2015 – Coliseo el Salitre Bogota, Colombia
Feb. 03, 2015 – Club Blondie Santiago, Chile
Feb. 04, 2015 – Rock & Soccer Antofagasta, Chile
Feb. 06, 2015 – Circo Voador Rio De Janeiro, Brazil
Feb. 07, 2015 – Carioca Club – Sao Paulo, Brazil
Feb. 08, 2015 – Music Hall – Curitiba, Brazil
Feb. 10, 2015 – El Teatro Flores – Buenos Aires, Argentina
Feb. 12, 2015 – Plaza de toros Belmonte – Quito, Ecuador
May. 2, 2015 – Karmoygeddon Festival – Kopervik, Norway
Jun. 04, 2015 – Out & Loud Festival – Geiselwind, Germany
Arch Enemy and Kreator also have a special edition split limited to 1000 copies total (500 in transparent red for North America, 500 in dark red for Europe) which includes a terrible cover of Judas Priest's "Breaking the Law".
An exclusive, transparent red ARCH ENEMY/KREATOR split 7" (limited to 500 copies) is available at all North American shows; a dark red 7″ (limited to 500 copies) will also be available on KREATOR and ARCH ENEMY's European tour, which sees ARCH ENEMY as direct support. To hear ARCH ENEMY's side of this special release, head over to Revolver Mag.com for the band's rendition of the classic "Breaking The Law":
http://www.revolvermag.com/?p=67096
ARCH ENEMY/KREATOR split 7″ track-listing:
Side A (ARCH ENEMY)
1. Breaking The Law (JUDAS PRIEST cover)
Side B (KREATOR)
1. Iron Destiny
For more judgmental news about Arch Enemy, stay tuned, and please read our review for War Eternal if you haven't had a chance to check it out!
-KG