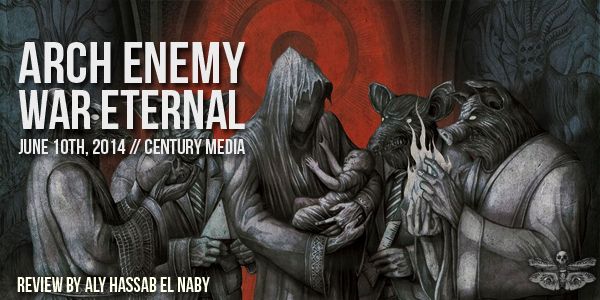 Arch Enemy's main axeman Michael Amott is a man that doesn't shy away from change. Life has thrown a lot of curve balls his way, yet he continues to push forward. After exiting the seminal British group Carcass and forming Arch Enemy, he's had his line-up change a few times. Yet few would argue that any member has had a bigger impact than Angela Gossow. Angela joined the band in 2000 and made her vocal debut on 2001's Wages of Sin, continuing to lead the band alongside Amott for fourteen years. Then, a few weeks before the release of the band's tenth studio album War Eternal, Gossow announced that she will be stepping down as the band's voice and moving into band management.
Arch Enemy announced former The Agonist vocalist Alissa White-Gluz as Gossow's replacement with War Eternal to be her debut release. It's a release comprising thirteen tracks with many alarming similarities among them. There seems to be an insistence on the archetypal Arch Enemy song formula. War Eternal plays out as the safe-side kind of album that can gradually acquaint long time fans with a new vocalist without confusing them with much else. This comfort in the familiar has resulted in a formulaic album that has little in way of potency.
After the rather cheap introductory track 'Tempore Nihil Sanat (Prelude in F Minor)', Alissa is ushered in on 'Never Forgive, Never Forget' by a riff-happy Amott and a blasting Daniel Erlandsson on the drums. Being the first proper track on the album, the structural redundancy doesn't kick in yet, but the rather empty background behind the first solo sticks out like a sore thumb. The uninspired procession of monotony continues for a couple of tracks and then takes a break at 'No More Regrets'. This track has a catchy chorus melody and is by and large the most enjoyable track on this effort. The rest of the album hardly ever becomes mildly entertaining after the first couple of listens.
Rare glimpses of brilliance are lost among the mediocrity of it all. 'Time Is Black' has a clever 7/4 section that gets cancelled out by a catchy yet slightly un-inventive chorus melody; there's also a very good guitar solo but the proto-harp that comes afterwards is a little on the nose. The simplistic drumming and rudimentary riffing on 'Stolen Life' get briefly complimented with a short solo while 'Down To Nothing', track number twelve mind you, is packed with violent stuff but by then the formulaic nature of this album creates a bitter after taste. The last piece of this disappointing ordeal is the overly dramatized guitar outro 'Not Long for This World' which really could have been at least two minutes shorter.
Despite the undeniable talent coming through Michael Amott's lead guitar work, War Eternal is an album that he's done before quite a few times; his best solos can't save it. It's not an album that's indicative of any progress for him as a writer or for the band as a whole. Having a new vocalist is indeed something to be considered but only the most discerning of ears can pin-point the differences. From the looks of it, the tracks follow the same structure with the solos taking their part and everyone else following suit; vocals included. War Eternal is not the sound of an adventurous Arch Enemy nor is it an album worthy of double digit listens.
Arch Enemy – War Eternal gets…

2/5
-AHEN