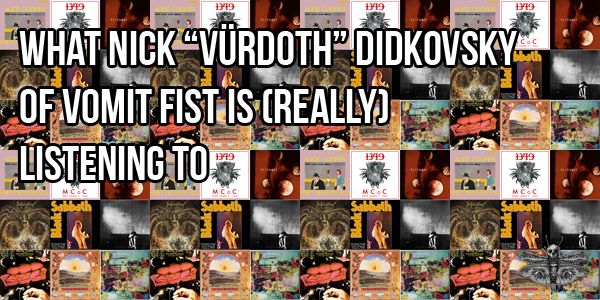 It's great when music can bring families together and that's exactly the case for the father-son combo known as Vomit Fist. What Daddy Fist is (really) listening to after the jump.
Nick "Vürdoth" Didkovsky may be best known outside the Blackened Grindcore community as the long-time guitarist for New York avant-garde rock band Doctor Nerve.
Now Nick is now making different kinds of grinds with his son Leo Lurkrot Didkovsky and vocalist Malcolm Skrag the Screecher Hoyt as Vomit Fist. As you might imagine, the elder Didkovsky has a somewhat eclectic taste in music so we asked him to share with us what he's (really) listening to.
Alice Cooper Pretties for You
1349 Massive Cauldron of Chaos
Ulcerate Everything is Fire
Inquisition Obscure Verses for the Multiverse
Black Sabbath Asbury Park 1975-08-05 (live boot)
Thantifaxath Sacred White Noise
Frank Zappa One Size Fits All
Art Bears Winter Songs
Xenakis Akrata / Pithoprakta
If that list intrigues you, check out Vomit Fist here:
As always, be sure to post your 3×3's in comments, on Facebook, or tag #HeavyBlogisHeavy on Instagram
-BS