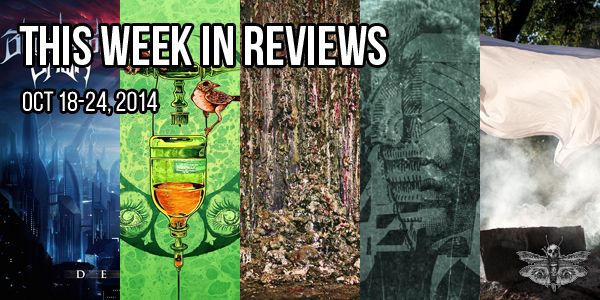 Anytime our reviewers give a record a 4/5 or better score, you can bet it's worth listening to. Well this week 4/5 of our reviews are at least 4/5 horns. Summaries of all 5/5 after the jump.
Noyan Tokgozoglu starts the week off with a perfect 5/5 review for the second record from Bloodshot Dawn.
"Where to begin with this album? The riffing. The riffing is just so right. Bloodshot Dawn are masters at taking cliche/cheesy melodeath riffs, putting a fresh spin on them or completely revamping them, then adding a bunch of time signature shenanigans on top of it all to have a very satisfying blend of soaring melodies and crushing headbanging rhythms. Lead guitarist Benjamin Ellis deserves a lot of credit here, as his solos and leads take everything to the next level. Instead of just doing the tired old obvious melodies that everyone has heard over and over many times, he adds a jazzy twist to them which elevates the songs beyond simple meat-and-potatoes death metal. "
Noyan says Bloodshot Dawn is helping to revive Melo-Death by emphasizing the Death Metal part of the equation.
"In the end, Demons is pretty much a perfect album. Bloodshot Dawn once again show that they are absolute masters of the genre. With soaring melodies, heavy, complicated-yet-accessible riffs and overall incredible songwriting, Demons is a masterpiece of melodic death metal. "
The Acacia Strain – Coma Witch
A lot of people have been somewhat "meh" about the last couple of records from The Acacia Strain but Spencer Snitl finds enough redemption in Coma Witch to give it a solid 4/5.
"Coma Witch is The Acacia Strain through and through. From the intro sample you can tell that it's still the same band, though there is a strong change on this record with the absence of founder and longtime guitarist Daniel "DL" Laskiewicz. The addition of not one, but two new guitarists, is something that the band has really used to their advantage. While it's the "same" band in one sense, it's also the beginning of an entirely new era."
Coma Witch is a double-record with the second containing just one 27-minute long track.
"It's as close to Doom Metal as the band will ever get, but it also has something for everyone: samples throughout the song, absolutely gorgeous and crisp clean guitars in the middle, and super heavy riffs, slowed to a crawl, using Vincent Bennett's voice as the driving force. It's almost as if he's shouting in a megaphone directly in front of you, helping create a spectacular wall of sound that many bands would aspire to have."
With a name like Piss Vortex it has to be good, right?
Matt Maclennan says it's 4.5/5 good, with a debut record that seems to find the place where grind, sludge, and noise rock meet.
"Piss Vortex is 25 minutes of lo-fi, unashamedly filthy music that fans of Nails, Pyrrhon and Today Is The Day could quite happily put differences aside to sit down and enjoy. Something wicked this way comes, all the way from Denmark."
Matt worries too many people will Miss the Piss Vortex.
"For a debut album from a band with less than 500 likes on Facebook, Piss Vortex runs the risk of being criminally overlooked. These Danish genre dodgers play their own brand of fucked up sludge that is as aggressive as it is atmospheric and as virile as it is violent."
Empty Yard Experiment – Kallisti
In a week of greatness, Matt also finds a record that, if not a clunker, doesn't quite measure up to the 4/5 standard. Matt gives Empty Yard Experiment a 3.5/5.
"Containing a multinational lineup and based out of Dubai, not exactly known for its metal output, the band have released an album that is as much a throwback to the likes of early Alice In Chains as it is a great example of modern production values. With plenty to praise there also comes a fair few nits to pick."
Matt says the best part of Kallisti "is made up of several songs that sprawl across electronica tinged industrial to acoustic rock." Think Tool and Porcupine Tree riffage.
"What lets the album down most is the run time and the unnecessary batch of filler tracks. Titled 'Red', 'Blue' and 'Green', they offer nothing to the experience of the album. With several songs running into the six and seven minute territory, there are definitely some extended intros and outros that can be skipped if listening right through."
Pianos Become The Teeth – Keep You
Ryan Castrati wraps up the week on a strong note with his 4.5/5 review of Pianos Become the Teeth, another band that has chosen to go the "all-clean singing" route.
"When a band changes their sound, it is usually to appeal to a wider audience. It brings forth more opportunities for the group and lets them put their hands in as many markets as possible. When Pianos Become The Teeth declared that their new record would have no screaming on it, there was intrigue in regards to whether or not they could still convey the same level of intense emotion they are known for while reaching out to these new audiences and markets."
Ryan says this new sound really works to the advantage of all.
"Keep You is a record that… holds your attention through the attention that it pays to detail. It is a very meticulous effort that exudes the emotion that you're used to from the band, but does so in a way that works with their change in sound. Everything from the lyrics to the instrumentation adds to the atmosphere of the record in the best ways possible, allowing the sound to embrace you tightly, yet lovingly."
Lovingly we'll be back with more reviews this time next week.
-BS