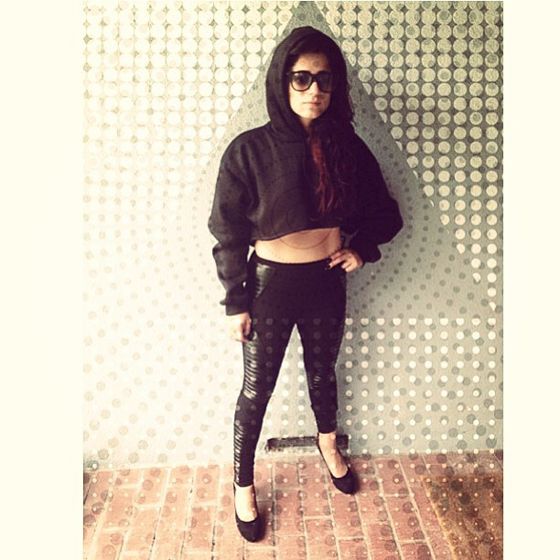 A couple of weeks ago, Chaney Crabb was my surprise response whenever someone said "girls can't do real death metal vocals." Well the secret is out of the bag thanks to Chaney's Veil of Maya Audition. Her reaction to the splash that video has made after the break.
It's been quite a week and a half for Chaney Crabb. The Midwest native who now lives near the ocean in Santa Cruz, California has gone from, if not unknown, then known only to a relatively small, specialized audience to the talk of the metal world.
It started on September 26th when , just a couple of days after Veil of Maya announced they were searching for a new vocalist, Chaney posted her audition video on YouTube.
Now, ten days later, her video has more than 78,000 views. We ran it last weekend, Metal Injection featured her on Tuesday and the same day Revolver said Chaney "crushes her audition video for Veil of Maya."
"I'm actually very surprised," she tells me when I ask about how crazy the week has been. "I put it up and knew that a few people would probably see it, never thinking that it would generate this much attention. I'm even more surprised with the amount of positive feedback I've received— It's extremely encouraging, especially in the day and age of Internet trolls."
Which isn't to say that the trolls have stayed silent. Plenty of guys have been eager to say that the only reason people are paying attention to Chaney is because she's a woman. At the same time, lots more fans, of both the male and female persuasions, have expressed enthusiasm at her performance.
"I just think that people are surprised because it's not something that is typical of this genre. There are women in metal who are absolutely killing it, however the men to women ratio is so high that it's still a surprise to see a woman pursing this kind of vocal. Unfortunately, I think it's led to a sort of skepticism about women vocalists—'can she perform it live!?!' 'They must be using distortion and crazy studio magic on her vocals, right!!?' Believe me- women can do it, too."
Chaney doesn't want to talk about who might or might not have contacted her since the video came out and I respect that. But no matter what happens next, I am excited that this sudden attention will get more people to listen to Chaney's existing band, Systems, which I've had on heavy rotation since their record Terrasomnium came out almost two years ago.
"I think that is a really awesome thing about the video. Systems is something that the guys and I have put our entire hearts into, and to see new people finding out about us is always awesome. We've been in somewhat of a state of purgatory for the past year. I went back to school at the beginning of the year and finding a new guitar player was tedious— both things have kept us from truly moving forward. However, we're in the beginning stages of writing some new material and hope to have something out soon."
Well no matter what happens next, and it would sure be great to see Chaney up on a big stage with an International Touring Band, she will remain one of my favorite death metal vocalists period.
-BS