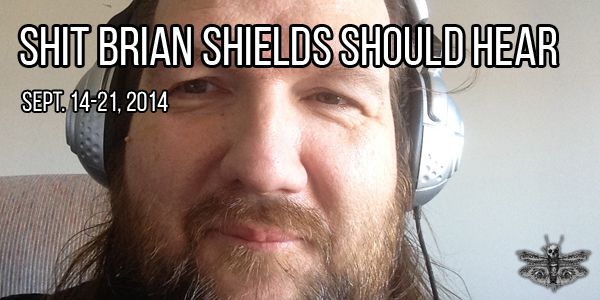 We're back with another week of recommendations to the Shit Brian Shields Should Hear Facebook Page. Shit You Should Hear Too after the jump.
A reminder this is a mash-mash of metal styles and genres. Preference is given to relatively new music but that doesn't mean occasionally there won't be a reminder of some classics that I, and by extension you, should hear.
So here's a Equinox edition of SBSSH for the week of September 14-21.
---
Sam Glenn made the week's first suggestion with a very proggy Means End and Sun Wukong.
---
Benny Bodine posted Track #2 from Dayton Ohio Christian hard rock/metal band Four Star Revival's debut album "Knights of the Revival"
---
"Dark, heavy, and groovy!" is how Without a Martyr describes its sound. Band member Eric Ross said this is shit I should hear.
[bandcamp width=400 height=373 album=3488669661 size=large bgcol=ffffff linkcol=0687f5 artwork=small]
---
Vektor is an oldie but goodie from 2011. Thanks to Dylan Spiller for the post.
---
Thanks to Mike Williams for the reminder on this piece of awesomeness late last year from the mighty Replacire
---
Daniel Bacskocky posts some pre-release material from Synaptic Decay.
---
And finally for this week, Christopher Biermans shows us this playthrough video from Petroglyphs.
---
Keep those recommendations coming and let me know about Shit Brian Shields Should Hear.
-BS