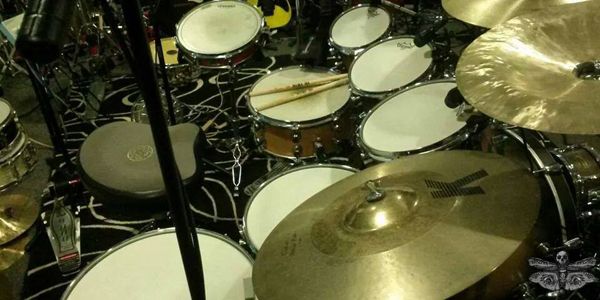 Jamie King, best known as Between the Buried and Me's producer, is a busy man these days.  He was at the helm for the highly-anticipated (in some circles) Language from The Contortionist, his presence was palpable on the latest Scale the Summit record, and this week Florida's tech-death favorites in Abiotic are working with him on their second album for Metal Blade.  Studio Update after the jump.
Abiotic has a revamped line-up with a new vocalist and new drummer but still at the helm of it all is guitarist John Matos who says the band knew going in how important it was to be prepared.
"We had all of the songs pre-prod out before we got into the studio, so it's over all a much smoother process. We're definitely more pumped on these songs and it really shows with the writing. Jamie King is the man and we can't wait to hear what he has in store for our sound. We wanted to be as prepared as possible so that we have that wiggle room to be creative during tracking. Being solid on how everything will go before hand leaves room to try new things and can take a record to the next level."
And King clearly knows the boundaries when it comes to creative input.
"Jamie always gives his two cents, but knows that ultimately it's up to the band how the songs will go. He almost instantly sensed the direction we were wanting to go in with this and has been nothing but awesome to work with."
The idea, Matos says, is to create a relaxed but intense environment for turning all that preparation into reality.
"No pressure and we're all there to hash out ideas and verbalize any suggestions we might have. It's really made the album a collaborative effort and has allowed us to put together some really cool stuff, so far."
Cool stuff that John is stoked to play live.
"Beyond stoked. We got signed off of the material on Symbiosis, but I can safely say we're a pretty different band now. I'm excited to so the world what the new Abiotic is about and I think the music will speak volumes."
The music will likely be in your ears early in 2015.
-BS