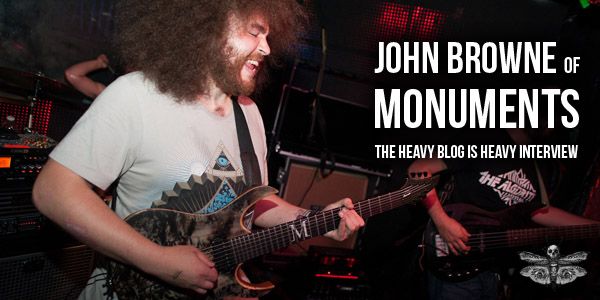 Today, September 12th, 2014, Monuments embark on their first ever US headlining tour, and they're bringing in tow progressive upstarts Polyphia as well as Villains and Lionfight. In support of the group's recent stints touring stateside for the first time ever and the release of their celebrated sophomore album The Amanuensis, Monuments mastermind John Browne opened up about finding new vocalist Chris Barretto, the conceptual story behind The Amanuensis, and more. Photo by Maclyn Bean Photography.
The Amanuensis by no means is a victim of the sophomore slump, and in our opinion, it trumps the debut. How do you feel going into its release compared to Gnosis?
I feel a lot more confident for sure. We sat on the Gnosis material for over 2 years, we'd been playing it live with other singers and generally the overall consensus from the fans that it was past it's time. Although saying that, I still think that album is a great debut.
How did you come into bringing Chris Barretto into the fold?
We were having problems with our old singer, personally and on stage. We never really felt his live performance was consistent enough for where we wanted to go. On a personal level none of us really moulded with him. We were on tour with The Haarp Machine — Chris Barretto was filling in for them. Every night he was killing it and quite honestly, making us look bad. After the tour the guys asked him if he'd be interested in auditioning for the band, his audition ruled and we figured that overall, even though the cost of flights is another expense, being a flawless live band should come at no expense. We hired him immediately.
On the other hand, your former vocalist Matt Rose left in a manner which was clearly not amicable. Rose's public resignation seemed passive aggressive and the band's response was vague. If you care to elaborate on how the departure unfolded?
I wouldn't say he left, I'm gonna leave it at that. I've explained enough in the previous question.
There's nothing nothing else to say.
The new album seems much more melodically-inclined. Was this a direct result of gaining a singer with broader range or did it happen organically?
Definitely more organically. I work on an acoustic guitar store when I'm not touring. I wrote a lot of this record on a 6 string acoustic tuned to DADGAD while I was at work (Sorry Shane). I figured that if something will sound good acoustically then it should translate to something good that is distorted. I kind of have the same feeling about vocal lines too, they should be able to work both ways, screamed/yelled/cookie monster/singing, cheh.
It is my understanding that The Amanuensis is a concept record. Care to give a breakdown on some of the themes present across The Amanuensis, its concept, and recommendations for further reading? There are clear references to novels such as Cloud Atlas, Harry Potter, and The Hunchback of Notre Dame across the album. How do they come into play?
The Cloud Atlas/HP/Hunchback [references] doesn't really have much to do with the record at all, other than the meaning behind the words. "The Amanuensis" came from Cloud Atlas. An amanuensis is a person that writes down what they are dictated, so lets say that will be the listener of the album. A horcrux is an object that a soul can be tied to, and Quasimodo is seen as a human with a deformed exterior.
The story is a play on words and somewhat tied to the meaning behind the samsara cycle of life. The album is loosely based around the cycle of life, it cycles from beginning to end, even melodically in the music. The two main characters are 'Sam' and 'Sara', the yin and yang of their universe, Sam being the main character whilst Sara is his female counterpart that is helping him along his way to find his destiny, kind of like your typical superhero tale.
So 'Origin of Escape' is technically the first song of the song of the record. Sam is escaping his place of birth, Saga City, currently for unknown reasons, something about the place doesn't feel right for him so he searches for the answers.
'Atlas' is [about] him traveling across many seas to find those answers.
'Horcrux' is the gate to 'The Garden of Sankhara', where 'The Alchemist' lives. The all-knowing alchemist tells Sam the meaning behind his existence and the correct path to follow. He must sacrifice something dear to him. He sacrifices a pendent that was given to him by his father, an item he is bound to. This is also recognized in the artwork — the Mandela on the CD and the back of the vinyl.
In 'Quasimodo', Sam returns to Saga City, walks distant lands, and comes across a strange creature. He finds out he is an old student of the alchemist and has learnt the way of the elders. He transports Sam back to Saga City to face his demons.
In 'Saga City', he finds that his dad has been taken over by the demons that the alchemist told Sam to avoid their poisonous words. He has become consumed by them. During 'Jinn', the demons speak their poison to Sam and he has been consumed. With 'I, The Destroyer', Sam turns into the person the alchemist told him to avoid, He destroys his universe.
Sara saves Sam in 'Samsara', only to begin the cycle once more with 'I, The Creator.'
Thats the jist of it, there's way more to it, Chris will probably write a whole book on that one day!
Monuments have always had an "Eastern" vibe to the music, which seems even more obvious when paired with overtly Eastern philosophy-inspired lyrics. Was this a coincidence or have you always been drawn to those ideas?
Some songs have that eastern vibe for sure, but honestly it depends on how I'm feeling at the moment. I think its down to the tuning honestly.
You seem to have a heavy hand and final say in all things Monuments, and rightfully so. How hands-on was Chris Barretto (and others) in the creation of the record where you are the primary songwriter?
He was responsible for most of the vocals, apart from some parts I contributed before he wrote them. We worked on structures together, but most of the music on the album was me, apart from some parts that Olly wrote.
It seems you missed a golden opportunity for a saxophone solo, and the nature of The Amanuensis seems like it would compliment one. What gives?
Timing and deadlines, unfortunately. We had places for them, but this will probably only happen live from now.
The final track, 'Samsara' is an acapella. How did this idea come about?
Chris did this as a conclusion to finish the record, Mike finalized the music from 'Chris' ideas.
Thanks for taking the time to talk with us. Any further thoughts?
Buy the record if you like it, we all broke making this record!

Catch Monuments on tour at the following dates:
09/12 Championship Bar – Trenton, NJ
09/13 Planet Trog – Allentown, PA
09/14 Tremont Music Hall – Charlotte, NC
09/15 Swayze's – Marietta, GA
09/17 The Warehouse – La Crosse, WI
09/18 The Outland Ballroom – Springfield, MO
09/19 Vaudeville Mews – Des Moines, IA
09/20 The Garage – Burnsville, MN
09/21 The Metal Grill – Milwaukee, WI
09/22 Penny Road Pub – Barrington, IL
09/23 Paychecks Lounge – Hamtramck, MI
09/24 Empire – Springfield, VA
09/25 Broadway Joes – Buffalo, NY
09/26 Heirloom Arts Theatre – Danbury, CT
09/27 DV8 Nightclub & Lounge – Providence, RI
09/28 Coco 66 – Brooklyn, NY
– JR