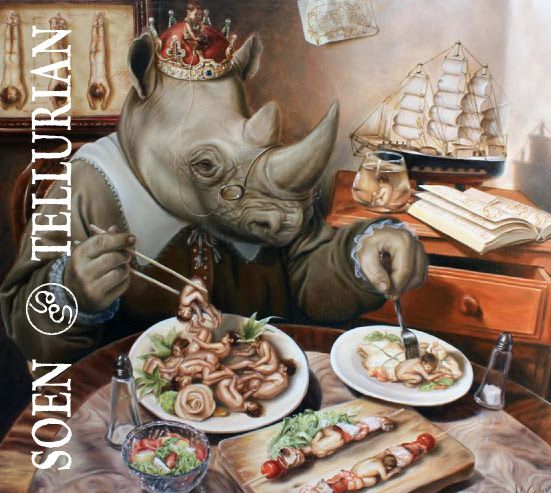 When Soen released their debut album, Cognitive, many an ear was taken aback by the intriguing, heavily Tool influenced music this band produced. Essentially a super-group, Soen were nonetheless very much their own beast in the progressive landscape. Too many times however do groups like these take years between albums, as other projects get in the way. We are thrilled to announce that this is not the case, as the new Soen album, titled Tellurian, will grace our ears on November 4th of this year! Head on over the jump for the full release.
As their forthcoming second studio album Tellurian makes plain, SOEN – that's drummer Martin Lopez (ex-Opeth, Amon Amarth), vocalist Joel Ekelöf (Willowtree), guitarist Joakim Platbarzdis and bassist Stefan Stenberg – are not concerned with the simple or the shallow; their musical journey takes an altogether more ambitious path, and the result is an expansive body of work, wrapped up in the stunning art of Mexican painter José Luis López Galván, that consistently challenges without being "clever-clever" or tough to enjoy.
The melodies are intricate, the playing muscular and the choruses soaring; overall, the feel is one of a band whose intent is very much in synch with the sort of core values -skilled musicianship, emotion over precision, importance of album artwork- that seem to be back in vogue.
Produced by Platbarzdis, mixed by the legendary Grammy Award-winning David Bottrill (Tool, Smashing Pumpkins, Muse, King Crimson, etc.) and mastered at Bob Ludwig's Gateway set-up in the U.S. by Adam Ayan, also a Grammy winner, Tellurian sees SOEN taking the approach of their Cognitive debut (2012, Spinefarm Records) and pushing the boundaries in terms of musical scope, the whole thing shot through with the confidence of a band who have found their voice.
Not much more to say here folks, except that a single is on its way. Watch this space carefully for more information as it is revealed. 2014 people, 2014!
-EK