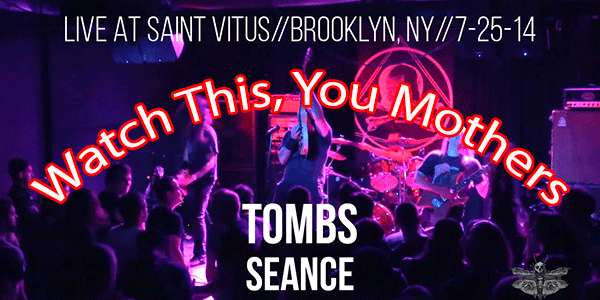 We sit here all day every day in the Heavy Blog is Heavy staff tree house, creating metal related music posts for your fun and enjoyment. And yet sometimes some of our best work gets posted and you are too busy with your empty pathetic lives to even notice. What we're going to do about it after the jump.
So we figured we have two choices. We could either all get scene haircuts, paint our fingernails black, and cut ourselves or we could get out a big fucking metal sledgehammer, whack you upside of the head and say hey, LOOK AT THIS MOTHERFUCKERS.
Once we saw the price of black fingernail polish, we chose option number two. So, HEY, LOOK AT THIS MOTHERFUCKERS
VIDEO: Tombs & Pyrrhon — July 25th, 2014 @ Saint Vitus, Brooklyn, NY
My buddy Nick Cusworth found a couple of videos you don't want to miss. One shows post-metal gods Tombs performing behind their recent album <em>Savage Gold</em> at the legendary Saint Vitus in Brooklyn New York earlier this summer.
Nick also dug up video from the same show of an up and coming New York outfit called Pyrrhon
These are videos you don't want to miss. So click on the link above, then go round up the neighbors at gunpoint and tell them to watch these videos too.
Seriously it's good shit and much better than trying to find affordable emo kid supplies.