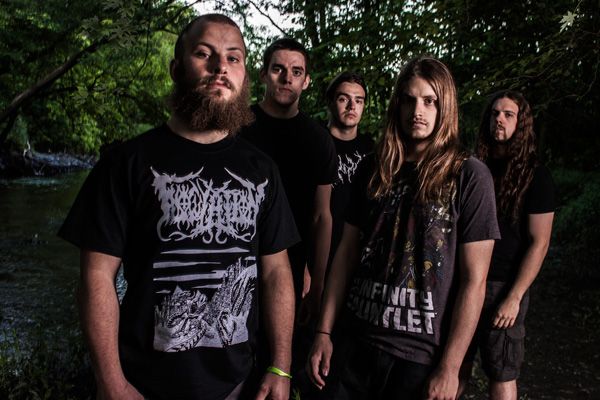 Yesterday, the celebrated up-and-coming death metallers Rivers of Nihil began their tour supporting Whitechapel. What should have been a great first day to a very important tour for the group ended up a disaster.
"We got hit hard tonight," the band updated via their Facebook page. "Somebody punched the lock on our van in St. Louis and stole a ton of our belongings including: passports, laptops, recording equipment, money, clothes, etc. Not that this post will get us any of those things back, but if you hear anything or can help in any way please reach out."
The group's label Metal Blade Records issued a call-to-action, urging fans to support the band by buying merch, either online or from the group's merch booth at any of the upcoming tour dates, listed below.
5/17: Denver, CO @ Summit Music Hall
5/18: Albuquerque, NM @ Sunshine Theater
5/19: Tempe, AZ @ Marquis Theater
5/20: West Hollywood, CA @ House of Blues
5/21: San Diego, CA @ House of Blues
5/22: San Francisco, CA @ DNA Lounge
5/23: Sacramento, CA @ Ace of Spades
5/24: Portland, OR @ Hawthorne Theater
5/25: Boise, ID @ Knitting Factory
5/26: Spokane, WA @ Knitting Factory
5/27: Seattle, WA @ El Corazon
5/29: Calgary, AB @ Marquee Beer & Market Stage
5/30: Edmonton, AB @ Union Hall
5/31: Regina, SK @ Riddell Centre
6/1: Fargo, ND @ The Venue
6/2: Minneapolis, MN @ Mill City Nights
6/3: Milwaukee, WI @ The Rave
6/4: Joliet, IL @ Mojoes
6/5: Kokomo, IN @ CenterStage Bar and Grill
6/7: Knoxville, TN @ The International
6/8: Cincinnati, OH @ Bogarts
6/10: Toronto, ON @ The Opera House
6/11: Pittsburgh, PA @ Altar Bar
6/12: New York, NY @ Stage 48
6/13: Philadelphia, PA @ Theater of the Living Arts
6/14: Baltimore, MD @ Baltimore Sound Stage
6/15: Charlotte, NC @ Tremont Music Hall
6/16: Atlanta, GA @ The Masquerade
6/17: Orlando, FL @ Firestone Live
6/18: Ft. Lauderdale, FL @ Revolution
6/20: Houston, TX @ Scout Bar
6/21: Corpus Christi, TX @ House of Rock
This is far too common these days, with thieves smashing out locks and windows of vans, making huge dents in the lives of touring musicians working under increasingly thin margins.
If you're in the St. Louis area and have any information, please do reach out to Rivers of Nihil and local law enforcement. The band are currently accepting PayPal donations, and support can be given via the address [email protected]. They need all the help they can get at this time, so if you're a fan of the band and have some spare cash, every little bit helps.
– JR