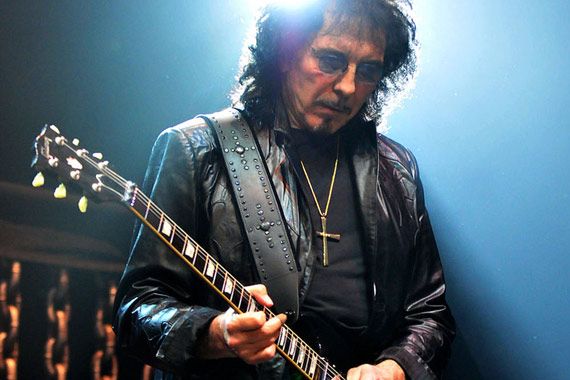 Sometimes we're guilty of taking things for granted. Throughout the years, rock and metal legends Black Sabbath have always been around in some form or fashion, be it through lineup changes or side-projects. Let's face it though; nothing lasts forever, and Sabbath are getting old. Even though their triumphant Ozzy return in 13 was fairly well received, the dudes can't be expected to keep on stage much longer into their senior years.
Guitarist and Sabbath lifeblood Tony Iommi is 66 years old, and in case you forget, he's been battling cancer. Touring is rough enough on the body as it is, and while it's certain that Sabbath have it batter than most in that department (comfortable buses and nice enough hotels, I assume), Iommi's recent interview with Metal Hammer seems to suggest that's he's about done with the music performance lifestyle.
Here's the troubling excerpt, spotted by The PRP:
"[The July 04th show at Hyde Park in London, England] could be the last ever Sabbath show. I don't want it to be, but there's nothing really planned touring-wise after that show, so for all we know that could be it really. To be honest I don't want to be touring to this extent too much longer, because it makes me feel so bad. I'm at a stage now where I have no support, which means I have to see whether the cancer is coming back or if it's still there or what. I just don't know. It's a bit of a worry. After we finish this tour I'll go in and have scan, so we'll see what that shows up."
While Iommi's uncertainty leaves room for the possibility of more live shows in the future, hearing from the man himself that the ride might finally be over for good is a huge bummer, even if it is an easily understandable decision.  And it's not like the rest of the band can continue without Iommi. Even if he would allowed it, I'm not okay with living in a world with an Iommi-less Sabbath. It's Iommi or nothing.
So if you're one of the lucky few who will be attending the Hyde Park show in London on July 4th, take it in. It could be the very last Sabbath show ever. Fingers crossed that we hear positive news.
– JR