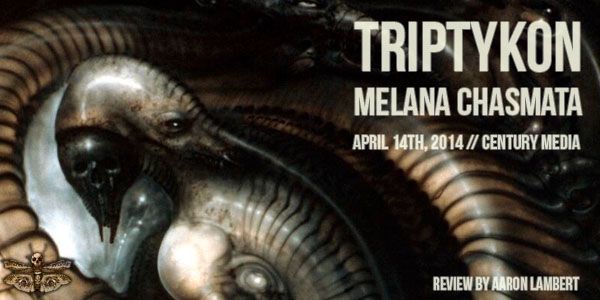 When Celtic Frost disbanded in 2008, the metal world lost one its great innovators. The mastermind behind Celtic Frost, Tom G. Warrior (also known as Thomas Gabriel Fischer), is a force to be reckoned with; he is a master composer of darkness and a true musical genius, and as evidenced by Celtic Frost's varied discography, he is constantly evolving as a musician. Celtic Frost's swansong album, the now-classic Monotheist, marked yet another evolution in the band's storied history, and when Mr. Warrior formed Triptykon from the ashes of his beloved band and released the powerful Eparistera Daimones to critical acclaim in 2010, it served as a natural progression from the direction Celtic Frost was heading towards. With Eparistera Daimones, it became very clear that Warrior wasn't finished leaving his mark on music, and now with Triptykon's sophomore album, Melana Chasmata, Thomas Gabriel Fischer has created what will likely be heralded as his masterpiece, his magnum opus, for future generations to come.
Melana Chasmata roughly translated from Greek means "chasms as black as ink", which is a perfectly suiting title for this hulking monolith of an album. From the opening notes of 'Tree of Suffocation Souls' to the final, melancholic cries of 'Waiting', Triptykon leads the listener on a dark, evil and depressive journey whose artistic integrity is as immense as the emotions conveyed throughout the album. Warrior's lamenting cries of desperation and savage barks are as genuine as they come, and are a true testament to the emotional depth that extreme music can have. Warrior once again proves that he is genius composer of music; not only is each individual song is masterfully arranged, the album as a whole is also arranged perfectly and is not one that should be taken in pieces; this album deserves every minute of the full hour plus of its running time.

The interplay between Warrior and second guitarist V. Santura is staggering. Whether they're crafting haunting melodies together or chugging crushing riffs, they manage to create unique atmospheres within each song that really give the album as a whole its sonic identity. There are moments in Melana Chasmata that appear similar to a classical piece, simply because the instrumentation is so powerful and impactful. The soul-crushing chugs on songs such as 'Boleskine House' and 'Altar of Deceit' are immensely powerful, as are the faster, more vicious moments on the album, such as those found on 'Breathing', a song which proves Warrior has not lost his thrash roots. One reason for this power is the tone achieved by Warrior and V. Santura, which was clearly derived from Monotheist and continued on Eparistera Daimones. Triptykon have fully come into their own with Melana Chasmata, and their sound can't be traced back to anybody other than themselves; an impressive feat, considering they're only two albums into their career. Triptykon truly are a unique entity all their own.
Triptykon are masters of taking darkness and evil and turning it into something almost beautiful. On both 'Boleskine House' and album closer 'Waiting', a female vocalist, presumably Simone Vollenweider, whom the band also had on Eparistera Daimones, pierces the darkness with her haunting voice and provides a glimpse of hope in the midst of the evil, yet also somehow perpetuates it. It's moments like these where the composing genius of Tom G. Warrior and Triptykon lie. It takes a true mastery of the arts to create something like Melana Chasmata, and Triptykon have once again proven the versatility and emotional impact that extreme metal is capable of.
Triptykon – Melana Chasmata gets…

5/5
– AL