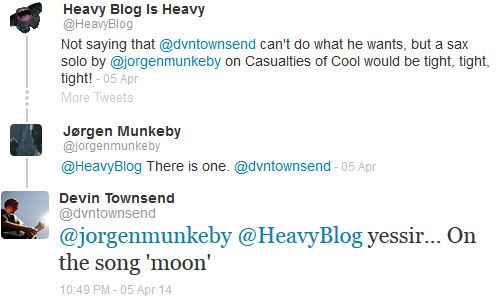 There's already been some speculation brewing that Devin Townsend and SHINING's Jorgen Munkeby could be working together directly in the near future. This weekend, we got a little curious and not-so-subtly addressed the situation with them on Twitter. Both being very active users, we were quick to not only get a response, but a confirmation that the collaboration has already been completed.
Jorgen Munkeby has contributed a saxophone solo towards the hotly anticipated Country-inspired Casualties of Cool project (which is  nearing 450% of its funding goal) in a track titled 'Moon.' Not much else is known about the extent of the collaboration, or if frequent collaborator Ihsahn will be involved at all, but a sax solo alone would be fitting, if not superb.
No release date for Casualties yet, but you still have time to get in on the ground floor and fund Devin's further endeavors. Remember, all the extra money that comes in goes towards Ziltoid: The Omniscient sequel Z2. Give often, and be generous!
– JR