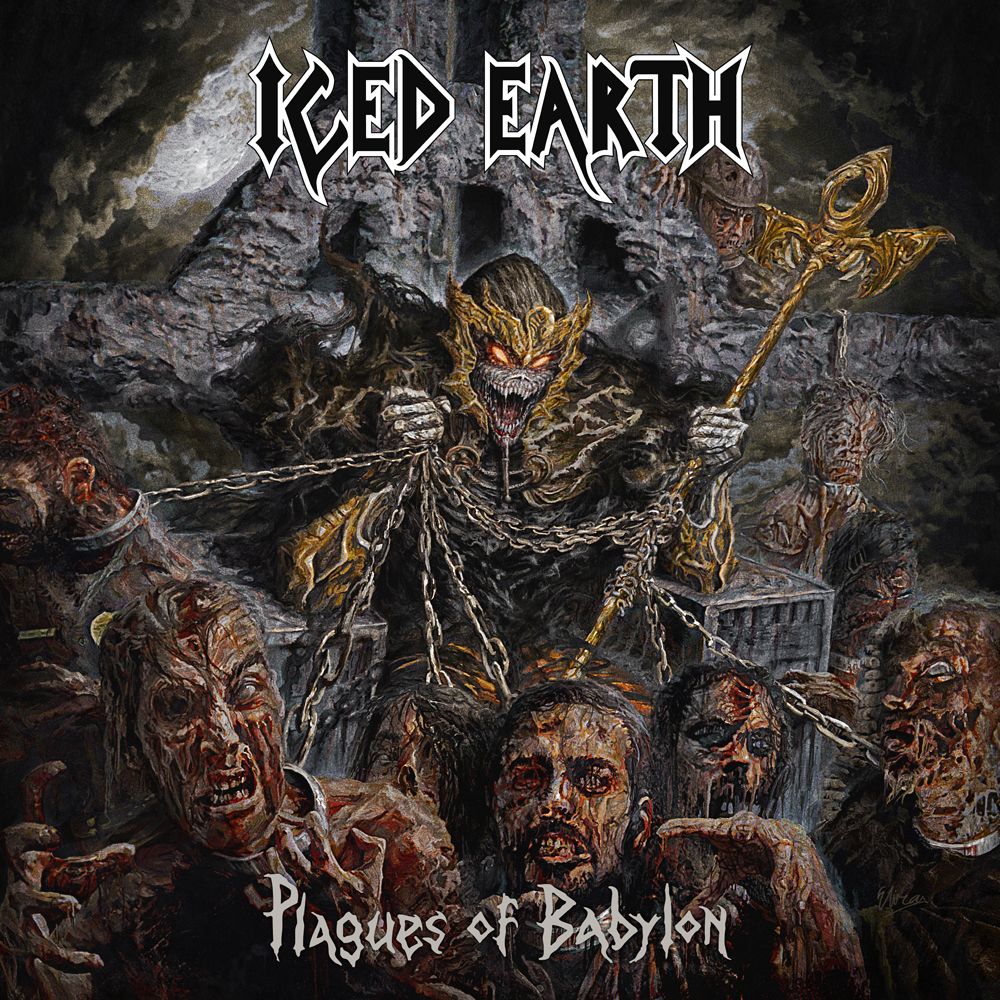 Iced Earth
Plagues of Babylon
01. Plagues of Babylon
02. Democide
03. The Culling
04. Among the Living Dead
05. Resistance
06. The End?
07. If I Could See You
08. Cthulhu
09. Peacemaker
10. Parasite
11. Spirit of the Times
12. Highwayman
13. Outro
[01/21/2014]
[Century Media]
Iced Earth need no introduction; the band holds a high name in the annals of metal. Certainly their earlier albums are classics of heavy metal, with great anthems like Burnt Offerings or Birth of the Wicked. Not only that, but students of history have always found Schaffer's lyrics evocative and well-written. The Glorious Burden remains one of the most beloved metal albums of all time, in thanks heavily to the three-part 'Gettysburg' mammoth. However, it's no secret that since the return, and then second departure, of iconic singer Matt Barlow, the band have mostly been chasing their own name, trying to recover some of the lost spark they once held. This can easily be seen with Schaffer's choice to return to the Something Wicked Saga, both in lyrics and in sound. Framing Armageddon Part 1 was passable, but it had none of the flair of the earlier albums and Schaffer's writing seemed devoid of insight or interest.
After two more albums in the saga that is Iced Earth, we find ourselves with their new album, Plagues of Babylon. The album opens with a pretty generic self-titled song, echoing the more epic Metallica songs and bearing the iconic Schaffer sound. The drums beat out what you would expect, a slow military march, pretty much the staple Iced Earth sound. The vocals are actually the only thing solid on this song. They're not original in any way, sounding like a rehash of earlier works by the band, but at least they are sincere. They get the emotional job done; deliver the yearning to do battle against the evil aliens that threaten humanity.
The biggest letdown, however, are Schaffer's lyrics. Gone is the intricate and dramatic style he usually uses to portray the story. It is replaced by lazy, generic lines like, "We can't accept this human threat, the power structure is intact, as gods on earth we will forsake, we must release the plague." In short, he has become a slave of his own narrative, replacing evocative lines with concise descriptions intended to move the storyline forward. And it's not as if his guitar work picks up where the lyrics fail to deliver; most of it sounds like you would expect, Iron Maiden-like galloping, embellished with supposedly-emotional solos.
The rest of the album doesn't do much better. It's quite to distinguish between the songs, as most of them use the same structure and sound. At certain points it even gets much worse, like 'Democide', the second track, acting as nothing more than a worn-out heavy metal cliché—something you would expect to hear on a band playing in a garage, not world-renowned trendsetters. The only bright spot on this album is 'Cthulu'; Schaffer finally wakes up and the lead guitar sounds unique and engaging. In addition, Stu Block shines even brighter here with his vocals. He has great emotional range and avoids the boilerplate.
Iced Earth are going to have to do a lot better if they're looking to prove they can still be relevant. Plagues of Babylon sounds tired and uninspired, as if they released this album because of obligations rather than meaningful artistic expression. Iced Earth fans are surely eager to know exactly how the Setians enslaved humanity, but not so much that they'd like Schaffer to rush through the story. Hopefully, the next release shakes the band out of complacency and we'll see something more than rehashed Iron Maiden riffs. Or perhaps it's time to finally put the distinguished Iced Earth name to rest.
Iced Earth's Plagues of Babylon gets…

2/5
-EK