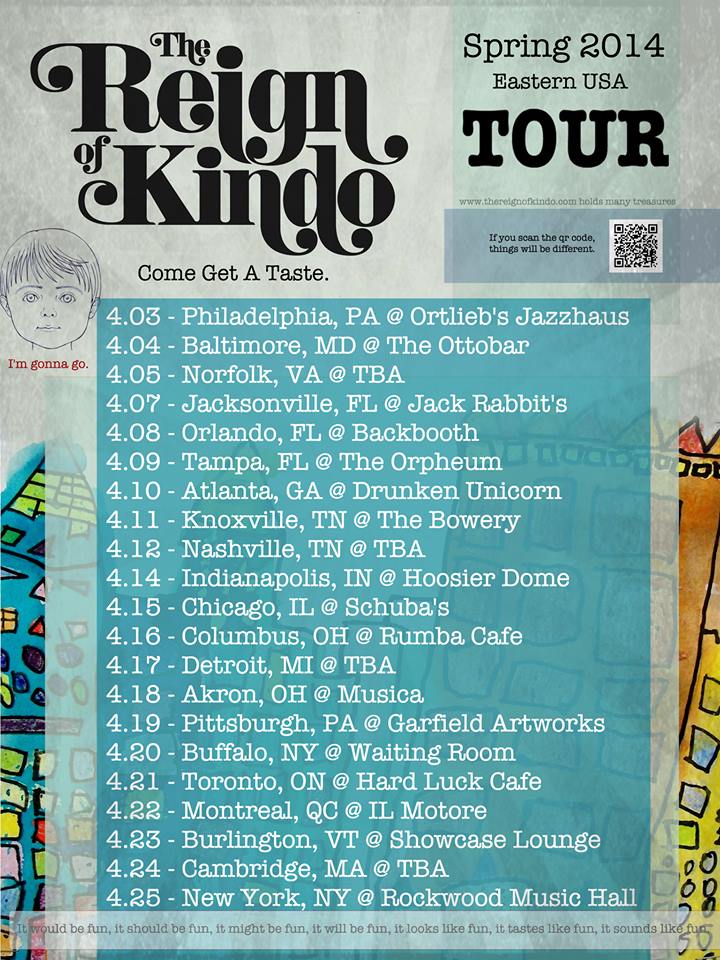 Reign of Kindo aren't particularly metal, but they sure do have the crossover appeal with their melodic jazz-rock sound. The band were personally tapped by Scale the Summit for tour support, and if I'm not mistaken, they've been name-dropped by Periphery's Misha Mansoor in the past. Basically, if you like soulful vocals and jazz fusion, Reign of Kindo are a band you should have been obsessed with ages ago.
As a jazz-oriented act, it's a no-brainer that the band are destined to be a stellar live act. Their latest run of dates takes them all over the East coast throughout the month of April, and the dates are pretty great. If you're on the Eastern half of the United States, take a peek at the dates below and plan accordingly.
Thursday, April 3rd – Philadelphia, PA – Ortlieb's Jazzhaus
Friday, April 4th – Baltimore, MD – The Ottobar
Saturday April 5th – Norfolk, VA – TBA
Monday, April 7th – Jacksonville, FL – Jack Rabbit's
Tuesday, April 8th – Orlando, FL – Backbooth
Wednesday, April 9th – Tampa, FL – The Orpheum
Thursday, April 10th – Atlanta, GA – Drunken Unicorn
Friday, April 11th – Knoxville, TN – The Bowery
Saturday, April 12th – Nashville, TN – TBA
Monday, April 14th – Indianapolis, IN – Hoosier Dome
Tuesday, April 15th – Chicago, IL – Stubs'
Wednesday, April 16th – Columbus, OH – Rumba Café
Thursday, April 17th – Detroit, MI – TBA
Friday, April 18th – Akron, OH – Musica
Saturday, April 19th – Pittsburgh, PA – Garfield Artworks
Sunday, April 20th – Buffalo, NY – Waiting Room
Monday, April 21st – Toronto, ON – Hard Luck Café
Tuesday, April 22nd – Montreal, QC – Il Motore
Wednesday, April 23rd – Burlington, VT – Showcase Lounge
Thursday, April 24th – Cambridge, MA – TBA
Friday, April 25th – New York, NY – Rockwood Music Hall
Tickets are available at this location. In the mean time, take a moment to get acquainted to their latest album Play With Fire below.
– JR