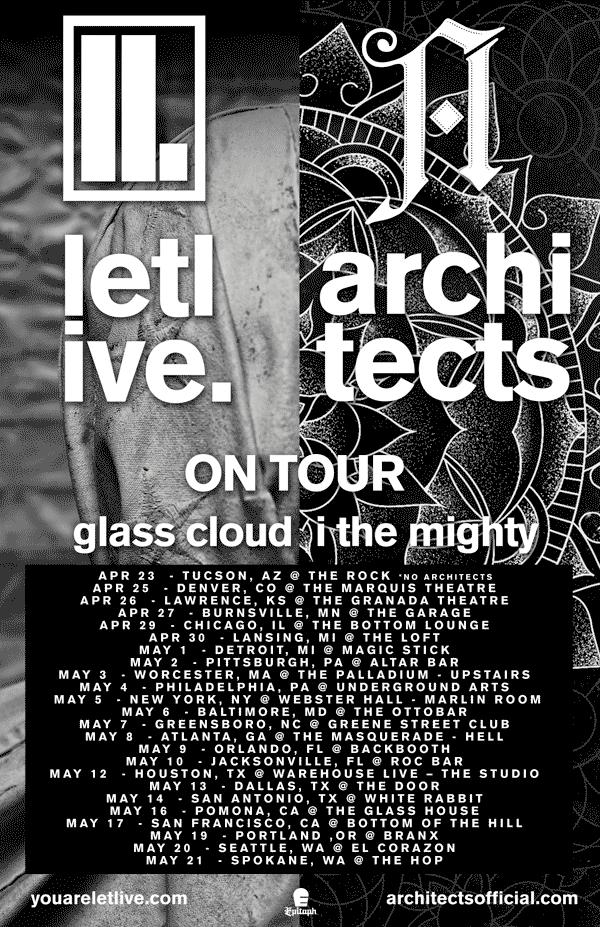 To be completely honest, I haven't been all that excited over metalcore in years, but it's hard to deny the strength of the long-rumored Letlive/Architects co-headlining trek featuring support from Glass Cloud and I The Mighty. I'm pretty stoked over that lineup, and Letlive are reasonably enthusiastic as well:
We've been a band for nearly a decade and this is our 2nd proper United States headliner. That being the case, it is a rather significant and pivotal endeavor at once. Now that you know that, you can safely assume how important this tour is to us as well as who we share it with.
I've noticed many comments polluting our considerably juvenile cyber spaces inquiring things like "why would this band tour with this band?" and some other unwarranted entitled opinion on what bands should or should not do with THEIR art. I can sincerely say to you that letlive. plays music for people that want to listen to music with no real concern for specified or claimed genre, while playing that music alongside others that will do the same. In this case, those people go by the monikers of Architects, Glass Cloud, and I the mighty. Call it what you will, we'll keep calling it art. Holler.
I don't know why anyone involved in this arena of music would have any problems with this lineup. At worst, I simply have no opinion one way or the other for I The Mighty, and even still that doesn't negate the fact that this tour should be plenty of fun.Here are the dates. Make it out if you can:4/23 Tucson, AZ @ The Rock (no Architects)
4/25 Denver, CO @ The Marquis Theatre
4/26 Lawrence, KS @ The Granada
4/27 Burnsville, MN @ The Garage
4/29 Chicago, IL @ The Bottom Lounge
4/30 Lansing, MI @ The Loft
5/1 Livonia, MI @ Magic Stick
5/2 Pittsburgh, PA @ Altar Bar
5/3 Worcester, MA @ Upstairs @ The Palladium
5/4 Philadelphia, PA @ Underground Arts
5/5 New York, NY @ Marlin Room @ Webster Hall
5/6 Baltimore, MD @ The Ottobar
5/7 Greensboro, NC @ Greene Street Club
5/8 Atlanta, GA @ The Masquerade
5/9 Orlando, FL @ Backbooth
5/10 Jacksonville, FL @ Roc Bar
5/12 Houston, TX @ The Studio @ Warehouse Live
5/13 Dallas, TX @ The Door
5/14 San Antonio, TX @ White Rabbit
5/16 Pomona, CA @ The Glass House
5/17 San Francisco, CA @ Bottom Of The Hill
5/19 Portland, OR @ Branx
5/20 Seattle, WA @ El Corazon
5/21 Spokane, WA @ The Hop– JR