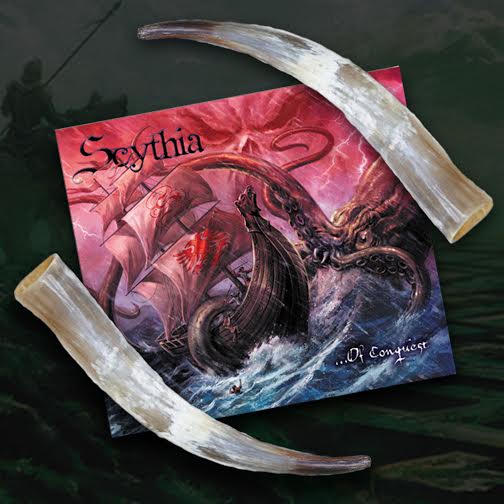 Western Canadian epic folk/power metal group Scythia are looking for the single most metal couple that will be celebrating this year's Valentine's day.
We want to see pictures of metal couples decked out in their best metal garb striking their finest pose. Bonus points for costumes of a 'medieval' nature.  Send these pics to Scythia via their Facebook page by February 14th and you could win a very wicked prize — the winner will receive a special package from Scythia: 2 drinking horns + a signed copy of their upcoming release, '…Of Conquest'!

Drinking horns?! The band explains:
"These horns are very special indeed. These are genuine grade A, cow-horn drinking horns. They have been procured from a burly nordic merchant who goes by the name Ragnar. He wears chainmail to metal shows and his giant red beard flows majestically past his mid-section. Not to mention his penchant for fine ale and exotic wares. These horns are a hot-commodity and this is a once-in-a-lifetime opportunity to win not one but two!"
If you're single this Valentine's Day, don't wallow in drunken sorrow just yet. Think of a funny prop like a guitar, a broadsword or a neighbour and shoot the photo. Just make sure your hands are included if you're using props so we can see you and your date in action. Credit will be given for originality!
If you need some inspiration, look no further than the band's latest video, 'Bear Claw Tavern'
Scythia's …Of Conquest will be out February 25th. Pre-orders and advanced track streams are available via Bandcamp.
– JR