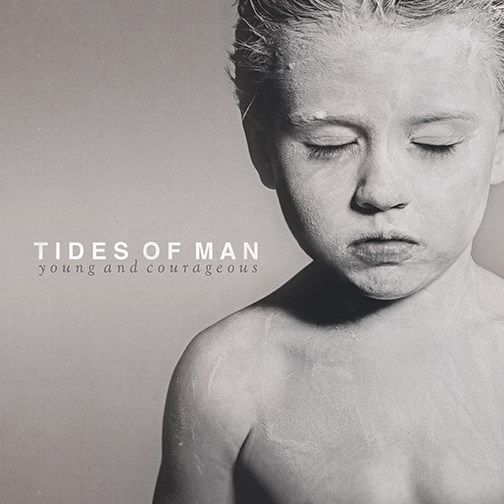 Tides of Man
Young and Courageous
01. Desolate. Magnificent.
02. Mountain House
03. Drift
04. Young and Courageous
05. All The Years
06. Eyes Like Strange Sins
07. We Were Only Dreaming
08. Hold Still
09. Keep Me Safe
10. Parallels
11. Measure Your Breath
[02/04/14]
[Independent]
It's been quite a while since Tides of Man have released an album, and in that time the Florida-based band have undergone a drastic transformation. 2010's Dreamhouse was a fantastic piece of progressive rock tinged with post-hardcore that fit right alongside the likes of Coheed and Cambria or Chiodos, but shortly after the record's release the band parted ways with frontman Tilian Pearson and began the search for a replacement vocalist. Not being able to find a good fit though, they eventually decided to halt the search and carry on as an instrumental outfit. With vocals being such a central element to their previous work, this change called for an appropriate evolution of the band's sound, and the result of this reinvention is Young and Courageous.
This is a post rock record, no question about it, and an excellent one at that. The genre encompasses an incredibly wide range of styles, and Tides of Man cover a broad part of the spectrum here. At times the LP is upbeat and lighthearted in the manner of acts like Moonlit Sailor, and at other times the music ventures into darker and heavier territory roamed by bands such as If These Trees Could Talk. Most often though, Young and Courageous occupies the beautiful and melodic middle ground found between these two extremes. With such a blend of styles it seems that over the course of this 54-minute journey you never know what the group will do next, but you can't wait to find out.
Alongside all of these changes however, there are still plenty of elements to be found on the album that the band have retained and carried over from their previous releases. Namely, their knack for creating music that focuses heavily on melodic leads usually carried by the guitarists or recently added keyboardist. Sure, as is the norm for the genre you will hear plenty of reverb and delay soaking everything in earshot, but effects are in no way used as a crutch here. It would surely be laughable and over-dramatic to call this "technical post rock", but at times it seems like an apt description that isn't too far off from what's going on here. Combined with plenty of spacey and atmospheric sections throughout, the overall record balances out rather nicely.
The production goes hand in hand with the music perfectly, complimenting the material in such a way that it really brings out the life and emotion in the music and makes the entire record shine. We have the band's fans to thank for that, because it's no doubt due to the successful indiegogo campaign that allowed Tides of Man to record Young and Courageous at the excellent Clear Track Studios. They did an excellent job and it seems to have been worth every penny.
There's been a lot of doubting and worrying about whether or not Tides of Man would be able to pull through and create another great album despite all of the difficulties and opposition. Young and Courageous should put all of those worries to rest though, and easily net the group plenty of new fans as well. Where many acts would have thrown in the towel or refused to adapt to their circumstances, Tides of Man have instead fed off of the adversity thrown their way and grown into an entirely new band. Young and Courageous is an excellent post rock record that should appeal to many fans of all across the genre, and you can expect it to appear on more than a few year-end lists. The album also presents an intriguing question though: Will the band stick to their newly established sound in the future, or will they transform yet again into something else? Regardless of the answer, there's no doubt that we'll want to hear it.
Tides of Man – Young and Courageous gets…

4.5/5
-PM