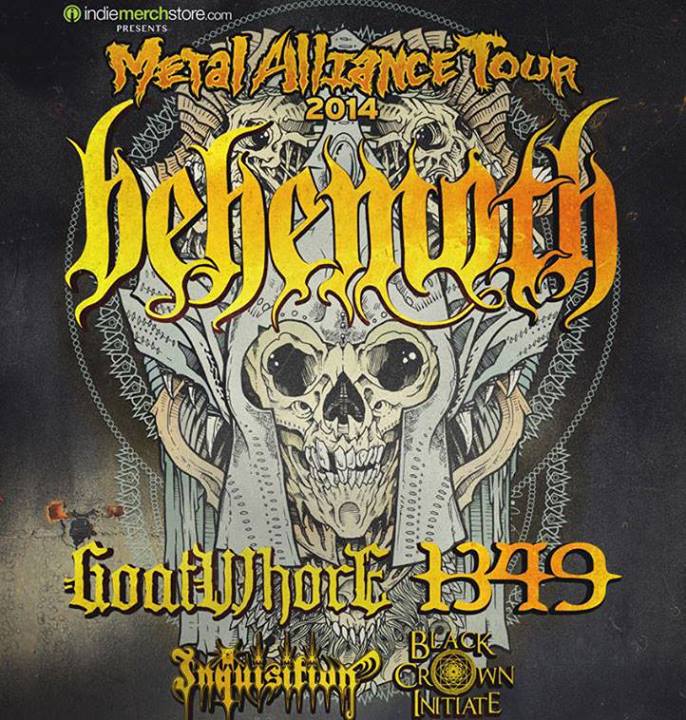 Rumors have been going around the past couple of weeks concerning this year's edition of Metal Alliance. As it turns out, those allegations that Behemoth would be headlining the tour were completely accurate, and they're bringing in tow Goatwhore, 1349, Inquisition, and in a surprise turn of events, underground prog up-and-comers Black Crown Initiate.
Take a look at the press release, picked up via our good friends No Clean Singing:
The Metal Alliance Tour is back for their fourth ferocious year of wrecking heads. Festival organizers Dan Rozenblum and Steve Seabury of High River Entertainment are proud to welcome to American soil the mighty Behemoth as their 2014 headliner. This will be the first time in over a decade that Behemoth will tour North America in support of their new record The Satanist released on April 2nd through Metal Blade Records. The tour will be rounded out by New Orleans natives Goatwhore, 1349, Inquisition and the buzz worthy unsigned act Black Crown Initiate.
"This tour is no exception for our love of all things heavy." states Rozenblum. "This tour is for metal fans by metal fans." adds Seabury. "this bill explores our appreciation for the dark and black side of metal. Behemoth have been a favorite of ours and we are stoked to have them headline the fourth edition of the Metal Alliance Tour!"
The Metal Alliance Tour will make the trek across United States and Canada starting in April and running through the start of May. "We are immensely proud to be headlining the Metal Alliance Tour," comments Nergal. "It's a privilege and we're going to make sure that this tour and "The Satanist" that Behemoth is making an ultimate statement! It has been a long trek from when we landed in US for the first time in 2003. It took us a decade to get to this place we are now. We are coming back, more determined and hungrier than ever, ready to reclaim the throne!"
50 VIP tickets in each market are available at 10 AM EST at this link. Each ticket holder will get a 30 minute meet & greet with all of the bands, a bottle of High River Sauces, a limited edition 11×17 poster, Metal Alliance 4 beer koozie and a VIP Laminate. General Admission tickets will be available at a later date.
4/4 Tempe, AZ @ Club Red
4/5 Los Angeles, CA @ House Of Blues
4/6 San Francisco, CA @ Regency Ballroom
4/8 Denver, CO @ Gothic Theater
4/10 Oklahoma City, OK @ 1H Chameleon Room
4/11 Dallas, TX @ House Of Blues
4/12 Austin, TX @ Emo's East (Texas Independence Fest)
4/13 Houston, TX @ House Of Blues
4/15 Orlando, FL @ Beacham Theater
4/16 Charlotte, NC @ Tremont Music Hall
4/17 Philadelphia, PA @ 4H Theater Of The Living Arts
4/18 Worcester, MA @ Palladium (The New England Metal Festival)
4/19 New York, NY @ Irving Plaza
4/22 Montreal, QC @ Club Soda
4/23 Toronto, ON @ Opera House
4/24 Cleveland, OH @ Agora Theater
4/25 Chicago, IL @ House Of Blues
4/26 Minneapolis, MN @ Skyway Theater
4/27 Winnipeg, MB @ Garrick Center
4/29 Calgary, AB @ Mac Hall
4/30 Edmonton, AB @ Union Hall
5/2 Vancouver, BC @ Rickshaw Theater
5/3 Seattle, WA @ Studio 7
What an exciting tour! Behemoth are poised to release an album that will surely be a hit, and both Inquisition and Black Crown Initiate got quite a bit of buzz with their releases last year. It should be a pretty cool event that will bring more folks into black metal. Unfortunately the tour dates aren't too extensive out in the midwest and southeast, so I won't be making it out, which is a bummer. Hit this tour up if it lands in your neck of the woods!
– JR