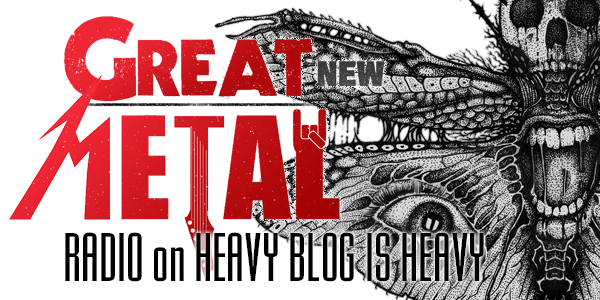 Just in time for you to play at your Headbanging Holiday Party, Great New Metal Radio on Heavy Blog is Heavy is back with our second show that will put the shred into your celebrations.
GNM Founder Brian Shields hosts more than 40 minutes of the sickest music from the best emerging metal acts.  Also in this episode, listener Viktor Hansen calls 415-729-3253 to recommend a track from the band Cognizance while Heavy Blog is Heavy associate editor Spencer Snitil pitches in with a recommendation on the hardcore side.
Surrounding that you will find everything from slam to prog to straight up death metal.  If you like these bands, please support them.  Links to their social media and music sites are below the player.
You can also get Great New Metal Radio on Heavy Blog is Heavy by subscribing for free on iTunes or downloading an mp3 here to take the show with you on your phone or other music player.  Also get the embed code for displaying this show's player on your web page.
Show Two – Playlist and Links:
1. Empyrean – Destruction of Constraints – Facebook – Bandcamp –
2. The Zenith Passage – Cosmic Dissonance – Facebook – Bandcamp – Big Cartel – IndieMerch
3. I am the Construct – Inanimate Reality – Facebook – Bandcamp
4. State of Serenity – Foundations – Facebook – Bandcamp – Twitter
5. Cognizance – Clones Of The Night Sky – Facebook – Twitter – Big Cartel
6. Every Passing Dream – Divide the Line – Facebook – Bandcamp – Big Cartel – iTunes
7. Dragging Entrails – Meat Cleaver De-Cupitation – Facebook –
8. Vampire Squid – Mussel Beach – Facebook – Bandcamp
9. Flub – False Promise – Facebook – Bandcamp
10. Animality – Human Body Cordyceps – Facebook – Reverb Nation
11. Conducting from the Grave – Lycan – Facebook – Bandcamp – iTunes