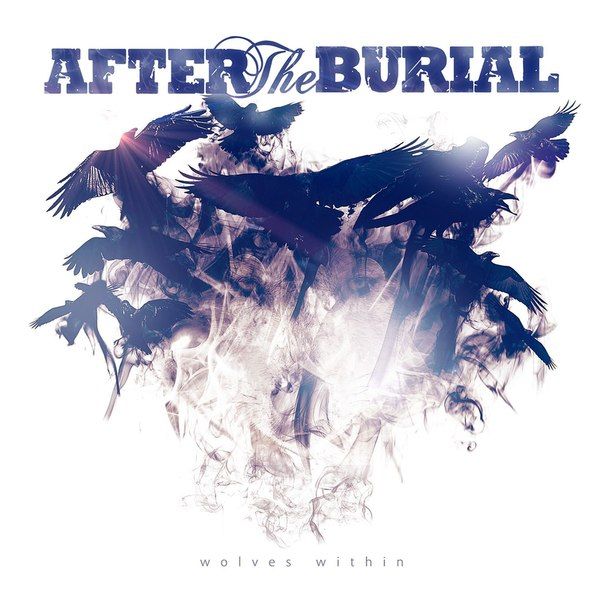 After the Burial
Wolves Within
01. Anti-Pattern
02. Of Fearful Men
03. Pennyweight
04. Disconnect
05. Nine Summers
06. Virga
07. Neo Seoul
08. Parise
09. A Wolf Amongst Ravens
[12/17/13]
[Sumerian Records]
In an era past, commonly referred to as the year 2008 AD, the fabled Sumerian Records released a volley of their best albums from young talent that are, to this day, regarded as the best works by those bands. After The Burial happened to be one of those bands, seeing the release of their monumental album, Rareform. Following the original release, a re-issue was done to introduce fans to the band's new full time singer, Anthony Notarmaso. Though Anthony didn't have the rather interesting vocal range singer Grant Luoma did on the original Rareform, he fit the band, bringing his own style to the table. Rareform's follow up, In Dreams, was met with jaded reactions from fans and critics alike. After three years, After the Burial have broken their silence with Wolves Within, a valiant leap ahead of the underwhelming In Dreams.
Wolves Within's opening track is not exactly the best show of where the rest of the album goes, following a somewhat standard idea of a lively opening track to grab the listener's attention, which it does quite well. The following track, second single off the album, 'Of Fearful Men', is one of the more technical songs on Wolves Within, containing ATB's signature cheese shred and surprisingly catchy riffing. Not relying on breakdowns to move a song forward speaks volumes about how much more thought was put into this album as opposed to some of their peers' recent releases. Each track is well thought out with transitions that make the flow of the song logical, many times not falling back on repeating parts within the song, rather being an uphill climb to a soaring finale. Tracks like 'Disconnect' show just how much potential After the Burial still have as a musical force. The progression and groove are undoubtedly next level for the band, containing some of their best melodies and most crushing riffs. 'Virga' is another stand out track that feels like a combined sequel to 'Drifts' and 'A Steady Decline' in many ways that are sure to keep fans grinning for the duration. Things are not so great in the vocal department, unfortunately.  Anthony Notarmaso fails to keep pace with the rest of the band's top notch performances. His style feeling quite restrained and bland by comparison, though the awkward clean vocal moments from In Dreams are, luckily, absent.
Sadly, there is an elephant in the room that the wolves can't seem to bring down. Wolves Within suffers from a fate Sumerian bands have been falling into for years: the stigma of poor production values. It's been a problem since Born of Osiris' second album, A Higher Place, Veil of Maya's [id], and most recently, The Faceless' Autotheism. Sumerian is either not helping these bands out with managing how and where mixing is done or just does not care about the product they're marketing to their fans, it shows where the label's favors lie. Born of Osiris got a break on their last album by being able to afford Joey Sturgis, but After the Burial got something that would barely be passable as a mix test on a certain guitar based forum. The biggest problem with Wolves Within's production is the drums. It's not uncommon for bands to utilize tools like Toontrack's Superior Drummer, and there is no problem with doing so, but bands doing nothing to make the initial stock samples sound any different is worrying, and in cases of this album and Autotheism, downright lazy.
It's extremely saddening that poor production value is a bigger issue now than ever before despite a marked rise in popularity. It's even more sad that because this album is marred by lazy production, many fans of the band may overlook the often excellent songwriting and return to form that After the Burial have otherwise delivered on Wolves Within, an album that most fans would have been ecstatic over had it been released in place of In Dreams. At least After the Burial have shown that they have not lost their touch, and they can still be relevant in today's ever changing music scene.
After the Burial – Wolves Within gets…

3.5/5
– AD