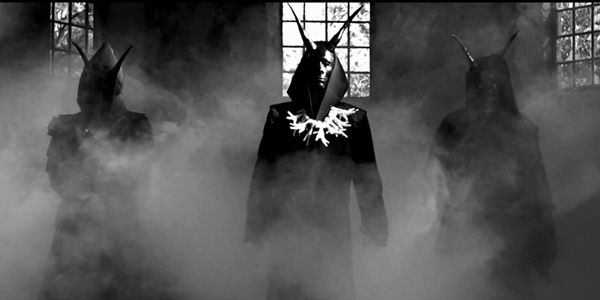 Brace yourself for another epic video from notorious Polish death metallers Behemoth in the form of 'Blow Your Trumpets Gabriel.' I haven't seen the video because I've been told there's nudity — not at all shocking considering their infamous " video — and I'm at work, so I'm not going to risk it. If you're safe from prying eyes and want to experience the first officially released studio recording since frontman Adam "Nergal" Darksi kicked Leukemia's ass, you can view it below.
Further details have also emerged for their upcoming album The Satanist. Here's the info straight from the press release:
BEHEMOTH's long-awaited new album, "The Satanist," is now available for pre-order. Pre-order bundles, include: CD, LP, t-shirt, as well as the deluxe box set, and are available at metalblade.com/behemoth in North America, nuclearblast.de/behemoth in Europe, and on behemoth-store.com (digibook and box). "The Satanist" will be unleashed on February 3rd in the UK, February 4th in North America and Poland, February 5th in Japan, and February 7th in Europe and the rest of the world. Also, "Blow Your Trumpets Gabriel" has been released on iTunes and can be purchased HERE.
"The Satanist" track listing:
1. Blow Your Trumpets Gabriel
2. Furor Divinus
3. Messe Noire
4. Ora Pro Nobis Lucifer
5. Amen
6. The Satanist
7. Ben Sahar
8. In the Absence ov Light
9. O Father O Satan O Sun!
It's official! Mark your calenders for February 4th, 2014.
– JR