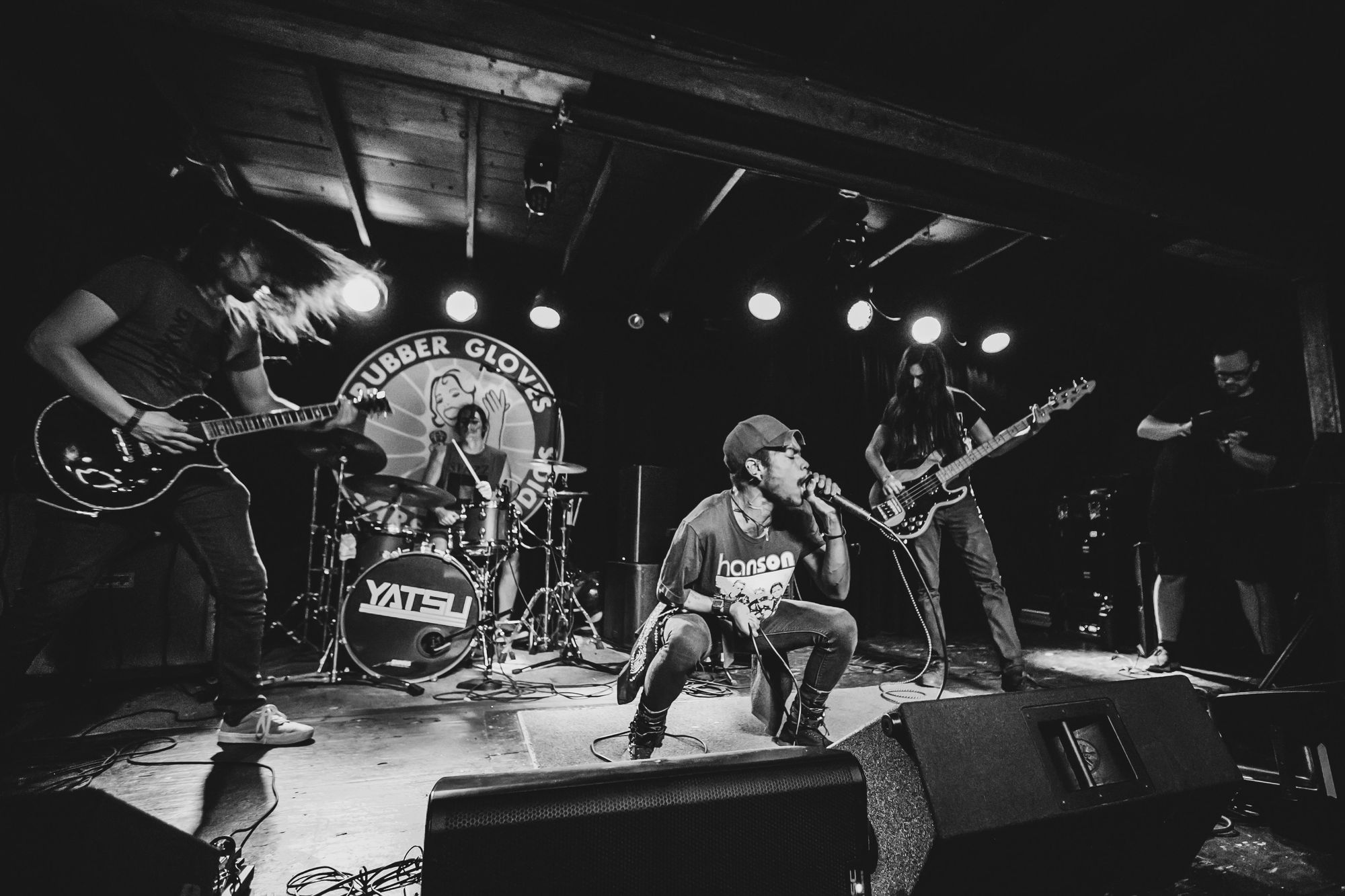 Photo: Ellie Alonzo
Full disclosure: I'm fully biased towards Texas powerviolence act Yatsu. Some of the key members have been in the same online social circles as me, and I met them briefly during the final Dillinger Escape Plan shows in 2017 before Yatsu even formed. In the years since, I've been sure to follow Yatsu as they built up a growing profile after releasing an instrumental EP and playing shows with the likes of The Callous Daoboys, Glassing, The Holy Ghost Tabernacle Choir, and The HIRS Collective (among others) in the years since.
Now, they're gearing up for the release of their debut album It Can't Happen Here, out November 3rd on Roman Numeral Records (home of Fawn Limbs and Horsewhip), and we couldn't be more hyped. In fact, it was Heavy Blog that approached Yatsu about securing these new songs, which you can hear below. A word of caution: these tracks are caustic enough to melt an entire Buc-ees.
Speaking on the two tracks, the band details:
Misanthropy Impure:
'Misanthropy Impure' is one of the more chaotic tracks on the record and opens up with a dissonant, stuttering riff in the vein of The Dillinger Escape Plan or Antigama. From there the song transitions into a driving blackened hardcore section before ending with an off - kilter breakdown complete with obnoxious string bends. Lyrically the song is about edgy, pessimist types. It's about those who respond to any major issue with "oh well, the world is going to end anyway," or similar sentiments. They offer nothing of value to any discussion and their performative apathy is a cop - out. They'll eventually have to deal with their choices to neglect, and unfortunately, so will the rest of us. The title of the song is a nod to the Shai Hulud album and song, "Misanthropy Pure." Listen to it.
Civic Duties:
'Civic Duties,' in contrast to 'Misanthropy Impure,' is a bit more direct in its attack. The working title for this song was 'Terror' because the main verse riffs were written with the band Terror in mind, albeit with an angular bent. But after a quirky call - and - response riff between the guitar and bass during the bridge, the song dives headfirst into Unsane/AmRep territory with a super pummeling groove. This song is always a crowd - pleaser. Lyrically the song deals with those who refuse to put aside the political personality they've crafted for themselves when crucial decisions need to be made. Remember 2016?
It's always a delight to hear fiercely and unapologetically left-leaning political metal and hardcore from the south, and Yatsu leave no room for confusion across the aptly titled It Can't Happen Here. Antifascism and anticapitalism are clear through-lines throughout the record, and the noisy, throat-searing cacophony drives the point home with such intensity, accentuated by a wrecking-ball of a rhythm section and inventive, textured riffing.
Be sure to experience what is easily one of the year's best hardcore-adjacent records when it drops November 3rd wherever you get music. Digital, CDs, and cassettes are available via Bandcamp, with vinyl coming through The Ghost Is Clear Records.
-Jimmy Rowe