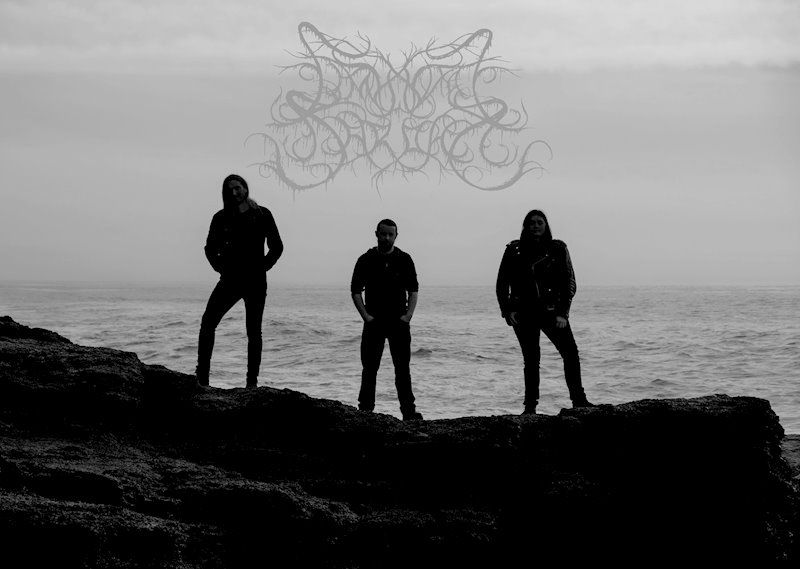 Up-and-coming Canadian black metal power trio Liminal Shroud are poised to make a grand statement on their sophomore full-length All Virtues Ablaze, out this Friday, August 5th, on Willowtip Records. Wasting no time during the pandemic following the 2020 release of their debut Through The False Narrows, the band are back with four tracks of dense, dynamic, and sprawling black metal that, per the band, "represents and captures a process of rejection, annihilation and regeneration of the self and contemplates the cyclical forces of futility that shape our condition."
Liminal Shroud are atmospheric, as is tradition, but refuse to sacrifice their might in their pursuit of crafting emotionally and structurally complex, multi-faceted extreme metal. It's no wonder then why the band cites the work of Agalloch and Intronaut alongside bands like Rotting Christ as inspiration for their craft.
Take an early glimpse at All Virtues Ablaze with the album's opening track "Hypoxic", and read about the influences that come together to help inform the band's sound below.

Rich Taylor (bass, vocals)
Primordial – Storm Before Calm
Sheer bombast, spite, and poetry from Primordial on what is probably their "blackest" album. Primordial for me are highly underrated in their achievement at unifying earthshattering riffs, blood-stirring emotion and a dynamic rhythm section perfectly matched to the character of the melodies and chord progressions to create a sound that is truly their own. Every member is firing on this one, with the bass adding power and richness throughout and a rousing pulse underpinning the final melodies, with this entire section a carving flood of apocalyptic imagery and bitter emotion.
Rotting Christ – Theogonia
Rotting Christ were the first black metal band I was exposed to, at a time when I was mostly listening to death, melodic death, and thrash metal, when Theogonia was released in 2007. The dark, epic melodies, extended structure of the various elements of this track, and its mythological, ancient atmosphere and themes totally captured me and left a profound, lasting impact – to this day black metal with the "warmer" sound defined by the early Hellenic bands and an atmosphere that captures the environment in which it was created is what I find most compelling, and is hopefully present in my own song writing.
---
Drew Davidson (drums)
Rush – Hemispheres
Growing up, a significant amount of the music I was exposed to was through my Dad, and he was a huge fan of Rush. I have gradually lost interest in most of the bands I was originally into, but even now I can put on an album like Hemispheres and be completely transfixed by it in a way that feels both nostalgic and immediate. As a listener, I was and am thoroughly blown away by the songcraft and performances, the timeless and poignant lyrics, and what must have seemed like production from the future when it was released. This album is imbued with a sense of profound determination and curiosity, and beyond that a palpable drive and life-affirming energy. You can feel through the music that the band was reaching to create something huge and undeniable that stood the test of time, and they succeeded on all counts.
Intronaut – Habitual Levitations
Intronaut are a band that seemed to come directly from my imagination, and were truly a perfectly unique distillation of all of the disparate genres and influences I had come to love at the time of discovery. Equal parts sludge, prog, jazz, post-metal, psychedelic, eventually drifting into a primordial soup of heady and immersive experimentation that somehow never loses sight of the song. Where their first few albums flirted with more extreme metal influences and could at times resemble delirious impressions of Death intertwined with Neurosis, Habitual Levitations finds the band closer to the realms of prog rock and psychedelia and expands on the more unique and meditative aspects of their previous work. I was beginning to take drumming and music more seriously when I first heard Intronaut, and the seemingly impenetrable architecture of their material, sharply intricate yet abstract and diffuse, remains an inspiration to this day.
---
Aidan Crossley (guitar, vocals)
Agalloch – The Mantle
Agalloch were influential for modern black metal and reached deep for me on a personal level. In my opinion, The Mantle is their most complete and powerful album. The intermingling of folk elements and a wide range of non black-metal influences into a truly unique, inspiring, and emotionally-gripping package never fail to draw me in. I've relistened to this album more than anything else over the last decade and still revisit it for a potent mix of bitter nostalgia, revelation in the totality and utter domination of nature, and for its bold, unafraid songwriting. The soul- searching this album delivers, in particular with "In the Shadow of our Pale Companion", is less about misanthropy and more about the journey towards meaning and purpose.
Altar of Plagues – White Tomb
The fall of civilization is so gut-wrenchingly well-captured in the debut full-length from this Irish black metal act. It's another release that has aged extremely well and grips me no matter how many times I've heard these same tracks. As a total package, it's an all-consuming journey that drags the listener through collapse and self-destruction in dark sonic landscapes and disparaging lyrics. Between the desperate, despairing vocals; volcanic atmospherics; grinding build-ups; and catastrophic climaxes, this album falls like a hammer. I aim to reflect similar vocal elements, themes, and atmospheres as a songwriter.

Liminal Shroud's All Virtues Ablaze is out August 5th, 2022 via Willowtip Records. Pre-orders are available at this location.