Hello, gang! Time for another edition of Unmetal Monthly! This month, we have selections from across the globe, from some massive names and lesser known entities. It's a good time. Our unmetal tastes are always evolving, so we would love to hear what records you've heard over the past month that tickled your proverbial fancies. Drop a comment here or in the Facebook group.
Hope you're staying safe, friends!
–Jonathan Adams
P.S Hello it's Eden, I made you a meme, please enjoy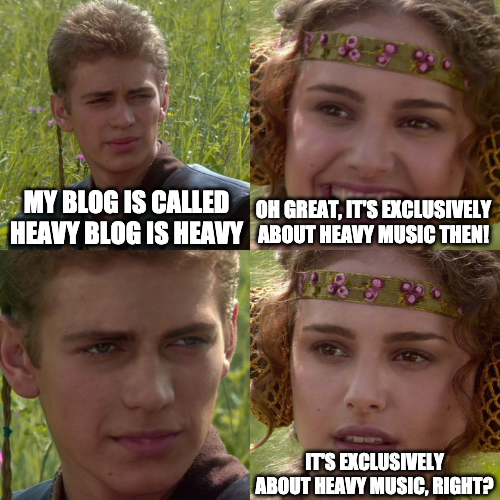 Top of the Pops
Jeon Soyeon – Windy (k-pop)
One of the great things about k-pop is that it's full of some of the hardest working artists in the world, constantly propelled forward by a rabid, multibillion dollar entertainment machine. Sure, there are valid arguments to be made about the ethics of the industry, just like any other big capital-backed operation. The artists themselves, however, are undeniably some of the best of the best to excel in such a pressure cooker. Many big labels encourage their most talented (or most marketable, whatever the case may be) idols to strike out and try solo careers parallel to their normal group duties. Obviously, it's a ploy to squeeze more buzz and money out of their biggest hitmakers, and more often than not, these solo ventures fall flat. It's a real sink or swim gamble that separates the real stars from the ones who are only good in their respective ensembles. One such star who's been steadily gaining steam for years, however, is the inimitable Jeon Soyeon, who's career path actually began as a solo artist and blossomed from there.
Leader, main rapper, and writer/producer for popular girl group (G)I-DLE, Soyeon's rise has been a clearly deserved phenomenon. Competing on popular 2016 competition shows like Produce 101 (where she barely missed becoming a member of I.O.I.) and ending as the second runner-up on Unpretty Rapstar put her star on the map. Soyeon debuted as a solo artist under Cube Entertainment (one of the industry's legacy labels) the next year, generating enough buzz through her successful, self-produced singles for Cube to build (G)I-DLE around her. Soyeon earned global recognition shortly after, as (G)I-DLE's popularity landed her (and bandmate Miyeon) life-changing roles voicing champions for League of Legends' uber-successful, in-universe k-pop group K/DA. Soyeon went on to reprise her role as Akali in Riot Games' next musical venture, True Damage, along with K/DA's second EP.
Between a handful of other features on popular tracks, her duties as leader of (G)I-DLE (which included competing on another show, this time with the whole group), and having to promote all of the above, Jeon Soyeon didn't have a chance to even look at another solo project until COVID-19 slowed the runaway train.
While only 5 tracks, Windy marks Soyeon's first full solo release, and it is an absolute testament to her quadruple threat status. Lead single "BEAM BEAM" is a lighthearted, pop punk-infused summer jam that took everyone by surprise, eschewing her usual intense demeanor for something both refreshingly carefree and still well within her wheelhouse. It's a classic coming-of-age song, recontextualized through Soyeon's persona Windy, a fast food employee, bemoaning having to grow up and work nonstop. Though she's never held a real blue-collar job, k-pop trainees often start young and work tirelessly to perfect their craft in hopes of debuting. Soyeon herself hasn't had a break since 2014, and knowing she has to put in more effort than anyone as a writer and producer on top of performing and promoting, I'd say she's earned the right to bitch a little.
The meat of the EP demonstrates the ease with which she carries different styles, from the infectious, bittersweet "Weather" to the dancy mid-tempo number "Quit" and dark funk of "Psycho". The real crowning jewel is album closer "Is this bad b****** number?" featuring two other talented female rappers in the scene: 18-year-old spitfire Lee Young Ji and BIBI, South Korea's answer to Doja Cat. A classic big bass rap cypher, Soyeon's payphone dial tone hook and each woman's distinctly styled verse combine to form one of the catchiest tracks of the year. Soyeon's charismatic, edgy, emotive spitting acts as the perfect cap to BIBI's soft-spoken meandering, ending the EP with the same high energy it began with.
Most k-pop artists, solo or not, tend to produce EPs far more often than full lengths. Even in those shorter releases, it's not uncommon to find as many throwaway tracks as there are well-crafted singles. Jeon Soyeon is not someone who half-asses anything, especially not her own music, and it is patently evident on Windy. If you're looking for a somewhat lower-stakes entry into the world of k-pop by one of its most well-rounded practitioners (getting BTS forced down your throat is tiring, I get it), do yourself a favor and give Windy a quick spin.
-Calder Dougherty
Best of the Rest
Billie Eilish – Happier Than Ever (indie pop)
I'm just as surprised as you that I'm sitting here writing this. For every quality track on Billie Eilish's world-shattering debut When We All Fall Asleep, Where Do We Go? there was an equally annoying and head-scratching track that kicked me out of the album's flow. My wife loves it, but I've always just been lukewarm on Eilish' material. That is, until Happier Than Ever. Arguably the most anticipated pop project of the year (and in several years for that matter), the amount of pressure on Eilish to release something as gargantuan as her debut had to have been immense. The craziest thing is that this album not only improves on her debut in literally every way, but is a much better, more cohesive, and thoroughly captivating outing than most pop stars have been able to put together this year. Not gonna lie, this thing slaps.
I was pretty much taken with Happier Than Ever from the get-go. "Getting Older" is a story of a young woman blossoming into adulthood and the pains and darknesses that come with that transformation. The starkness of the content is both heightened and muted by the production decisions here, which feel simultaneously bouncy, melancholy, and minimal in tone. It's a perfect accompaniment to the lyrics, which is a pattern throughout the record. The production here is simply superb. It's nuanced, sometimes understated, other times bombastic, and all in the right places. "I Didn't Change My Number" is a perfect example of the heights that the album is able to attain sonically, with a finale that conglomerates a group of disparate sounds into a roiling stew that feels both danceable and infinitely insular. I could fill up a lot more sentences with complimentary things to say about this record, but if the first two tracks suit your fancy you're going to enjoy what's here.
One of my favorite things (weirdly enough) is revisiting an artist that I didn't much care for to find that their new material is right up my alley. This is certainly the case with Happier Than Ever, and I couldn't be more stoked on it. In a year filled with duds and disappointments on the pop front, it's nice to find an album that I can unabashedly love from start to finish. Thanks, Billie. It's a banger.
-JA
Morningstar Delirium – Morningstar Delirium (ambient/alternative)
Were I to attempt to answer the question "what makes a work goth?", we would end up with yet another column gone to complete bloat because of me. So I won't do it! I won't, you hear? What I will do though is explore the interesting ways in which Morningstar Delirium, a new project from Kelly Schilling (Dreadnought) and Clayton Cushman (The Flight Of Sleipnir), explores the "goth" aesthetic and balances it with ideas from the worlds of alternative, ambient, and dark electronics, creating an overall album that can only be described by using various adjectives like "cold", "dark", "enveloping", and "morose". Which, in a way, is the sum of the parts which make up goth, right? Goth is an aesthetic which ranges artistic genres but what binds the style together is usually an emphasis on a muted palette, an emphasis on sadness, and an overall sensation of drowning.
Which brings us right back to the album because that's exactly how it feels. At its base, like at the base of many great goth albums, lie the excellent vocals of Schilling. Now, I don't really need to go on about how Schilling is one of my favorite vocalists; you all remember that from reading my extensive Dreadnought reviews. But on Morningstar Delirium, the timbre that Schilling uses is her clean and it is used to great effect. Her haunting tone, which she utilized on Dreadnought's latest release as well, works expertly with the strummed guitars on the opening of "Silent Travelers". It does much to create that goth atmosphere. But that second track is actually a good example of the versatility and agility of the band. Later on down the line, Schilling concedes the vocal spot to Cushman, who has a deep tone conjured straight from the great American folk traditions.
But instead of pairing his voice with acoustic guitars like Schilling is accompanied at the beginning of the track, Cushman's voice is teamed up with a surprisingly dark and haunting electronic segment. It reminds me most of Toby Driver's work, both with the latest Kayo Dot albums and his solo material, in the way that Cushman's voice winds itself like a fathomless serpent around the uncoiling, faintly breath-like electronics of the track. Towards the end of that segment, the electronics erupt into industrial drum beats (which return on the next track, "Where are you Going?", before Schilling's voice returns to us, twisted as if it comes from the bottom of a well. If that sounds like a lot is going on, it is. Even though the album is temptingly minimalist, there's a lot happening in the background. The cohesion of the track, and the album, is maintained by that goth aesthetic; no matter what "mode" the music is in, it is channeled towards this faintly haunting, deeply melancholic vibe, making sure that everything sounds like it's going in the same direction.
To sum things up, Morningstar Delirium is an album to get lost in. If you're looking for some cold, morose, and evocative music, it has something for you. If you're looking for intense compositions that creep up on you with their complexity, it has something for you. If you're just looking to take in the voices of two excellent vocalists, it has that for you as well. It's a release I foresee myself spending time with at the oddest of times, in the middle of a night after a few months away from it or maybe on a languishing Saturday afternoon, when time itself seems to collapse. It's the perfect companion for both of those moods and, because of that, has secured itself the moniker of "goth" and beyond.
-Eden Kupermintz