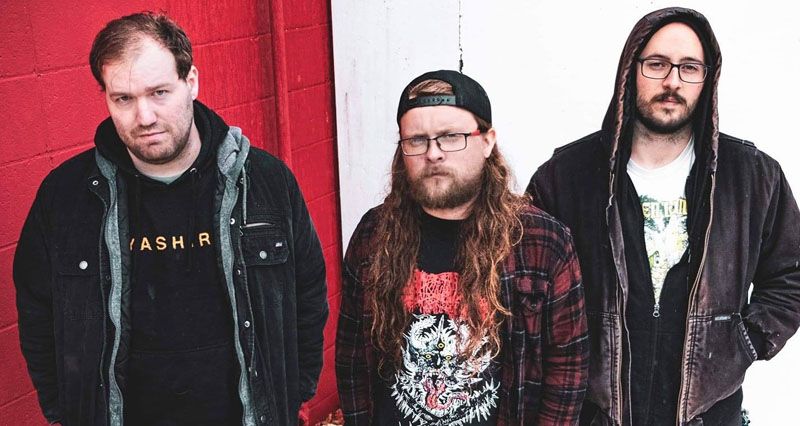 Arkansas sludge metal trio Bones of the Earth released their sophomore album  II. Eternal Meditations Of A Deathless Crown dropped earlier this month, and is the band's best work to date. Taking a foundation of the sludge scene from the American South (a la Mastodon and Baroness)  imbued with a healthy hit of hardcore, Meditations stacks powerful lumbering riffs and stoney psych tones against moments of sinewy rhythmic ferocity and the rare stabbing panic chord. Fans of acts like Black Sheep Wall and Yashira will be stoked to add another album to the list of must-hear records for this year.
We reached out to the band to get a rundown of the different moving pieces that make up the musical lineage of Bones of the Earth, specifically when it comes to the albums that, in some way, shaped the direction and sound of of Meditations. Gain some insight below.

Raif Box (bass/vocals)
Defeater – Letters Home
Defeater is such a massive inspiration to me in regards to storytelling. What they accomplish with their concept is absolutely incredible. Travels was a very close second choice, as it was the first Defeater record I listened to, but I have to go with Letters Home. I really feel like the composition supports the story in a unique way compared to their other releases. The instrumental arrangement is in perfect unison with the lyrics, which makes such a huge difference in the emotional response to the album.
I love that the concept extends throughout their entire discography as if they're adding more and more chapters to the book with each release, and this was obviously a huge influence on how Bones is approaching our story.
Top 3 songs: "Bastards", "Hopeless Again", "Bled Out"

Erik Ebsen (guitar)
Rosetta – The Anaesthete
In 2013, free from all contracts with any label, Rosetta was in a period of incredible tension. Fortunately, the name your price tactic on Bandcamp proved effective for Rosetta and they went on to make more music. I love The Anaesthete for being probably their heaviest recording to date and you can hear their demons come through in songs like "Oku / The Secrets" and "Myo / the Miraculous".
"Hodoku / Compassion", the band's first collaboration with Eric Jernigan (City of Ships) who would later join Rosetta is a moment of bliss in an album of darkness. Afterwards your ears get pulverized by "Myo / the Miraculous", probably the best one-two punch featured here. The difference between artists that are good and great are dynamics. The loud is louder, quiet is quieter. The Anaesthete is a masterclass of peaks and valleys, creating an immersive experience from start to finish.
Top 3 songs: "In & Yo / Dualities of the Way", "Oku / The Secrets", "Myo / The Miraculous"

Cody Martin (drums/vocals)
Mastodon – Blood Mountain
To me, Blood Mountain is a perfect heavy rock record. There's honestly not a second of this album that I don't love. It's over an hour long but such an easy listen with the amount of ideas and creativity they manage to pack in. I take so much influence from these songs, not only in my drumming, but also in the riffs that I write. Their unique sound of thrashy chicken pickin' and relentless drumming while occasionally playing with odd time signatures is a sound that really just does it for me.
While I do enjoy some of the more recent releases, in my opinion Blood Mountain is the peak of early Mastodon.
Top 3 songs: "Capillarian Crest", "This Mortal Soil", "Siberian Divide"

The Band
Baroness – Red Album
While the three of us have somewhat different tastes in heavy music, Baroness is one of the main bands that we all share a mutual love for. Red Album takes you on a journey. Starting slow, it has a very primal yet colorful and progressive sound. Throughout there are several cinematic parts where the music almost tells the story itself. That's something we take great influence from and try to create in our own music, not to mention all of the amazing riffs.

Bones of the Earth's new album II. Eternal Meditations Of A Deathless Crown is available now wherever you get your new music. You can get a taste of the record via the Bandcamp player below. For more, follow Bones of the Earth on Facebook.
[Band photo by Kyle Kaminski]