Happy holidays, fellow moshers! Once again, we find ourselves at the end of the year. A calendar is about to get thrown out just to be replaced by another one with a new number on it. But what a year it was! 2019 has been one of the strongest years for thrash metal in some time. However, the usual EOTY retrospective gets formulaic at a certain point. So we thought we'd do something a little different.
Regular readers will remember our mailbag column and how we talked about our love of thrash metal but also our differences in taste. It was unsurprising then when we came up with two almost completely different lists of our top 10 thrash albums of the year. In fact, we were pretty astonished to find that we happened to agree on one record! So, since that left 9 different records each, we thought a fun retrospective playlist swap was in order.
So here's how this is going to go. You dummies are gonna read about how much we love Lord, our medieval power thrashing gods. Then you're gonna read our playlist thoughts. Then you're gonna see what we hope for thrash in 2020. So go grab some pizza and a beer and let's do this.
Our Collective Pick
Lord – Fallen Idols
Like I (Pete) will talk about later, I'm not really a power metal fan. It just seems a little too over the top to me. But combine that with thrash metal? Now I'm listening. Crazy acrobatic thrash riffs just combine really well with the stereotypical operatic vocals of power metal in a way that I honestly never would've considered before. Lord nailed these tropes on the head with Fallen Idols, and I very much fell in love with it.
To me, this record hangs on the crunch of the guitars. They don't sound so over-processed to me like some power metal tones can be. It just makes the record seem like it's grounded in reality. I think the best way I can explain this is that I'm not generally a huge fan of high fantasy kind of fiction. However, when you take those fantastic concepts and put them in a real world situation, I'm totally in. That's how Fallen Idols feels to me. These established thrash metal tropes in the record make it seem much more accessible to me and much more down to Earth. It nails that connection and takes the conflict out of that dichotomy.
In some ways, this record feels both like a throwback sound and something totally new and different. I hear a heavy Judas Priest and Iron Maiden influence in Fallen Idols, but the way it's presented seems wholly unique and new to me. One would've thought this kind of thing had been developed before, but it just hasn't. That's why I love this record so much. It's both old and new and a great marriage of both. It's riding the wave of the traditional heavy metal revival and taking it in a new direction. That's what I want out of my metal bands, and anyone could like this record.
–Pete Williams
Best of 2019 Playlist Swap
Josh's Picks with Pete's Comments
First of all, a big thanks to Pete for bringing me on board for Into the Pit this year. I've had a lot of fun going through all the releases each quarter and discover so many great releases that would have otherwise probably passed me by. It's really reignited my pashion for the genre, and been great to have someone with such a different perspective to bounce ideas and recommendations off of. Thanks Pete!
I also want to give an honourable mention to what is easily the best thrash song of the year, even if it's not by a thrash metal band or from an album that contains anything else even remotely relatable to thrash metal. That song is "Thrash Metal Cassette" by Dinosaur Pile-Up, which opens one of 2019's most infectiously fun records, Celebrity Mansions. I can confirm that the album, which otherwise sounds more like Weezer than Warbringer (but also sometimes like Rage Against the Machine and Jay Z), is the perfect soundtrack for walking around Rome during the middle of an unrelenting heatwave and is getting a second wind as we southern hemispherers transition into summer once again. So turn it the fuck up and put it up for thrash metal and we'll see you after for the main event.
Killswitch Engage – Atonement: "The Crownless King"
[Josh's Comments] Killswitch Engage's phenomenal live performance supporting Parkway Drive late last year reminded me just how much I adore the band's classic material, and I've really reconnected with just how much I love the band in 2019. It also didn't hurt that the band released their best album in years as well. The response to Atonement has been fairly mixed, with a lot of reviews I've seen pointing out the album's apparent unevenness and lack of momentum due to its track ordering (which is something I addressed directly in my own review of the record), along with the band putting their weakest foot forward in terms of singles as well. The songs themselves, along with the inherent quality of the band's performance(s), are undeniable and I defy anyone to listen to "The Signal Fire" into "Unleashed" and then "The Crownless King" (which open my proposed alternate order) and not get fired up in the way only the best thrash and metalcore can inspire.
There's always been a hefty thrash edge to Killswitch Engage's sound, which is really brought to the fore on Atonement. While there was a plethora of outstanding thrash releases this year, there was no contest when it came to (ahem) crowning my number one pick for the genre. What better way of convincing skeptics of the album's thrash credentials that with one of its best and thrashiest numbers, which features none other than Testament's Chuck Billy on vocals.
[Pete's Comments] Josh got me into metalcore this year. During our long mailbag discussion, he talked about how metalcore was the new face of thrash, and he's totally right. I hear it now, and I kind of love it. It's slowly growing on me anyway. And I used to listen to Killswitch Engage a lot. This record didn't do it for me too much, but I can hear how someone would love it. I love a lot of different metal for each of their tropes, and Atonement had a lot of that metalcore vibe to me. It didn't quite crack my best of the year lists, but I'll be returning to Atonement soon.
Violblast – Theater of Despair: "Trivialization of Murder"
Theater of Despair was one of the earliest signs that 2019 was going to be a great year for thrash metal and remains one of its strongest offerings almost twelve full months later. The whole album is outstanding, but it's the opener ,"Trivialization of Murder", that set the benchmark for thrash metal in 2019. The track has everything a great thrash song should: big riffs, big hooks, big grooves and – most importantly – a killer fast-break into a gargantuan, headbanging climax. What Violblast have essentially done here is combine the best bits of Kreator with those of Sepultura, and the results are suitably staggering.
One thing about Josh's list: there are a lot of great records on it. When I was narrowing down my list, several of these records were just cut from my top 10. Violblast was literally number 11. It was one of my first reviews back in January, and even then I knew I was going to be talking about it in December. There are some fantastic songs on it. Great riffs, solid beats, good grooves, and a really dark sound that I find totally irresistible. It also sits in that really niche sweet spot between death metal and thrash. It's a fine line to walk, and these Spaniards did it really well. Regardless of where I put it on my list, it's a DAMN good record.
Destroyers of All – The Vile Manifesto: "The Elephant's Foot"
Another early highlight that has stuck with me throughout the year. I remember thinking of The Vile Manifesto as more of a death metal album upon its release. But going back to it now, it's pretty clear that it's a thrash album at heart – albeit considerably embellished with a considerable dose of death metal and even a bit of black metal to spice things up. While "Destination: Unknown" has usually been my go-to track from the album, I've picked "The Elephant's Foot" to showcase a bit more of the groovier side of the bands sound. Also because it sounds like a Sepultura-fied version of Chimaira's "Resurrection", which feels more or less custom tailored to my particular tastes.
I remember listening to The Vile Manifesto when it came out, and I really enjoyed it. Blackened thrash is definitely one of my favorite crossover sounds, and Destroyers of All do a pretty great job of combining the two things. What you don't often hear from these kinds of bands is great grooves. "The Elephant's Foot" has a really solid breakdown groove section that's hard not to enjoy. Yet another album on Josh's list that didn't quite make the cut on my list, but there's a lot to enjoy on here regardless.
Destruction – Born to Perish: "Fatal Flight 17"
It was mostly newer bands who dominated thrash metal in 2019. However, there were still some classic bands out there showing the young ones how it's done and, as far as traditional thrash metal goes, no one did it better this year than Destruction. Even among their fairly bulletproof discography, Born to Perish stands out, being both their best album in almost a decade and one of the most comprehensive records of their extensive career. It was hard to pick just a single song from this album (since I think it really works best when taken as a whole), but I went with "Fatal Flight 17", which has always stood out as a highlight and a well-earned (semi-)climax to the record.
If you're a regular and careful reader of Into the Pit, you would probably notice that I don't talk a lot about Euro-thrash. Honestly, it's because I'm just kind of ignorant about it and rely on stereotypes of what I am familiar with to talk about it. That's wrong, and both Josh and Destruction's new record, Born to Perish, is making me realize that. This band is quickly approaching 40 years together, but this all sounds so new and fresh. Maybe it's because I'm not extremely familiar with them, but I'm confident it's because they're just that good. It's a much darker sound than I would've anticipated (again, I'm sorry), and it just really draws you in to consume the track in its entirety. The topic of the song makes the song that much more powerful to me. Great record, great track, and great band.
Acid Death – Primal Energies: "Godless Shrines"
I neglected Acid Death from our first-quarter round-up on the basis that it was more of a death metal album than a thrash one (and also because, honestly we were inundated with great thrash albums that quarter and hadn't quite worked out the format yet). I think we've evolved to a point where it falls perfectly within the realms of what we're calling thrash metal, and I've found the record only more formidable upon revisiting it for our end-of-year wrap-up. I've picked one of the album's thrashier offerings for the purposes of this playlist swap, but you can hear some of the progressive and even power metal elements that permeate the rest of the record creeping through on "Godless Shrines" as well.
Oh yes, gimme more power thrash. I wasn't even aware of Acid Death until Josh put them on his top 10 list [pay attention Pete!]. I'm sorry I missed them because of this track. It is just completely chock full of tasty riffs and ear candy that work really well with the grooves they create. It's also a headier experience than thrash metal tends to be with its moments of high-flying technicality and progressive songwriting. The track is incredible along with the tracks from the album I have listened to already. Definitely going to add it to my personal listening before the end of the year so I can say I did indeed hear it the year it came out.
Allagash – Cryptic Visions: "Evil Intent"
I don't think I've come across a "cooler" sounding song than "Evil intent". That might seem like a strange thing to say about a song from a progressive power-thrash album by a Canadian band who sing exclusively about alien conspiracies but, for all its epic theatrics, the main riff to "Evil Intent" also has that classic metal Judas Priest/Thin Lizzy coolness to it that sounds like (what I imagine) riding a chopper down an open highway with the wind blowing in your hair feels like. The rest of the album is often more intricate and certainly more expansive, but it's "Evil Intent" that's kept me coming back for more and it's that classic metal edge that sets Allagash apart from the many formidable power-thrash hybrids that have come out in 2019.
Now that I've embraced the power metal side of thrash, I think I have a better idea of why Josh loves this now than I did when he first mentioned it. The cool part of the melding of thrash and power metal is that the thrash aspects of the sound kind of makes the music far more grounded. I'm not the biggest fantasy fan in the world, and that's usually how I view power metal due to its connection to fantastic elements. However, when fantasy tropes are put into a more realistic setting, I'm usually a huge fan as it just seems more relatable. That's what this track feels like to me: a more relatable version of power metal. I'll be checking this album out again now that my mind is a bit more open.
Omicida – Defrauded Reign: "Divine Uncertainty"
I described Defrauded Reign as akin to "a lost '80s underground classic" in my original review, which I think is a fairly accurate assessment. The album is packed full of some of the best Slayer and Kreator worship going round. The track that's always stood out, and the one I've picked here, however, is "Divine Uncertainty" which comes out of nowhere about halfway through the album. The track sounds more like Voivod/Vektor by way of Pink Floyd than anything out of the Bay Area and, while not as fully developed as the pit-starters that surround it, it's precisely that separation that makes it stand out. If this track doesn't grab you out of context, then I implore you to hit the skip button and break out some windmills to the album's other offerings. I don't think there's been a better album for pure headbanging in 2019. Nevertheless, It's these more progressive elements I'd really like to see Omicida expand on for future releases. They've proven they can imitate their heroes to a tee; now I want to see them forge a sound all of their own.
I'll be completely honest about my listening habits: sometimes, I tend to just skim through an album instead of giving its due. There's only so many records I can personally completely consume. However, I will ALWAYS listen to a metal song with an acoustic intro. Mostly because I'm waiting for that kind of high drama guitar solo, and "Divine Uncertainty" delivers. Josh raved about Omicida earlier in the year, but it didn't grab me quite as much. I do remember this track, though. Not just for that intro. The entire song is pretty damn great. It just moves from section to section in a way that feels like a journey. The Voivod and Pink Floyd references are spot on for this song. It's not just some knuckle-dragging thrash track. It's a progressive journey, and it's extremely enjoyable.
Carnal Forge – Gun to Mouth Salvation: "King Chaos"
Everytime I go back to this album I find myself thinking, "It can't be as good as I remember." But it always is. Every. Single. Time. Without fail. That Carnal Forge have produced one of the best thrash albums of 2019 surprises me as much as anyone. However, there's no denying the raw appeal and masterful composition of this record. Gun to Mouth Salvation is not only a phenomenal comeback record, but easily the best album of Carnal Forge's career and the best Haunted-style record since that band's glory days as well. With this record, the students really have become the masters; to the point that it's downright embarrassing to compare any recent effort from Carnal Forge's competitors to the sheer energy and enthusiasm displayed here.
I can't disagree with Josh's assessment: this really was one of the best thrash albums of the year. It's got a great straight thrash sound and sounds like it could've been pulled straight from the late 80s. This track in particular sounds has a very full sound to it. Thrash tracks can often be a little too reliant on guitars to carry them through, and that can mean more than just super duper riffs. It's just as much about the production quality as it is about the songwriting. "King Chaos" has that little extra oomph that makes it sound like a complete song. There's a nice low end and rhythm to it that it feels like an entire band is playing and not just a guitarist or two and some other dudes maybe participating. It might not have made my personal top 10, but it's definitely worth the time investment.
Lowest Creature – Sacrilegious Pain: "Let the Darkness Swallow Me Whole"
I am absolutely astounded that this album didn't make Pete's list. There's been a lot of great crossover/Pantera-worshiping bands to emerge this year, in Power Trip's wake, but Lowest Creature are by far the best of them. Sacrilegious Pain is a fairly derivative album. However, Lowest Creature are the first band I've heard pick up the Power Trip template and really run with it. Although the album's appeal essentially boils down to, "if you like Power Trip then you will like this", there are a few subtle nuances that set it apart. There's a bit more of a definitively punk/crossover element to Lowest Creature's sound, which is also less steeped in Pantera-style stomping and '90s groove metal. There's more of a traditional thrash tonality to the guitars, which comes through on tracks like "Reapers Fool" and "Let the Darkness Swallow Me Whole". I've picked the latter track, which reminds me a lot of Metallica in both its tonality and compositional complexity, which is something I'm not really seeing among other similar acts and something I'd love to see expanded on for future releases.
Along the same lines as Violblast, Lowest Creature was number 12. Josh is completely justified in his shock at me. It's definitely reminiscent of Power Trip and Nightmare Logic, which everyone knows is my favorite album of the 2010s. The only reason it's not on my list is because there were a lot of good releases this year and it juuuuuuust missed the cut of 10. Holy crap in a bag, this is a great record. Josh included it in his playlist and I had to relisten to it. It's everything you might want from a new crossover record. Razor sharp distorted riffs and shouts only the most virulent anger could create. Everything on Sacrilegious Pain howls with aggression and creates the kind of energy that wants to flip cop cars and expose authority figures. If you don't love this record, you can fuck right the fuck off.
Pete's Picks with Josh's Comments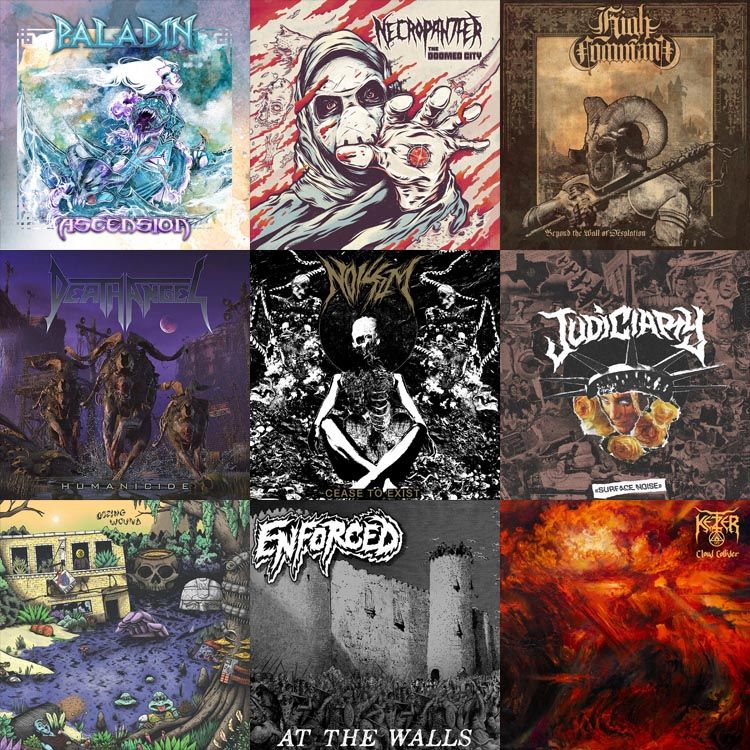 I'd give some honorable mentions, but Josh already named all mine. When I was cutting down my list to 10, there were some pretty hard cuts to make. Violblast, Lowest Creature, and Destroyers of All JUST missed the cut. However, a few other names I'd like to throw out include Insanity Alert's 666-Pack and Violence Condoned's Hyper Tough for some super fun crossover thrash and Wraith's Absolute Power for some throwback thrash with horror leanings. I'd also like to quickly address our exclusions of Toxic Holocaust and Possessed. It would be difficult to call either record disappointing, and neither were overall "bad" records. As cool as it was to hear new Possessed after 30+ years, it just didn't grab me. New Toxic Holocaust after half a decade away was also fun but didn't feel engaging either. Both are good records that I enjoyed overall, so go check them out anyway.
Paladin – Ascension: "Divine Providence"
[Pete's Comments] Nothing blew me away this year quite like Paladin. Ascension is the perfect example of this new wave of power thrash bands. It's just fun riffs combined with high drama and incredible melodies. The first time I listened to it this year, I felt compelled to start it over again from the beginning for a second listen. I was absolutely astounded, and there are just no other words for it. But just because I say it's a fun record doesn't mean it's not serious. These guys are some extremely talented songwriters who can write extremely compelling tracks. The songs are so good that I actually had a tough time narrowing down a single song to give to Josh. They're all straight bangers. I wish the record had gotten a little more fanfare so I could gush about them more often. Bless you, Paladin.
[Josh's Comments] For whatever reason, this album didn't really cick with me when Pete first brought it to my attention. Revisiting it now, however, I have no idea why it failed to connect with me and, if given a bit more time with it it probably would have wound up making my list as well. The album as a whole has a tendency to get a bit overwhelming toward the end but it kicks off with such a bang that I can't help coming back for more. There's something about the riffing that reminds me of Children of Bodom (who, I'm reminded, also put out a pretty good album this year), except less shreddy. As this post points out, a lot of the 2019 thrash has come from the borders of power metal and Paladin, along with Lord, are easily the best of the bunch when it comes to combining the two sounds.
Necropanther – The Doomed City: "The Doomed City"
The line between death and thrash metal is a subtle one. I often think of a line from Rabbi Lionel Blue about how Jews are just like everyone else only more so. Same thing here: death metal is just like thrash metal, only more so. Necropanther walks a pretty fine line between death and thrash and even combines it with some blackened ideas and themes. The Doomed City melds all these concepts together to weave a unique tale of a sci-fi tyrannical dictatorship and rebellion against the powers that be. The way Necropanther can groove through the tale only adds to the storytelling. While the record clocks in at about 40 minutes, the tracks move at a breakneck pace that feels more like 4 minutes. And that's how you know you got something good: it's quite literally over before you know it (and way too soon at that). I am so very, very glad to live in Denver where these guys are.
The Doomed City is a great album, packed with killer riffs and memorable hooks. …Which is why I'm kind of confused why Pete picked this track to showcase the record. It sounds more like an intro track than a proper song, which was why I was even more surprised to find out that it comes mid-way through the album rather than at the start. Maybe it serves the album's lyrical narrative more than its musical progression but, taken in isolation, it never really goes anywhere. Even so, the rest of the album's offerings remain convincing and I'm kicking myself for letting it pass me by upon its release. Surprisingly, it's the power metal elements rather than the death metal ones where Necropanther seem to excel the most and, while I personally would like to see a bit more refinement from these guys, I won't be hesitating to pick up whatever they put out next.
High Command – Beyond the Wall of Desolation: "The Commander's Code"
Oh lord, lo-fi hardcore crossover thrash. Y'all know I can't say no to that kind of record. But what about when crossover thrash enters the realm of high medieval fantasy? Now I'm extremely interested. It's not often you get a crossover thrash record that enters concept album territory, so all praise be unto High Command and Beyond the Wall of Desolation. This unique blend of hardcore-influenced thrash and stories of swords and sorcery somehow works extremely well. It weaves dark tales of soldiers, war, and violence and presents them in a way that make them so visceral and true to life. Tales of brutality are best told through crossover organized chaos, and no one did organized chaos better in 2019 than High Command.
As soon as I heard this album I knew Pete had to hear it. (In fact, I had it's genre listed simply as "Pete" on the spreadsheet we use to compile this column [Pete's Note: fair and accurate]) I love the raw appeal of this album, but for whatever reason it didn't really stick with me. While I love the overall sound of Hgh Command, I'm not sure there's quite enough of their own personality coming through in their sound yet. There are a lot of moments on this album that remind me of other things. The main riff to "Commander's Code", for example, sounds more or less exactly like Megadeth's "Symphony of Destruction", with a little bit of Ghost's "From the Pinnacle to the Pit" mixed in for good measure. So, while Beyond the Wall of Desolation does a good job of reminding me of why I love thrash metal in general, I haven't quite fallen in love with the band the way Pete and some others have. It's still a great album though, and would have easily made my own list most other years.
Death Angel – Humanicide: "Humanicide"
You really shouldn't mess with a classic, and Death Angel made sure to emphasize that with Humanicide. It's a record straight out of the '80s thrash metal wave with modern production values. That may make it sound like Humanicide is a kind of retread, but that's the great part of Death Angel. They almost ended as soon as they started and took quite a long time off, missing out on building a portfolio when everyone else was doing the same. In a way, there's still a lot of territory for the band to mine, and 2019's release proved that. Every track is an '80s thrash banger, but nothing gets the party going like a great intro track with all the trimmings. If you feel like you need a good throwback album, I present "Humanicide" for your consideration.
Death Angel are a band that never really clicked with me. Having said that, I absolutely loved their last record, 2016's The Evil Divide, and was looking forward to this one. It fell flat for me however. I don't know why. There's nothing intrinsically wrong with Humanicide, but it just feels a bit uninspired to me, especially in comparison to their last album. I also definitely think Destruction, and even Overkill, did it better when it comes to classic thrash bands' output in 2019. "Humanicide" is a fun track, but the album as a whole is just missing that extra spark I'm looking for in a thrash record.
Noisem – Cease to Exist: "Downer Hound"
Rarely do I get in the mood for something on the grind side of life. However, when it leans more toward crossover thrash, I'll give it a chance. Whoa boy, am I glad I got into Noisem with Cease to Exist. This record has just enough recognizable melody for me to absolutely love it. The chaos that is this band is infectious, too. You can feel the unhinged rage this trio has, and thankfully it's exorcised by some totally brutal music. "Downer Hound" just sticks out to me on the record since it has a completely different feel from the rest of the record. For something with a lot of grind influences, it allows for some breathing room. And at 2:30, it's basically an epic tome of a track on the record. You're gonna love it.
This one completely passed me by. It's a bit raw for my tastes, but I dig the overall death metal sound going on here. Oddly, I wish it grinded a bit more. I adore grindcore, but it's been a while since I've heard a pure grindcore record that's really grabbed me. I guess that's what I've got all those old Nasum records for, but we're talking about a band with different vowels here. This record hasn't really grabbed me, but it has piqued my interest. The idea of a thrash and grindcore hybrid is a tantalizing one. I guess Pig Destroyer made some headway into such realms with their embracing of groove metal (and "Blackened" riffs) on Head Cage (2018), which was an album I really liked. I might have to check out Noisem's other albums and see if they're a bit more long those lines. I'll be very happy if they are.
Judiciary – Surface Noise: "Social Crusade"
MOAR CROSSOVER! If you thought I was done with crossover thrash on this list, you don't know me all that well. Judiciary knows how to make a good thrash groove, and "Social Crusade" engages that part of your brain that craves a good beat to bob your head to. The riff feels a little snakey and groovy, further engaging your brain in the beat. The entire song plays with grooves and rhythms that keeps you in line until the breakdown riff you need at the right time. Surface Noise as a record works in a similar way while also calling out the ills of society like any good thrash metal record should. It was my first favorite record of the year for a damn good reason.
This is maybe the heaviest, or at least the most destructive album on either of our lists (and I say that as someone who has an album by a band called "Destruction" on theirs). While I love the overall sound of this record it's not one I ever really came back to. ALthough, listening back to it now, I have no idea why. This album is tough as hell and reminds me of a more hardcore take on the early Machine Head sounds – especially on this track, with all the harmonics in the big fat riff at the end; that's pure The More Things Change… right there. I think the main reason this album never really got its claws into is that, every time I listen to it, it reminds me of Get the Shot's Infinite Punishment (2017), which is an album I loved from a couple of years ago, and I always end up listening to that instead. I can't really hold that against them though, can I, and I'll definitely be keeping an ear out for what they do next.
Oozing Wound – High Anxiety: "Tween Shitbag"
AAAHHHH, PANIC CHORDS!!! You need some good crossover between thrash and experimental noise rock. Oozing Wound hits you with a chaotic wall of sound that combines a lot of different little subgenres into a nice underground and lo-fi package. Combine that with some tongue-in-cheek social commentary, and you've got yourself a nice little metal record. High Anxiety is loaded with tracks that rip on those who truly deserve mockery, and "Tween Shitbag" is no different. Few things make a good crossover record like serious mockery, so let's hope Oozing Wound sticks around awhile. Lord knows we have a lot of people who could use their brand of criticism.
I forgot all about this album. I jammed this a bunch when it first came out, but since then it's completely slipped my mind. I don't think I've ever really heard thrash metal combined with mathcore before (unless Converge's "Cutter" counts?). It reminds me a lot of King Gizzard and the Lizard Wizard's take on thrash this year as well. The main riff of this song would fit perfectly in on Infest the Rat's Nest. Yet, while I probably prefer the fuller sound of that album, it's nowhere near as inventive as this, and I'm not sure any other thrash or thrash-adjacent album released this year has been either. As raw and gritty as this album is, the sound is completely fresh and how can you go wrong with track-titles like "Vein Ripper" and "Filth Chisel".
Enforced – At the Walls: "The Heat"
Alright, last crossover record. Pinkie swear! As many predicted, 2019 became an incredible year for music expressing rage and frustration with society by the socially dispossessed and isolated. And who's more socially dispossessed than hardcore punks? Enforced brought "The Heat" with At the Walls (Did you see what I did there? I'm so clever.). Few records this year unleashed pent-up rage like At the Walls. If you're looking for a great emblem for this band, look no further than their logo [Josh's Edit: Well, yeah…]. You can interpret the flared letters as either licking flames or coated in barbed wire. Either way, you get the message. At the Walls expressed the outrage many feel towards their governments and leaders in 2019, but "The Heat" is a classic thrash metal song about thrash metal culture. So get in the pit with this one. It's bound to be a bumpy ride.
This album came close to making my own top 10 as well. I'm as much a mark for that tasty Arthur Rizk guitar tone as Pete is, and the added hardcore edge helps Enforced stand apart from the pack. Thrash has a great history of songs about thrashing ("Whiplash", "Bonded by Blood", etc.) and "The Heat" is another outstanding addition to that catalogue. A shotgun blast into a breakdown is never not going to get me immediately pumped up (I'm sure there's one of those one of the albums I picked as well; Omicida or Carnal Forge maybe). In a year packed with great bands playing Slayer songs with Pantera's guitar tone, Enforced are among the best, which is a strange and specific thing to say, but hey: it's been one of those years.
Ketzer – Cloud Collider: "The Wind Brings Them Horses"
Before anyone says anything: yes, I know this one is a stretch to call thrash metal. But in my defense, Ketzer makes a highly stylized version of blackened thrash that leans more towards the black than the thrash. However, the concepts are still there, and Cloud Collider is an incredible record that combines atmo-blackened songwriting with thrash grooves and antics. It's a unique record that lies in that uncanny valley of metal where you can really only describe the band's sound by saying their name. It's a little too up-tempo to be black metal and maybe a little too ephemeral to be thrash. But that's ultimately what you want from an artist. You want them to take in influences in order to create their own sound. Cloud Collider proves that Ketzer is up to the challenge.
Sorry to end this on a down note, but I just don't get this one. We're pretty liberal about genre definitions around here, but I don't hear the thrash metal in Ketzer's sound at all. The Metal Archives lists them as a "thrash/black metal" band, so maybe it's me who's crazy, not Pete, but this sounds like fairly run-of-the-mill black metal to me. I also don't think it's a particularly stand out record as far as black metal goes either (although, again, my beloved Hath would disagree with me about that as well). I guess this one's just not for me. Sorry Pete!
State of the Pit Address
Genre Hybridization
In the last few years, I (Pete) have slowly come to realize that the old school thrash is dead and gone. And that makes me kind of sad. That extreme hybridization of punk fury and metal technicality that we know from every '80s basement tape is just not coming back. I clung to that idea of my favorite sound and bemoaned the "death" of thrash. What I was missing is how thrash ideas are still very much alive and just manifesting themselves in new ways.
Now that's not to say bands don't make those kinds of records anymore. They certainly do. Josh would physically fight me across the ocean if I didn't acknowledge that. However, the more interesting work is happening in these hybrid sounds. Blackened sounds, metalcore bands, and the continuation of heavy crossover will continue to see landmark records in the future. And the future of thrash really has to be in its continued hybridization.
One particular sound that grabbed my attention this year was the combination of power metal and thrash. Anyone who knows me knows that I am very much NOT a power metal fan. I just find it a little too over the top and cheesy for my personal tastes. It's just tough for me to take seriously. However, I do respect the folks who make that music because they are truly talented songwriters and technical masters of their instruments. When it gets combined with thrash ideas, it seems much more grounded and real to me. It just scratches an itch I didn't even know I had. I'm keeping my fingers crossed for…
WHO CARES!! FUCKING SYLOSIS ARE BACK!!!! WOOOOO!!!!!!
*windmills furiously*
See you again next year Pit Stains.