For the past two years, Post. Festival has emerged as the best weekend of the year for a re-energized American post-rock scene and transformed Indianapolis into the unlikely beating heart of this small but dedicated musical community. It's fitting though, seeing as Indy's own PILLARS have positioned themselves at the forefront of this new movement, and de facto front man Nason Frizzell has very much embraced the camaraderie that characterizes it. He has teamed with In Store Recordings head Derek Vorndran to put together what has in very short order become an event to be reckoned with. It's always hard to live inside of the storm day in and day out, and indeed very easy to focus on all the things you could have done better, but first and foremost it is important to clearly state just how impressive this year's roster of bands was.
Last year was a great start, and it was awesome for me to be able to see Appleseed Cast for the first time, as well as seeing many of the bands who have been putting a ton of work into building their names in this scene get a chance to let if fly in front of a crowd of devoted listeners and peers. But this year… whoa. The lineup read like a who's-who of American post-rock and post-adjacent bands, and that is without even considering having O'Brother, Spotlights and The Life and Times on the bill to boot. You had a great blend of established forefront bands like RANGES, Pray For Sound and The End of the Ocean, breakout stars like Wander, entrenched vets like Au Revoir, Shy, Low and I/O, next-wave acts like Circus Trees, oh, and Holy Fawn. But we'll get to them, as we will all these great artists.
For me, this event was more than just a couple of days of music, though. Which is why this story starts on Monday, September 30th, when I touched down in Chicago. This is where I had planned to meet up with my week-long travel companions, Margarita and Jonas. If you read through my dunk!festival coverage back in June these will be familiar names. Margarita sees more shows than probably anyone I know, and Jonas was involved in one of the most special moments of the year, involving Tom from Her Name Is Calla's guitar at said band's final performance. Jonas also books shows in Sweden and works with another up-and-coming post-rock festival, VIVID. For whatever reason, it was way cheaper for us to fly to Chicago than directly to Indianapolis, and even cheaper to do it on Monday instead of Wednesday, so we figured we'd do the tourist thing for a couple of days prior to the festival.
We certainly packed in as much as possible prior to the festivities. A quick check-list includes: deep dish pizza topped with Italian beef (two locals specialties in one!), Chicago dog by the river, architecture tour, the Bean and Amphitheater, a smashburger named one of the best in the city, dinner at a Michelin-starred restaurant (Dusek's, whose head chef also happens to be friends with Lexie from Staghorn and is apparently the youngest person to earn a Michelin star), and cocktails on the 96th floor of a hotel. However, this piece is primarily about the music, so we'll focus now on that. And there is a lot to cover. All in all, I saw 31 sets in 7 days, 35 in 10 days if you count the incredible Aiming For Enrike show I had the honor of being the promoter of on the Wednesday following my return to Vermont. As a quick aside, if you have a chance to see that band don't pass it up. They were insanely good. My show was the first stop on their first US tour, and staff members at the venue told me that they were the first band to ever play an encore there in its lengthy history.
Our Monday night in Chicago happened to cross paths with RANGES' tour on their way to headline the first night of Post. Fest. So, of course we made the journey out to see them at The Livewire Lounge, which was a bit of a ways out there from where we were staying closer to the city proper. The venue had a very specific vibe about it that definitely did not scream "post-rock." Judging by the memorabilia on the wall I got the sense that this place was probably killing it during the hair metal days of the 1980s. Most of the décor memorialized that bygone era, but maybe I am hasty in calling it bygone, because in the bathroom I spied a flyer for an Enuff Z'Nuff show that had just happened there recently. To that point the only thing I really knew about Enuff Z'Nuff was that they had possibly the most on-brand hair metal band name ever. Now, after some (very brief) research I have come to know that they also hail from Chicago. I didn't dig any further, but I'm confident that the little knowledge I've gained of them is… enuff. HIOH.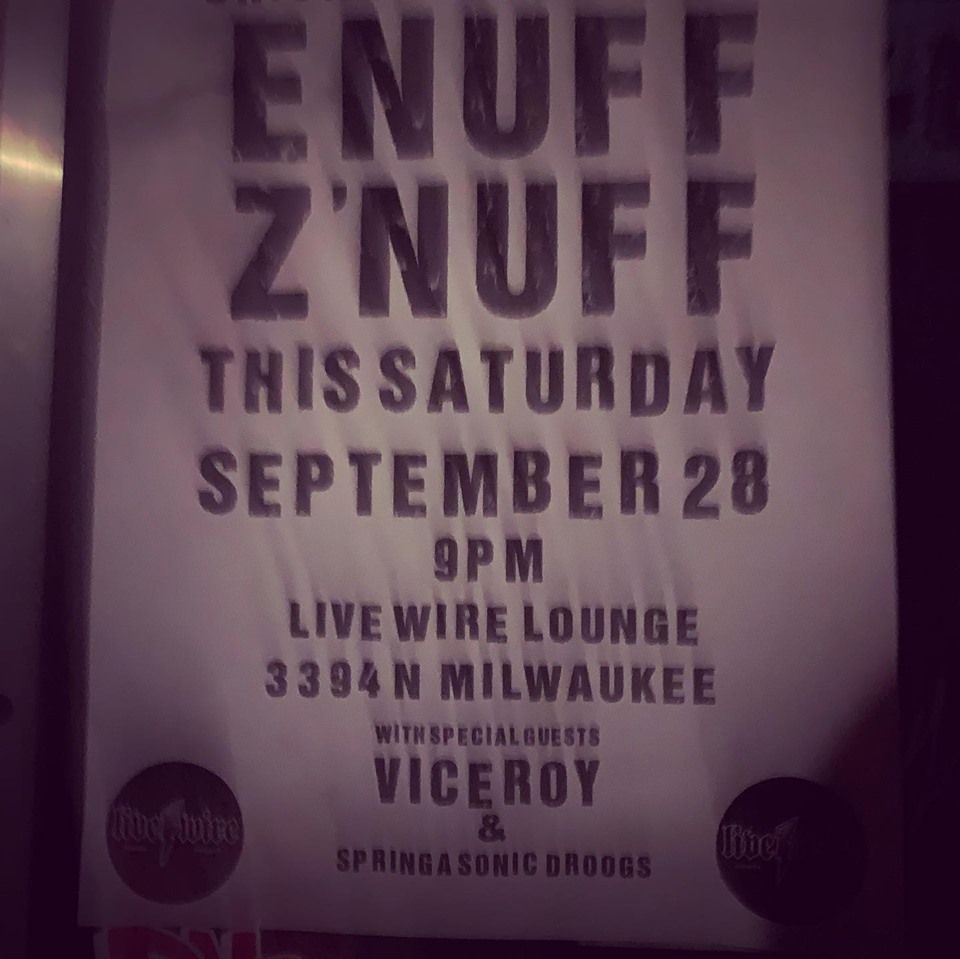 I was admittedly ecstatic to learn that the evening's bill consisted of only two bands. Even though I see more shows than probably 95% of 38-year-olds, still, that Hard Times article about the aging punk couple that hopes the band doesn't play an encore so they can go home resonates more every time I see it. On one hand I am determined to be a trooper and to experience as much as I possibly can, but on the other hand, I'm old enough now where just standing around for a couple of hours kind of hurts. Considering the amount of music that was in store for me, two bands was a warmly greeted mercy.
The first band was a local prog act called Sons of Ra whose description states that they are inspired by King Crimson, Frank Zappa, Glenn Branca, Russian Circles, Cynic and Behold… the Arctopus. So, color me intrigued. They came out pretty no-frills, and I have to say I wasn't sure if it was going to be as interesting as it sounded. Maybe I'm spoiled by all these post-rock bands and festivals with their awesome lighting design and on-stage presentation, I dunno, but I found myself feeling underwhelmed as the band started to play. However, that feeling melted away quickly. This trio was absolutely nasty, doing a mix of originals and covers of various classical piece movements. They also had a penchant for switching lead instruments between guitar and bass. The guitarist would shred for a while, then pull back and play baritone rhythm parts, opening up for the bass player to showcase some lead wizardry of his own. The drummer was a powerhouse as well and seemed to get stronger as the set went on. Apparently, the band is planning to release something in 2020, but if you ever stumble across the opportunity to check them out live, I'd recommend it.
It's been amazing to witness RANGES play impressive stages like the ones at dunk!festival, dunk!usa, Hard Rock Café Lyon, and later in the week the Irving Theater in Indianapolis, but I think it's these weird little club shows that really showcase their dedication to aesthetic and performance. Once they loaded all their gear and lighting onto stage and began to play it was like we were in a totally different venue. They skillfully controlled their environment and transformed the vibe entirely. For nearly an hour you forgot that you were in a hair metal dive bar toward the outskirts of Chicago.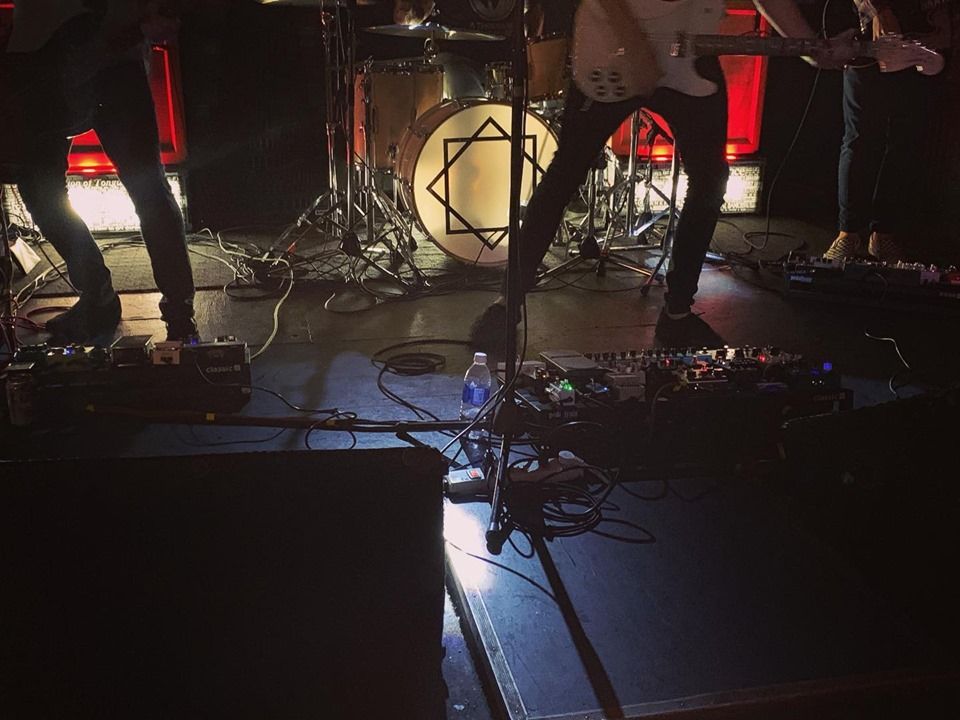 Aside from getting a taste of their new Babel-heavy set list, it was nice to have a couple of hours to spend with the guys in the band. This was the first time since I've been travelling to far-off spots for music events (three years of dunk!festival, plus the inaugural Post. Festival) that I haven't shared a living space with the RANGES crew in some form, either the entire band or Wilson Raska and CJ Blessum (representing A Thousand Arms). I'm sure they didn't miss my snoring (although they maybe missed my cooking), but for me it was an adjustment that I didn't expect to be so strange. Until this point these guys had basically been with me almost every step of the way through my travels, and there was a certain camaraderie that I have grown accustomed to that I had to take in small doses during this trip rather than in full. It was good to be able to have a few moments together before the craziness of the coming weekend took hold.
I'll move past our "tourist day" in Chicago on to Wednesday, when Jared from Staghorn drove to pick us up and bring us back to the "Staghorn Farm" in Urbana. Aside from being talented musicians and thoughtful artists, Jared (guitarist) and Lexi (bass/harmonium) are also incredibly skillful and self-sufficient. We toured their off-the-grid living space, which includes a workshop where they execute a wide variety of screen-printed items by hand. They also have a garden, a conscientiously managed living space, and a shipping container home that they have renovated beautifully, and entirely on their own. If there is a band out there who is legitimately living by the ethics they present in their music, it's definitely Staghorn.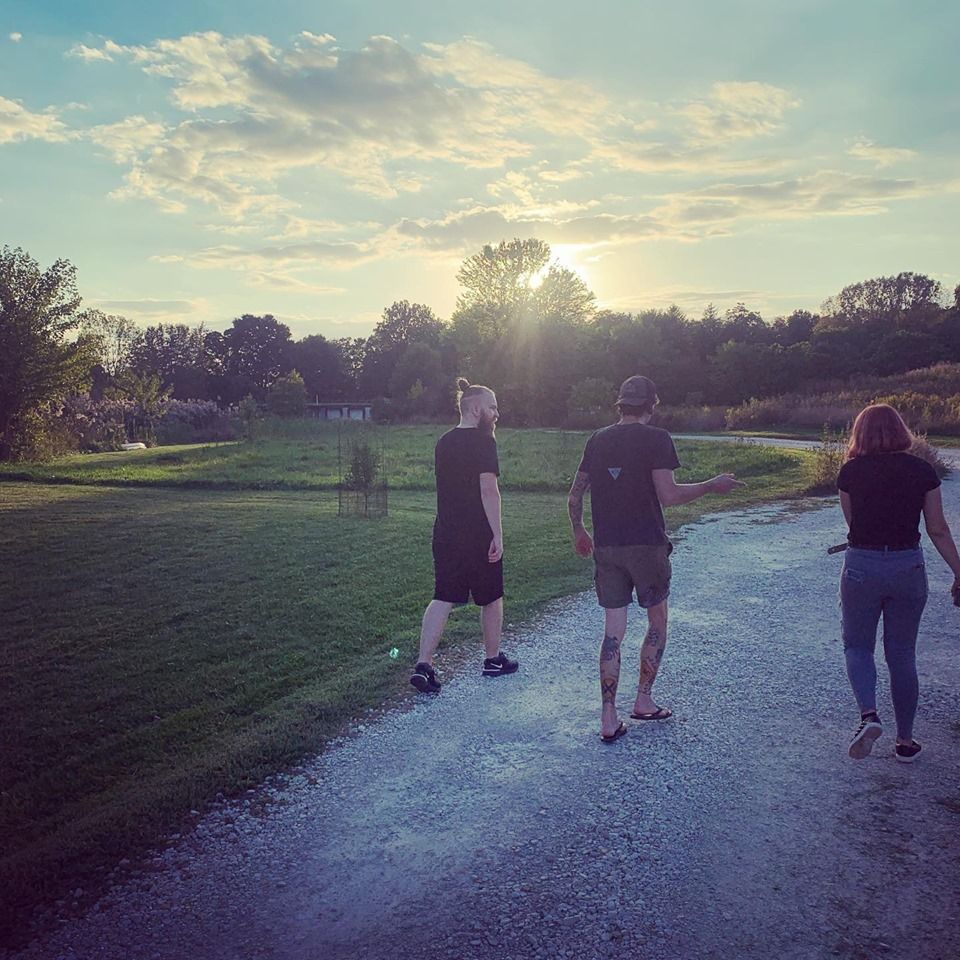 After settling in for a bit, Jared drove us up the street to see the house that is featured on the cover of American Football's 1999 self-titled LP. I obviously took a photo to mimic the cover image, as well as a picture of me pretending to wipe a tear from my eye in front of the house. Hopefully no one was home watching the four of us take numerous photos outside of their otherwise pretty unremarkable homestead, but I suppose that maybe they're used to it at this point. Or not. I often wildly overestimate how many people get as immersed into niche things like this. This also continued what became a trend of discovering various iconic album covers during the trip. In Chicago we took the architecture tour on the river and found ourselves under the twin corncob structures that grace the cover of Wilco's Yankee Hotel Foxtrot, then in Indianapolis while taking a tour of the Indiana Medical History Museum I spied a textbook that looked immediately familiar, as its cover was the source material for Pearl Jam's Vitology. A minor side story of our journey, but worth mentioning, nonetheless.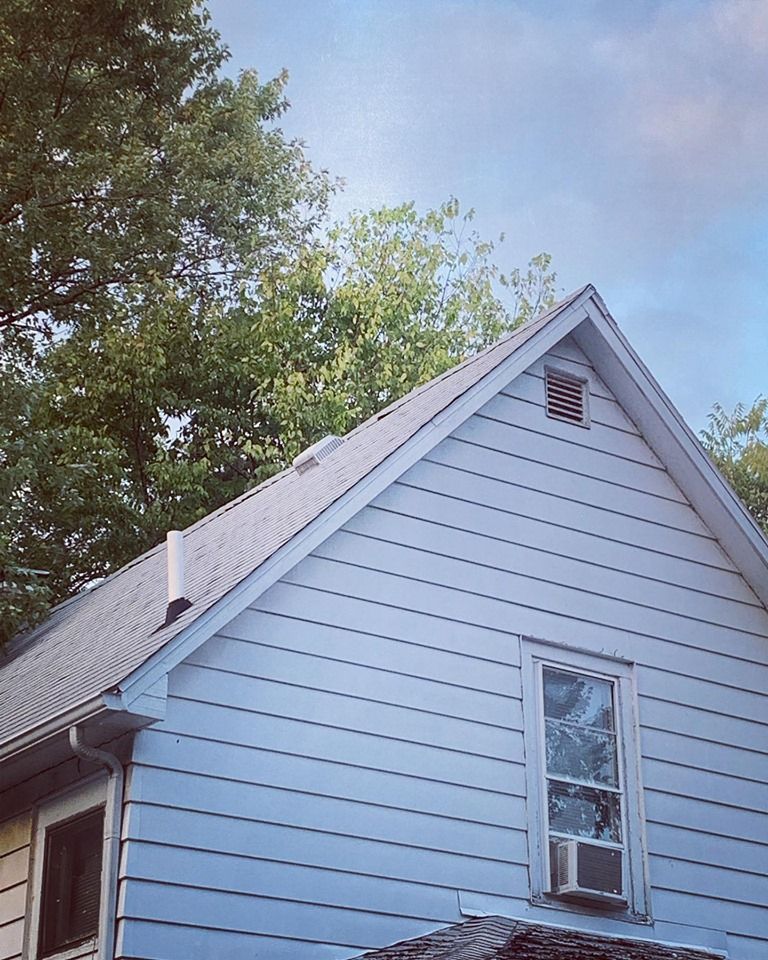 When we returned to the farm, Jared proceeded to make us a delicious shepherd's pie consisting in part of vegetables they grew themselves. While he prepared it, I assembled a swanky cheese and charcuterie board which included black caviar, cured ham and Castelvetrano olives, because I'm me and I'm a helplessly bougie motherfucker. Despite absorbing a good deal of jokes at my expense, the plate was empty at the end of the night, which tells you all you need to know. We went outside and stargazed for a while before heading to bed for the evening. But not before learning of Jared's troubled relationship with Ben and Jerry's, a vice he has yet to discover a cure for. Indeed, a telling moment came when he was beaming while describing his pint of Red, White and Blueberry to me, only to withdraw it from sight when I began to inquire about maybe sampling some. For Jared, Ben and Jerry's is the one ring to his Gollum, but even Gollum was once a good man, and I hold out hope that Jared can hold on to a piece of his former self as his obsession deepens.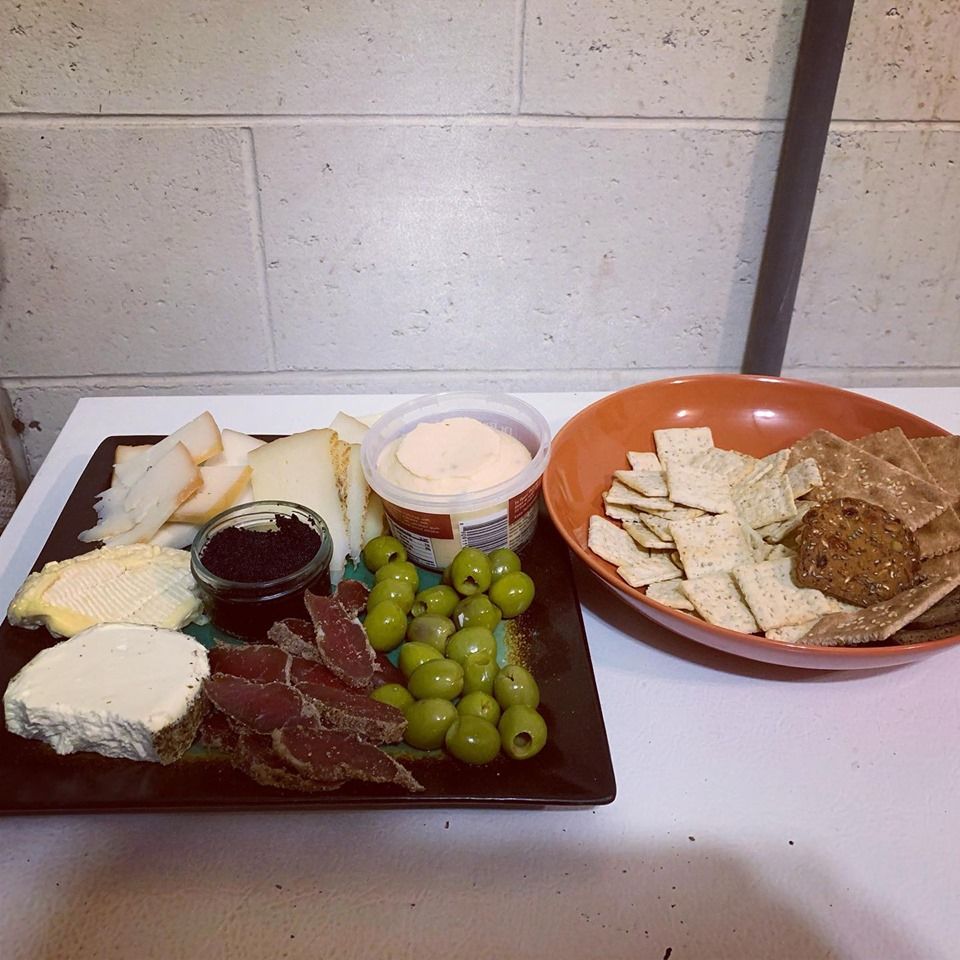 We rolled into Indianapolis in the Staghorn tour van on Thursday afternoon, as they were slotted to play the Post. Is Doomed pre-festival showcase that night. For those readers who assume that this is a two-day event, this evening made a very strong case that it should actually be considered as a trio of days worth showing up for. The night kicked off with local stoner/doom trio Drude, who brought some serious energy as an opener, and Memphis post-metallers Onus, who I regrettably missed because I was too busy chatting people up at the bar. That would be the second-to-last time I was guilty of skipping out on a set, though. Staghorn followed by playing their entire new record, the first time anyone outside of a select few have heard anything from it. As usual they had a presence and aura about them, and kept the audience captivated despite some sound issues during their set.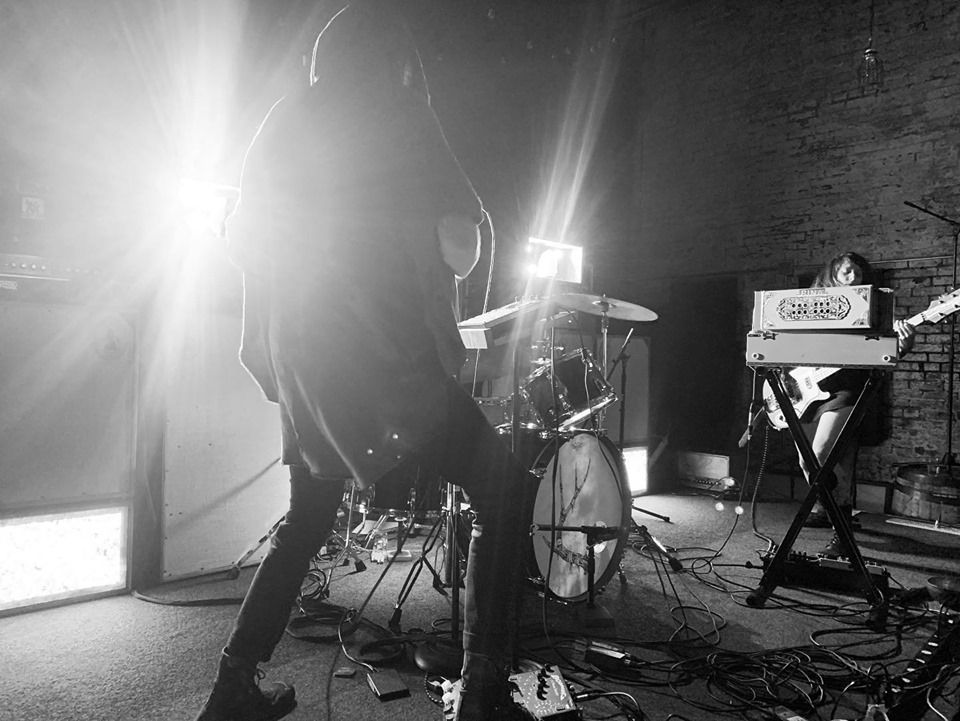 Local heroes and newly-crowned post-rock princes PILLARS followed with their usual high-energy, high-impact set, featuring assorted bangers both from their newest album Cavum and 2017's Of Salt and Sea. Jason Sissoyev from Coastlands made a special guest appearance for "Black Prayer," adding an extra layer of shred to an already raucous tune. At one point near the end of their set, bassist Nason Frizzell dropped his pick, leading to one of the hottest scandals of the week, namely, is a bass player really a bass player if they use a pick? Since Frizzell is able to remind any potential critics that he's one of the reasons they are there in the first place since he helped conceive of and assemble the festival, that wins the argument pretty quickly, and any further debate on the topic was officially withdrawn.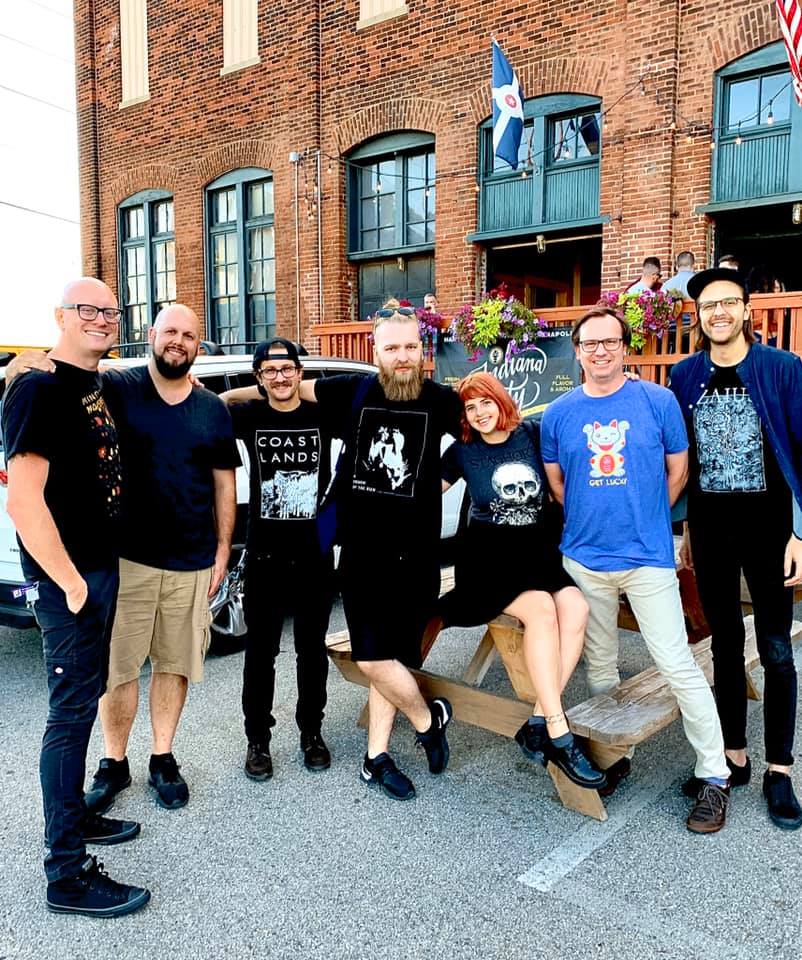 Those attendees who didn't arrive until Friday really played themselves by missing out on the co-headliners of the event, Lume and REZN. Having recently recorded a two-song collaborative EP as a collective, the band was on their first night of a tour centered around their attempt to recreate the compositions live. The bands set up all their equipment on stage in a sort of mirror-image fashion, and the set began with Lume playing two of their new tracks. Those people who are accustomed to their work on Wrung Out had better prepare themselves, because these new tunes are slow and menacing and crushingly heavy. We should all be excited for what's coming next from them. As they completed their second song, REZN began mounting the stage as Lume exited. They repeated the same formula, playing two tracks, until Lume re-entered and the bands merged for an epic rendition of the EP. Not only was this a stunning and flawlessly executed performance of two killer tracks, but it held the added appeal of being unlike anything you'd seen before. It felt like an important moment, an experience you don't often get the opportunity to partake in. You could tell that the nerves melted away for the band(s) as they worked into their set. The way they slowly allowed huge grins to come over their faces said everything you needed to know about how this first experiment went.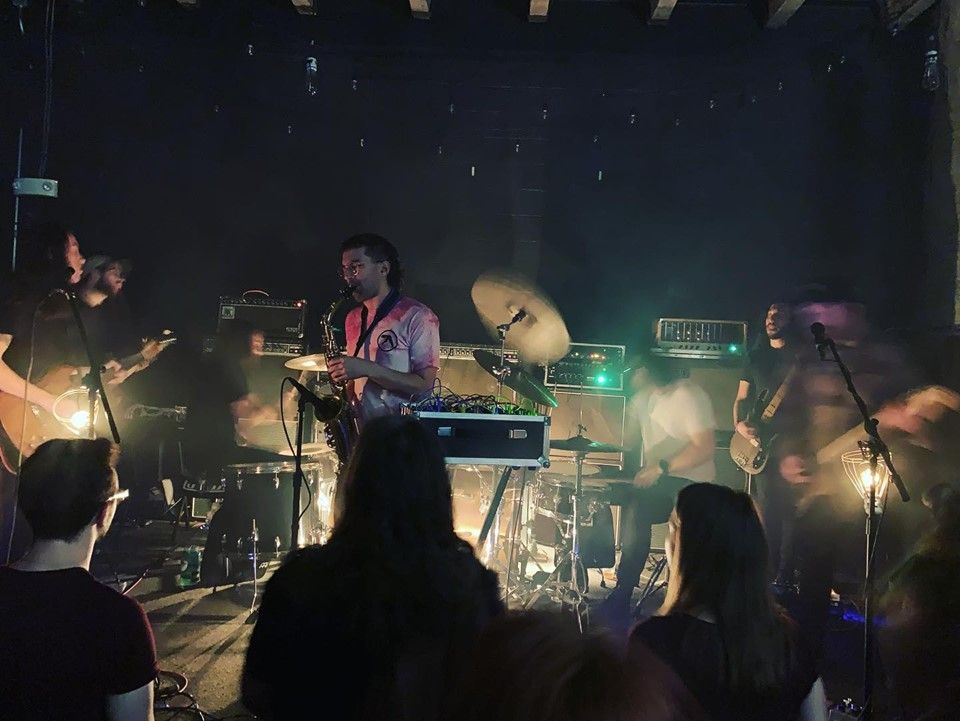 We returned energized to our Airbnb. Okay, that's a lie, most of us were exhausted and wanted to sleep forever. I, on the other hand, decided to stay out late with Jared and Lexi, grabbing some greasy, mostly delicious comfort food from local metal bar The Sinking Ship with Nason and Jason, who I guess from this point forward have to be referred to as a collective person named Nason 'n Jason. The Sinking Ship is the notorious den of debauchery where last year Nason's wife Sarah won my heart with pickleback shots, then proceeded to drink me under the fucking table. These experiences aren't complete without at least a couple of inadvisable decisions. At home we had amassed quite a crew: Jonas, Margarita and I, Post-Rock Superfan Greg Pittz (his full given name) and his better half Victoria (with whom he combines Voltron-style to become Gregtoria), our band mom Sean Oliver (everyone needs a band mom, not least of all me), Lexi and Jared, Aaron Foofers Edwards of Arctic Drones and wherepostrockdwells, Dan Ibarra from Black Flak and the Nightmare Fighters, and my buddy Thom from back home in Vermont. Props to Sean for securing a house that could comfortably sleep eleven people.
The following day we had brunch at this spectacular spot called Milktooth, a self-described "fine diner" with the word "elevated" in its Google description, so obviously it was directly up my alley, to the amusement of everyone else. But I had a nduja and shishito frittata with goat cheese creamed slaw, so fuck y'all. Jonas had a tabbouleh Dutch baby pancake with feta, za'atar and pine nuts, and Margarita had an insanely good blue corn grits dish, so make fun all you want, but I definitely know how to pick 'em.
We arrived at the festival well-sustained and ready for a day and a half of music with no weak spots in the lineup. Unfortunately, the one international band that was supposed to appear, Chile's Baikonur, never received the government grant that was meant to fund their trip, so they had to drop out two weeks prior to the festival. Replacing them was Isaac Helson, an ambient artist who was also slated to play the Past Inside The Present stage located outside the venue, so the evening began with some low-key mood setting. Au Revoir and Shy, Low followed back to back, which made sense seeing as they were sharing some members. They are both very loud and set the kind of tone I want set to kick off a festival. You need energy at the front and back end, and both bands brought that in spades, surveying the darker and heavier edges of post-rock with both an aggressive heart and a savvy hand.
[envira-gallery id='142760′]
The next group up was MOIRA, who I get the sense wasn't very well-known coming into the night but won over a lot of new fans with their carefully measured and gradually enveloping synth-driven dream pop. The Dayton trio is led by keyboardist Alicia Grodecki, whose vocals show a knowing restraint, enhancing the impact in the moments when she allows herself to cut loose. It was a pretty and emotionally engaging set that was exactly the kind of variation a festival that inhabits such a small niche needs in order to create a dynamic flow.
Pray For Sound proved the perfect follow-up, injecting the evening with their brand of high-energy, feelgood post-rock. I saw them play some of the same new cuts in person just 4 months ago and I can definitively say that they have taken on a whole new life since then. These songs pop and burst with life, and even after such a strong year already in the genre, November is going to bring another album into the best-of conversation when Waves drops from dunk!records and A Thousand Arms. Even with a misbehaving drum kit that was dead set on throwing them into chaos, Pray For Sound logged one of the most inspired performances of the weekend.
[envira-gallery id='142790′]
For me, the pleasant surprise of the evening was Lowercase Noises. The music I'd heard from them to that point leans pretty far to the ambient side, and that's where the set seemed like it was going at first. But as they proceeded they began to get louder and more forceful, eventually reaching impressive heights that warranted their placement in the later stages of the evening.
[envira-gallery id='142805′]
Night #1 concluded with RANGES, bringing Babel's live renditions to most fans for the first time. They proved why they have climbed to the top of the current generation of American post-rock bands; they're an imminently pro unit that is incredibly well-rehearsed and meticulously conceived. It's easy to forget just how DIY these guys are because they appear so polished both on and off stage. They have taken a very traditional iteration of post-rock and made it theirs. They own it now. No one does merch on the level they do, not even bands that would be considered massive. And they built it all from the ground up, with Babel as the record that officially presents them with the key to the kingdom. The concept is rock solid and the compositions are their strongest to date, and you can feel a marked difference in how these songs feel in person as compared to even The Ascensionist, which itself was no slouch, winning them a considerable amount of new fans. From studio project to headliner in just a few years, there should be no other band providing more inspiration to aspiring post-rockers than RANGES, and every opportunity they've been given has been hard-earned.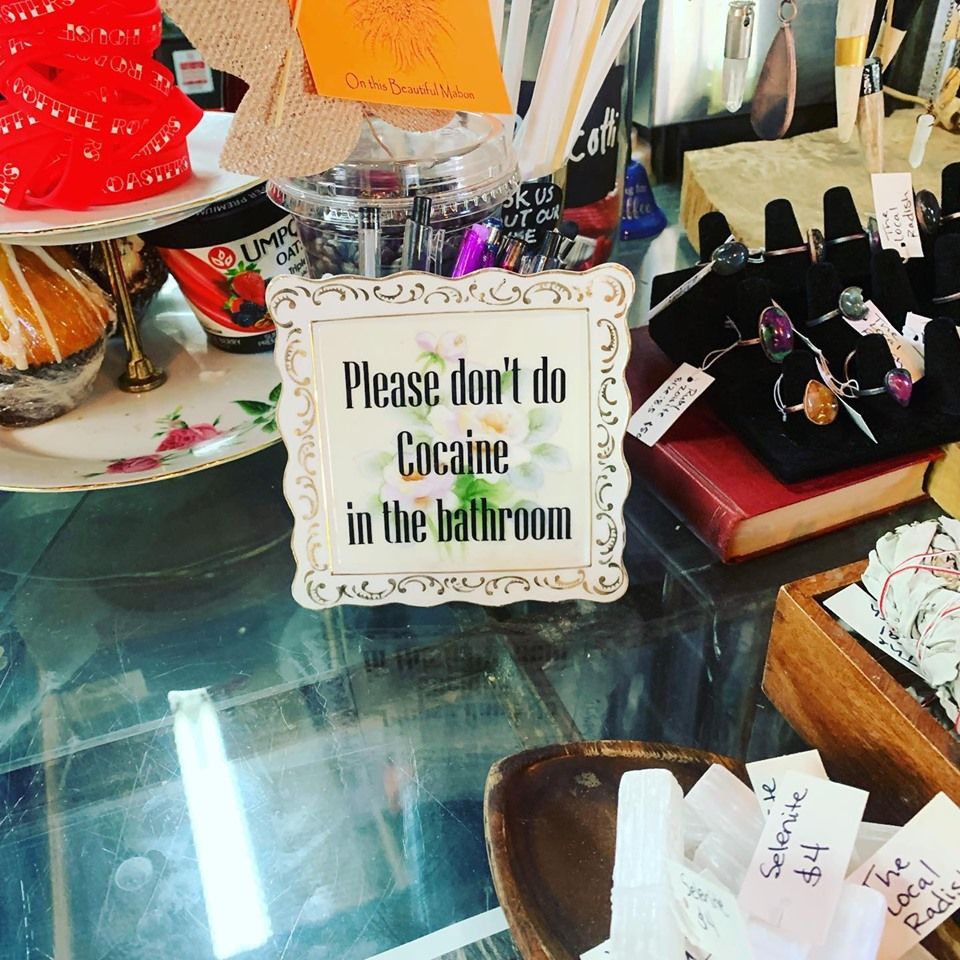 The next morning we joined Au Revoir and Shy, Low for a parting brunch at a vegan spot called Three Carrots. I am not personally vegan, but I'm also not a hater. When something is great I'll give it credit. And this place was great. As a server/bartender in a restaurant myself, it's pretty annoying when a party of 10 becomes a party of 20 with no notice, but the staff and kitchen handled it exceptionally well. I had an avocado toast that blew out of the water any I'd had before – two toasted baguettes loaded with tofu scramble, pickled onions, capers, spinach and peppadew peppers, with a side of grits that tasted more like butter and chicken broth than any I'd ever had that actually included those ingredients. I'd go as far as to say they were the best grits I've ever tasted, and I would recommend anyone spending time in Indianapolis to check this place out. I felt compelled to snap a picture of my meal, and apparently this was to the delight of my housemates, who were behind me anticipating the moment I tried to slyly pull out my phone, and had a rousing laugh about it. But whatever, when it comes to good food, phone eats first.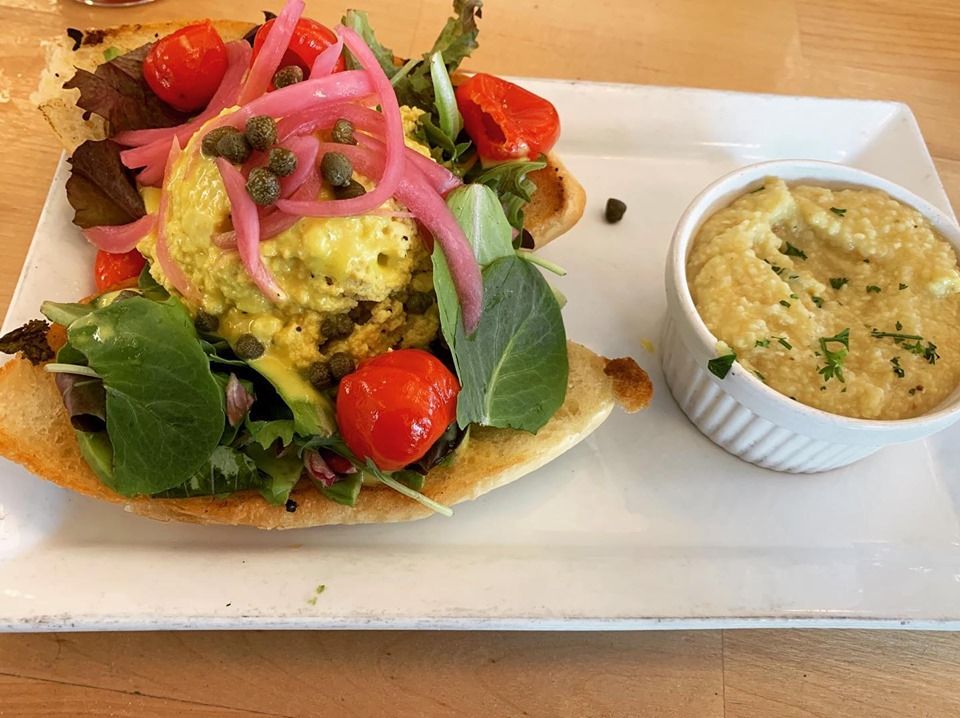 Day #2 was, to put it lightly, absolutely stacked. For a second-year festival this lineup was stone cold top-tier. Most festivals take years to develop this much legitimacy in their roster, but Post. Festival managed to start pretty big and get much bigger from year one to year two. The day began with locals Doktra, who brought a loud mathy vibe to the stage, which was very welcome for me, as that was a style that didn't end up with much representation on bill. They had a bit of an And So I Watch You From Afar sound to them, and acquitted themselves very well as an opener.
Girih followed with a set that was worthy of a nighttime slot, and their placement at 2:15 was just a testament to the top-to-bottom strength of the lineup. This was their first time venturing outside of New England, so I'm not sure many people were ready for how loud and how exacting they are. They only have one album, but they are long-standing members of the Boston/New Hampshire music scene and seasoned performers. Their set was muscular and aggressive and dense with looped guitar parts, yet they also showcased a penchant for dropping the right melodies at the right times to make for a well-rounded set. They have a decent amount of similarities with Russian Circles, but to me they are honestly doing a lot of things that I wish Russian Circles were doing but aren't. Of course, RC is still a beast live, but I much prefer Girih's Eigengrau to their last couple releases.
[envira-gallery id='142733′]
The next performers were potentially the most intriguing of the weekend. Sharing the Boston-area scene with Girih as they do, it was fitting to see Circus Trees follow them up. They are comprised of teenage sisters Giuliana, Finola and Edmee, who range from thirteen to seventeen, and the band is a labor of love for the entire family. Brothers Eoghan and Declan act as roadies and additional hands, while father Robert acts as their manager. Aaron Garcia (who plays with Eoghan in reprieve., a name you should keep in the back of your mind) is also a huge part of the family, and served as photographer for the weekend.
[envira-gallery id='142713′]
I have worked with them multiple times previously and can confirm that they absolutely embody everything we should be supporting about independent music. But this is no novelty act, Circus Trees can bring it on stage. Their brand of slowcore is restrained where it needs to be, and loud as shit when the time comes to be loud. Finola McCarthy has consistently grown as a frontperson over the past year and a half, and her increased confidence showed. This was proving ground for Circus Trees, and I would put them in the top 3 in terms of bands that came out of this event with a LOT more fans than they entered with. The sky is the limit, and for my part I'm now done talking up the story and the peripherals surrounding them. They've officially arrived, and it's just a matter of time before more and more people take notice.
The next band to take the stage was SOM, whose combined years of music industry experience is pretty staggering. Extending their already-impressive all-star cast, they brought along Eric Jernigan from Rosetta as their tour photographer as well. They are a "new band," so to speak, but they're no rookies and they proved that with one of the best sets of the weekend. They could be described as like Deftones if Deftones consistently blended their heavy elements and shoegaze elements, which is actually what I've kind of wished that Deftones would do more often, as much as I continue to enjoy them. Bathed in uneasy green light, they spun an entrancing set that was full of huge guitars and pummeling low end, balanced by shimmering vocal melodies that seemed to float above it all. They served early notice that dreamsludge/'gazecore was soon to take over (which was very true) and set a high bar for everything else to come.
Driving Slow Motion followed with measured, atmospheric post-rock tunes that built patiently toward big moments of release. Their on-stage presence was further enhanced by additional lighting columns that created a silhouetted appearance for the band members.  I mentioned before that there was one more set during the week that I missed. That came next, as I opted to skip Hotel Neon to fill my belly with a delicious cheeseburger courtesy of Turchetti's Salumeria, which was my first introduction to the word "salumeria," but now I'm convinced I need one where I live. This break gave me the opportunity to see most of PILLARS' Marc Ertel's ambient set at the Past Inside the Present stage, so I was able to at least check that off the list.
[envira-gallery id='142724′]
Which brings us Wander. As I learned after the set, Wander is apparently not as well-known as I thought. Well, they weren't, at least. After their high-energy, incredible inspired performance, both Thom and Heavy Blog colleague Nick raced up to me with similar "who the hell were THOSE guys?"-type exclamations. I guess this is an example of me being "in too deep," because I was under the assumption that Wander was going to be one of the better-known post-rock bands at the festival. If I had to choose one band that raised their stock the most at Post. 2019 it would be Wander for sure. These kids are stars, whether anyone knows them or not, and they proved to be some of the most high-octane performers of the weekend. Plus, their music is great, a welcome blend of traditional post-rock elements and the spirited, maximum impact sensibilities of punk. They are just as comfortable ripping off two and half minute burners as they are working through 12-minute epics, and it's this confident balance that makes them such an exciting band. Additionally, Wander was one of two Post. Fest bands to participate in Audiotree (who was also a festival sponsor) sessions around the event (the other was SOM), which is always extremely exciting and encouraging to see for post-adjacent bands.
[envira-gallery id='142829′]
I/O was sort of the visual opposite of Wander, mostly remaining in the same spots for their entire set, but the tunes were great. They have a slightly different approach than the average post-rock band, blending complex, interweaving guitar and bass parts that are dependent on high-level skill and timing, with the sort of soaring lead melodies that are more characteristic of the genre. They seemed to be building some real momentum several years ago, but then some of the members moved from Boston to New York City and seems that stalled a bit. But after watching them perform at Post. I have a greatly renewed interest in seeing what comes next for them.
The Life and Times followed, and while they were admittedly not really musically aligned with the other bands, they put forth a great performance. This was definitely a fanboy signing for Nason and Derek, and while it maybe didn't make a ton of sense of paper, it was clear that a lot of the veteran musicians taking part in the festival were incredibly excited to see them. I would go so far as to say that it seemed as if The Life and Times was the band that the members of O'Brother, Spotlights and SOM were most excited to see perform.
And for good reason. I had no previous live experience with the band and had only heard them on album, but they have nailed down a very specific brand of tightly-wound, rhythmically searing post-hardcore (on second thought, it's definitely post-something, so by that thinking maybe they did fit the lineup) that's all about subtle nuances and build-and-release dynamics. Margarita commented afterwards that they were "dad rock, like Soundgarden," which injured me more deeply than I would have expected. However, I choose to take comfort in all the people in bands there who are closer to my age, who definitely have awesome tastes in music and also openly gushed over this set. Also, The Life and Times do not sound like Soundgarden, and neither of those bands are dad rock. Come at me.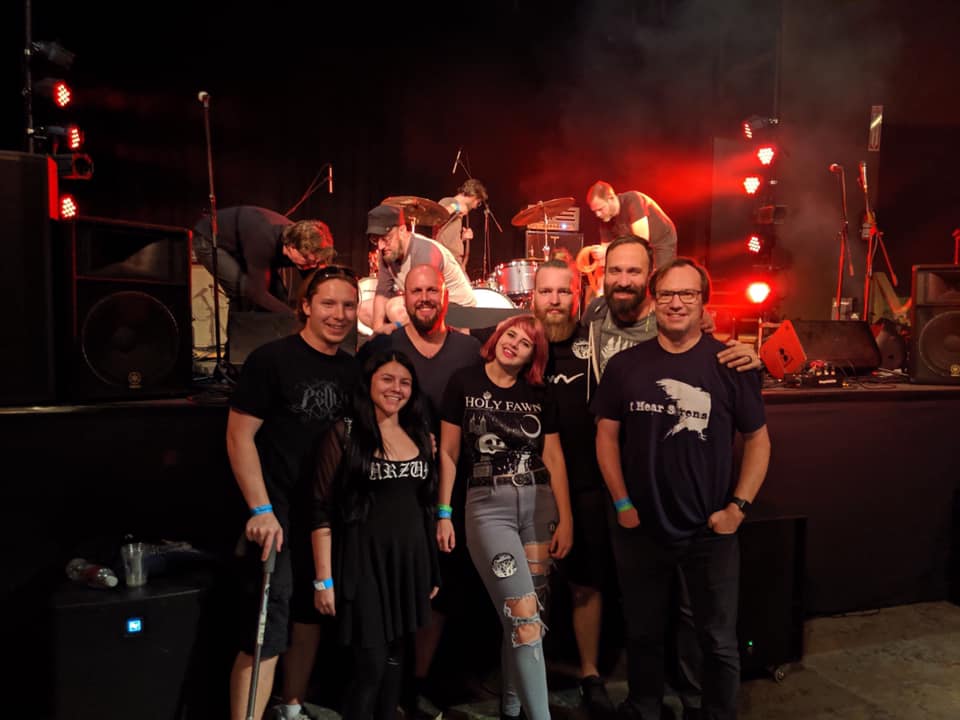 Spotlights was up next, continuing the theme of "heavy shoegaze Deftones" influence that I for one welcome entirely in all facets of my life. Their sludgy, loud and melodic compositions translate well in a live setting, creating an encompassing wall of sound that is hard to resist. As much as I wanted to divide my attention evenly between the three members, I couldn't stop focusing directly on drummer Chris Enriquez, who is an absolute monster on the kit. He was beating up on the drum set like Aaron Judge playing t-ball (trying to keep my metaphors New York-based, like the band themselves), and it was impossible to take your eyes off. They brought The Life and Times' Allen Epley back to the stage to collaborate with them on "Kiss the Ring," which they originally recorded together in 2018. With that their set was over, and it was almost time for the moment I was most looking forward to. It was time for Holy Fawn.
[envira-gallery id='142818′]
It's no secret that this was the set I was most highly anticipating all week (all year, really). I pushed hard to have Holy Fawn on the bill. We were very close to bringing them on board early in the process, then they had to drop, then when they signed to Triple Crown the stars aligned, they hopped on the O'Brother/The End of the Ocean tour and became one of, if not the last band added to the festival roster. I've been following them eagerly for the past couple of years, Death Spells was my top album of 2018, and I had heard nothing but incredible stories about their live show, further building the mystique. Their music is so unique yet at the same time comfortingly familiar and enveloping, like arriving somewhere for the first time and having the strange feeling that you're finally home. Their music is exactly what I've been wanting to hear for the past few years. You could sense an excited tension in the Irving Theater during the set changeover, so it was clear that I wasn't the only one who was feeling what I felt.
It's rare you can see a band play live and just get the sense that you are witnessing something important happening. The last time I felt this way was when I saw Pinegrove open for Into It. Over It. and The World Is A Beautiful Place & I Am No Longer Afraid To Die in my town a few years back. Standing in the crowd watching them perform you instantly said to yourself "no fucking way this band isn't headlining a year from now." That night at Higher Ground in South Burlington they were playing with two bands that I love, and still it felt like they owned the evening, and you could tell everyone felt similarly when you saw the massive line at the merch table after their set. I got the same feeling watching Holy Fawn, except Holy Fawn is much more aligned with my everyday listening habits than Pinegrove is.
[envira-gallery id='142746′]
Where do I start? How about here: Ryan Osterman is a star. I've been corresponding with Ryan for some time, and I had the opportunity to spend some time chatting with them on a few occasions during the weekend, and they're incredibly humble, kind and gracious, but when Ryan is on stage there is an intangible quality that not many performers have. The eye is just drawn naturally to Ryan Osterman. They have a kind of angelic, beautiful quality that is transfixing, and a certain vulnerability that lets you in as a viewer. But then when they start thrashing about during heavier sections there is an unbridled energy that is equally as engaging and exciting. Ryan was meant to be on a stage. I told this to a few people during the weekend, and I'll repeat it here: I took hundreds of photos during the festival, and when I would go through them it would typically be pretty easy to figure out what one or two photos worked and which ones could be deleted. But when I got to my Holy Fawn pictures, there wasn't a single picture of Ryan that didn't feel like a keeper. "Endlessly photogenic" is definitely a quality that can help propel a band further, and when you add to it the unique and inspired music and the high quality of performance, it feels like a no-brainer to say that a band is meant for something much more.
There is one thing I was concerned about when writing this, though, and that was the possibility of overlooking the rest of the band. Let it be said, Holy Fawn are stars on stage. It wouldn't work nearly as well if Ryan was the only one putting on a mesmerizing performance, but every member appears like they were born to be doing exactly this thing. Bass player Alexander Rieth is his own show, thrashing about on stage like someone you'd expect to see in a mathcore band circa 2003, ending up bass-less and laid out flat on the stage during the final moments. He also manipulates something inside of a mounted suitcase on stage; I don't know exactly what it was, programming or synth, but I actually kind of liked that I wasn't sure, it just added to the mystique. Guitarist Evan Phelps and drummer Austin Reinholz also have their own strong stage presence, with Reinholz looking possessed pounding away at the drums during heavier parts and contributing throaty screams, while Phelps cuts a striking figure on his side of the stage, confidently contributing layers of melodies and textures that bring a necessary depth to the live sound.
The set, even at just five songs, hit upon most of what you'd have wanted to hear. I loved Holy Fawn's approach to this, as they released a poll and let fans vote on what songs they wanted to hear, then they kept their word and played the top 5 vote-getters. "Dark Stone" started things off with a bang, including some sonic variation from the album version. "Drag Me Into The Woods" was the track that made it abundantly clear that Holy Fawn is a spectacular live band. That was followed by "Arrows," with the breakdown at the end providing one of the most exhilarating moments of the weekend. They played a new song called "Blood Pact" next, a more synth-driven, subdued track that laid down some serious atmosphere (I could see it being the moment during their show when any couples in the crowd find themselves naturally drawn closer together), before exploding furiously in the second half. Osterman stated that this song is indicative of one of the directions they want to go in on the next album, and I wholeheartedly support it. The set ended with "Seer," which only further brought down a house that had already been coming down for the previous half hour. Once they concluded, Osterman addressed the crowd with a very genuine, heartfelt thank you, nearly bringing themselves to tears. It's this transparency and graciousness that really makes you want to root even harder for Holy Fawn. Not only are they one of the great young bands out there at the moment, but they also seem like exceedingly good people.
I was so hyped from Holy Fawn's set I almost forget how excited I was for what was coming next. The End of the Ocean are one of those bands that really transforms themselves live, bringing a much different energy than what you hear on the records. Their studio material has a lot of ambience about it, and treads softly in a lot of spots. But in a live setting they bring it hard, condensing some of their longer cuts to leaner, meaner packages. At dunk!usa they were such a pleasant surprise; all dressed in black, they were like the metal kids of the post-rock scene, and their vibe was consistently really fun and funny. For a post-rock band that has a relatively traditional sound, their approach is anything but. Their set features a lot of onstage energy, particularly from Tara Mayer (keys), Wes Jackson (drums) and Kevin Shannon (guitar). Jackson in particular is a monster, looking very much like he'd be entirely at home playing in a death metal band, but instead bringing that kind of power to post-rock. It makes a huge difference, as you can feel The End of the Ocean in your guts when you see them live.
[envira-gallery id='142769′]
By the time headliner O'Brother took the stage it was nearly 12:30. They were scheduled for 11:00, but we all admittedly got a little overexcited with the lineup, which is a mistake that will be learned from and rectified next year. There were a couple of high-priority bands that looked like they were going to come on board initially but then had to drop, then they came back into the fold after we had finished assembling the lineup and we couldn't turn down the opportunity. This, however, is how we ended up with a headliner going on an hour and a half late. There were some people who bailed but a decent amount stayed to watch O'Brother put on a pro performance despite the exhaustingly late start.
They began the set with a few tunes from Endless Light before launching into a full rendition of their debut EP The Death of Day, which they haven't dusted off much live in the past few years but absolutely killed from front to back. "Oh, Charitable Thief" raised some serious goosebumps as the album's track listing came to a close. Despite it being 1:20 in the morning, the band continued on to play "Poison," (not one of my favorite tracks from Garden Window, but it is a whole different ballgame live, carrying a much larger presence), "Lo," and closing out with "Lay Down," which may well be one of my top ten songs of this decade. Needless to say, I was stoked, even though this was the fourth time I'd seen them and not my first experience with this song live. It punches so hard though, and brings out the best qualities in each of the band members, one of those songs (like Caspian's "Sycamore") that demands to close out the set. It's been a long time since I was at a show until 1:45 am, but I felt nothing but energized by this performance, in which O'Brother showed that they are without doubt, ten years into their run, 100% deserving of the headliner position.
There wasn't much time left to administer parting words to all the people I would have liked to, and even with the few (okay, maybe several) folks I did stop to wrap things up with, I could feel my Airbnb-mates staring ice cold daggers at me from across the room. So, I submitted to their will and we all headed home. Many of us had early flights and had to say our goodbyes before bed, but Jonas, Margarita and I still had much of a full day ahead of us.
We nearly ended up stranded in Indianapolis for an extra day, because apparently Greyhound is entitled to overbook their busses and then tell people they're shit out of luck if it fills up. We were initially told we might have to wait until 2:30 that afternoon, and then possibly until the following day, but thankfully they sent a second bus to grab us within 45 minutes of our initial departure time. According to the very helpful woman at the station who had the unenviable job of handling this sticky situation, they don't always provide that service when this happens. "This" being them knowingly fucking their customers over. So generous of them to fix their own mistake. Oh, charitable thief indeed. Anyways, we boarded our backup bus and embarked on the three and a half hour drive back to Chicago.
Once there we had one final stop to make, at Kuma's Corner, Chicago's famous heavy metal-themed burger bar. It was just the thing I needed before parting ways with my travel mates. For those readers who work second shift, it's kind of like when you get home from work at 10 or 11 at night and you don't want to just go to bed, because you feel like you need to do something in order to feel right. That's what this was. I didn't want to make the trip back from such a packed week of music and just head our separate ways. So instead we all had a few selections off their spectacular beer list and ordered some burgers to provide comfort before heading home. For my part, I ordered a burger with caramelized onions, sliced pancetta, bourbon poached pears and creamy slabs of brie, with a side of salty edamame that I couldn't stop shoveling in my mouth.
Margarita and I used this time to argue about who had the better set, Holy Fawn or Spotlights. To the possible chagrin of our cohorts over the course of the week, Margarita and I are probably way too similar for one another's good. We both talk a lot, and loudly, have very strong opinions, like to be right and like to be the person who knows things. So, we got at it a few times during the trip, which I'm sure even-tempered Jonas grew bored of quickly. But she's rad and I wouldn't trade her in for anyone else. It's not going to be the last time we share a stretch of days surrounded by music, so we're just gonna have to get used to each other's shit.
Jonas and Margarita had flights to catch that evening, so we said our goodbyes, but the week of music wasn't over for me. My flight wasn't until the following morning, so I made plans to stay with Flesh and Bone Records chief Jake Morse (also the drummer for Brady, who we've premiere here at the blog, as well as two really exciting and similarly-monikered bands, Dead Sun and No Sun). It so happened that the O'Brother tour package (which also featured The End of the Ocean, Holy Fawn and SOM) were playing Cobra Lounge in Chicago that night, so we headed over to see the show.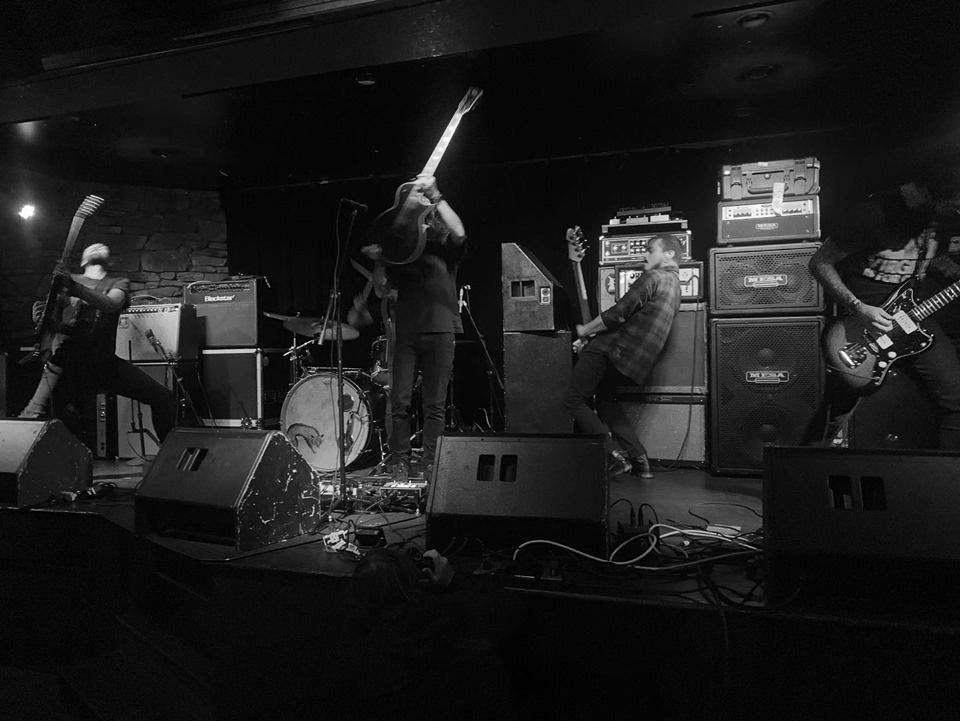 I've covered all these bands fairly extensively at this point, so just a few quick notes: Holy Fawn sounded excellent once again, but it was interesting how much of a difference atmosphere makes. At Post. Fest the stage was mostly dark with some eerie, ethereal lighting creating auras around the band members, but at Cobra Lounge there was essentially no lighting concept for them which, by no fault of their own, affected the mystique of their set to some degree. O'Brother was fantastic as well (they were also actually granted a lighting setup), and with an earlier start time they were able to add a couple songs, "Easy Talk (Open Your Mouth)" and a new track from their forthcoming album, which they say should be out in early 2020. From the sounds of it, we should all be highly anticipating this new release.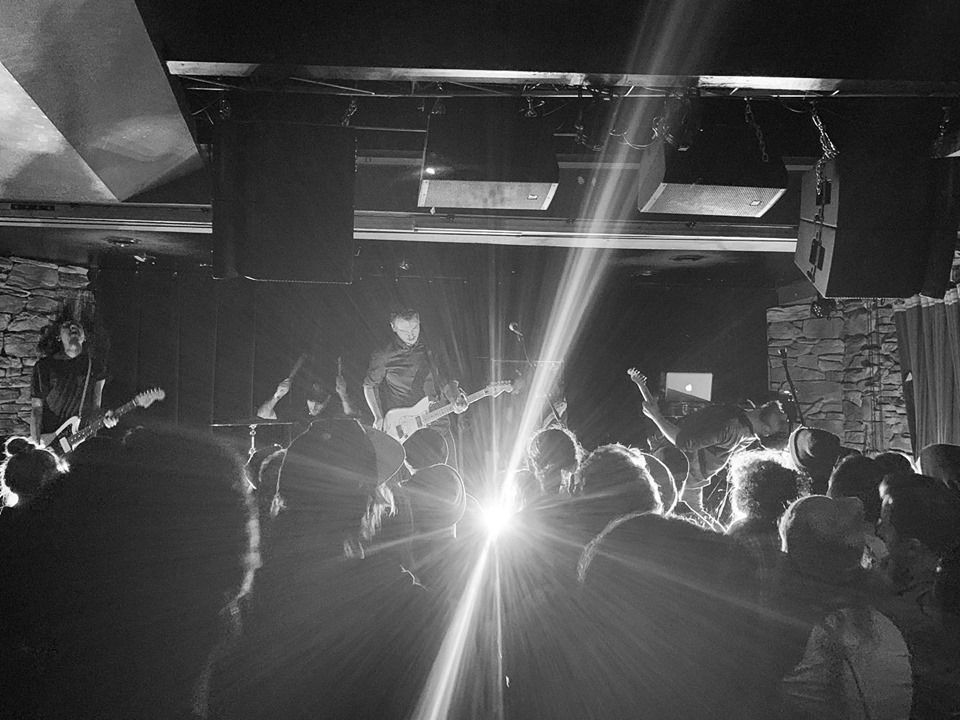 That brings me to the end of the relevant parts of this story. When I first started working and attending these post-rock festivals a couple of years back with dunk!usa, I was unprepared in so many ways. I had never played such an important role in anything before, never paid bands, never arranged contracts, never talked riders, never acted as a behind the scenes person in any way. It was incredibly exciting, a bit disorienting, and occasionally frustrating (at the time of dunk!usa I was managing a restaurant and there was one day I'll never forget where I was at home signing and sending contracts to Russian Circles, and an hour later I was at work listening to my GM busting my balls about there not being enough mozzarella sticks stocked the night before. That was the precise moment I decided to quit that soul-killing job.). Whenever one of the festivals would end, I would wax poetic and write some dramatic prose about my heart swelling with love and the power of music.
I'm not going to do that this time. Those things still exist for me, but I've entered a phase of my life where I'm technically a professional now and its time to act like I've been there before. And truth is, I have. Post. Festival 2019 was my sixth post-rock-centric festival in the past three years. I've been to Europe three times after never having been there in my life as of April 2017. This thing is real. We're out here, and we're doing this. This train is gaining momentum every day. The Post. Festival lineup was above and beyond expectations this year. It's going to be even better next year. The American scene is strong, and the global landscape is rich with talent. And to some degree, myself and the people who have become close friends and colleagues of mine have played a tangible role in that growth taking place. This isn't a novelty act, this is a strong scene we're actively immersed in. It's not likely to touch the mainstream, but it's very healthy in its own context. I hope readers make it a point to set aside time in 2020, because Post. Fest Vol. 3 is going to be formidable.
All watermarked photos by Nick Cusworth with Heavy Blog Is Heavy. Nick doesn't have a central place to view his other photo work currently, but he's working on it. Nick is a busy man of many talents.