Like most Granite Staters, I've driven through the Bedford Toll Plaza countless times. It sits on New Hampshire's main highway connecting the  state's three biggest cities. In many ways, it's a perfect symbol of a mundane daily routine: virtually everyone commuting from or above Manchester down to Massachusetts passes through it each weekday, the start of dreaded pre- and post-work traffic.
We often forget that, in an instant, the mundane can become something extraordinary, or take a terrifying turn. Though we can't control these extreme highs and lows, we have direct input into the foundational happiness of our present situation. What, and if, we enjoy life depends squarely on the meaning we put into our daily routines, whether through moments alone or with others. Through this process—moment by moment, day by day, and so on—is how we develop our legacy.
I've started reflecting on these ideas each time I drive through the toll, where Caleb Scofield passed away last March. With various published reflections from his bandmates, friends, and family and multiple sold out memorial shows (including stops in London and Los Angeles), it's obvious Caleb loved life and was beloved by those he shared it with. Beyond the value Cave In and Caleb's other projects have brought to the metal and hardcore landscapes, his individual presence was clearly felt as strongly as his death has resonated through the communities he belonged to.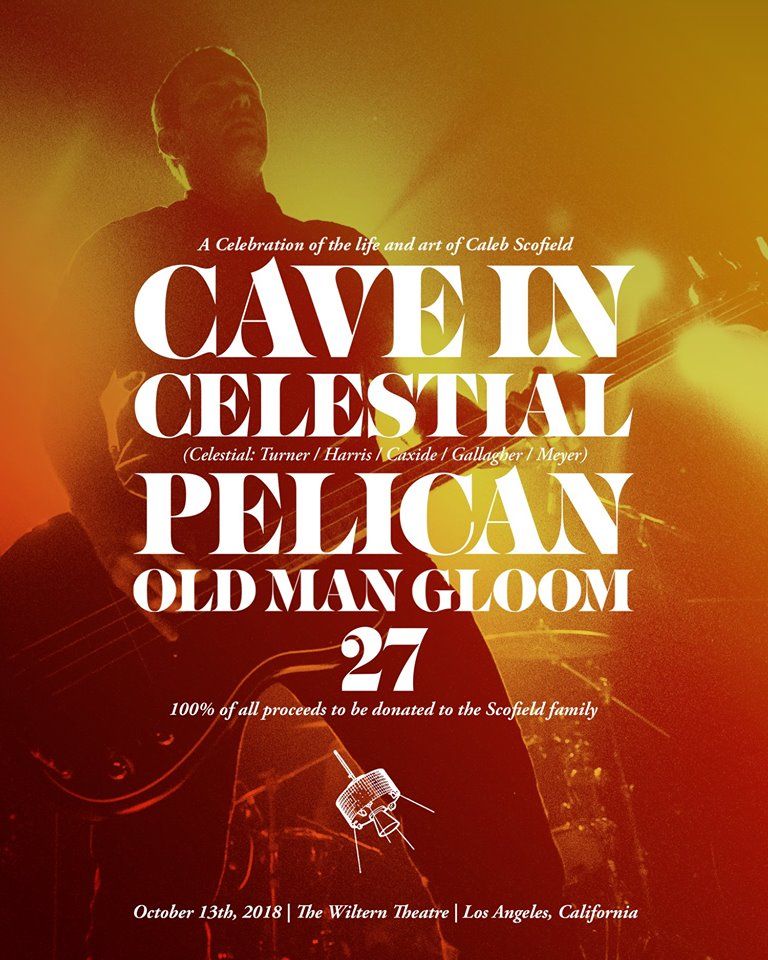 For a man and musician of this high regard, there's no better tribute than allowing his final works to be heard by those who've followed his music throughout his career. Final Transmission meets this tall order with an incredibly fitting sendoff, both for Caleb and the version of Cave In fans have come to know. Originally intended as demos, the album features Caleb's last recordings on bass and guitar. The compositions are hardly recognizable as initial takes, given how beautifully they present a cohesive retrospective of their discography's best moments.
Before the album truly begins, Caleb's bandmates—Stephen Brodsky (guitar, vocals), JR Conners (drums), and Adam McGrath (guitar, vocals)—included a haunting, beautiful intro from Caleb himself. The two-minute acoustic guitar riff, accompanied by Caleb's humming, is a "voice memo of a song idea he sent to his bandmates the last time they saw each other." The skeletal recording would have made the basis for an excellent, quintessential Cave In riff. Yet, in its current form, the piece has almost a stronger impact, serving as a bittersweet means of setting the tone.
From the first proper track onward, the band consistently presents some of the strongest material of their career. "An Illusion" channels the core sounds of Jupiter, namely the perfect synthesis of space rock, post-hardcore, and post-rock. It's equal parts punchy riffs and percussion along with perfect celestial effects and accents. This latter aspect of the band's sound shines brightest on "Shake My Blood," a delicate, gorgeous track defined by a shimmering guitar melody. Other than the title track, it's perhaps the most bittersweet, beautifully melancholic representation of the album's underlying theme.
Though not recalling Until Your Heart Stops, the band explores some heavier moments as well. The guitar work on "Night Crawler" has a nice crunch and urgency to it, which adds to the track's darker, faster tone. "Winter Window" also bears some sludgier elements, channeled through a sweeping post-metal lens. The band's spacey affinities play a prominent role as well, helping to make the song one of the most well-rounded on the album.
Resting between these moments is a soothing wall of noise and ambiance with the interlude "Lunar Day." It's a reminder of the shifting and varying musical moods throughout the band's career, a trait that definitely aids the success of Final Transmission. As a grand finale for Caleb's career, it's satisfying to feel a sense of totality from the album's compositions.
The band closes out the album on a bit of a heavier note, starting with a multifaceted outing on "Lanterna." Building on the success of "Winter Window," the track pulls together multiple muses into a successful progression of ideas, from an aggressive stoner-leaning romp through a contemplative, effect-laden conclusion. "Strange Reflection" doubles down on the post-metal moments found throughout the album, before "Led to the Wolves" bring the walls down along with it on a rough, noise rock outburst. The production quality takes a bit of a dip on this final track, though it suits the songwriting and feels genuine given the fact these tracks are demos, at their core.
Judging a swan song fairly requires an honest examination of its songwriting removed from the circumstances surrounding its release. What makes Final Transmission such a perfect farewell to Caleb is how well it stands on its own as an excellent encapsulation of Cave In's sound, regardless of the album's admittedly heavy context. It's certainly difficult to fully celebrate the first Cave In record in eight years, given that it will be the last album to feature Caleb and the finale for the band's career as it's developed to this point. Whatever the future holds, we thankfully have some incredible music and memories worth celebrating.
…
Final Transmission is available now via Hydra Head Records.