Carpenter Brut is something of a hot item in the electronic scene. From mastermind Frank Hueso, the Poitiers-based electronic artist has risen to popularity with the aggressive, '80s influenced synthwave, acting as an audible time travel device with a live show to match. Editor-in-Chief Eden Kupermintz has previously sung the praises of their live show and I'm here to assert that it's still as excellent as ever. However, 2018 has provided us not with just the first part of a killer tour, but a new record in Leather Teeth. If you have yet to listen to it, you're making a grave mistake, because the album slays, even if it does feel a bit short clocking in at just over half an hour.
This outing for Carpenter Brut saw math/post-rock outfit Jean Jean in tow for several of the stops, including the show at Chicago's Concord Music Hall. The high-energy trio from Sept-Sorts, a commune of north-central France, couldn't quite measure up to Carpenter Brut's fame, but their stage show and musicianship are absolutely undeniable. The ambiance these three Frenchmen can create is something of a marvel, especially when measured up against the mighty force that is Carpenter Brut.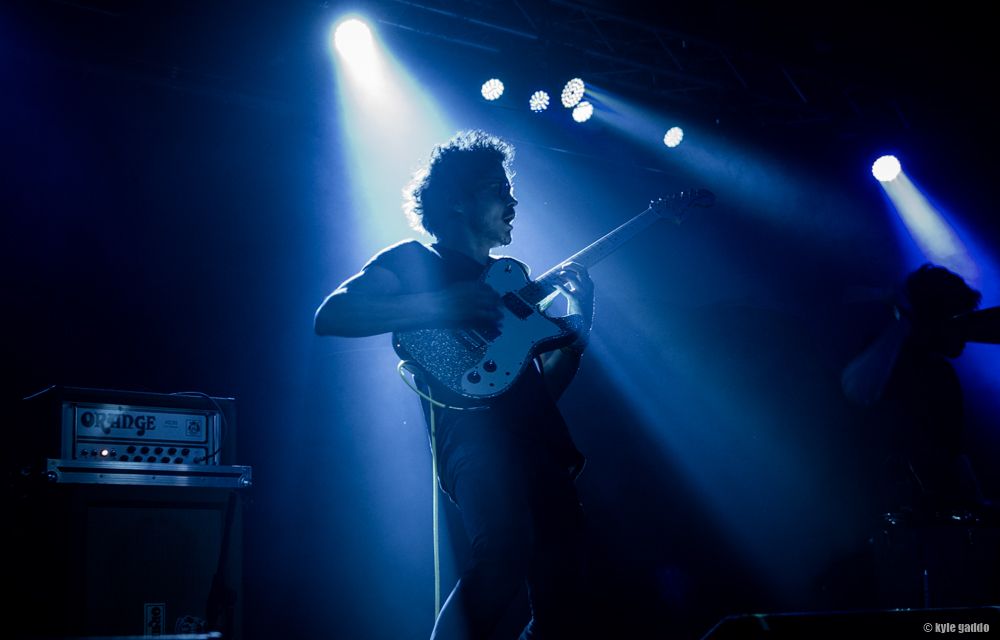 The chill, airy vibes created by the heavily delayed guitar were uplifted by the synthwave-y keyboards, all to be underlaid by some of the finest drumming in the northern hemisphere. Clear, competent, and—above all—fun, the combined efforts of Sebastien Torregrossa, Edouard Lebrun, Gregory Hoepffner acted as a delightful palette cleanser to a busy workday in Chicago before being brutalized by the sonic onslaught known as Carpenter Brut.
And what an onslaught, my friends.
Carpenter Brut, as a musician, is meant to be shrouded in mystery. In fact, photographers weren't allowed to take pictures of Hueso while he was on stage and, to retain an air of secrecy, only art was allowed to be created. All good, though, as the band was mostly backlit with some killer stage lighting as well as some of the most deviant video work known to man.
Carpenter Brut is, in a word, incredible. Concord Music Hall typically has solid-to-excellent production for their live shows, but Carpenter Brut as an act really brought out the best of the venue. Having seen a good handful of bands there, including Faith No More, Blind Guardian, and Epica, Carpenter Brut were easily the act to evoke the true spirit of the venue.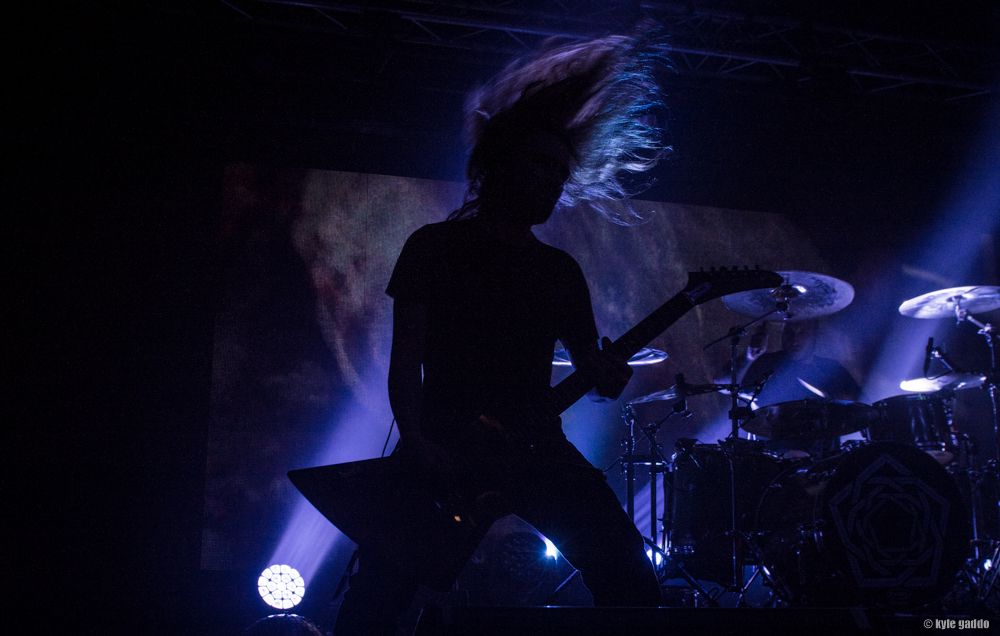 Carpenter Brut is loud. I don't say this lightly. Yes, shows are meant to be loud, but the sounscape that the music creates is something that doesn't just fill up your ears, but resonates within your entire being. The punches of both the drumming and the lowest of lows on the keyboard make your very bones reverberate to the point where you may as well be sitting on the sound equipment. There was no "safe zone" from the audial energy—not that you'd want to escape, however.
Carpenter Brut aren't just excellent musicians, but more than excellent performers. Though perhaps their live show might leave something to be desired by way of personnel (a mere three people doesn't always make for something visually captivating), the imagery accompanying the music is beautiful, devilish, and eye-catching.
The supporting "stories" of each song are given life through background videos, sometimes displaying important and catchy lyrics, like in "Turbo Killer," or giving a devious life to other tracks through the use of outdated and obscure films, newspaper headlines and stories, and even references to anime. The imagery provided ranges from post-apocalyptic and catastrophic to downright weird, with mangled thought patterns directing the visual component of otherwise wordless music. Music aside, Hueso's brain must be a wild place to exist in.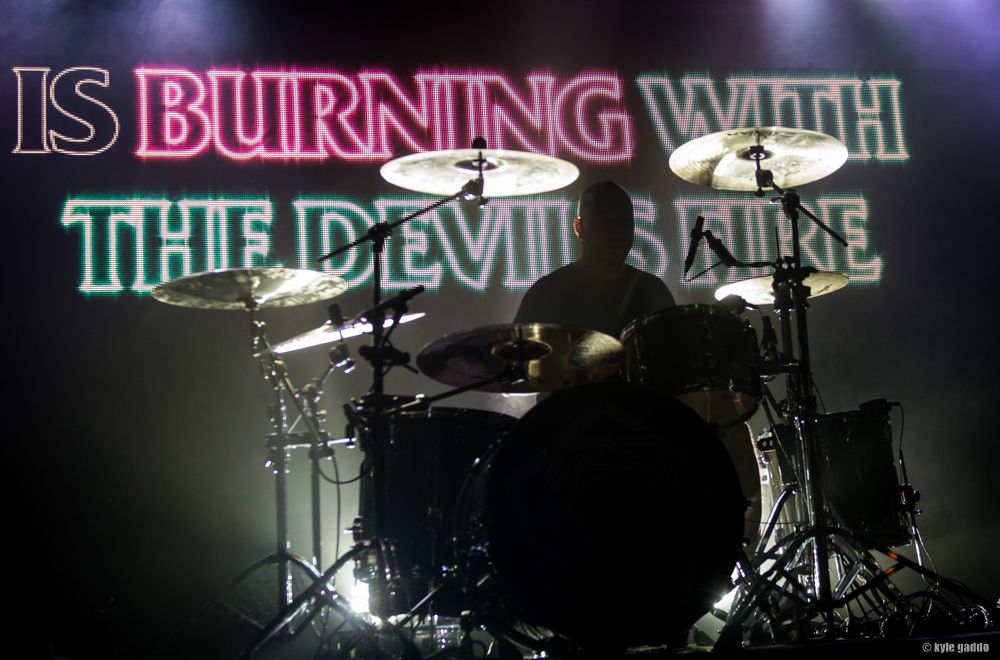 The one downside to Carpenter Brut's live show is that a lack of familiarity with their music won't have you foaming at the mouth during the performance. All the songs will sort of meld together. This isn't necessarily a bad thing, but not truly understanding these beats makes it hard to capture certain memories. They did, however, finish up their set with a killer cover of Michael Sembello's "Maniac," which totally fits the vibe that Carpenter Brut fires with laser-like accuracy.
If you have the opportunity and dig Carpenter Brut's music, you owe it to yourself to attend a live performance. A proficient marriage between a knowledgeable, niche musician combined with capable live musicians with a heavy helping of visual flair to aid the stage show make for an unforgettable evening.
Carpenter Brut's North American outing is over for the moment, but as the tour posters indicate, this is merely part one! Stay tuned for more dates! In the meantime, you can grab a full setlist here.