Well, here we are. We made it, everyone. We made it to the end of this stupid freaking year in which it seems like the limits of society, political structures, and the very notion of any commonly held set of information, principles, and facts were tested and shaken violently. It's been a year in which the venn diagram of satirical humor and just reporting what is actually happening in the world around us often fell into a perfect circle of through-the-looking-glass post-modernist delirium. In a world where so little has made sense though, it's even more comforting to fall back on certain constants in our lives, whether it comes in the form of family, friends, work, religion/faith, or, for those of us who contribute to this website (and likely all of you who read it), music. On the crappiest of days, the most ecstatic and happy, and everything in between, there is music there to lift us up, calm us down, and that allows us to safely express sadness, anger, and anything else we don't want to carry with us everywhere we go.
Every December we come to you exalting the incredible set of music that was offered to us by dozens of amazing and diverse artists, and this year will be no different. 2017 was yet another incredible year for music across all genres, and there are so many amazing and special albums that every one of our writers on staff would love to talk about at length, but in the end we create these aggregated ranked lists as a curated distillation of what really and truly mattered to us the most at Heavy Blog. The people we're lucky enough to have here have always had diverse and often eclectic tastes, and we pride ourselves on that as a selling point for what we do. Just to really cement what that means, this year we had over 20 writers submit lists of their top 25 albums of the year, and from those lists we had a total of 259 albums that were nominated.
Just as shocking as the amount of diversity in favorite albums amongst us though was the level of overlap and agreement present. Most of us may not agree upon what the album of the year is, but there is a set of albums that we can commonly agree upon were outstanding in their own right and deserve to be recognized as such. This is the list of 25 albums that you see below. As always, this list skews heavily towards…yes, heavy music, metal specifically. But also as always, it is peppered with shining examples from jazz, experimental music, progressive rock, electronic music, and elsewhere. If you want to dive deeper into some specific genres and subgenres, I highly recommend reading our wrap-up posts from our series of curated columns, a few of which already published earlier this month and the rest which will be coming throughout the week. And for those of you who want to dig deeper into how we actually aggregate the data that forms this list, I strongly encourage you to read Noyan's in-depth breakdown of our methodology, which he has fine-tuned to about as close to perfection as I think we're going to get. This is also how we will be compiling our industry-wide meta-Album of the Year aggregated list, which you can expect closer to the end of the year.
In closing, this list is Heavy Blog in a nutshell, and we hope you can celebrate the music that defined us as a collective this year while sharing what had the greatest impact in your own lives. Because ultimately, even when the world around us can feel like it's a flaming bullet train of pure garbage with no brakes, it's vital to recognize the things that make staying on the ride worth it.
-NC
---
25. Ex Eye – Ex Eye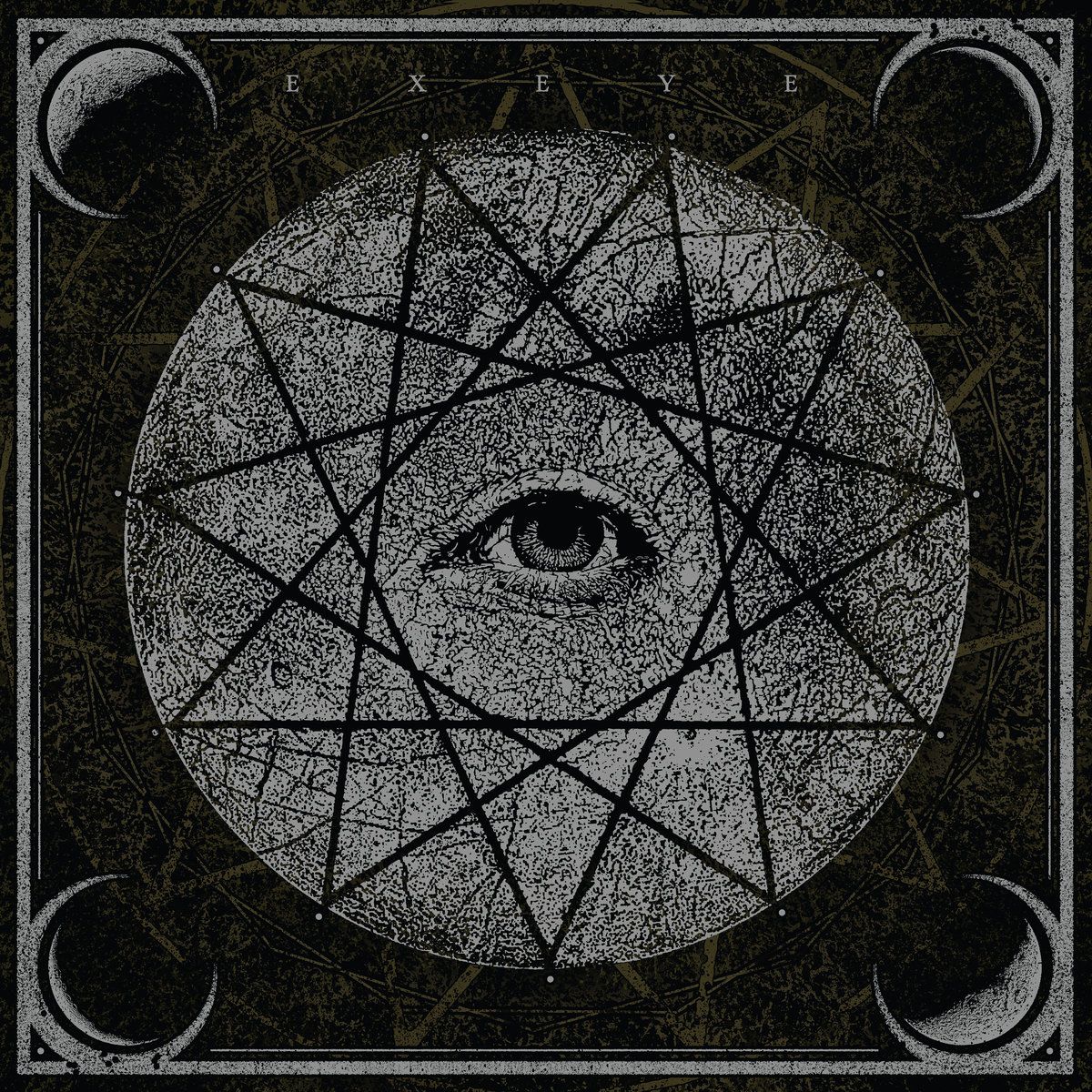 Looking back on the career trajectory of saxophonist Colin Stetson, it's easy to say now that it was inevitable that he would wind up creating an incredible and experimental post-metal album. The kind of bold and brash sound pallet he has explored in his solo work for the better part of a decade (including his solo album also released this year that found itself on our list) has summarily re-defined how many people view the saxophone and what it is capable of producing melodically, harmonically, and texturally. Stetson's performances and compositions strip back any kind of typical dalliances and flourishes that have historically defined the instrument in favor of laying bare raw, brutal physicality. For Stetson, the mere act of performance and how he produces sound defines the listener's experience as much as the sound itself. All of this makes the context of extreme metal a perfect bedfellow, and in Ex Eye and their eponymous debut, Stetson sounds so naturally at home that it's difficult to conceive of it not existing.
Of course, because Ex Eye is not a solo project, the collaborations and other musicians present are just as responsible for creating such a perfect vehicle for Stetson's style. The heart-stopping and explosive yet airtight work of Greg Fox's drums are certainly the most immediately noticeable throughout, creating an absolute match made in heaven for both. If Stetson and Fox are the bones and muscles of this organism though, Shahzad Ismaily's synth and electronic world-building and Toby Summerfield's ethereal guitars that float above it all are the flesh and blood that give life to the whole thing and elevate it to its highest level. Far from any sort of novelty that one might expect from the pairing of people and sounds, Ex Eye are the real deal, and this album is hopefully just the opening salvo for what could be one of the most groundbreaking and forward-thinking metal acts of the decade.
-Nick Cusworth
24. Ne Obliviscaris – Urn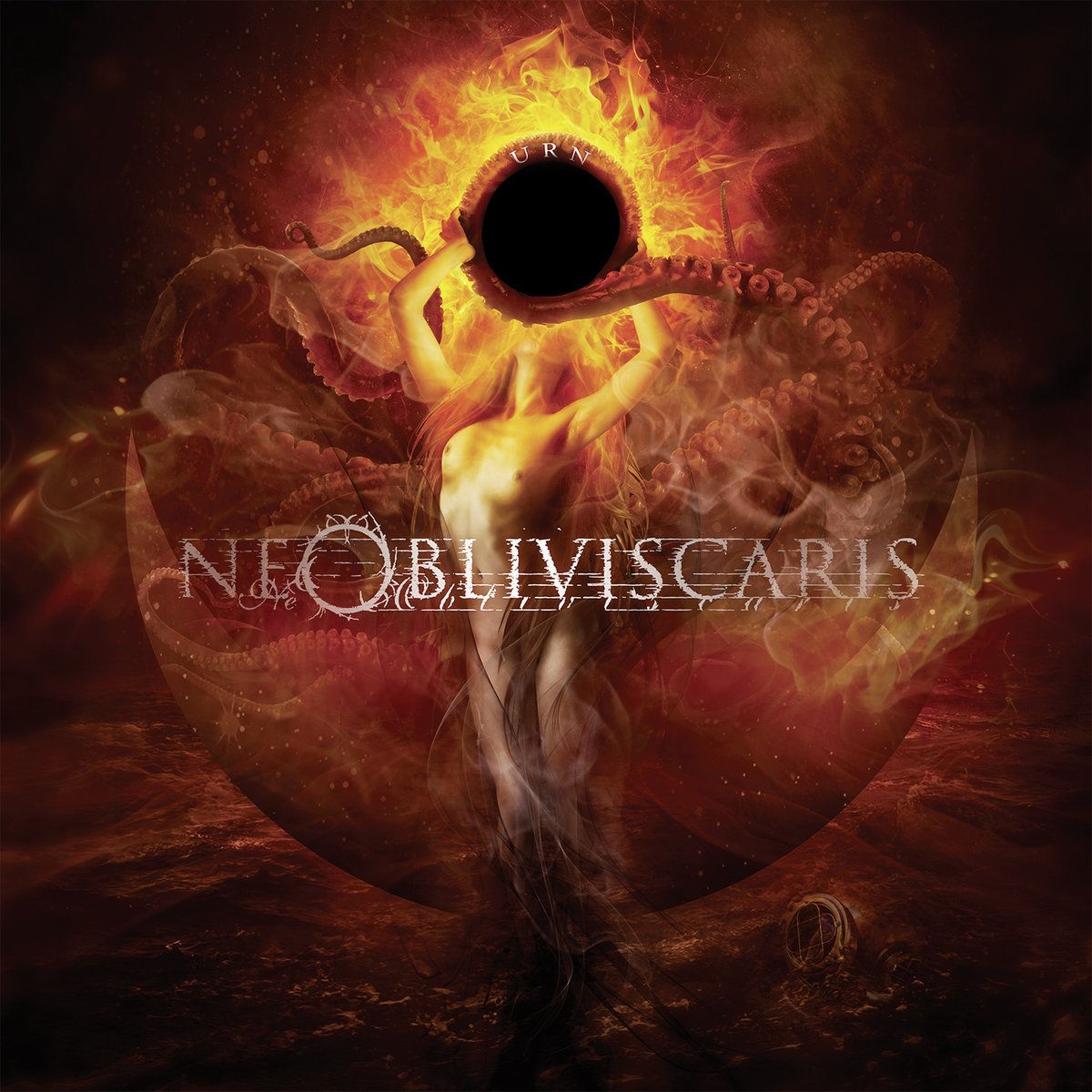 Remember the first time you read 'Ne Obliviscaris'? It probably took you two or three times to get it with proper pronunciation but after a while you were saying it slick and elegantly to all your friends as you give them a recommendation. I would say that the music of Urn is that slick and elegant pronunciation. It has the beautiful contrast which we have grown to expect with the soothing violins, clean vocals, and pleasant bass rhythms layered with the dark brutality of extreme drumming, pounding guitars, and guttural vocals. This is easily the bands most concise work to date. This album has an identity and knows what it wants to do within each track, which can be backed up by the shorter song lengths instead of dragging on for 15 minutes.
I cannot say that much has changed in the core formula, but that doesn't have to be a bad thing. NeO are clearly a band that knows their ingredients. They could have strayed off the path and tried to make a 2-disc concept album but instead they perfected what they were already damn good at.
[bandcamp video=2160535718 width=560 height=435 bgcol=ffffff linkcol=0687f5]
-Brandon Klemets
23. Bell Witch – Mirror Reaper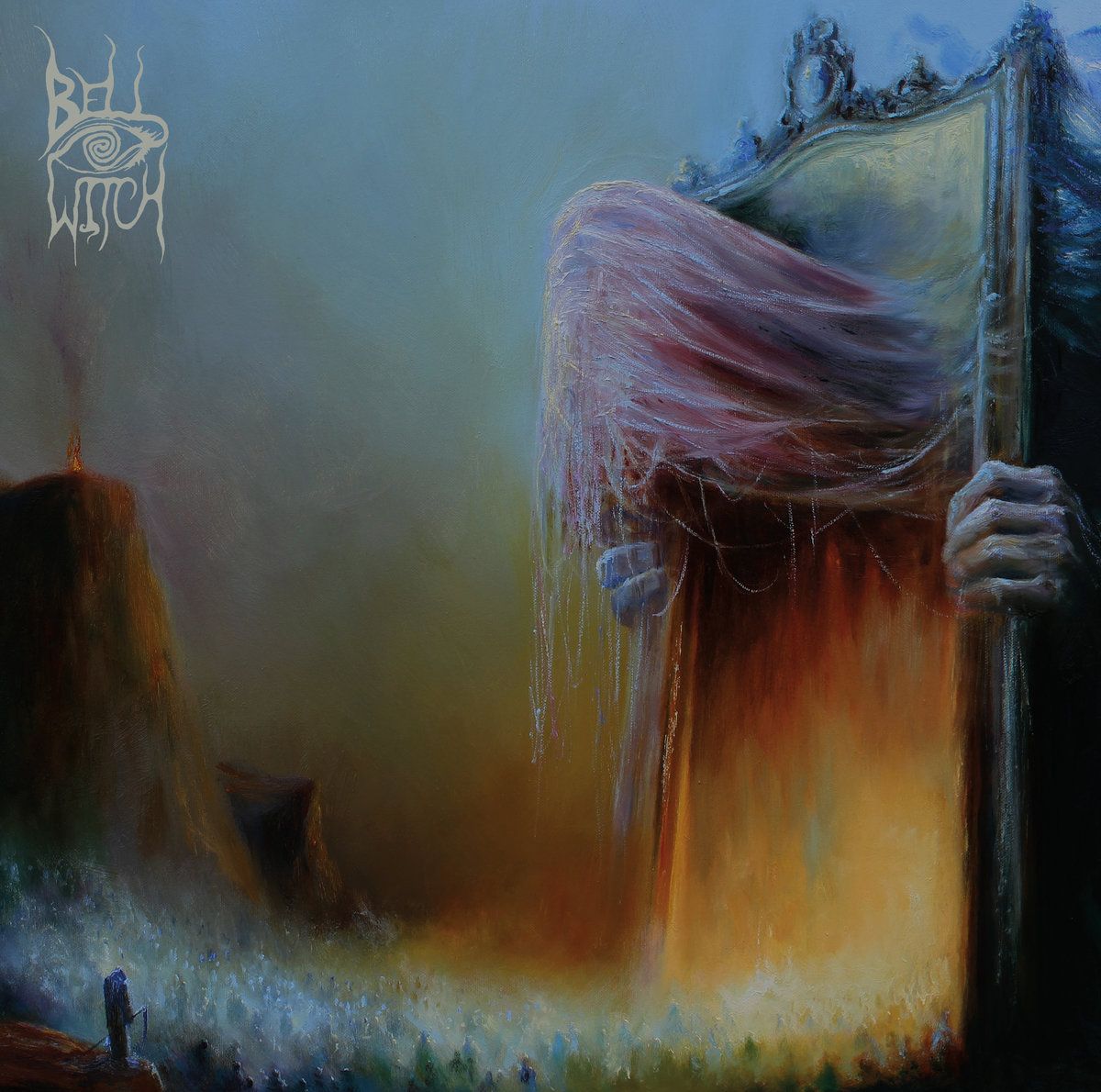 Despite some publications lamenting about modern albums growing too long, this apprehension is misplaced and ultimately scapegoats the creative process. Sure, most people likely won't have the attention span to sit through Autechre's four-hour elseq 1–5 or Prurient's three-hour Rainbow Mirror, and Pitchfork actually did make a compelling case for trimming down pop albums that lack anything compelling to say. But this speaks less to a systemic issue and more to poor artistic execution and, more importantly, our collective inability to appreciate music as a standalone art form. This isn't to say no one listens to an album on its own without anything else to fill their time, nor that music requires singular, laser focus to be enjoyed. But to imply we can't dedicate time to a lengthy album but can afford any number of other longer activities is a disservice to artists who make grandiose musical statements that fall outside the standard parameters of an album.
Thankfully, the metal community as a whole seems to have viewed this phenomenon as a non-issue when it comes to Bell Witch's tragic and sublime opus Mirror Reaper. While following up a funeral doom tour de force like Four Phantoms would have been difficult enough on its own, the death of former drummer and vocalist Adrian Guerra certainly added grief and despair to the writing process. Yet, as with all lasting, impactful art, Mirror Reaper channels and leverages the complex emotions surrounding the context of its existence, resulting in one of the greatest additions to the funeral doom canon in recent memory. Across 83 minutes of heart wrenching auditory sorrow, Dylan Desmond (bass, vocals) and Jesse Shreibman (drums, vocals, organ) unleash everything that's made Bell Witch exceptional at a higher level than ever before. Mirror Reaper is an evocative journey that somehow tests the listener's emotions but not their patience, and while it requires a dedicated listen to truly appreciate and unravel, there are very few metal albums this year more deserving of that commitment.
-Scott Murphy
22. Colin Stetson – All This I Do For Glory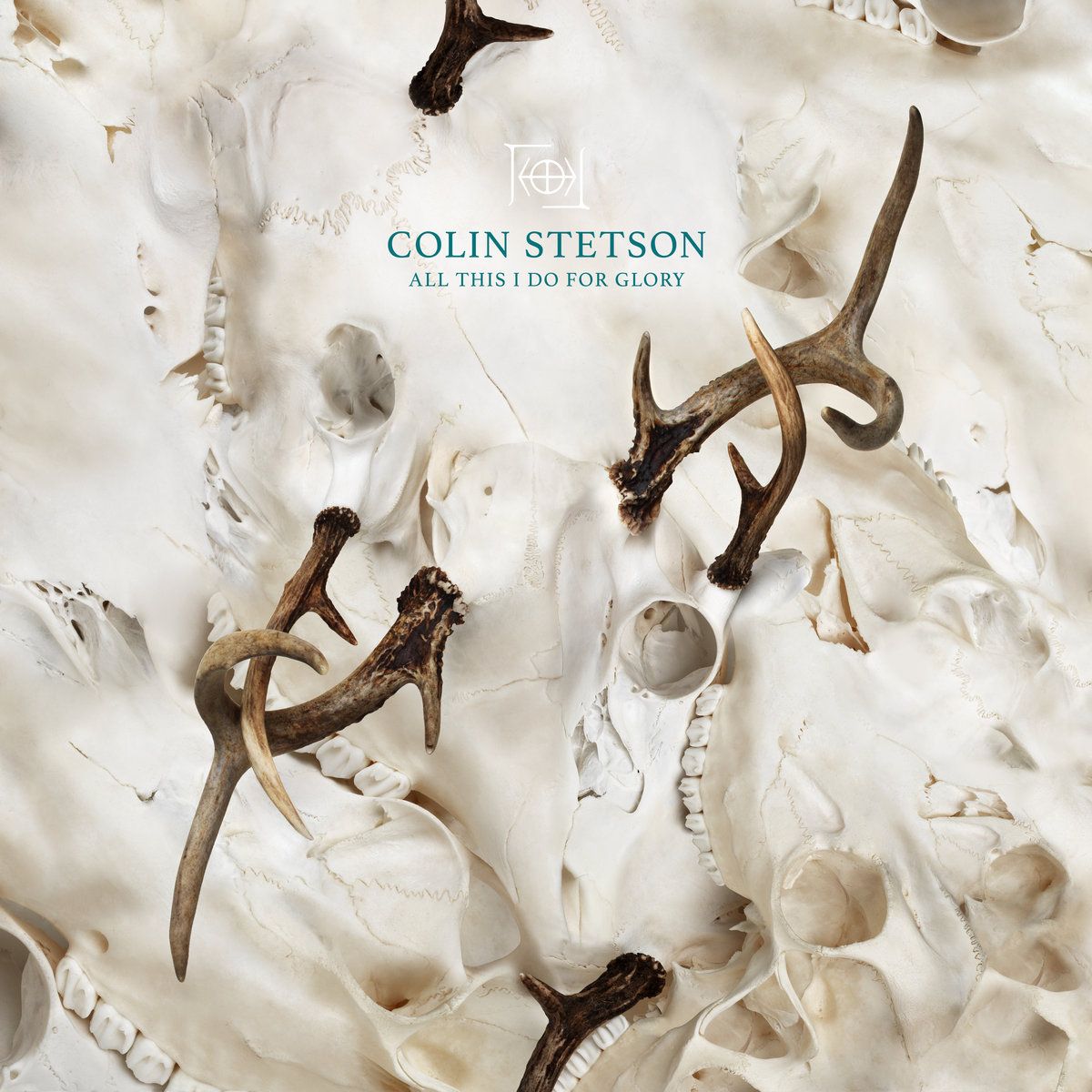 Saxophonist Colin Stetson may be the only artist that's appeared on our official top albums list three times. He debuted in 2015 alongside violinist Sarah Neufeld with Never Were the Way She Was, a phenomenal display of modern classical dexterity that pushed the limits of post-minimalism and totalism. And now just a couple years later, Stetson returns to not only test his own dexterity and endless playbook of techniques, but also to demonstrate just how eclectic his skillset continues to be. Stetson's musical flexibility is rivaled only by John Zorn; who else could compose two solo saxophone albums (New History Warfare Vol​.​3: To See More Light and All This I Do For Glory), a modern classical collaboration (Never Were…), a new arrangement of classical repertoire (Sorrow) and a dark blend of blackened avant-garde post metal (Ex Eye), all in the span of a few years?
On paper, All This I Do For Glory is the more conventional of the two Colin Stetson albums appearing on this list, and arguably the most "plain" of any the albums he's put out over the last few years. But when it comes to Stetson, there truly isn't anything quite like his brand of saxophone wizardry, and his latest solo project only bolsters his reputation as a forward-thinking reed-smith. Part of what makes the album such a triumph is its succinct yet eclectic approach that places heavy emphasis on the intriguing, percussive after-effect of the notes Stetson's plays. Fans and critics alike have often tied his percussive sax arpeggios to IDM, a comparison that's more warranted than ever on tracks like 13-minute powerhouse "The Lure of the Mine." The track acts as an exceptional closer due to both its epic scope and sound, coming across as if Stetson wrote a saxophone arrangement of a driving, aggressive Autechre track before adding on his signature vocalizations and sheets of sound. The opening title track takes a more subdued, Aphex Twin-esque approach to IDM, with a thumping, plodding soundscape unlike much else in his discography. Between these two bookends are epics galore, including the gorgeous modern classical stylings of "Spindrift" and the tribal, punk spirit of 3-minute banger "In the Clinches."
All of this is admittedly a lot to absorb on first listen, especially if you're new to Stetson's sound. But the task of multiple revisits will become effortless in time, and it won't be long before the thirst for more Stetson becomes insatiable. And fortunately, his prolific-with-a-purpose track record proves that he's going to continue crafting innovative albums that challenge the boundaries of multiple genres.
-Scott Murphy
21. Yazz Ahmed – La Saboteuse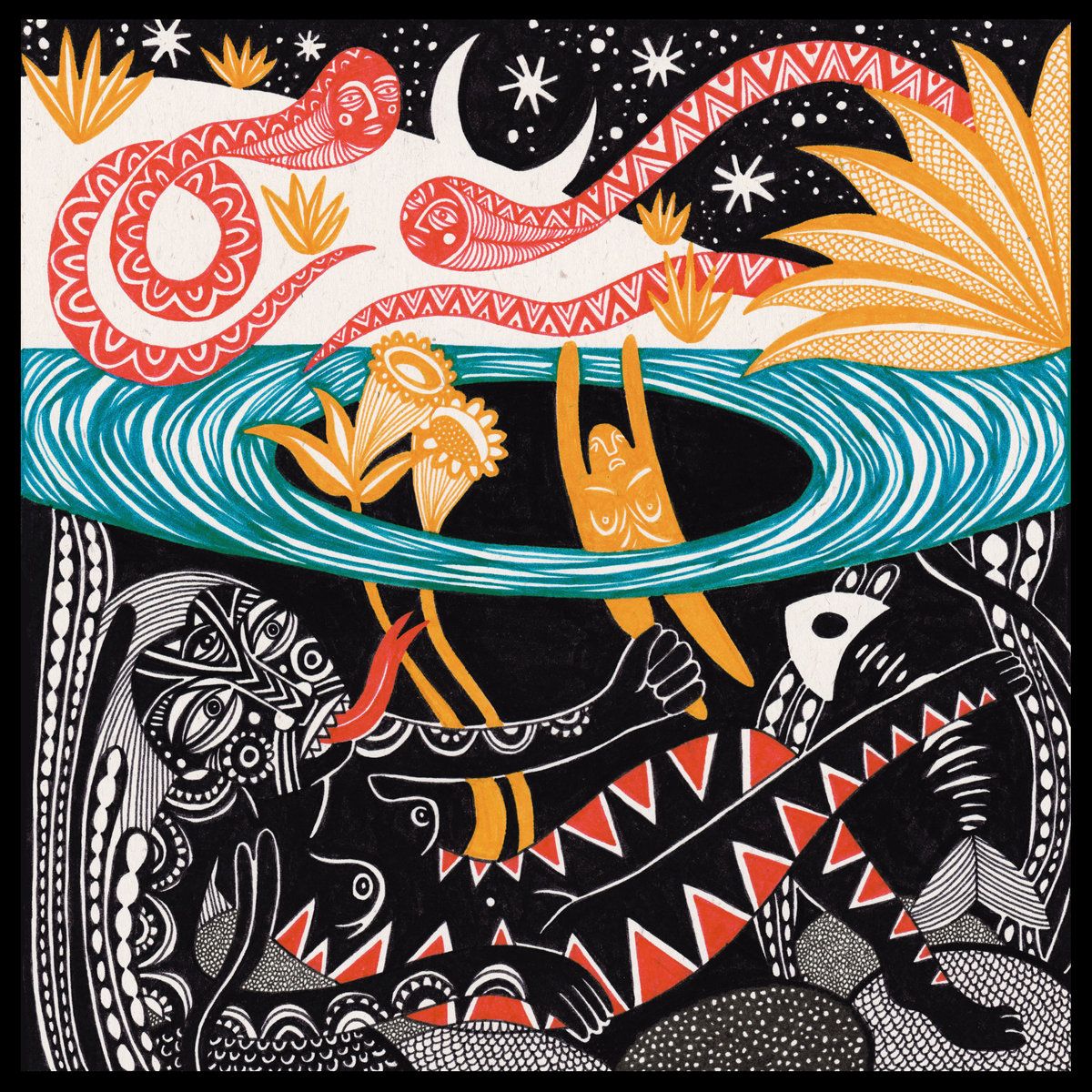 Since we began publishing an aggregate AOTY list back in 2014, it's been interesting to see how the jazz fans on staff have converged each year around a couple albums that present unique iterations of the genre. From Jaga Jazzist's Starfire and Kamasi Washington's The Epic in 2015 to BADBADNOTGOOD's IV and GoGo Penguin's Man Made Object last year, the common thread seems to be an effective balance of jazz's past and future, with varying degrees of emphasis on either direction. In other words, these albums all view jazz as a means and not a master; reverence for the past is reason to propel the art form into new territory, where it can be celebrated and preserved by the oncoming generations of listeners with ever-increasing means of music consumption at their fingertips.
Though Yazz Ahmed's La Saboteuse is our sole jazz inclusion on this year's list, it's a more than deserving inclusion that furthers the trend detailed above. Rooted in the arid, mystic framework of Arabic jazz with plenty of added chamber, fusion and electroacoustic elements for good measure, La Saboteuse is an exceptional album that continues the legacy of Mediterranean-themed classics like Miles Davis' Sketches of Spain and John Coltrane's Olé Coltrane. Yet, simultaneously, Ahmed brings an entirely fresh perspective on the genre that both continues modern trends of innovation and challenges longstanding traditions in unique ways, and that's even excluding her incredible rendition of Radiohead's "Bloom." As a female trumpeter and bandleader in a historically male-dominated genre, Ahmed should be commended for making an album that so handily smashes the obstacles placed in her way. It will take vibrant young artists like Ahmed to ensure jazz retains its place in modern music, and with bold statements like La Saboteuse arriving so early in her career, it's apparent the genre is in capable hands.
-Scott Murphy
20. Ingurgitating Oblivion – Vision Wallows In Symphonies of Light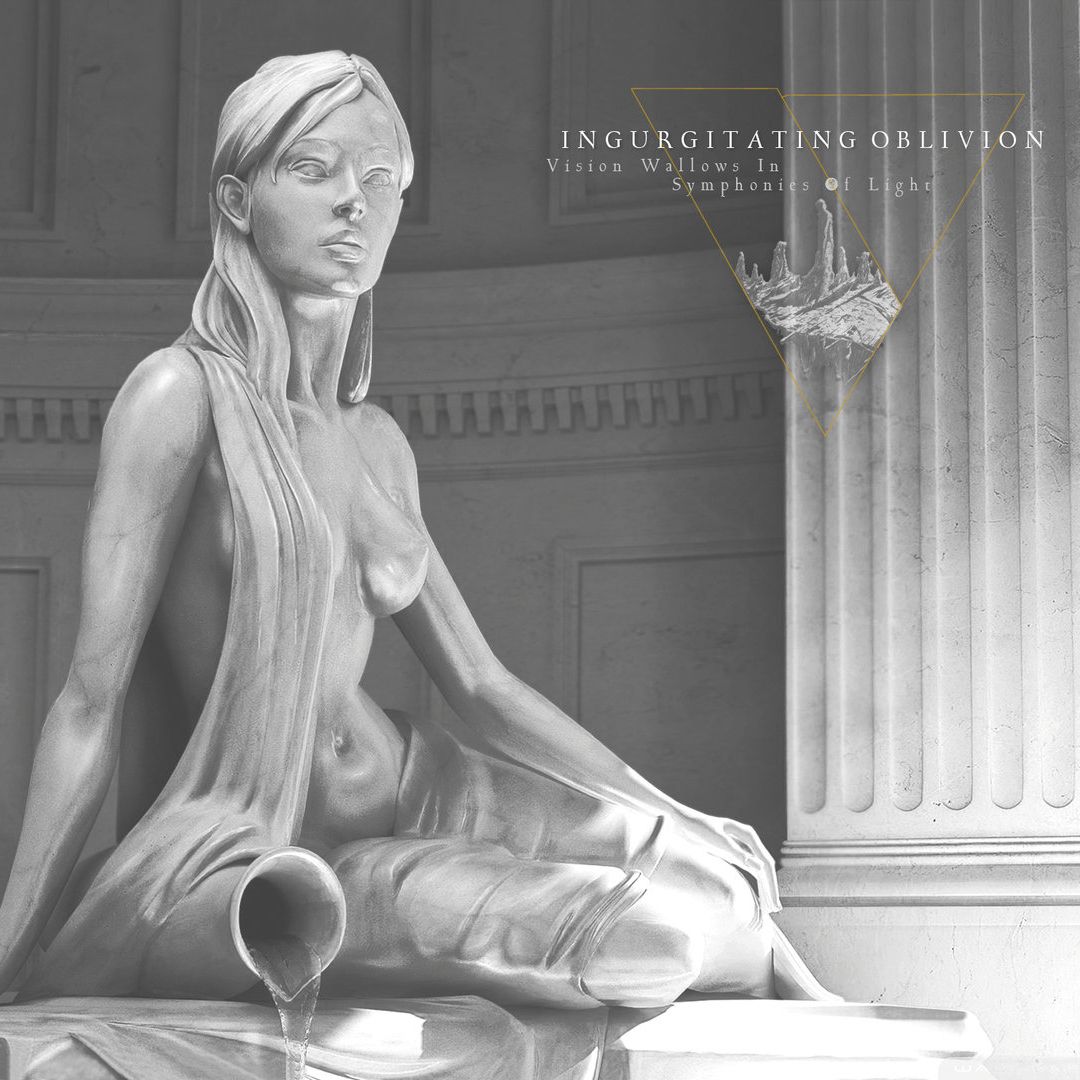 2017 has been an absolutely legendary year for death metal as a whole. In particular, it has proven itself to be especially auspicious for death metal of the more experimental and technical varieties. While there are several of those fundamentally excellent albums populating this list, few in my mind reach the transcendent heights of Ingurgitating Oblivion's absolutely stellar third album Vision Wallows in Symphonies of Light. After countless listens, this record stands as one of the best recent examples of death metal's steady evolution toward masterfully performed, compositionally adventurous, and tonally complex records that simultaneously challenge and destroy listeners. It's absorbing, and one of the best albums of the year.
A fair warning: This record is no easy listen. With only one track dipping below a ten minute runtime (finale "A Devourer of Fitting Shades Who Dwells in Rays of Light"), listeners should brace themselves for a wild ride. But the rewards are well worth the journey. Album opener "Amid the Offal, Abide With Me" is one of the most positively electric openings to a death metal record I have heard in ages, and centerpiece "A Mote Constitutes to Me Is Not All, and Eternally All, Is Nothing" collapses all life in churning, boiling, blistering assault of sonic punishment that is as abrasive as it is atmospheric and engaging. Every track on this record is filled to overflowing with amazing riffs, intricate guitar and drum work, and an atmosphere of off-kilter discomfort. It's a shining example of everything death metal does well, and everything it can be.
If you are curious to see where death metal is headed, Ingurgitating Oblivion belongs in the company of Pyrrhon, Artificial Brain, Archspire, and Mitochondrion on your shortlist of bands bent on transforming the death metal landscape. Consider the envelope pushed. Your move, 2018.
-Jonathan Adams
19. Dodecahedron – kwintessens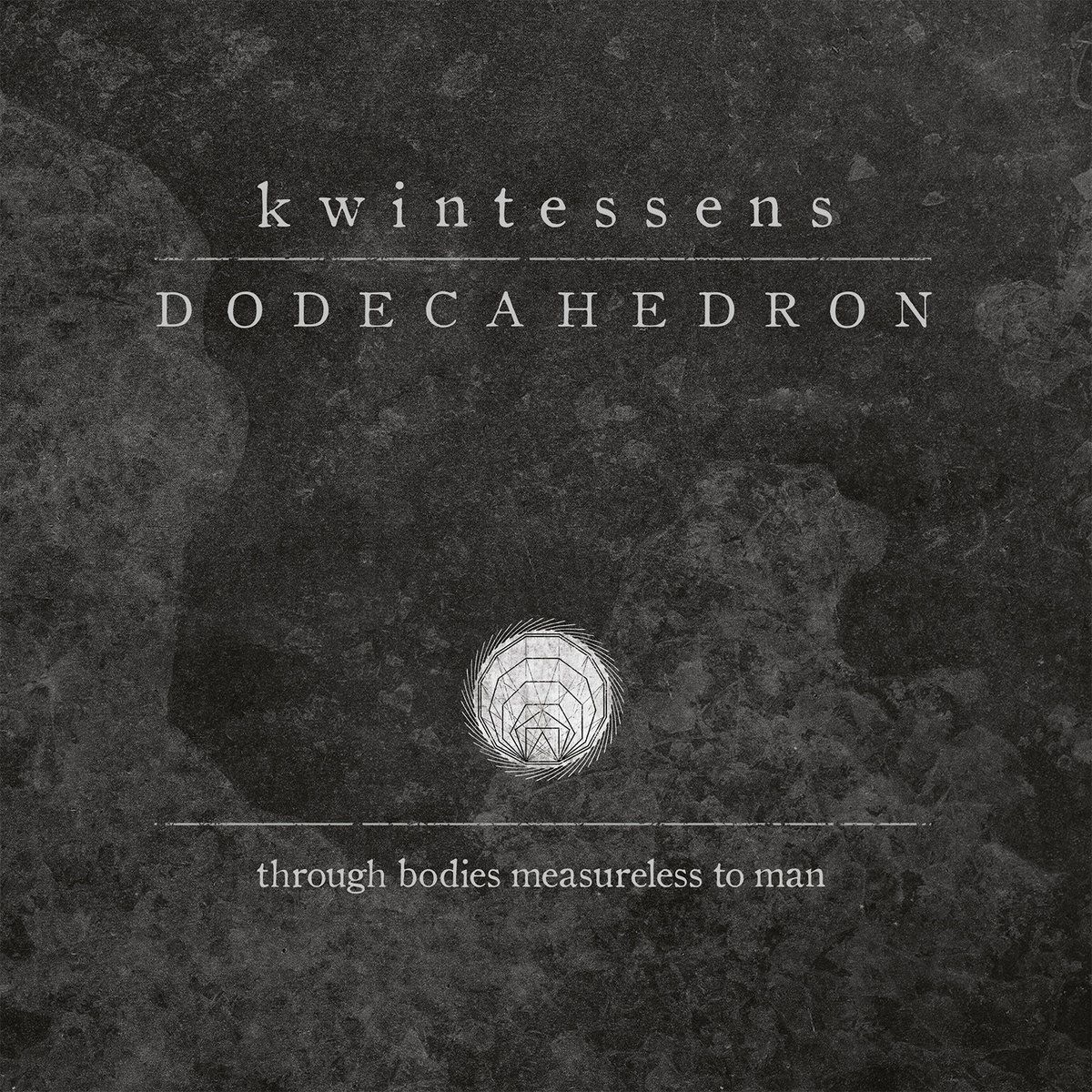 Atmospheric and chaotic extreme metal is the hot new development happening in extreme metal, as you'll see in various forms across this list. The lineage of Gorguts, Portal, and Deathspell Omega have left a lasting impression the current generation of up-and-coming bands who have been infected a who abuse guitars with atonal riffing (aka SKRONK), blastbeats, and a murky atmosphere. Songs are labyrinthine in structure, and it's all just frightening, if not emotionally and spiritually engaging as well.
Netherlands' Dodecahedron are one of the best bands in this movement coming from the black metal corner of the universe, and their sophomore release kwintessens is an ambitious blend of prefixes and modifiers that defies being adequately described without relying on comparisons to established artists. There's a complex interplay of primal black metal and technically-minded prog and psychedelic post-metal that transcends its scene.
It's been five years since their self-titled debut, and they've not taken that time to slouch. kwintessens takes the formula of cosmic horror to new extremes and further cements their place as trailblazers in the increasingly crowded field of skronky tech and extreme metal. Now, with the dissolution of sister project Exivious (RIP), here's hoping it doesn't take another five years before we get the next phase of Dodecahedron.
-Jimmy Rowe
18. The Contortionist – Clairvoyant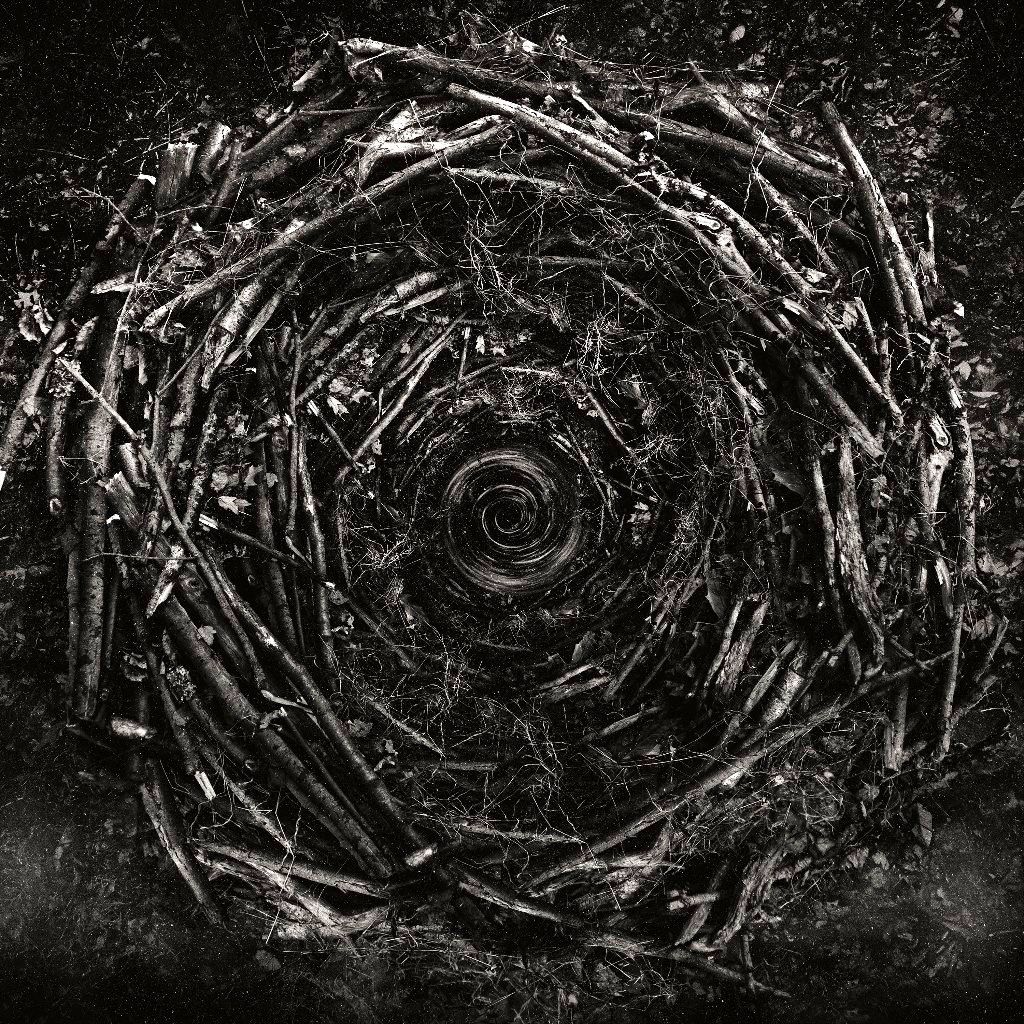 Just as Between the Buried and Me moved from their more progressive metalcore sound on Alaska to the genre defining, landscape shaping modern prog metal present on Colors, The Contortionist have taken elements from previously present pieces of their sound and rearranged them to make a new, yet familiar identity for themselves. The group were semi-familiar with prog metal's waters, leading them to go a bit deeper with each consecutive outing. The band dipped their feet in the water with their first three EPs, firmly planted them with Exoplanet, went waist deep with Intrinsic, then let the water rise to their neck while incorporating occasional submersion with the induction of Michael Lessard (Last Chance to Reason) and release of Language. Their newest foray into the creative depths, Clairvoyant, sees them fully submerged.
Clairvoyant is an album anchored heavily in its dense atmosphere, which blends tones and emotions that range from melancholy longing to uplifting relief. The band create and maintain this atmosphere not just through their ability to compose songs that move in all manner of directions whilst staying consistent, but also through an expansion in the importance of the synthesizer in the arrangements. The second of Clairvoyant's two main anchors is Michael Lessard, who comes through with an arresting and hypnotizing vocal performance. It's a perfect fit for the dreamy, trance-like atmosphere of the album. There are moments where he sounds like he's singing from realities slightly out of sync with and/or greatly removed from ours coupled with moments of lucidity that come through as if they're dreams that arise in the midst of other dreams.
The cover of Clairvoyant is a perfect extension of the content it represents. A swirling vortex of grays and blacks varying in tone, built with the material of a nest in order to disguise that it will drag you down. The Contortionist made an album that not only saw them sink deeper into their identity as a band, but made it about what it's like to sink within yourself, thinking that you're building a place of comfort when you're really allowing the earth to swallow you whole.
-Ryan Castrati
17. Bent Knee – Land Animal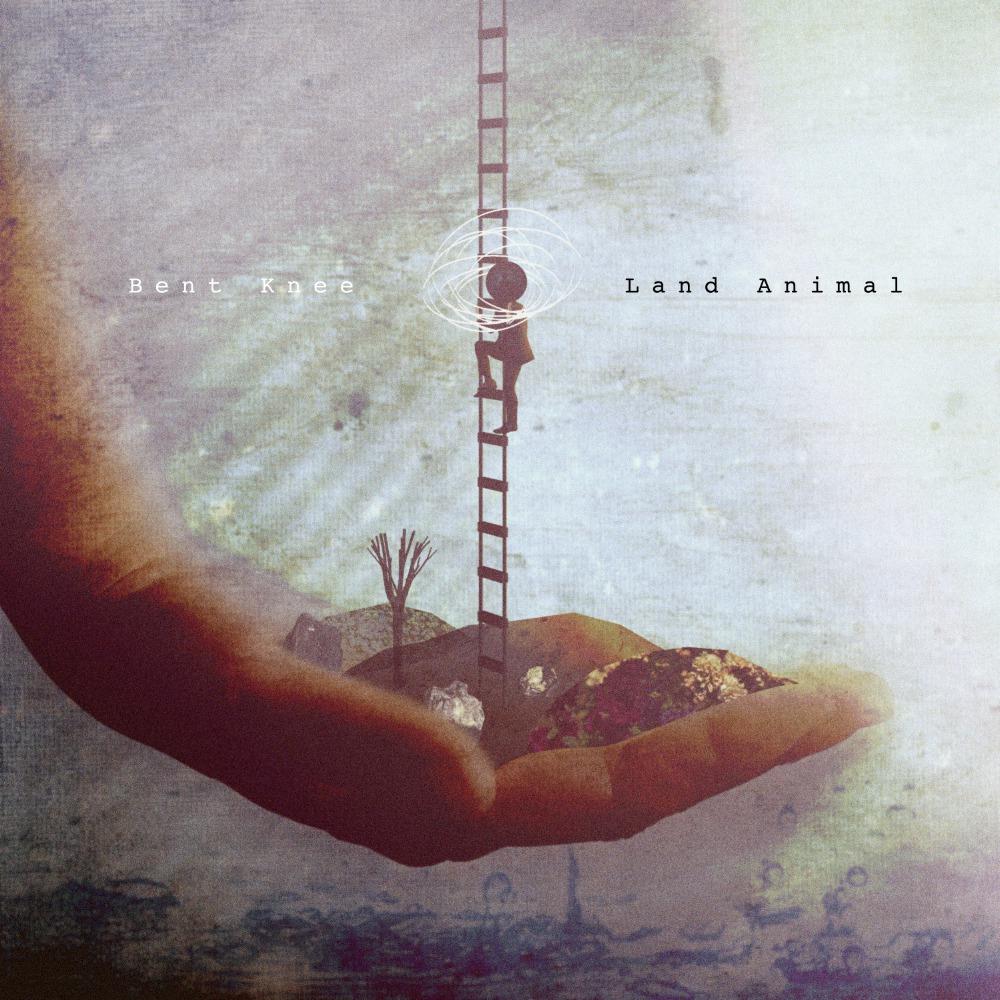 The greatest challenge for bands existing in the murky space between progressive/art-rock and pop is the delicate tightrope walk of accessibility/immediacy and the kind of experimentation that challenges those very conventions and tropes that make music immediately accessible. For Bent Knee, they've transformed that challenge into an artform unto itself and somehow manage to pull off the trick of doing both simultaneously and seamlessly without seeming to break a sweat. Land Animal is just the latest in a string of releases that prove this, but it may also be the best example of how their songwriting and comfort as a group pits those two competing impulses against each other constantly to throw each into stark relief.
Take "Hole," for example. Frontwoman Courtney Swain's typically huge and hooky vocals and a sing-songy keys melody drive a song that at its core is a pretty easily-recognizable power-pop track. In the hands of most other bands, those harmonic and melodic foundations would be more than enough to satisfy, as the rest of the band would fall in line to provide an energetic and peppy groove. Instead we're immediately treated to a constantly-alternating ricocheted assault of staccato riffs and punches from guitarist Ben Levin, bassist Jessica Kion, drummer Gavin Wallace-Ailsworth, and violinist Chris Baum. Only over the choruses does the band allow themselves to move and groove together as one would expect. The effect is a vertigo-inducing tension that elevates both sides and is resolved in the track's climax, a middle ground of pop grooves and catchiness with enough off-kilter and unexpected meat to keep any more discerning listener wanting to come back. Bent Knee and Land Animal exist in this very space, and it's easily one of the most exciting things to come out of the progressive rock scene in ages because of it.
-Nick Cusworth
16. The Black Dahlia Murder – Nightbringers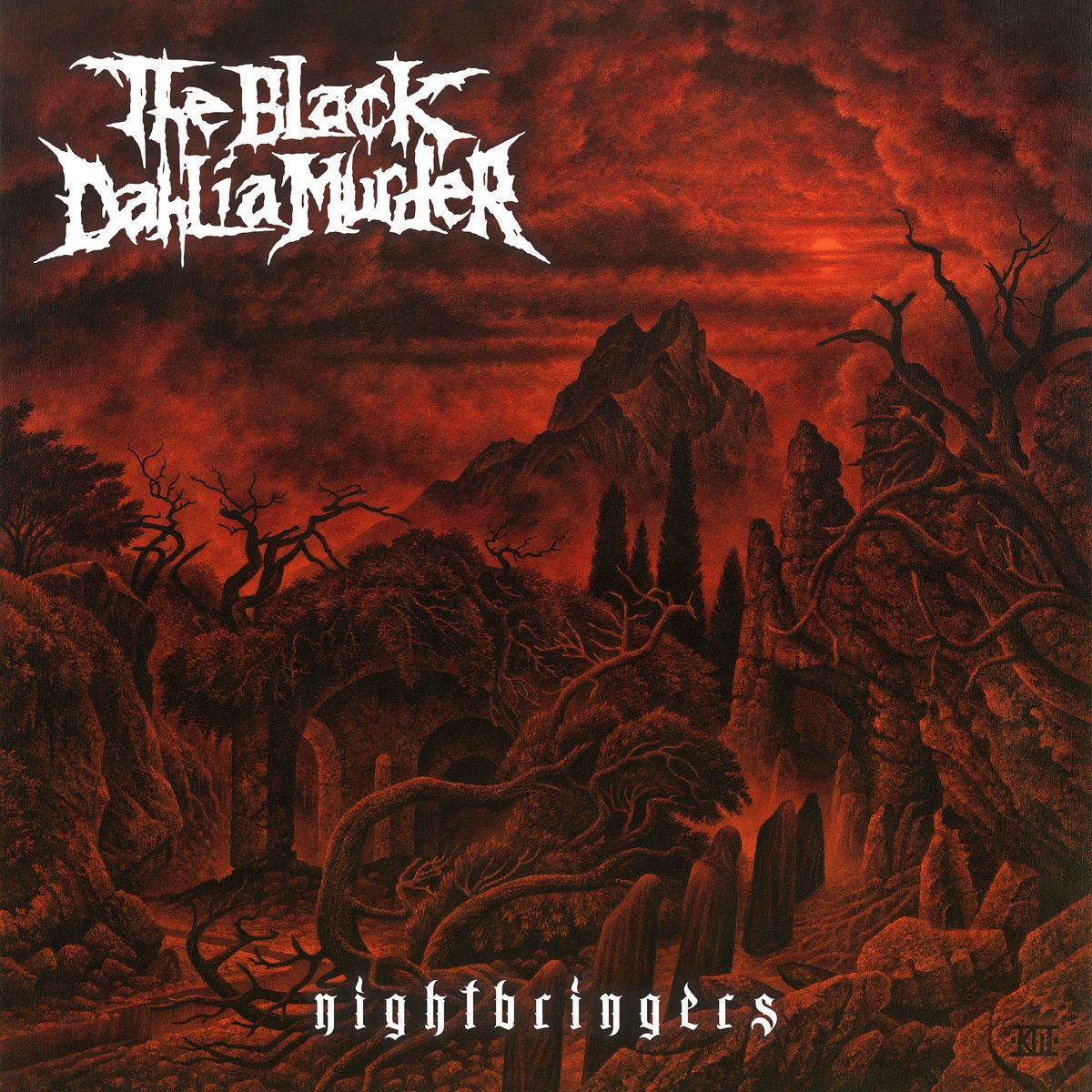 The reason The Black Dahlia Murder will always hold a special place in my heart is because it's music made by nerds for nerds. Every single one of their albums has songs that feature layered and intricate melodies that have plenty of parallels with Classical music but is brought up-to-date with modern metal techniques. Over the top lyrics where one song is singing about being a sniper blowing the heads off their enemies to thought provoking lyrics about questioning your faith, and of course horror story bodily mutilation. This is some majorly nerdy shit (and I fucking love it). It's a type of sound that BDM have perfected over their 7-album career and Nightbringers shows no intention of slowing down, especially with the injection of fast 'n furious youth their new lead guitarist Brandon Ellis is bringing to the table.
The reason Nightbringers is one of my favorites this year is because it gives me the same feeling I had when I first discovered The Black Dahlia Murder in 2008 from Rock Band 2. Playing the opening track Widowmaker made my jaw hand with a huge smile on my face thinking "Yup, this is it. This is everything I want from death metal". I know every metal head gamer who played What A Horrible Night To Have A Curse on Rock Band 2 felt the same way. Every album The Black Dahlia Murder manage to write extremely melodic tunes layered with extreme metal brutality and technicality but still have something fresh to present that doesn't sound like a rehash of years gone by. It's a major feat by any band that has been doing the same genre for years. Why fix what isn't broken?
-Brandon Klemets
15. Mastodon – Emperor of Sand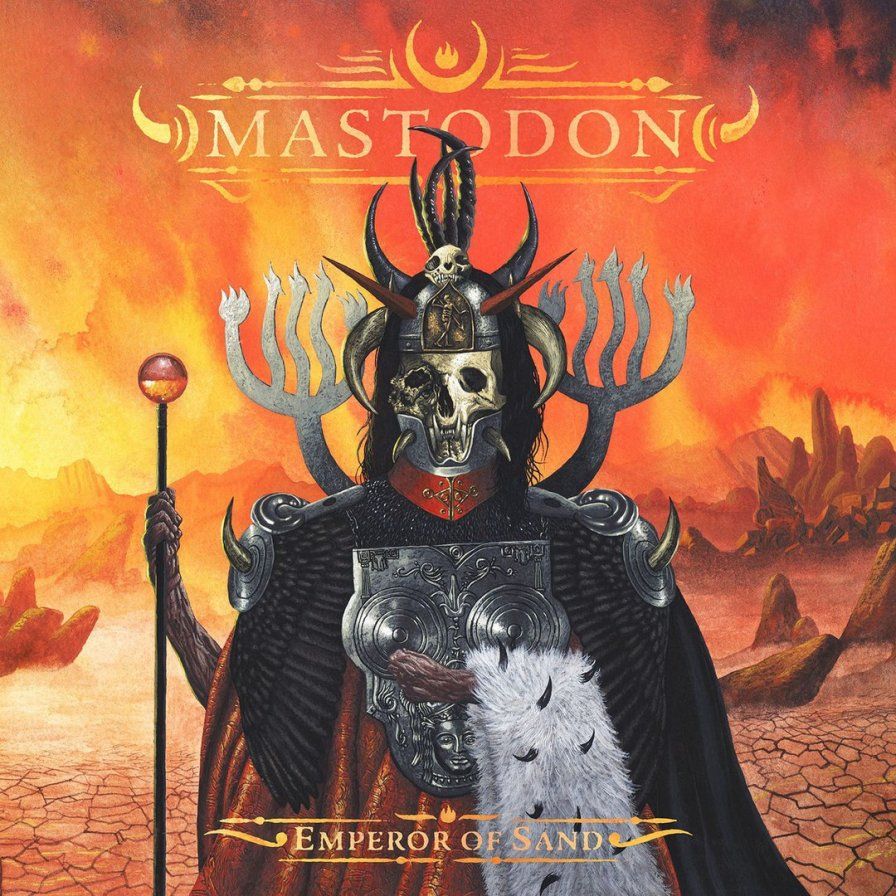 A storied career with no signs of stopping, Mastodon have garnered respect from nearly all corners of the metal community. There's so much good faith put in them by the fans for everything they do. They seldom miss their mark meanwhile wielding their creative license with little regard for how much you care or like their band. Whether you think their recent output is a misstep in the way of their earlier discography, or they should spend their time writing radio hooks and mimicking the Bee Gees, there's no question that Emperor of Sand is the culmination of an already impressive career.
Mastodon are really good at what they do. They typically employ their signature sound in the way that suits them best. Whether it's paving the way for their career with grandiose concept albums or just writing for a good time to have new stuff to tour on, they typically excel on either side. In a kind of return to form, we have an grief-ridden Mastodon letting their emotions come through. Using this album as a form of their own healing and catharsis for the struggles Bill Kelliher and Brent Hinds have gone through regarding their mothers. They have been emboldened as a band. Their desire to make the pop influenced hard rock of yesteryear coming into direct conflict with a these new emotions they need to deal with has resulted in an unquestionably good album. Vocally, this album is a powerhouse. Hinds, Troy Sanders, and Brann Dailor take advantage of their range and distinct voices in a way we've been wanting them to for years. Brent and Brann harmonizing parts like the verses on "Andromeda" or Troy's Ozzy 2.0 throaty bellows, there's an awesome variety on this album. With inspired lyrics detailing the trek of a man through the desert, terminal illness and the fragility of life, they don't reach so much into a deeper lore. But rather they compliment their vision, sing from the heart and hit you with some great hooks. Ones that might keep you on your toes about your own mortality. The riffs are great and Brann is on point as always. The instrumentation is above and beyond here but that's par for the course. Ultimately, if you've ever been a fan of Mastodon, you won't be walking out of this one empty handed. Otherwise this has struck a new balance for the band between their two fronts and has found a new audience who wants their cake and to eat it too.
-Cody Dilullo
14. SikTh – The Future In Whose Eyes?
With The Future in Whose Eyes? SikTh somehow pulled-off a repeat of the seemingly impossible task Meshuggah achieved before them with 2012's Koloss. With that album, the mighty Swedes proved once and for all that, no matter how far their followers had supposedly advanced their template, they were the one and only true masters of their sound. Given that it's been a further five years since that silencing release, the stakes were perhaps even higher for SikTh to make their proper return. Yet, even with the promising Opacities EP (2015) under their belt, I don't think anyone was quite prepared for just how much of a strong return the Brits would make with their third full-length.
The Future in Whose Eyes? is an absolute masterclass in updating the band's sound for the modern era. Though it's easily the most melodic and accessible of SikTh releases to date, the record doesn't lose a single iota of the intensity and variation that made them such an influential force within the modern metal landscape, despite their relative obscurity. It's also great to see them embracing what they've wrought. Periphery's Spencer Sotello provides one of the record's many highlights, with his contribution to "Cracks of Light", and his now-ex-bandmate Adam "Nolly" Getgood's mix (along with unsung modern production hero Ermin Hamidovic's superb mastering job) helped the album stand out as one of the best-sounding records of the year as well.
-Joshua Bulleid
13. Zeta – Zeta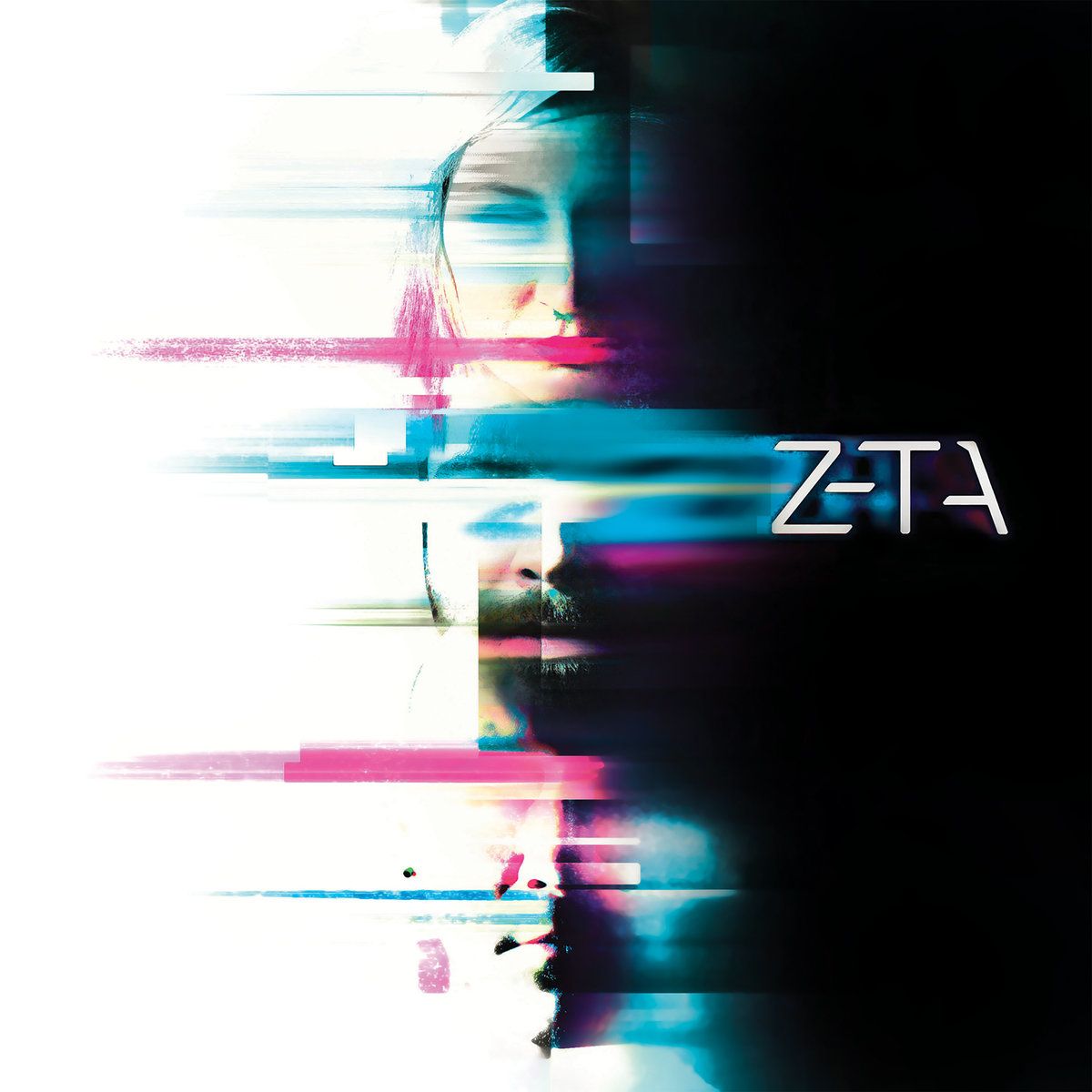 2017 has been a hell of a year for electronic music, even for someone who exists on the fringes of that scene like this writer. We've seen new music from Perturbator, Carpenter Brut, and Spencer Sotelo's (Periphery) industrial-tinged solo project Endur. Like Sotelo, a few other familiar faces from the djent/prog scene have converged together to unleash Zeta upon the masses. It's been a labor of love over the past few years for Dan Tompkins (TesseracT, White Moth Black Butterfly, ex-Skyharbor), Katie Jackson, and Paul Ortiz (Chimp Spanner).
The best music does not come by way of necessity; burgeoning tour schedules forcing bands and artists back to the rehearsal room and eventually the studio to hash out another collection of megabytes to put food on the table. No, the best and most genuine music comes from the heart, at the pace of the muse. It's done when it's done, and the meticulous production and carefully executed performances and songcraft on display here bear this out. None of it feels forced. There are some serious nostalgic vibes here, harkening back to the 80's while simultaneously sounding fresh. Tompkins' effected, airy and often layered vocals keep things current amid the backdrop of huge snare hits, arpeggiated and pulsing synths, and melodic guitar lines. Paul Ortiz is a sound design savant, putting together drum tones on par with Def Leppard's Hysteria. Just listen to that deep, gigantic snare in "The Distance". Other highlights: "Right Time" is filled with good vibes, scooting along at a swing pace ala Tears For Fears' "Everybody Wants To Rule the World" or Michael Jackson's "Man in the Mirror". "Elysian Fields" showcases some of Tompkins' most sensual vocals to date.
The album is chock full of vibes, and they're all nostalgic down to the nerve of every heartstring. But, it's not derivative or merely just a nod to the past. This is the sound of musicians who have a passion for this music and are having fun in the process. It's an escape from their main occupations. Like Endur or Devin Townsend's Casualties of Cool, Zeta feels natural, like this is the music Dan, Katie, and Paul were born to make. Bravo.
-Dan Wieten
12. NYN – Entropy: Of Chaos and Salt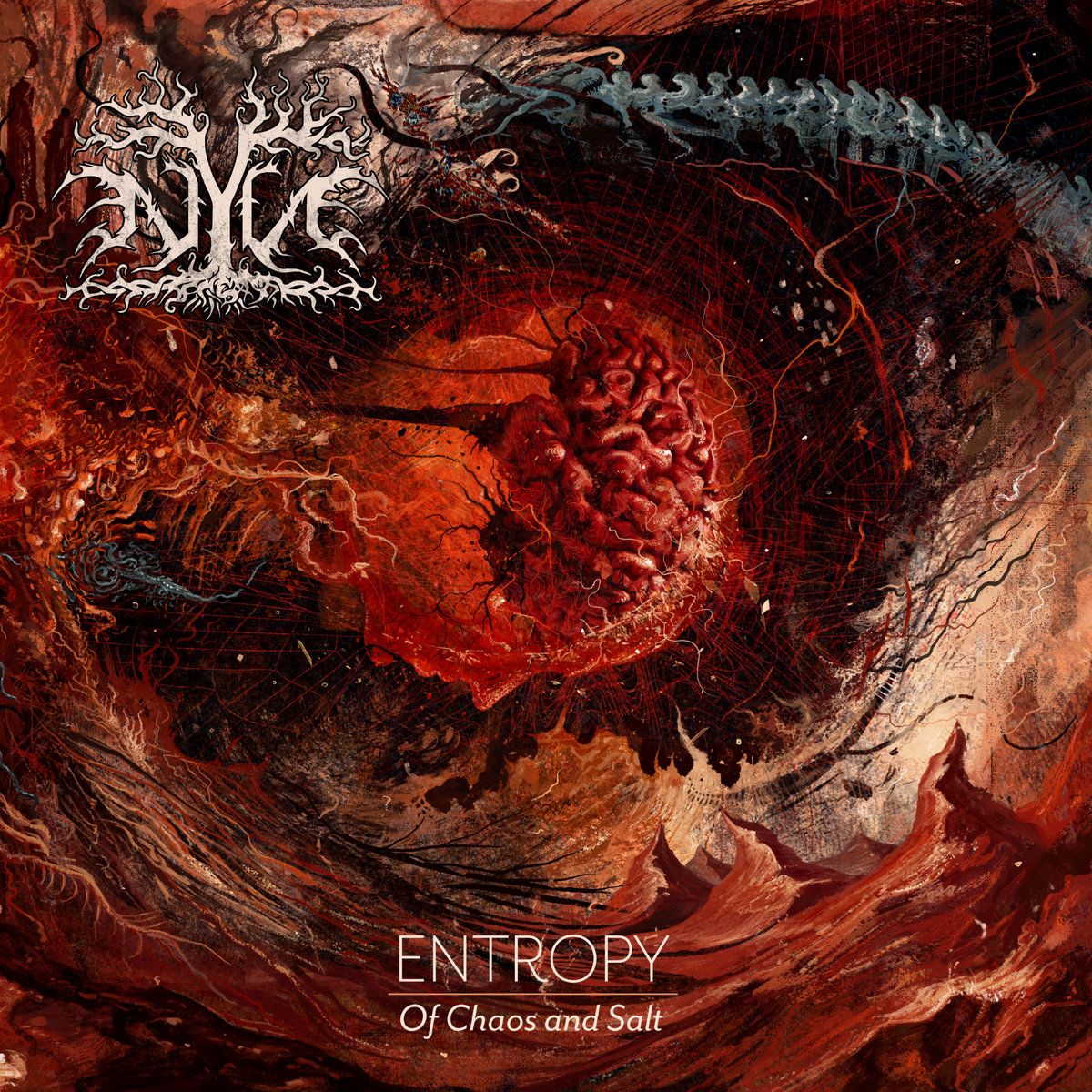 This one is tough to do without immediately addressing the elephant in the room: yes, NYN mastermind Noyan is part of the editorial team at Heavy Blog Is Heavy. I would hope, though, that any reader of this list would know that we have the integrity to not plug his album on our own best-of list unless we think it's absolutely worth it.
And Entropy certainly is worth it: this is as over-the-top, ridiculous, and extreme as progressive death metal could ever hope to be. Folding into itself European-style technical death metal with overtly Eastern/Mediterranean influences in the songwriting, the progressive metal keyboard leads of Jimmy Pitts, and Tom "Fountainhead" Geldschläger's extended length, seat-of-your-pants fretless guitar solos, Entropy is an all-out barrage of ideas flying at the listener's head at mach 5. The use of extended-range guitar and bass, sometime extending into the 9-string realm, and cybergrind-style drums that don't bother even pretending to limit themselves to what humans are capable of add even more layers and textures to the already weighty music.
There are many albums (try: all of them) where multiple listens can heighten the enjoyment one receives, whether it's from becoming more familiar with the songs or learning to appreciate how different instruments interact with one another, but Entropy: Of Chaos and Salt is in the much rarer group of demanding repeat plays. This isn't an album that will appeal to everyone due to its sheer monolithic nature and the time investiture it takes to really feel like one is aware of everything happening, but those who put in the effort and energy to see everything Entropy has to offer will find one of the most rewarding albums the progressive extreme metal genre has seen in years.
[bandcamp video=116886328 width=560 height=435 bgcol=ffffff linkcol=0687f5]
-Simon Handmaker
11. Pallbearer – Heartless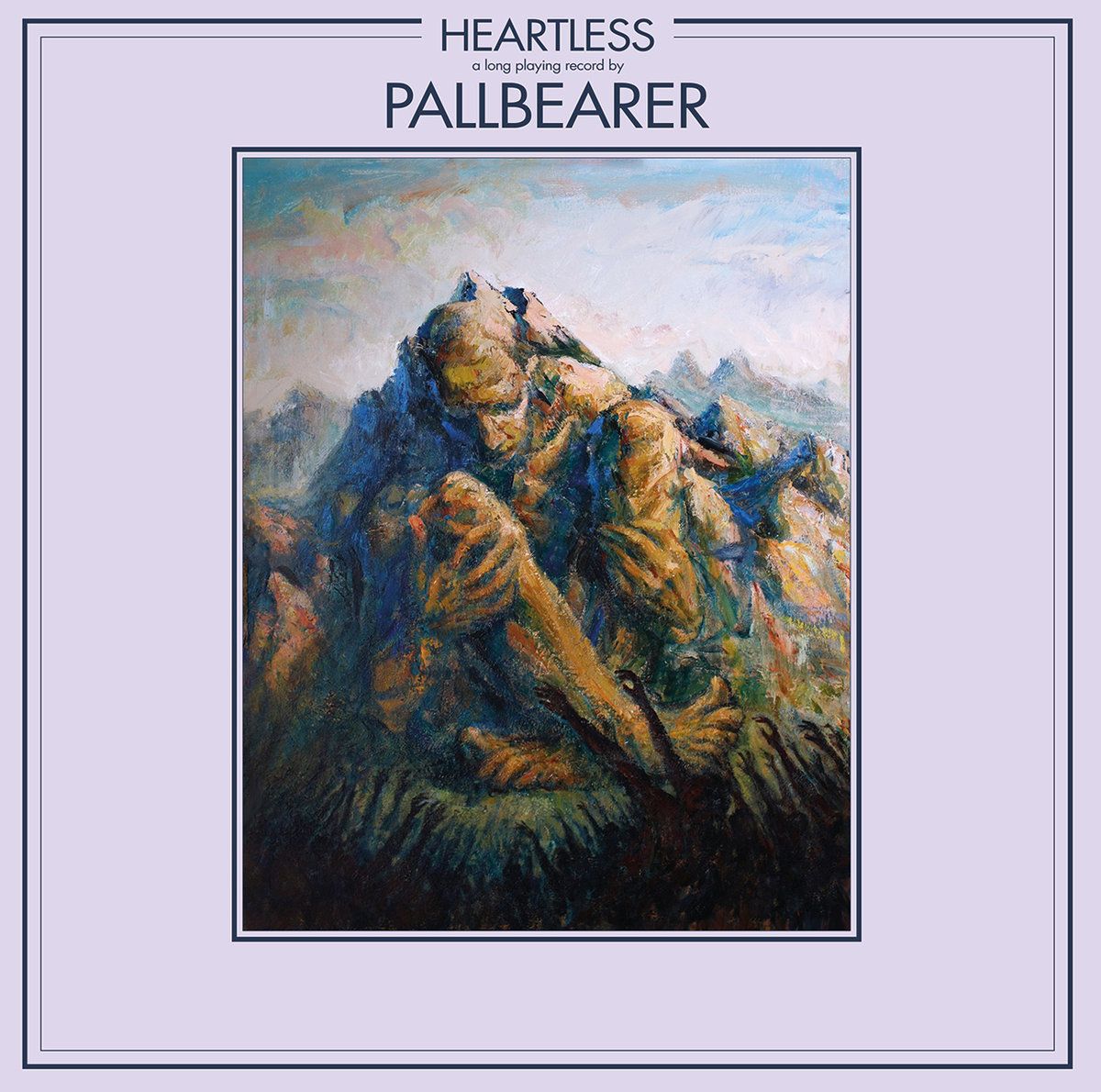 Pallbearer's third record was where they were supposed to lose us. Having established their mournful, crushing doom sound on Sorrow and Extinction and then mastering it for a wider audience on Foundations of Burden, this year's LP was the perfect opportunity for Pallbearer to fuck it all up. The stage was perfectly set for the band to either (1) redefine their sound through polarizing experimentation or (2) retread the same sonic territory they helped forge to increasingly diminished results. Instead, Heartless is a unicorn: an album that sees the band continue to grow and nurture the natural progression of their sound while also maintaining the headbanging hallmarks that have kept Pallbearer on the innovative front lines of the metal scene since their inception.
Heartless incorporates subtle prog elements, drum-tight song structures, and, importantly, emotive songwriting to create the most accomplished, affecting album in the band's discography. With each album, Pallbearer seem to progressively smooth their rougher edges and refine their shimmery doom palate, but that doesn't mean any of the oomph is lost in the delivery. The drum kick-into-crunchy-guitar-licks intro of "Thorns" is an instant classic song launch and the final two minutes of "Cruel Road" are some of the heaviest and catchy riffing in any Pallbearer song ever. But, this being Pallbearer, it's not all muscle and menace. Heartless also contains some of the band's most earnest and emotional material to date and it's the masterful combination of the plaintive and the punishing that makes it one of the best records of the year.
-Lincoln Jones
10. Dreadnought – A Wake in Sacred Waves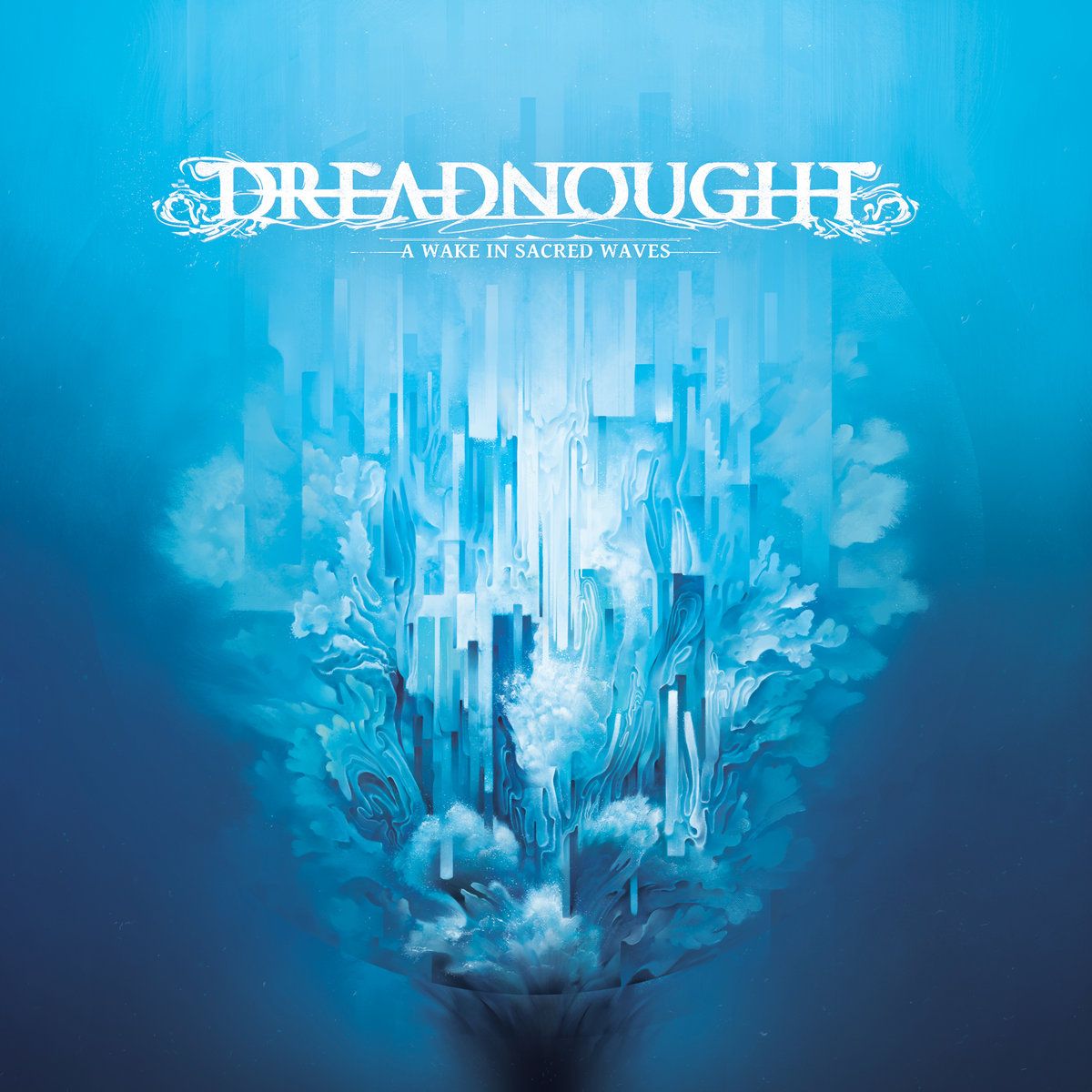 I'm honestly running out of superlatives to describe A Wake in Sacred Waves and Dreadnought. As I move forward and leave my 1000+ words review behind, the one I published here a few weeks ago, I realize more and more how much I never had a chance of accurately describing how much I love this album and this band. And yet, here I am again with a slot dedicated to telling all of you about it. I suppose that, when you boil it down, you'll just have to listen to it; A Wake in Sacred Waves, perhaps more so than either additional album in Dreadnought's discography, is an extremely personal release.
That might seem absurd; we're talking about an insanely complex and larger-than-life, experimental doom album. How does something like that come off as intimate or close? That's the miracle of this album. Something about the quiet passages and how they interlace into structure or the shrill anguish and anger which comes across during the heavier parts has buried itself deep into my heart. Beyond technicality, beyond the impressive skill required to write and pull of something like this album, it should be lauded for how up close and personal it gets.
-Eden Kupermintz
9. Caligula's Horse – In Contact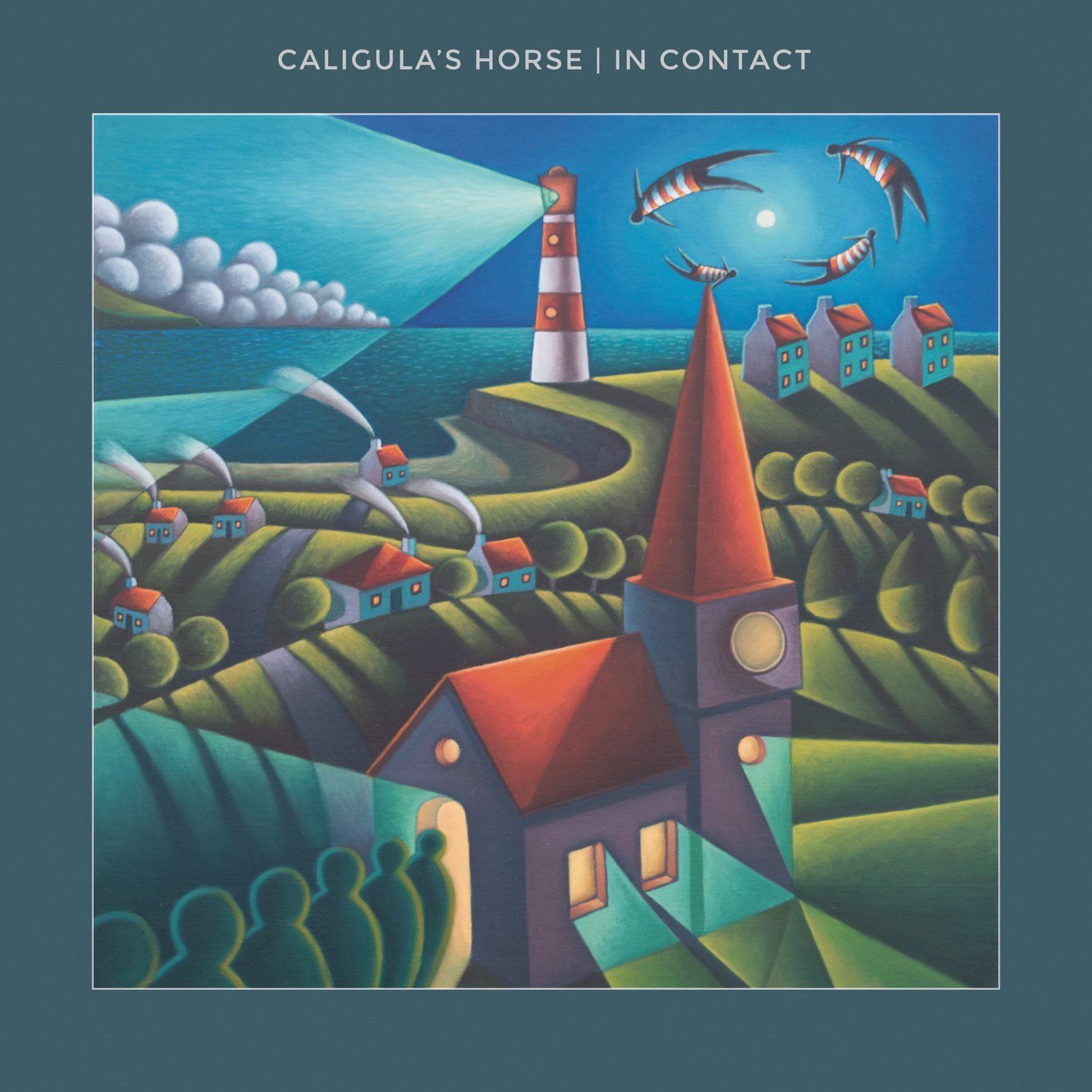 How do you know when an album is your Album of the Year? For me, it's when my hand keeps drifting to it when choosing what to listen to, when I find myself missing a specific track or even specific passage from it when I haven't listened to it in a while. This year, it was Caligula's Horse's In Contact that just had me coming constantly back for more. On this, their fourth album, the Australian melodic masters have hit a perfect balance of sweetness, aggression, storytelling and fierce power.
It is an album for the ages, a meditation on concepts as lofty as generational drift, society and love and on the role of repetition, innovation and technicality in progressive metal. While considering these concepts, In Contact also executes them with an amazing degree of precision; a millimeter either way, and the whole thing would have collapsed into either saccharine platitudes or didactic formulas. Instead, the album pits both directions against each other, achieving a blissful balance in between that is all riffs, leads and soaring vocals.
-Eden Kupermintz
8. Trivium – The Sin and the Sentence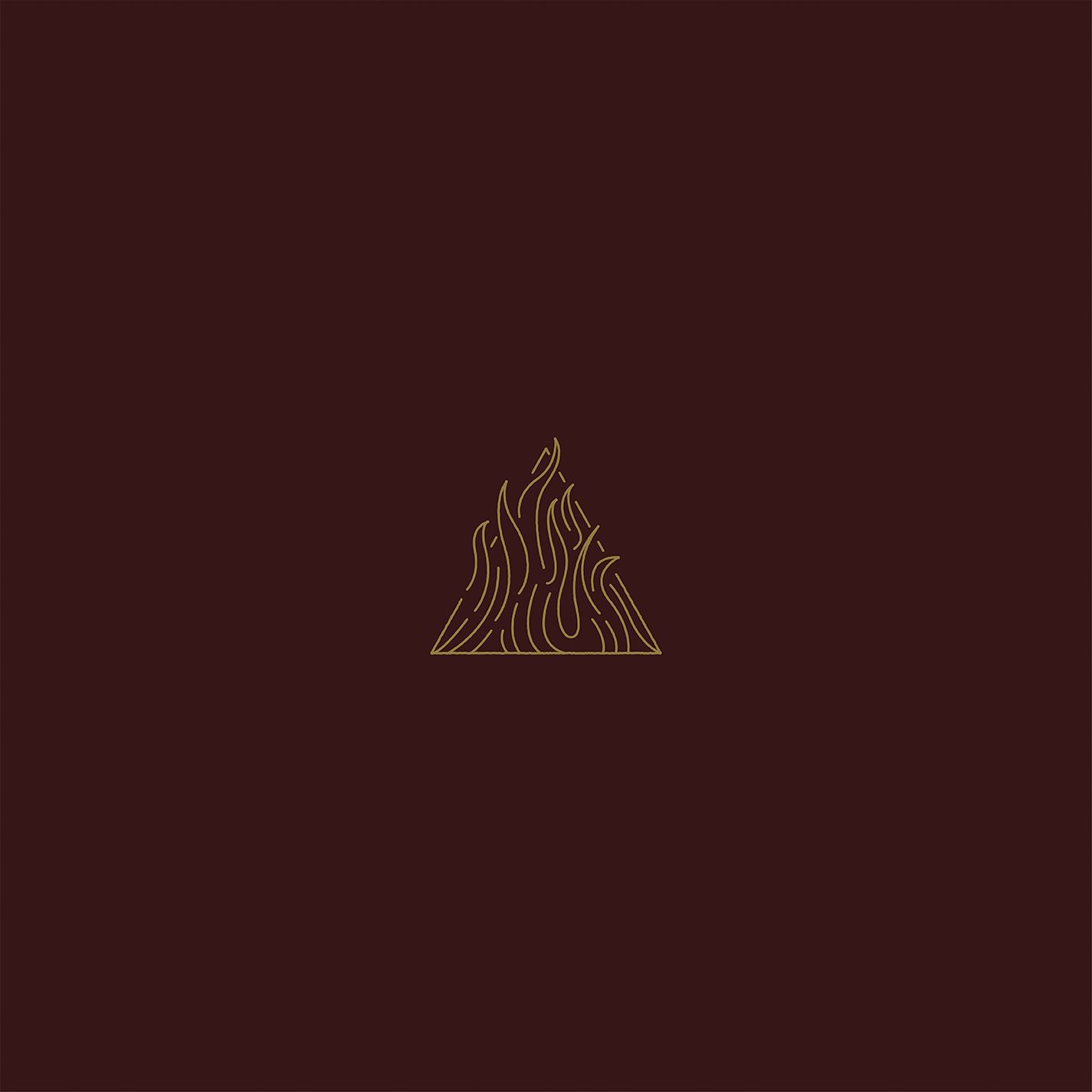 If someone who had never come into contact with metal asked you to recommend an album which most represented the genre, which record would you choose? Whilst a strong case can be made for classics such as Master of Puppets or The Blackening, few "mainstream" metal records can match the sheer breadth of styles on Trivium's fantastic The Sin and the Sentence. Trivium have always been a versatile band, a rare breed who can truly claim to have never made two albums which sound the same. Their ability has rarely been questioned, with Ascendency one of the greatest metalcore albums of its time and Shogun one of the greatest metal albums ever. However, consistency has been the issue, with such gems sitting alongside clear bumps in the road such as The Crusade and Silence in the Snow. On The Sin and the Sentence, Trivium return to their absolute best as they successfully amalgamate each disparate aspect of their sound into a brilliant, unifying whole.
The arrival of drummer Alex Bent (Brain Drill, Arkaik) seems to have galvanised Trivium, their songwriting firing on all cylinders alongside the greatest drumming they've put to tape. Whether it be the thrash of the title track, the arena-rock of "Endless Night", the metalcore of "Wretchedness Inside" or the progressive elements of "The Revanchist", each component of their sound is executed flawlessly. There is something in this album for everyone, whether it be the Iron Maiden-inspired melodies or the extreme metal elements which they weave throughout the record with aplomb. With such a variety of styles on display one would forgive this record for feeling like a collection of disparate songs, yet it is put together so seamlessly that it flows perfectly as an album. Nothing feels out of place and nothing is missing. This is Trivium at their best. This is metal at its best.
On The Sin and the Sentence Trivium have pulled together every component of their sound, added fresh ingredients that we've never heard from them before, and produced arguably the finest record of their career. Whether you want to sing your heart out, hum along to melodies or just bang your fucking head to earth-shaking grooves – this is the quintessential modern metal album for you.
-Karlo Doroc
7. Pyrrhon – What Passes For Survival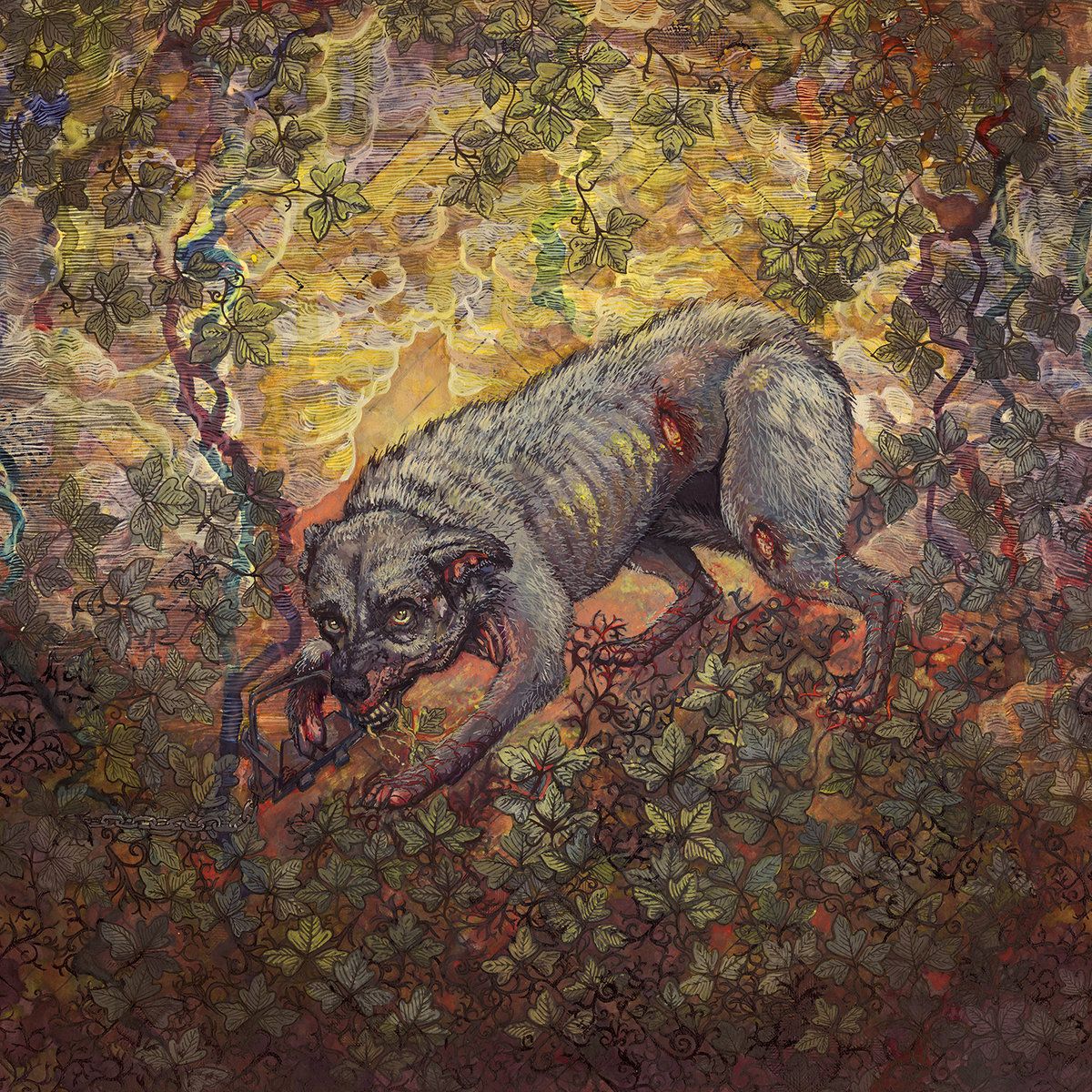 Pyrrhon have traveled a long road to get to where they are now. Picked up by Relapse on the strength of their debut An Excellent Servant But A Terrible Master, they were subsequently dropped after their incredible second album, The Mother of Virtues. The band were quick to bounce back, however, releasing two EPs of equally great material before unleashing their third album this year. Hopes were high for this album after The Mother of Virtues and the followup EPs, and the band did not disappoint, writing what is, in this writer's opinion, one of the defining death metal albums of the genre, alongside such classics as Obscura and Vermis.
What Passes For Survival is monolithic, swirling and at times seemingly incomprehensible. While it's easy to put this album on and lose yourself in the chaos, listeners who take the time to dive deep into the abyss will be rewarded with a record that's lyrically brilliant, cutting and even sometimes funny, instrumentally mind-boggling and excellently produced. The band certainly knew exactly what they needed to do to to both follow up and surpass The Mother Of Virtues. Even in a year packed with amazing music and amazing death metal, What Passes for Survival is the kind of death metal album we'll look back on favorably a decade or more from now, and it's one you absolutely must listen to if you have any sort of interest in the genre.
[bandcamp video=863366820 width=560 height=435 bgcol=ffffff linkcol=0687f5]
-Colin Kauffman
6. Converge – The Dusk In Us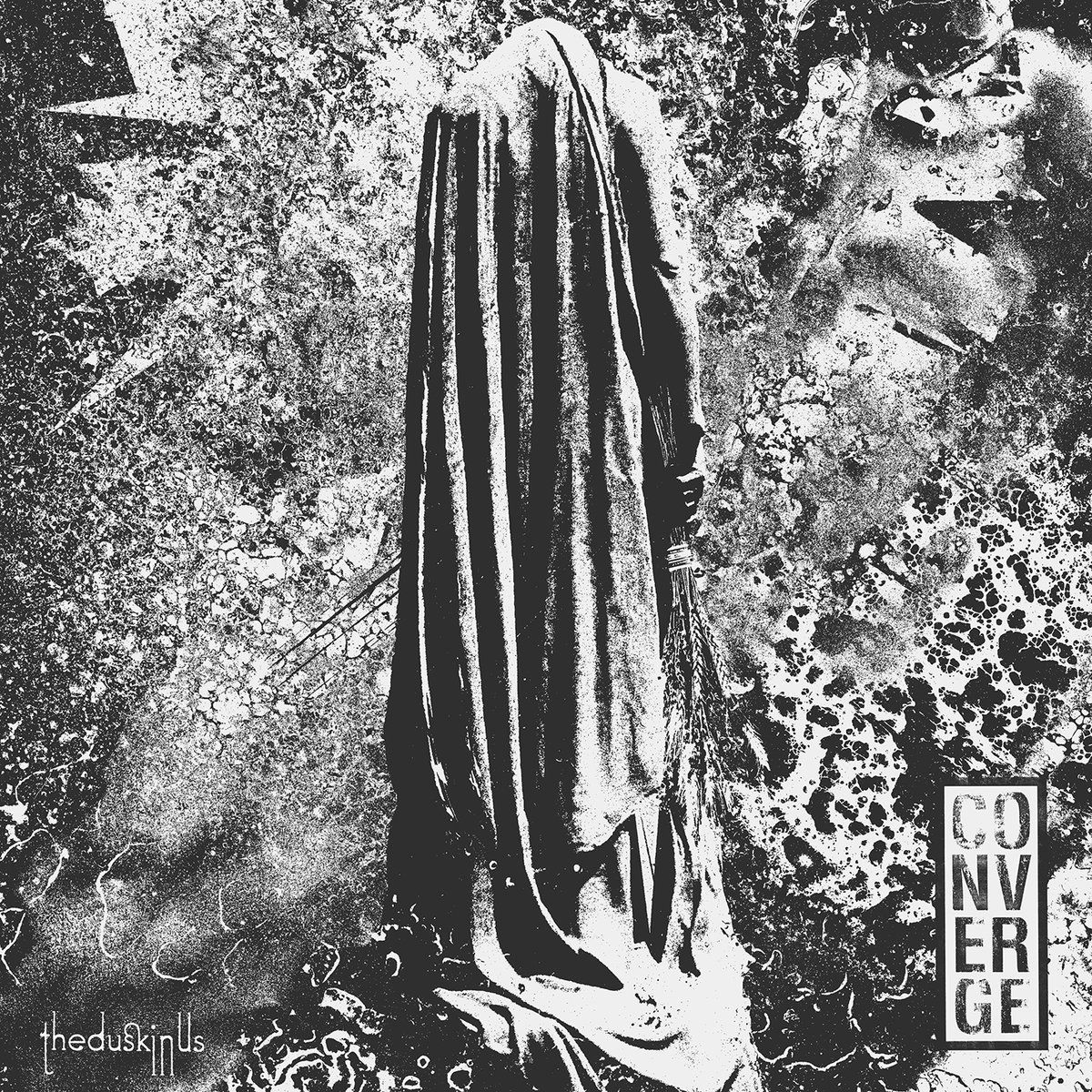 Staying power. Some bands got it, some don't. And then there's Converge. To be this consistent, at this level, in what's largely a younger person's game is simply mind-blowing. It's been said so many times now that it's losing meaning, but here we go: this isn't just another Converge album. The argument could be made that it's conventional in the sense that this is "just another" boundary-nudging release from a legendary hardcore group, but saying anything less would be an understatement. The Dusk In Us is the product of nearly three decades of experience and a fire that seems to only burn hotter as time goes on. Fueled now by larger-picture issues, Jacob Bannon's more communally-focused lyricism has its eyes set upon broader horizons and fighting bigger battles, but is nonetheless sagacious or profound. From their bread-and-butter metalcore mastery to trips into post and noise rock, their experience beams throughout the album. The musicianship parallels the complexity and emotional heft of Bannon's poetry, ranging from subdued and introspective reflection to the exacerbating and exhausting nature of humankind.
The Dusk In Us exhibits a wisdom that can only come from having been there and done that for so long, leading to a responsible, calculated amount of experimentation. Bannon has thrown caution to the wind, further unshrouding his vocal delivery with a more comprehensible scream, eerie whispers, and developed croons. It helps to drive home experimental forays like "Thousands of Miles Between Us" (which is as folk-y and fragile as the band has ever been), but more importantly, it resets our expectations for what this band is capable of. While it's probably their least heavy record overall, The Dusk In Us develops their most vibrant contrasts yet. By furrowing deeper into decidedly lighter grounds they've unearthed some of their most beautiful (the patient post-rock of the title track) and interesting (the aforementioned "Thousands of Miles Between Us") material to date. If the band is to continue into their twilight years, stuff like this proves that they'll have a means of aging gracefully.
The cohesive feel achieved by bringing together these varied moments makes the album infatigable. In retrospect, Converge records of recent years feel lacking in this department. With The Dusk In Us, flawless sequencing smoothly welds these less aggressive moments together with the ferocious, dynamic energy that Converge have all but defined. The album's 45-minute runtime is glossed as changeups and breathers are delivered at exactly the right moments. Whether they're testing your sea legs with colossal hammer blows like "Under Duress," the tumbling noise rock of "Trigger," or the simmering tension builds and breaks of "Murk & Marrow," rhythm duo Nate Newton and Ben Koller flex their muscle through their most calculated slogs since You Fail Me. The vets still have plenty in the tank as they crash through potent hardcore scorchers like "Eye of the Quarrel," "Broken By Light," and "Cannibals." Kurt Ballou's patented off-the-rails leadwork and maniacal riffing are still both familiar and beguiling, his sonic language verbose with emotions and eloquent at its extremes. The signature Godcity sound serves as a proper frame and embraces listeners in a cacophony of instrumental explosions, feedback squeals, and branding iron vocals that tattoo the lyrics into your memory.
So in many ways, it is just another Converge album – it's unapologetic, unashamed, uncompromising, and unlikely to change the minds of those still on the fence. But who cares? If it hasn't clicked by now, it's not likely it ever will. Regardless, it will stand among their best creations (as each release seems to do). But outside of the context of the band's illustrious career, it's still truly an exceptional album, and in turn one of the best of the year.
-Jordan Jerabek
5. Archspire – Relentless Mutation
Few albums can claim to improve upon their predecessors to quite the extent that Archspire's sophomore effort The Lucid Collective did. Superseding the band's debut All Shall Align in nearly every facet of its sound and executive, The Lucid Collective catapulted the Vancouver five-piece to the forefront of the Western tech death scene, drawing comparisons to established legends such as Spawn of Possession and Origin while also very clearly pioneering their own inhumanly fast and furiously technical sound.
An achievement like The Lucid Collective is hard to top, but where we may have expected Archspire's upward ascent to slow down or even plateau, the band explode past all prior expectations with Relentless Mutation. From the opening moments of "Involuntary Doppelganger," the band continue to further hone their ability to create compact yet bizarrely creative tech death, itself lurching forward with a constant onslaught of machine-like heroics from drummer Spencer Prewett. At the same time, warmer and more lush sounding guitar tone brings out even more of the nuances in guitarists Dean Lamb and Tobi Morelli's harmonized virtuosity, itself running the gamut from furious lead moments to filthy low end riffage underneath rapid fire vocals.
Finally, to top it off, the band close off with a parting gift in "A Dark Horizontal", possibly (arguably?) the most impressive and intricate offering we've ever seen from the band. Whether they can yet again keep their upward trend going on their fourth outing remains to be seen, but for the time being, Archspire have very comfortably settled into their seat atop the tech death throne with Relentless Mutation.
[bandcamp video=1525143028 width=560 height=435 bgcol=ffffff linkcol=0687f5]
-Ahmed Hasan
4. Ulver – The Assassination of Julius Caesar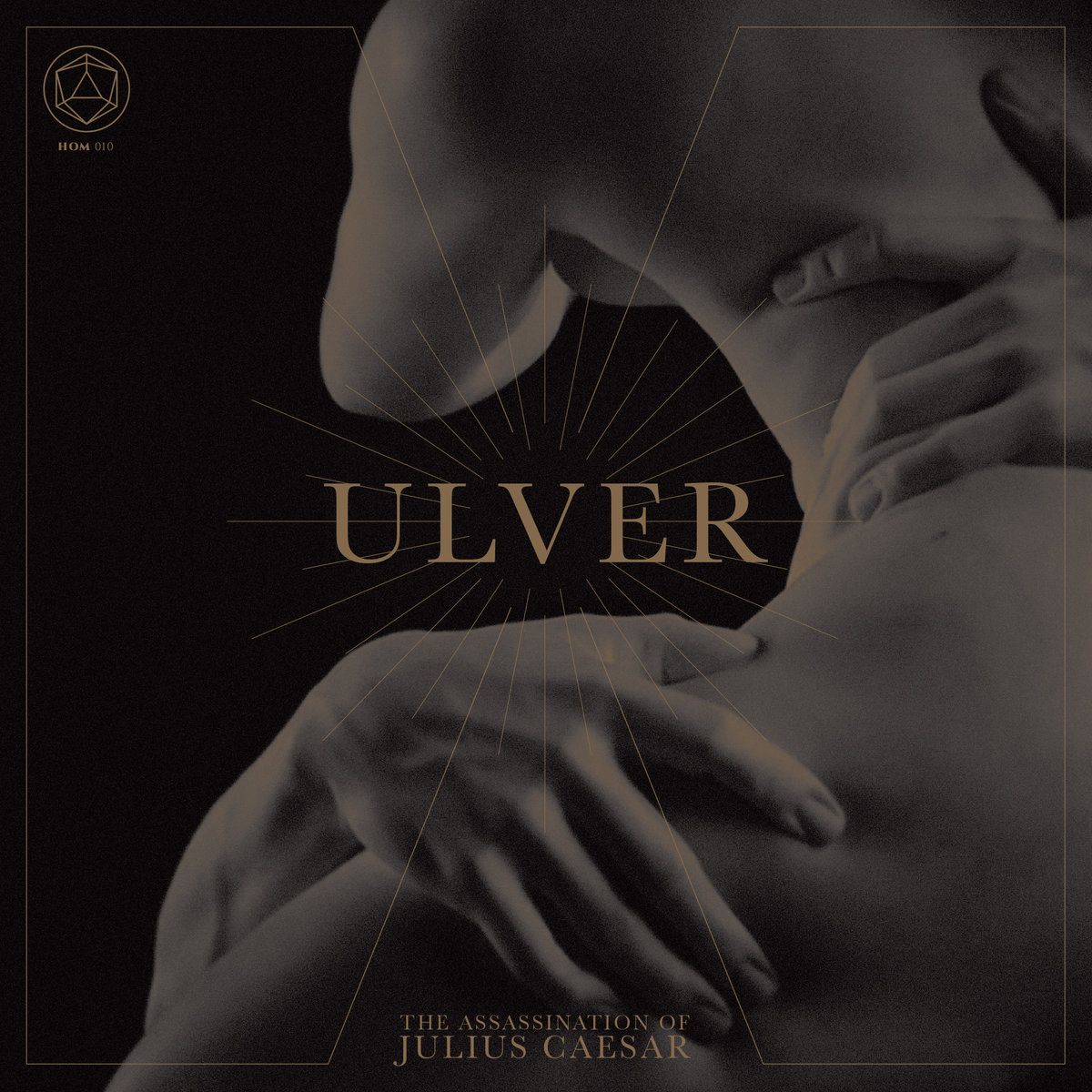 "How big was the Roman Empire?". That's how I chose to open my review of Ulver's latest album and to be honest with you, I didn't have much of a choice. By that point, the album had been blaring in my ears for weeks, as I commuted to and from my office during my two month sojourn in Manhattan. The questions the album raised (what is the nature of time? How and why do we forget? What remains in us of the past? What do we lose?) kept ringing in my mind and, as I set down to write its review, they took hold of my fingers and the words just kept pouring onto the digital page.
That's what The Assassination of Julius Caesar is; beyond a frolic in darkwave meadows, it is an extremely subtle and intelligent meditation on ritual, history and decline. It's another step in what has been a resoundingly impressive career, a career captained by musicians with purpose. As you listen to it (hopefully for the thousandth time this year), consider how measured it is, how every piece of it falls into place, even when the music is in chaos. More than that, listen to how expertly the album escapes the throes of simple self reference and connects with the world at large.
The Assassination of Julius Caesar is a fantastic piece of music but it's also an incredible bridge between intention and intended, referred and referent, image and object. It's possible to consume it in any number of ways; as a condemnation, a surrender, a clarion call, a philosophical analysis, a betrayal and more. But it's not necessary to hold any one of those perspectives. The Assassination is powerful enough, self confident enough, to be all of those things and none of them. It is music alone, commentary alone, history alone and all of those things together, at the same time. It's a really good album, is what I'm saying.
-Eden Kupermintz
3. Elder – Reflections of a Floating World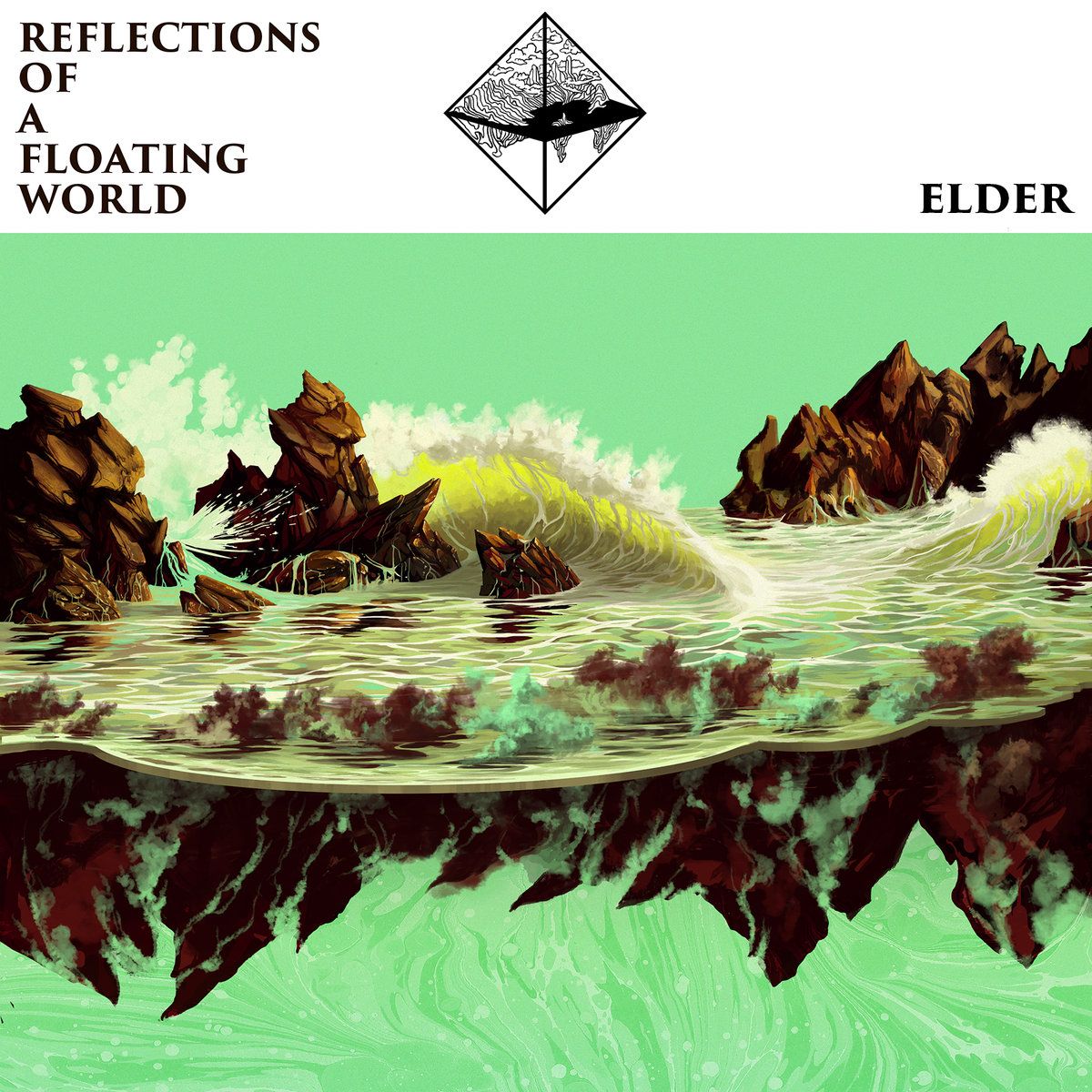 There are a few rare albums that seem to escape artifice — albums that don't seem composed so much as realized in perfect musical ecstasy, bubbling forth from years of experience and instrumental mastery and telepathic synchronicity between band members. Elder's Reflections of a Floating World is one of these albums. If you've heard talented musicians jam together, there are often moments of blissful improvisation, where for a few immaculate moments, everybody plays their part perfectly, wordlessly, communing through their art. Reflections of a Floating World is drawn from these ephemeral moments of euphoria, sewn together so seamlessly that the stitches disappear into the fuzz of the guitar. The riffs buzz and hum the familiar stoner metal drone, lulling and hypnotizing, while the spacey leads ripple and play like sunlight shining through leaves. Hardly a moment in the album seems contrived; having kept the same lineup since 2008, the three bandmates move as naturally as minnows in a school, darting and billowing around massive riffs, individuals within a collective musical consciousness.
Reflections of a Floating World is a journey into a world of Elder's creation, a land where riffs go to war and leads go to dance. If Lore hadn't cemented Elder's status atop the stoner metal throne already, then surely this will. This is how good music can be.
-Andrew Hatch
2. Artificial Brain – Infrared Horizon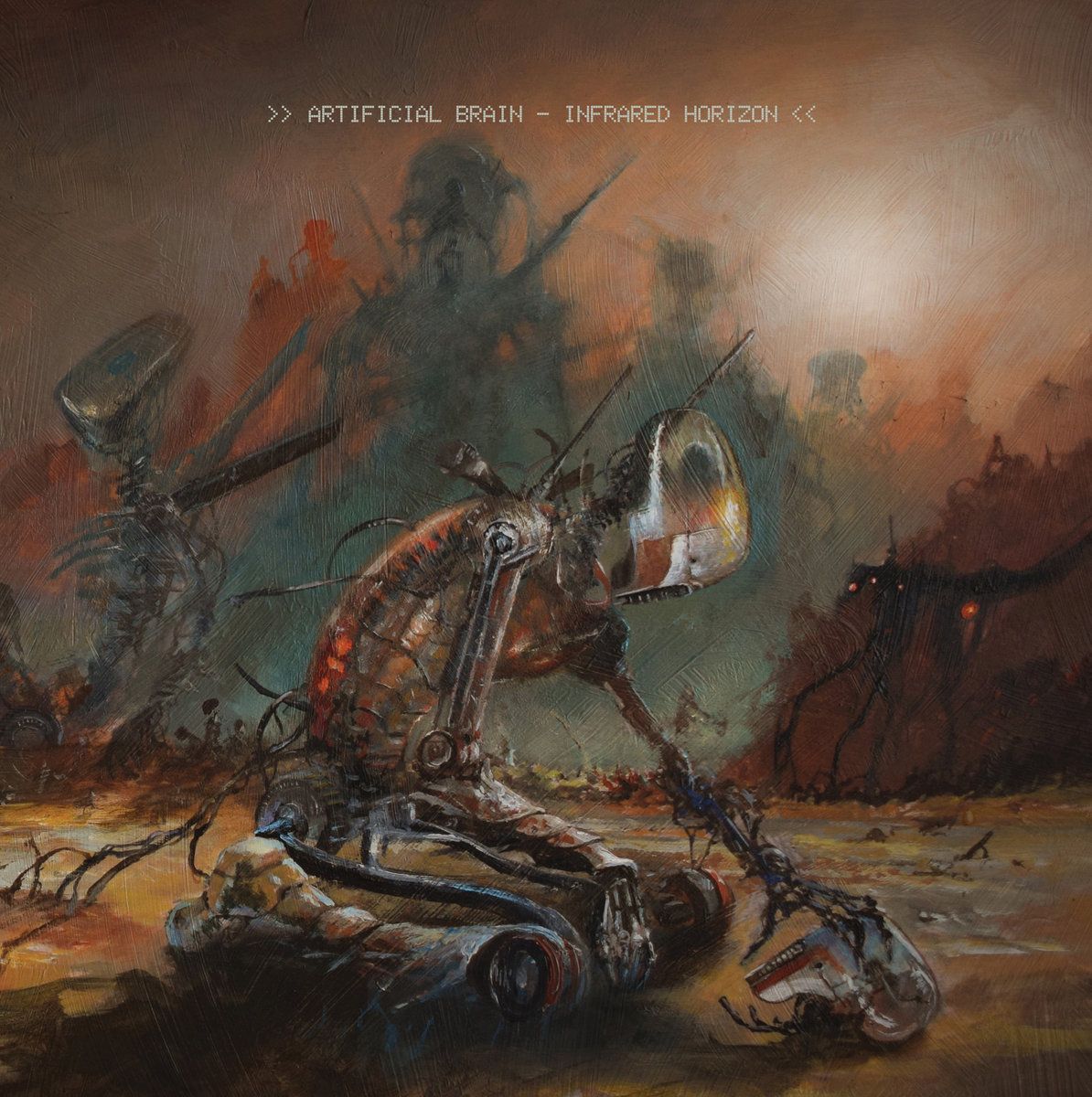 The early 2017 release of Infrared Horizon didn't do a thing to stop the hype. In this case, the hype couldn't live up to the reality. There's zero doubt in my mind this belongs in our top three as the only criticisms of this record are dull. There is so much death metal out there that exists to solely be death metal. Death to that death metal. Artificial Brain on just a sophomore release jump started the year with a cataclysmic bang and bar one other record, topped the Heavy Blog polls so let's stop pretending Infrared Horizon, an artificial intelligence led, dystopian death metal soundtrack isn't the best thing since Gorguts and sliced bread.
Artificial Brain's original form and methods shine through the insane textures present on this wrenching, veering journey through time, space and dissociating properties. The master technicality and twist'n'turn nature of the unpredictable progressive death metal is a huge turn on for guitar tweekers. Nearly fifty minutes of intricately panned twin guitars cut through the endless expanse that Infrared Horizon code into existence. An incredible amount of melodic interplay exists between two instruments that scrape and crash off each other on every other dissonant instance. The striking musicianship on display only peaking with a delicate, meandering bass and percussion that only deserves to be compared to some sort of huge, destructive sci-fi ship. Pick one.
Personally, I'm all about the acid gargle low vocals on this record. Some aren't. Cool. They don't stop Infrared Horizon from being an incredibly important entry into the world of weird death metal. As over embellishing as this has already been, I'm not finished. Our runner up for best record of the year came out alongside a litany of other off-kilter releases, several of which are also on this list, deserving too. Artificial Brain just struck out with their combination of brutal death and grind dynamics, digitally pulled together by pioneering death metal chops. Maybe it's weird enough for some, not brutal enough for others, maybe we're not meant to know. If someone were to ask me what I need from music when I need to get away, I would pick this. Why? Because it would comfort me as soon as it grabbed my attention and pulled me into the rich world it creates. Artificial Brain paint with devastating sound the resulting picture is eerily soothing too. Are we even sure humans wrote this music?
-Matt MacLennan
1. Full of Hell – Trumpeting Ecstasy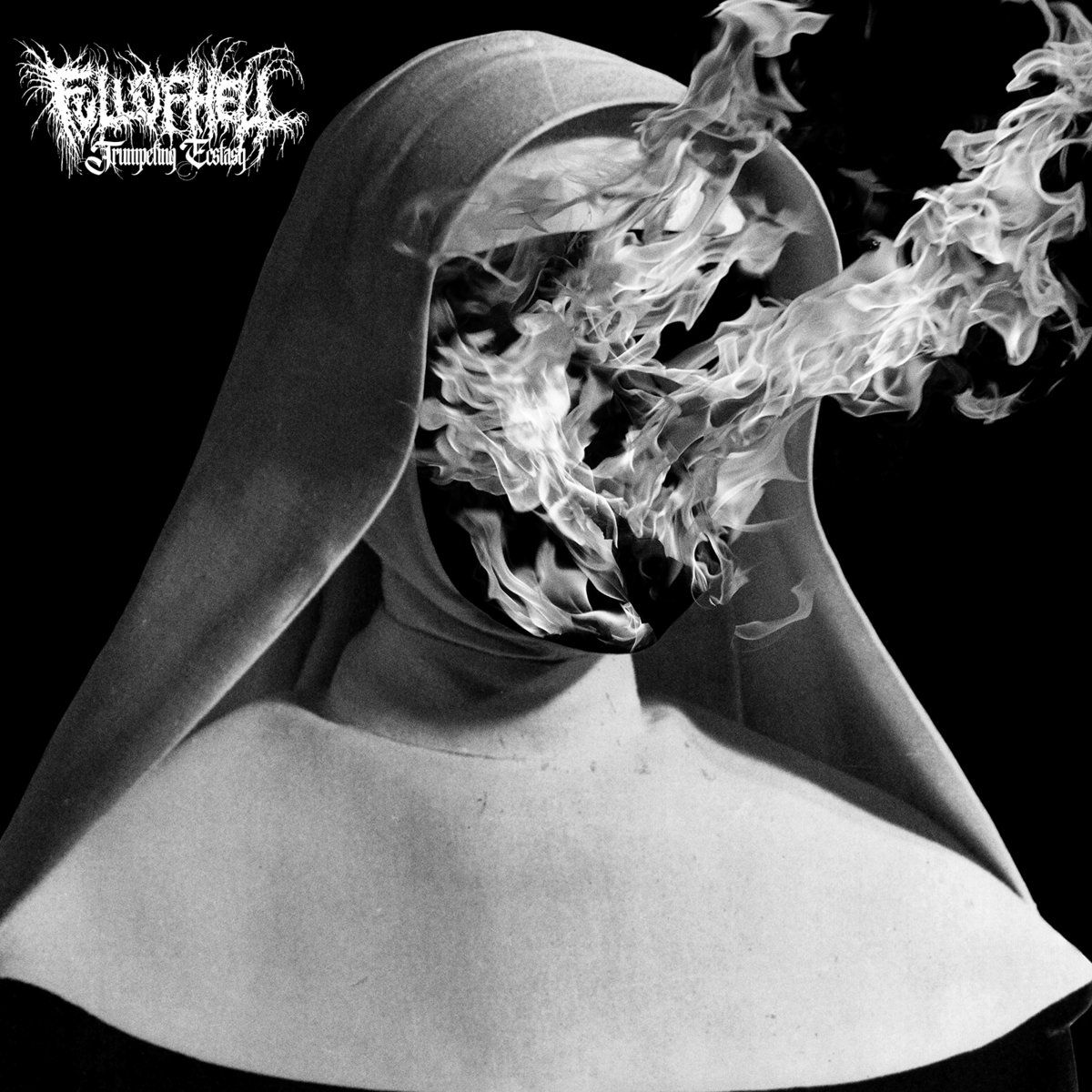 In the four years since Full of Hell's last solo LP, Rudiments of Mutilation, we've gotten a whole host of collaborations and splits with the likes of Merzbow, Nails, and The Body (plus a solo EP that kicked 2016 off perfectly). However, it's taken quite some time for them to put out a full-length album (barely – the whole thing clocks in at a slight 23 minutes) that shows they have the capacity to take the lessons they've learned from working with their peers and folding it into an effort they can entirely call their own. Now, that album is here.
And boy fucking howdy, what an album this is. It takes roughly, I don't know, 20 seconds at most to realize exactly what one is in for with Trumpeting Ecstasy – the time it takes for opener "Deluminate" to get through the mood-setting Werner Herzog sample and first lyric "Once more we're thrust into the vacuum of God's yawning maw". God's yawning maw, indeed: from here, all that matters is sitting back and enjoying the ride through cavernous death metal- and harsh noise-inflected grind.
As I said in my review of this album, "Full of Hell doesn't play music so much as unleash a cacophonous audio hell," and I stand by this statement 100%. Guitars are so distorted and laden with feedback and static that riffs feel more like molten globs of tar rocketing forth from the mouth of the inferno than actual ideas conjured up by a human mind, percussion doesn't keep time so much as throw its gravity behind the gathering pyroclastic flow, and the Dylan Walker's vocals are more reminiscent of demonic possession than any actual human performance.
What makes it work is the influences that Full of Hell pulls from other genres. There's occasionally a riff pulled straight from the classic sludge metal playbook or a melodic phrase that smacks of black metal, and the night-and-day difference between this and the typical grind-death-noise chaos helps to keep Trumpeting Ecstasy from ever slipping into tedium or abrasion porn. Special attention in this area needs to be given to the title track: here, the band brings to the stage dreampop/lo-fi artist Nicole Dollanganger and uses her haunting vocals as both a reprieve from the overwhelming extremity throughout and a method of building tension before the song drops into some of the most elegantly simple and rhythmically crushing sections the band has ever written (it's in this moment that the influence working and touring with The Body becomes clearer than ever).
Trumpeting Ecstasy is one of those incredibly rare albums that's practically impossible to describe without coming off as though sensationalizing its presence or exaggerating its quality. It's really that fucking good. This record is perfectly at home in the presence of grind monoliths like The Inalienable Dreamless, Prowler in the Yard, and World Extermination. It may not change the genre's trajectory; it's far too singular in what comes together to make it good to be imitated. But in a year like 2017 – a year fraught with horrible and outlandish news stories, day after day; a year overpowered by its own bleak, depressing mood; a year where every day seemed like a fresh Hell on Earth – it has absolutely been the perfect soundtrack.
-Simon Handmaker