Even a cursory glance of our biweekly playlist updates will reveal that there is a great deal of variety among our staff's musical tastes. Due to this, we brainstormed the idea of Playlist Swap, where two of our contributors pick their favorite track from each of the nine albums in their grid and then send the list over to the other person to listen to and comment on. Within these commentaries occurs praise, criticism and discovery, and we hope that you experience a few instances of this last point as well. This week's post brought editors Simon Handmaker and Scott Murphy together to peruse each other's tastes:
Simon's Grid & Scott's Comments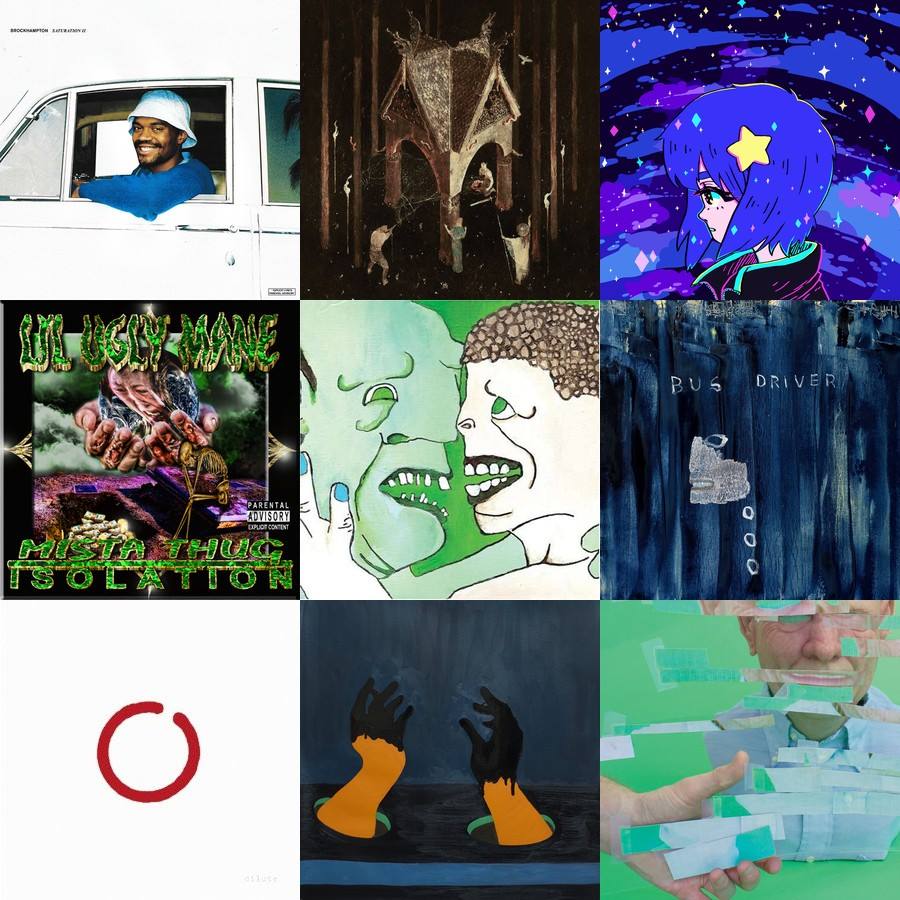 BROCKHAMPTION – "SWEET" (SATURATION 2)
Scott: These guys are the first of a few artists on Simon's grid whom I've had on my mental checklist of music I need to listen to. The hype surrounding SATURATION earned BROCKHAMPTON my attention, but in all honesty, I haven't listened to nearly as much hip-hop this year as I have in the past. Oddisee's The Iceberg is excellent and one of my favorite albums of the years thus far, but other than that, I have a huge backlog of rappers/groups joining BROCKHAMPTON on my "need to listen" list (Milo, Billy Woods, Wiki, B L A C K I E, Shabazz Palaces, etc.).
That's why I'm glad Simon gave me an excuse to listen to "Sweet," a dope track with a hypnotic beat and an eclectic roster of emcees.  Seriously, I love this beat—the minimal Arabic sample strikes the perfect balance between catchy and cushioning, in that it bolsters the efficacy of the track without distracting from the track's bars, an issue I find relatively common among posse tracks.
And while I'm not familiar with any of the group's nine vocalists, everyone who appears on the track is solid at the least. I'm particularly impressed by Kevin Abstract's smooth, earworm chorus and Dom McLennon straight fire verse ("They worshipping our force viciously/Watching the floor tip in your temple of authenticity/Often they say I'm off it, I offer my crossed empathy/They forgot what we on, I'll remind em with hostility/Hot diggity damn, everyone running scams/Gotta cover your clams and take another glance/Running a clinic, no scans, ain't no one claimin' yo mans").
I know it took me two projects before I took notice of how great the group's music is, but with tracks like these, they now have my full attention. This is seriously making me reassess why I've largely slept on hip-hop so far this year.
Wolves in the Throne Room – "Angrboda" (Thrice Woven)
Scott: I was tentatively excited when Wolves in the Throne Room announced Thrice Woven, due in large part to the traditionalist black metal vibe given off by the cover art. Two Hunters and Black Cascade were both crucial for opening up my palate to black metal, but I oddly never connected much with Celestial Lineage or its sister album Celestite. To be fair, I can't say I spent a ton of time with either record, the former because I preferred their previous two albums and the latter because it arrived at the wrong time in terms of how my taste was developing. However, I recently checked out Diadem of 12 Stars for the first time and enjoyed what I heard, so I went into "Angrboda" hoping the overall aesthetic of the album hinted towards another installment of driving atmospheric black metal  that drew me to them in the first place.
Lo and behold, it's precisely that. I honestly don't have too much to say about the track—it didn't surpass my expectations, but it certainly left nothing to be desired. Fans of the band's back catalog or atmospheric black metal in general will undoubtedly find something to enjoy here, particularly the steady evolution into a peculiar soundscape that bisects the track's black metal romp. It's a textbook dark ambient passage that draws back to the 90s without feeling so dated as to detract from the music's impact. And once the respite broke, I was especially engaged by the heavy, mid-paced outro that's perhaps the first instance I'm aware of where the band's music deserves to be called "crushing" in the stereotypically "metal" sense of the word. The track certainly upgraded by "tentative" excitement for the album and left me looking forward to what else the album has to offer.
Kill Bill – "Chinatown (feat. Rav)" (RAMONA)
Scott: Based on the cover art, I had no idea what Kill Bill would have to offer, though I can't say chill hip-hop was quite what I expected (my first guess was an American attempt at J-pop, to be honest). My first two write-ups may have seemingly set a precedent for how long my responses are going to be, but I honestly don't have much to say about this track; it didn't leave much of an impact on me in either direction. The beat's pleasant enough, and definitely see the appeal of Kill Bill's steady, slightly gruff delivery married with such a relaxing beat. He reminds me of a combination of Tyler, the Creator and Mick Jenkins, but unfortunately, I'd rather get my fix of laid back hip-hop from The Waters. Rav's lackluster hook certainly didn't help, either.
Lil Ugly Mane – "Bitch I'm Lugubrious" (Mista Thug Isolation)
Scott: Speaking of first impressions from album covers, I was immediately turned off by whatever the fuck is going on with Mists Thug Isolation. From the terrible graphic design to Lil Ugly Mane's…unique name, this was easily my least anticipated moment from Simon's playlist.
Fortunately for me, Lil Ugly Mane's production choices and skills on the mic far surpass his artistic preferences. The way the beat chops up the piano and saxophone samples is subtlety creative and feels fresh without being flashy. From there, Lil Ugly Mane delivers a hilarious hook that flows beautifully. I love how he starts out with word choice porn when he says "Bitch I'm morose and lugubrious" before immediately chucking his thesaurus out the window to announce "I'ma let the Uzi spit/Turn his face into gooey shit." He continues to entertain throughout his verses with gems like "You acting like I'm new to this/I been sick since the uterus/I equate your uselesness to bitches that are bootyless/Your Youtube page is viewerless, it's humorous/Flyer than a stewardess, you pussies smell like tuna fish."
The second verse doesn't pack quite as may lyrical punches, but the track overall is textbook case of "don't judge a book by it's cover," no matter how awful that cover may be. Lil Ugly Mane's bars even made me overlook his down-pitched vocals, usually a turnoff for me when it comes to rap music. Though it typically feels unnecessary and distracting, it felt about as natural as it could possibly get on his vocals and added another unexpectedly enjoyable element to a track full of pleasant surprises.
Tera Melos – "40 Rods to the Hog's Head" (Drugs to the Dear Youth)
Scott: I've had a decent track record checking out my fellow contributors' "essential" artists, or artists that almost never leave their grids no matter how many playlist updates we publish. Tera Melos seem to fit that description for Simon and piqued my interest due to the number of times I've seen him include Drugs to Dear Youth's bizarre, eye-catching album artwork (if you haven't noticed so far, cover art is a big factor when I search for new music). Unlike other times when I've jumped into a band's discography, I felt like I knew pretty much nothing about Tera Melos prior to pressing play on "40 Rods to the Hog's Head." sure, I'd read that they fall under the math rock label, but 1.) I have a vague understanding of the label & 2.) the bands I know to be considered "math rock" don't have a particularly unifying sound. I love Battles, Drive Like Jehu and Slint, but I can't say I'd lump them together under one genre umbrella.
Though I never got much clarity on math rock's definition over the course of the track's 8-minute run time, I did gain an intense fascination of the band's approach to instrumental rock. Their amalgamation of post-rock, noise rock and indie rock wrapped up in a loose, almost free improvisational style grabbed my attention from the first note and took me through an enthralling sonic adventure. Not only did the music itself interest me, but the context of the album also caught my attention; this is a kind of track that feels more like a grand finale rather than an album's first full statement, and the rest of the album's songs don't even come close to its half-way point. Needless to say, it gave me a lot to ponder and look forward to when I spin the full album, and I once again have to thank Simon for giving me an excuse to finally give Tera Melos a chance.
Busdriver – "Ego Death (feat. Aesop Rock & Danny Brown)" (Perfect Hair)
Scott: I truly don't think Simon could have picked a better track to introduce me to Busdriver's music. That's not say I'd never heard of him before—my friend included one of his tracks on a mixtape back when we were in high school, but I was too obsessed with Drake to care about virtually another rapper. Needless to say, my taste in hip-hop has changed significantly since then, which is why the prospect of hearing Busdriver, Aesop Rock and Danny Brown on the same track was fucking tantalizing to say the least. I've been an Aesop fan since that same friend showed me "None Shall Pass," and Danny has remained one of my favorite rapers since XXX; Atrocity Exhibition landed in my top five last year.
And my God, does this track deliver. I'm not all that familiar with Jeremiah Jae, but his production is straight fire on this track and immediately hooked me before the actual hook. Things only go up from there; I honestly can't say enough about the way these emcees spit. Not only are their flows and rhymes top notch, it's always impressive when a feature-rich track like this can create an even balance among its rappers. There'll usually be one raper who lags behind the rest or a general lack of cohesion among everyone on the track, but in this case, everyone more than held their own and complimented each other with their unique voices and approaches to rapping.
I know I've been highlighting my favorite lyrics from the hip-hop tracks on Simon's grid, but I honestly can't pick which emcee I want to highlight above the other two. This is an incredible track that not only stands strong on its own, but also has me keenly interested in spinning Perfect Hair and giving Busdriver the attention he deserves.
Dilute – "Apple" (Grape Blueprints Pour Spinach Olive Grape)
Scott: So I know I'm coming off as wicked judgmental and shallow with my responses, but that album title immediately made me wince at the prospect of some goofy-for-the-sake-of-it Dance Gavin Dance worship (I actually love DGD, but their titles/lyrics are shoddy at best). But much to my own pleasant surprise, I was greeted with some excellent instrumental rock that sounds exactly like the music that comes to mind when I think of "math rock." I love the playful instrumentation and that type of arpeggio-heavy playing where the notes flit around the guitar's upper registry. The meandering mid-section didn't do much for me, unfortunately, but it did make the closing crescendo feel that much more massive. All in all, it's a fun song that's convinced me that I need Simon to make me an "intro to modern math rock" playlist. This is the type of bright instrumental music I could use to breathe summer into the shittiest of days.
Milo (rapsmith) – "An Encyclopedia" (So the Flies Don't Come)
Scott: Man, I love me some Milo. I remember The Needle Drop recommending I Wish My Brother Rob Was Here back in 2011 and instantly latching on to everything Milo had to offer. His "nerd rap" flair was relateable, unique and endlessly entertaining; I couldn't get enough of how much creativity he breathed into such a self-serious genre, and I found myself both moved and amused throughout the various moods he shifted through, including a tribute to a friend who died too soon and satirical attacks on homophobia in hip-hop.
Unfortunately, as I alluded to with my write-up for BROCKHAMPTON, I go through periodic hip-hop dry spells where my interest in the genre fades to zero before resurfacing as part of my regular listening habits. Milo fell prey to this trend—I enjoyed Cavalcade and Things That Happen at Day/Things That Happen at Night but lost track of his newer output after A Toothpaste Suburb. Which is why, yet again, I'm thankful for Simon giving me an excuse to see what Milo's been up to, which as it turns out is a whole lot of nerd rap goodness.
This fits comfortably into the outsider rap niche filled by emcees like Billy Woods, Elucid and Open Mike Eagle, all of whom I love quite a bit. I'm glad Milo is still using his quasi-spoken word flow and rapping over off-kilter beats, and I'm even happier to see that he's refined the rough edges and quirks of his delivery on earlier projects. While I'm a fan of his awkward delivery, it's nice to hear him sounding a bit more confident and seasoned, especially as his turns up the heat on the track's aggressive final verse. It's fitting for a track with an obvious political edge, and I'm eager to dig in more; the more listens you give to a Milo track, the further its layers reveal themselves.
Tera Melos – "Dyer Ln" (Trash Generator)
Scott: It's interesting to think that I went into this grid having never listened to Tera Melos and now have a taste of both the earliest and latest parts of their career. I don't have the context of their mid-career discography to map the evolution of their sound, so this track feels relatively surprising considering what "40 Rods to the Hog's Head" had to offer. This track is much more subdued and adds vocals to the mix, which I'm more or less indifferent to. They don't detract from or boost the quality of the track in any noticeable way, though in general, the track doesn't do that much for me anyway. Whereas "40 Rods" synthesized a myriad of interesting sounds and rock subgenres, "Dyer Ln" does somewhat of the inverse, presenting a less compelling rock conglomerate and making the whole affair feel more "normal" due to the addition of vocals and more linear composition. I'm certainly not writing off Tera Melos based on this track alone, but it seems that their earlier material will be more up my alley than Trash Generator.
---
Scott's Grid & Simon's Comments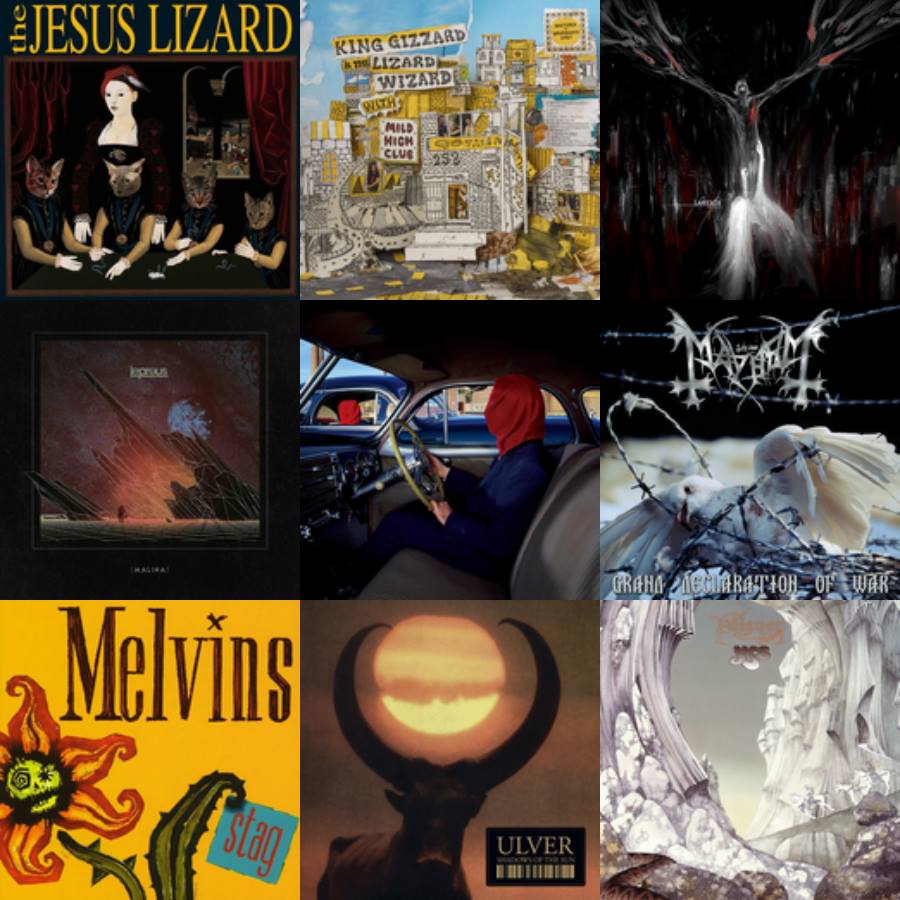 The Jesus Lizard – "Boilermaker" (Liar)
Simon: The Jesus Lizard is one of those bands that I've always heard about, given their reputation as a pretty foundational band in the field of post-hardcore, but haven't ever checked out. Post-hardcore is a genre I haven't really explored yet, only dipping my toes in with stuff like BearvsShark and the occasional At the Drive In album (although that was only to hear the origins of The Mars Volta, one of my all-time favorite bands). The only way one would know I was aware of this band is the occasional "King Gizzard & the Jesus Lizard" joke (goofy portmanteaus of band names are all the rage in the Heavy Blog circles right now).
Being the first track on what a quick google search reveals is one of their most critically-acclaimed releases, this is probably a pretty solid introduction to their sound as a band, and I gotta say, I'm not really super into it. I see exactly what they're going for, and all the parts are there, but… they just don't really coalesce into anything I solidly enjoy. The production lacks any bite or energy to it, and it causes "Boilermaker" to just sort of plod along at a pace that's a little too fast to be a good groove but a little too slow to really be energetic. I don't know, maybe I just need to come back to it after a little while. The main riff is pretty catchy, I'll give it that, but I gotta shelve this one for now.
King Gizzard & The Lizard Wizard with Mild High Club – "Tezeta" (Sketches Of Brunswick East)
Simon: Speaking of lizards, here's some lovely King Gizzard & the Lizard Wizard from their third (!!) release of 2017. Personally, I found this album to be mostly just be a pleasant diversion from their other material, especially considering the fact that it's following up the raucous and wonderful proto-metal garage-prog opus Murder of the Universe. It's good, but not great, and probably has the least lasting impact of any of this year's Gizz records. That being said, it's still a very nice listen, and a great palate cleanser in this playlist, sandwiched as it is between early post-hardcore and modern black metal.
Lantlôs – "Pulse/Surreal" (.neon)
Simon: My introduction to Lantlôs was through an unexpected figure: Justin McKinney of The Zenith Passage and The Faceless. I'd been jocking other post-black bands at the time and brought them up when I was hanging out with him and the rest of The Zenith Passage before a show of theirs in New Mexico, and he said I ought to give him a spin, since they were, according to him, the best band doing the whole post-black metal sound. Honestly, he wasn't wrong: Lantlôs is fucking great. "Pulse/Surreal," and .neon in general, show the best side of one of the genre's strongest bands; the mingling of the instruments into a meditative, melancholic rock track that eventually builds into this dense wall of ethereal black metal before returning to a quieter, slow-burn post-rock sound is absolutely beautiful. I don't really have much to say beyond the observation that this is a great song from a great band, and although post-black metal is certainly a movement that's lost a lot of steam, .neon still stands out as a fantastic release, something this track illustrates perfectly.
Leprous – "From the Flame" (Malina)
Simon: The more I listen to Malina, the more I enjoy it, and that's coming from someone who really isn't a huge fan of Leprous (or progressive metal in general). What really sells it all for me is the synthesizers: they capture this super tangible, warm, blip-bloop 80's vibe that just appeals to everything I love in electronically-produced sounds. While the rest of the instrumentation sort of pales in comparison, and this album is far from Einar Solberg's best vocal performance, those fucking synths, man. They totally get me. It's perfect.
"From the Flame" was a pretty lackluster track when I first heard it, but within the context of the album, I grew to enjoy it a lot more. It's a pretty great bite-sized piece of what Malina is all about, and the chorus manages to be both huge and disarmingly catchy, which are both definitely pluses for me. So, yeah, good song, and, if you have a hankering for some great synthesizers wrapped into a pretty digestible progressive metal, Malina is definitely an album to spin.
The Mars Volta – "L'Via L'Viaquez" (Frances the Mute)
Simon: I said earlier in this column that The Mars Volta are one of my all-time favorite bands, so I was stoked that Scott had been listening to Frances the Mute, and doubly-stoked when he picked "L'Via L'Viaquez," my favorite song of theirs, for his playlist entry. Everything about this song is perfect: the opening quasi-silence that stirs the mind into a false sense of security with a low whirr, the explosion into bombastic Latin-infused progressive rock that features some of Cedric Bixler-Zavala's best vocal melodies alongside Omar Rodriguez Lopez just absolutely tearing it up on the guitar, the descent into slow salsa with some psychedelia layered atop, the darkness of the bridge and the eventual explosion back into a completely left-field atonal guitar solo before the track slow-burns out in the last five minutes with some meandering guitar work, everything. This song is fucking perfection. One of the best rock tracks ever written. I'll leave it at that.
Mayhem – "Completion in Science of Agony" (Grand Declaration of War)
Simon: I'm not really a big fan of Mayhem, or a lot of other second-wave black metal, but that's fine, because "Completion in Science of Agony" really doesn't seem interested at all in exploring territory in that genre. Sure, there's some of the typical harsh vocals and a whole host of grim melodies, but this is far more experimental and doom-laden than anything else I've heard from the band. I'd heard before that Grand Declaration of War was pretty out there, but this was definitely not what I expected. While I doubt I'd return to this often, it's cool to see Mayhem spread their sound out a little and take a much weirder approach to their genre of choice. The album cover is super sick, too.
Melvins – "Bar-X-the Rocking M" (Stag)
Simon: Melvins is a complete 180 from Mayhem, and it's exactly what I needed to reinvigorate myself at the moment. These underappreciated (in the mainstream anyway) sludge/doom/noise-rock/grunge/what-have-you legends are always great, no matter what they're doing, and "Bar-X the Rocking M" shows them at their creative best, in my opinion. The organ and horns add this element of almost Danny Elfman-like ludicrousness to their uptempo heavy rock and perfectly complement the cartoon-villain snarl that King Buzzo employs here. I'll keep this appropriately short for the track length, and end by saying that Stag is an absolute must-listen for people who love today's stoner music but want a more upbeat and fun attitude than the constant nihilism that seems to plague the genre's current mood.
Ulver – "Solitude" (Shadows of the Sun)
Simon: This, ladies and gentlemen, is a band that can do no wrong. No matter what genre Ulver decides to pursue, it's always the right one, whether it's dark folk, ambient, raw black metal, drone rock, or Depeche Mode-worshipping melancholic synth pop. Shadows of the Sun is a brilliant illustration is a brilliant illustration of this; the mingling acoustic instrumentation and electronic ambient form this warm, beautiful soundscape that seems to simultaneously evince a sort of angelic, transcendental beauty and this completely earth-borne desperation and nostalgia. It's a testament to their strength not as instrumentalists but as musicians, as those who totally understand of how sound works and what makes music tick, that they tend to pull off these complete 180s in terms of genre with such ease. This cover of Black Sabbath's "Solitude" is excellent, taking an already stripped-down tune by the quintessential metal practitioners and finding a space for it amidst their own ouvre. I realize this praise is a decade later than it should be but well done, guys, very well done.
Yes – "Sound Chaser" (Relayer)
Simon: Holy moly, where has this been all my life? I've listened to Yes before – who hasn't – but somehow Relayer escaped my grasp (probably since I never saw it mentioned alongside Fragile or Close to the Edge, even though I'd now consider it better than both of those albums). Most of the time, progressive rock is an exercise in auto-fellatio, an obscurantist take on the classic rock formula that takes away all the best elements in favor of ridiculous neoclassical motifs and failed experimentation; at its best, though, progressive rock is one of the coolest genres in music. Patient, attentive listeners are rewarded for their perseverance in incredible ways, tracks build like tsunamis and end up carrying the same intensity, and everything has this sheen of experimental, loving polish that no other form of music can really match.
This is definitely the latter. "Sound Chaser" is phenomenally well-put-together. Improvisational jams collide with energetic riffs in a way that feels completely natural, the melody that develops over the course of the track is catchy and bouncy, and every instrument achieves this intense sense of harmony that I didn't really think was ever possible to reach in music unless one was listening to it under the influence of some mind-altering substance. Folks, this is everything that this genre aspires to. Holy shit. I'm gonna be listening to this one for a long time.