It's been a minute since our last Holy Roar Records File and even longer since I wrote one. It's only appropriate that the post is dusted off and brought back for this. Somehow, I hadn't covered Employed To Serve in this feature before but that HAD to change for one reason; The Warmth Of A Dying Sun releases today and is a bona fide game changer in hardcore and heavy music. You can throw Code Orange at me all you want, Employed To Serve are the band at the forefront of genre smashing heavy music. As always, make your own damn mind up about it but if you feel like you need convincing then read ahead. There will be bountiful amounts of hyperbole and fruity language – oh, and a track by track breakdown from EtS's very own Justine Jones. Tight.
I didn't think 2015's Greyer Than You Can Remember needed much improvement as the passion and technical ability on display made for one of the most addictive, earth shattering math metal offerings of all time. Well, I'm not too proud that I was wrong (this time! Don't expect me to make a habit of it). Everything I loved about Greyer… is improved upon on The Warmth of A Dying Sun. The melding of math and grind is even more maniacal and results in some fantastic moments of mayhem. "Good For Nothing" is rammed with twin guitar, low end attacks that result in sounds that get under the skin in the most comforting of uncomfortable fashions; much like "Church Of Mirrors" and the house party maelstrom that Employed To Serve concoct with ease – the closing riff breaking itself to pieces culminating in a bloody, brilliant climax. There's always room for brilliance to shine even brighter and a lot of the brilliance on this comes from shrieking, dissonant guitars that are far more harmonious than they have any right to be.
The most significant change on the new record comes in the form of the titanic grooves that the young UK act have perfected. Hitting harder than anything Gojira have released in the last few album cycles, Employed To Serve hit low and hard on every snapping riff and dive right into the "riff pocket" with consummate ease. If headbanging is a symptom of groove sickness then The Warmth Of A Dying Sun reaches a pandemic level. The middle section of the title track whips in for thirty seconds of swagger destined for continued smashing of "yes please, more of that thank you". It's only one passage on the standout track but it is so fucking tight that I simply needed to include it in this summary. "Platform 89" spills over with more of this new found groovemageddon, yet still evolves into the same chaotic hardcore I've already mentioned. It's the punch drunk romance of old friends sparring with words; in this case, the words are delivered with pure passion. Passion that teems with the energy of a thousand dying suns. Justine Jones sprays spit with every declaration, uttering each and every line with shameless aggression and the music is all the better for it.
From the opening salvo of "Void Ambition" to the sombre post-hardcore finale in "Apple Tree", Employed To Serve's passion is never up for question. Several releases down the line this band have brought new, refined energy to the fore. The energy and attitude of early Slipknot almost makes for a good comparison but The Warmth Of A Dying Sun is not a debut record. It's the accumulation of years on the road and in the studio and it is just about the perfect product of both. Whether they are ripping the face off of new listeners or reminding old fans that, yes, it is still definitely okay to enjoy the music of Deftones (you'll know which bits I mean, see for yourself), the young Holy Roar representatives deserve every plaudit and five star review they'll get. If SikTh changed the map of metal with The Trees Are Dead And Dried Out… then Employed To Serve are set to rework expectations in the same manner. It's going to be a long time before a band steps forward with anything this chaotic, charming and moreish.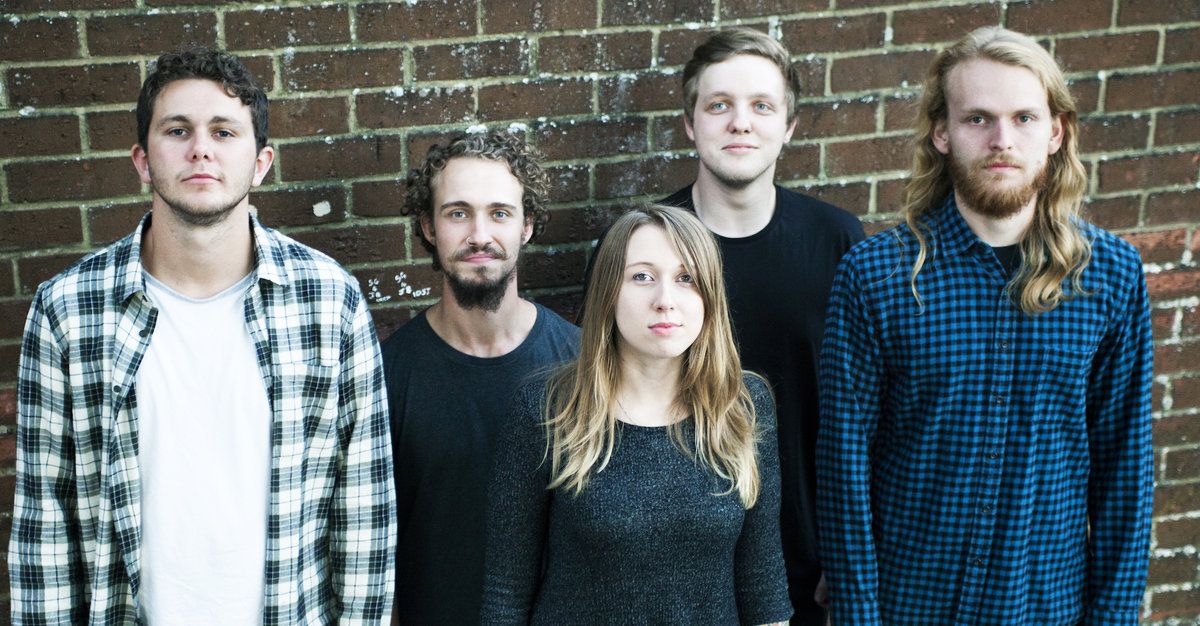 Justine Jones (center), vocalist of Employed to Serve
Now, wipe yourself off and pay attention for just a few more minutes. The terrifying on record yet pleasant otherwise Justine Jones took the time to drop an insight into each and every track on The Warmth Of A Dying Sun. Just for you. Yes, you.
"Void Ambition"
Justine Jones: This song is about doing stuff you love even if it kills you (or at least makes you very tired). I did the whisper at the beginning in one take.
"Good For Nothing"
JJ: "What's it like being a girl in a band"… Classic.
"Platform 89"
JJ: If you have people to fall back on, don't take them for granted.
"Lethargy"
JJ: Watching someone really close to you making the same mistakes and going further down a spiral that you can't help them out of.
"I Spend My Days (Wishing Them Away)"
JJ: When you're so unmotivated and bored out of your skull that you just stare blankly at one of your many screens wishing it would give you the answer. Will Haven are great aren't they?
"Never Falls Far"
JJ: This is my personal favourite on the album. This was the first song our new guitarist Rich wrote with us, he was really pleased with himself.
"The Warmth Of A Dying Sun"
JJ: This song is about my quarter life crisis. Our old guitarist JJ wrote the end riff, I feel like this is his sayonara song.
"Church Of Mirrors"
JJ: Every time we walk past an incredible monument on tour we see masses of people looking at it through their front facing camera. When we were in Prague we were stuck in traffic and saw this one guy retake his photo a good ten plus times, it was really depressing.
"Half Life"
JJ: Some days/weeks/months/years you just feel like a rain cloud is raining on your parade and half of you feels like it's missing.
"Apple Tree"
JJ: Some things are hereditary and you wonder if the same ailments will affect you at some point.