For those who missed our last installment, We post biweekly updates covering what the staff at Heavy Blog have been spinning. Given the amount of time we spend on the site telling you about music that does not fall neatly into the confines of conventional "metal," it should come as no surprise that many of us on staff have pretty eclectic tastes that range far outside of metal and heavy things. We can't post about all of them at length here, but we can at least let you know what we're actually listening to. For those that would like to participate as well (and please do) can drop a 3X3 in the comments, which can be made with tapmusic.netthrough your last.fm account, or create it manually with topsters.net. Also, consider these posts open threads to talk about pretty much anything music-related. We love hearing all of your thoughts on this stuff and love being able to nerd out along with all of you.
Scott Murphy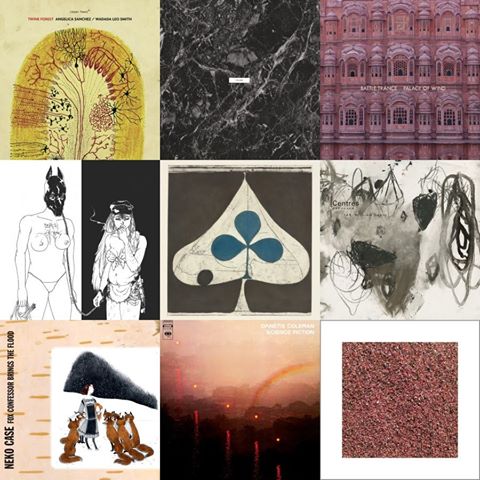 Angelica Sanchez/Wadada Leo Smith – Twine Forest
Bartholomäus Traubeck – Years
Battle Trance – Palace of Wind
Death Grips – The Money Store
Grizzly Bear – Shields
Ian William Craig – Centres
Neko Case – Fox Confessor Brings the Flood
Ornette Coleman – The Complete Science Fiction Sessions
Travis Laplante/Peter Evans – Secret Meeting
Ahmed Hasan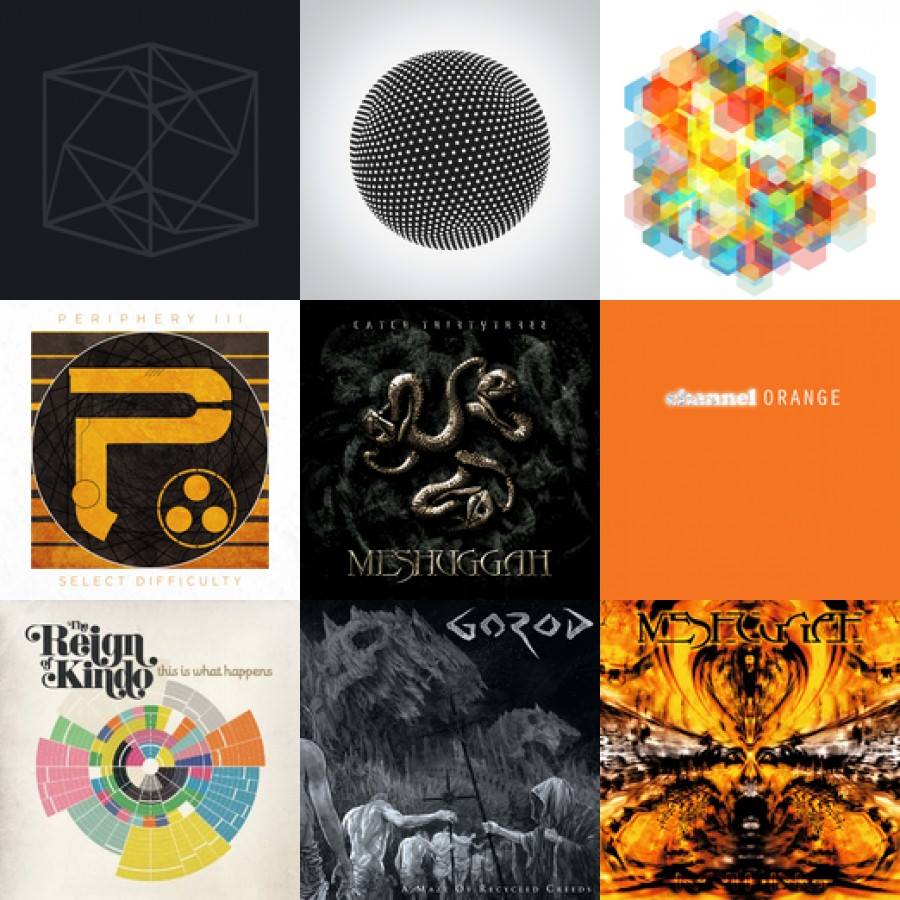 Tesseract – One
Tesseract – Altered State
Tesseract – Polaris
Periphery – Periphery III: Select Difficulty
Meshuggah – Catch 33
Frank Ocean – channel ORANGE
The Reign of Kindo – This is What Happens
Gorod – A Maze of Recycled Creeds
Meshuggah – Nothing
Jake Tiernan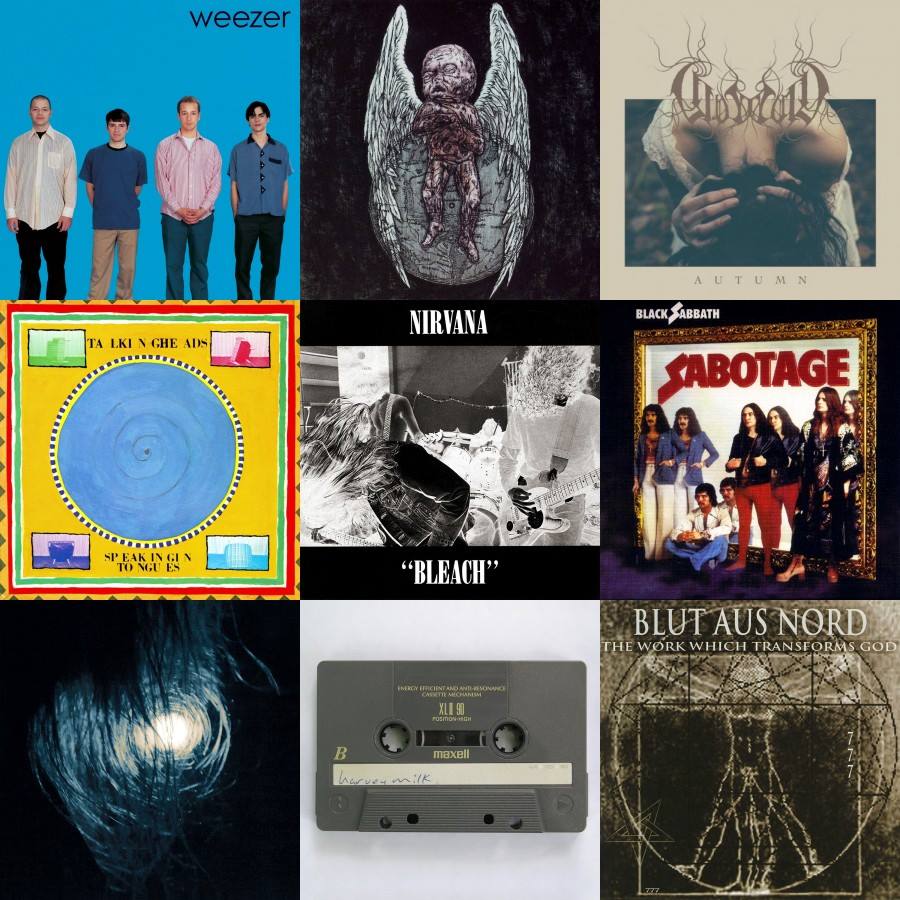 Weezer – Blue Album
Deathspell Omega – Si Monvmentvm Reqvires, Circvmspice
ColdWorld – Autumn
Talking Heads – Speaking Tongues
Nirvana – Bleach
Black Sabbath – Sabotage
Oranssi Pazuzu – Värähelïjä
Harvey Milk – Harvey Milk
Blut Aus Nord – The Work Which Transforms God
Kit Brown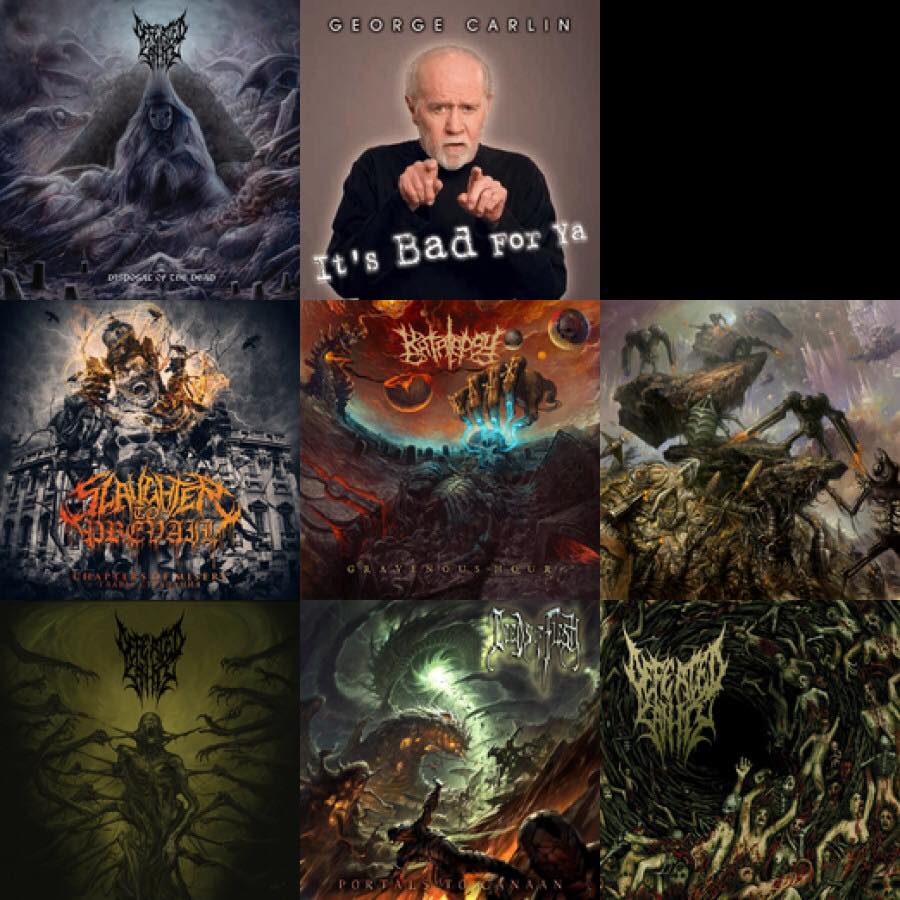 Defeated Sanity – Disposal of the Dead/Dharmata
George Carlin – It's Bad For Ya
George Carlin – Interview on Comedy
Slaughter to Prevail – Chapters of Misery
Katalepsy – Gravenous Hour
Artificial Brain – Labyrinth Constellation
Defeated Sanity – Passages Into Deformity
Deeds of Flesh – Portals to Canaan
Defeated Sanity – Psalms of the Morribound
Nick Cusworth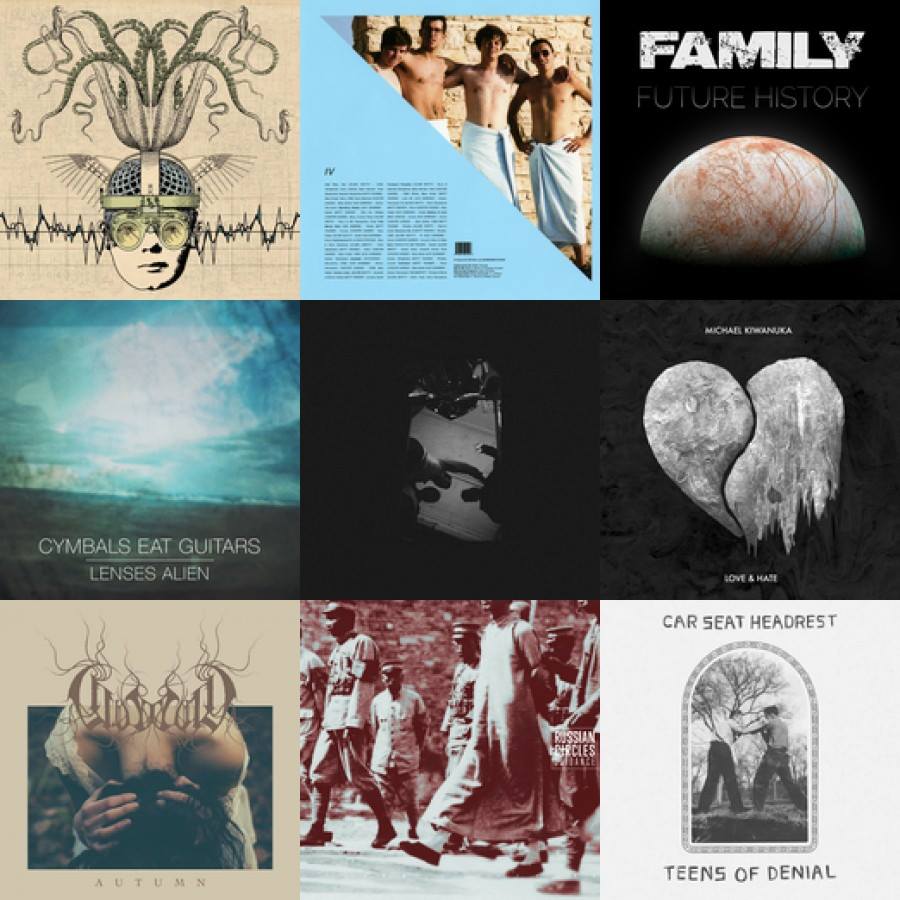 Thank You Scientist – Stranger Heads Prevail
BADBADNOTGOOD – IV
Family – Future History
Cymbals Eat Guitars – Lenses Alien
BADBADNOTGOOD – III
Michael Kiwanuka – Love & Hate
ColdWorld – Autumn
Russian Circles – Guidance
Car Seat Headrest – Teens of Denial
Eden Kupermintz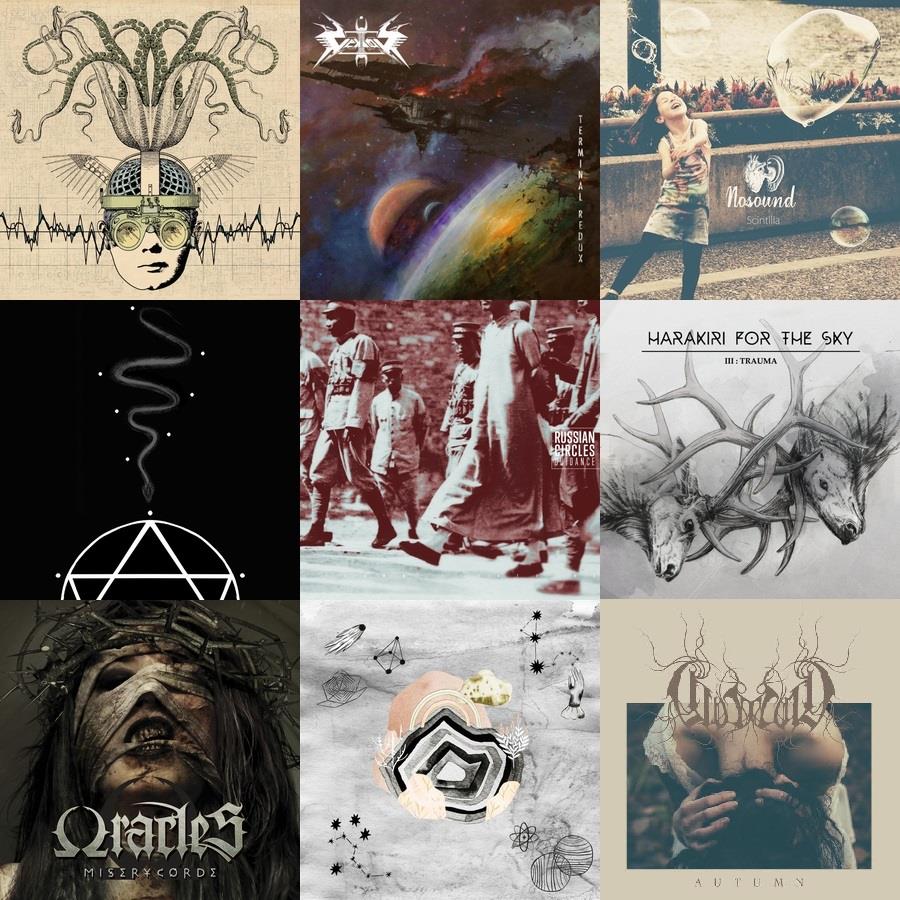 Thank You Scientist – Stranger Heads Prevail
Vektor – Terminal Redux
Nosound – Scintilla
Illudium – Septem
Russian Circles – Guidance
Harakiri For the Sky – III: Trauma
Oracles – Miserycorde
A Great Adventure or Nothing – Self Titled
ColdWorld – Autumn
Colin Kauffman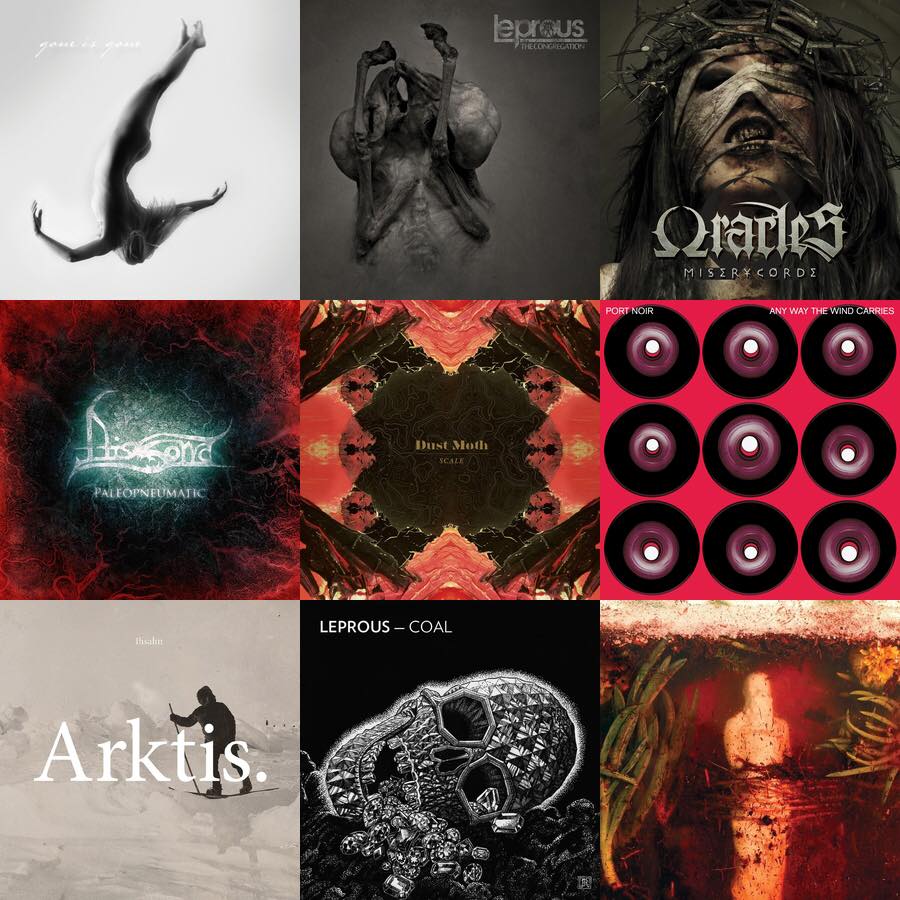 Gone is Gone – Gone is Gone
Leprous – The Congregation
Oracles – Miserycorde
Dissona – Paleopneumatic
Dust Moth – Scale
Port Noir – Any Way The Wind Carries
Ihsahn – Arktis
Leprous – Coal
Wreck and Reference – Indifferent Rivers Romance End
Simon Handmaker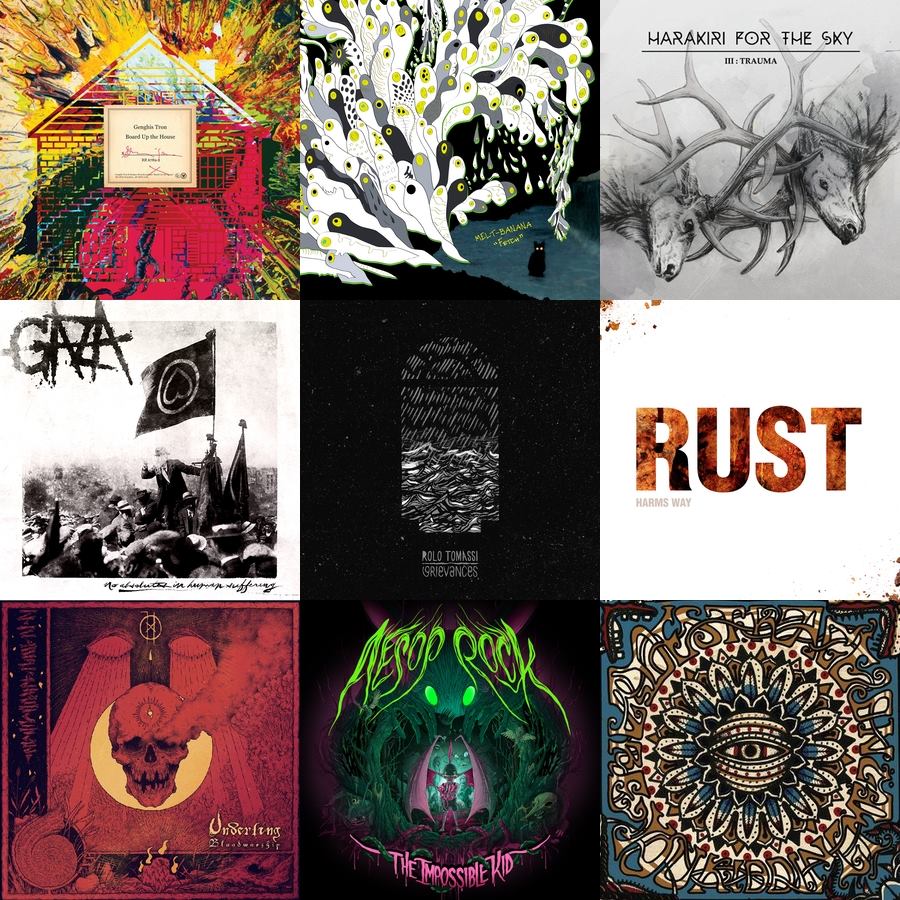 Genghis Tron – Board Up The House
Melt-banana – Fetch!
Harakiri For The Sky – III: Trauma
Gaza – No Absolutes In Human Suffering
Rolo Tomassi – Grievances
Harms Way – Rust
Underling – Blood Worship
Aesop Rock – The Impossible Kid
Destrage – Are You Kidding Me? No.
Karlo Doroc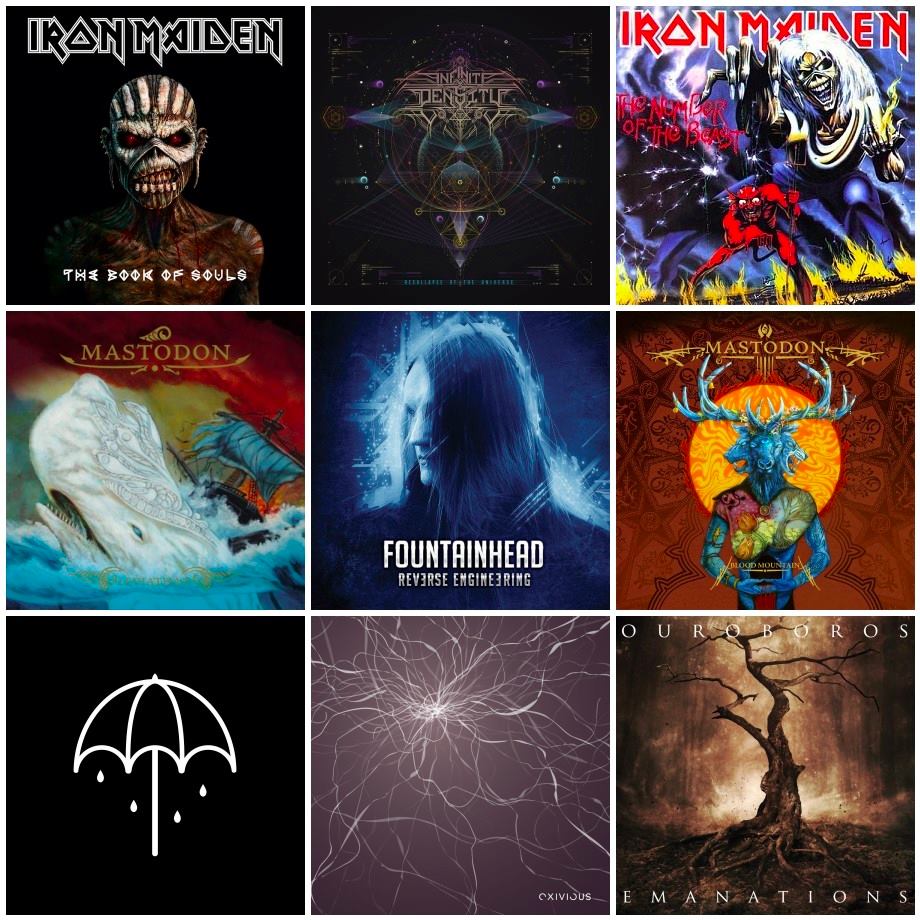 Iron Maiden – The Book of Souls
Infinite Density – Recollapse of the Universe
Iron Maiden – The Number of the Beast
Mastodon – Leviathan
Fountainhead – Reverse Engineering
Mastodon – Blood Mountain
Bring Me the Horizon – That's the Spirit
Exivious – Exivious
Ouroboros – Emanations
Jimmy Mullett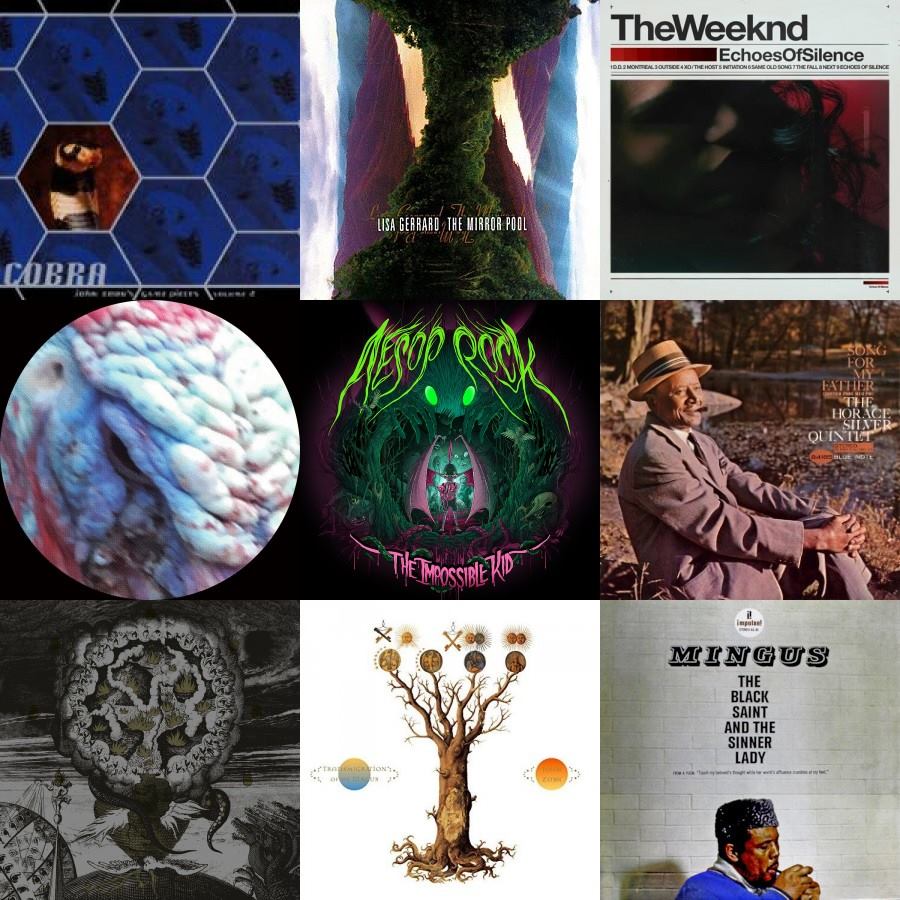 John Zorn – Cobra
Lisa Gerrard – The Mirror Pool
The Weekend – Echoes of Silence
Masami Akita – Wattle
Aesop Rock – The Impossible Kid
Horace Silver – Song For My Father
Barshasketh – Ophidian Henosis
John Zorn – Transmigration of the Magus
Charles Mingus – The Black Saint and the Sinner Lady
Andrew Hatch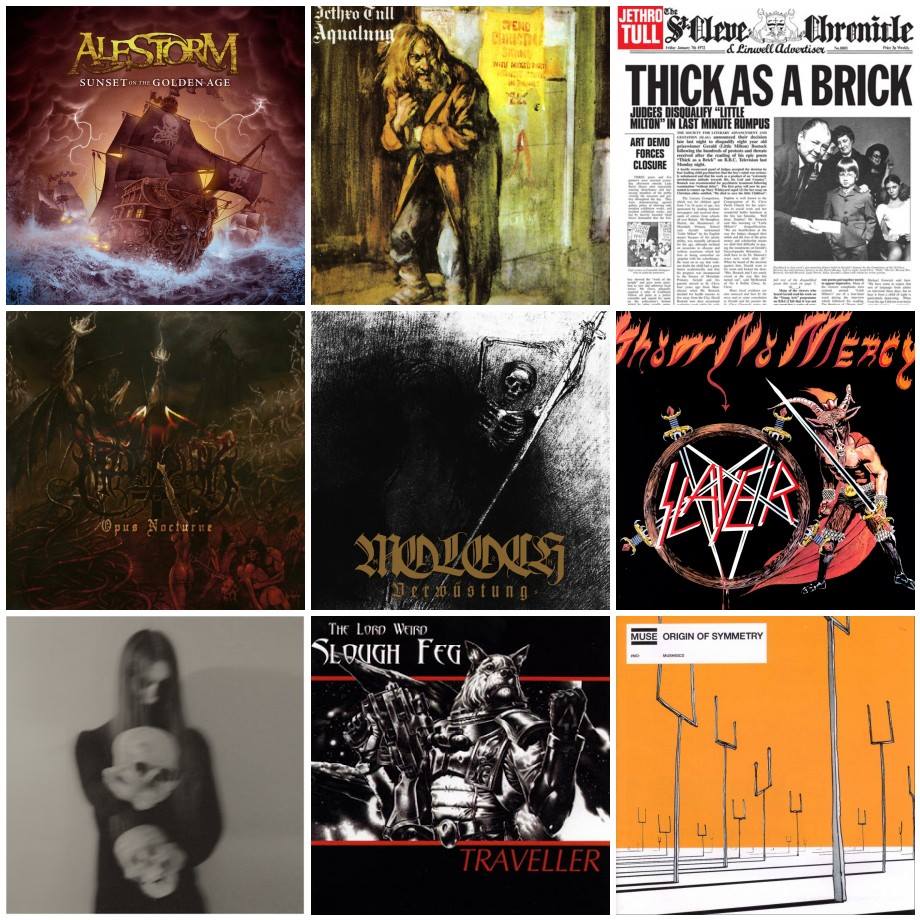 Alestorm – Sunset on the Golden Age
Jethro Tull – Aqualung
Jethro Tull – Thick as a Brick
Marduk – Opus Nocturne
Moloch – Verwustung
Slayer – Show No Mercy
Taake – Hordalands Doedskvad
The Lord Weird Slough Feg – Traveller
Muse – Origins of Symmetry
Ryan Castrati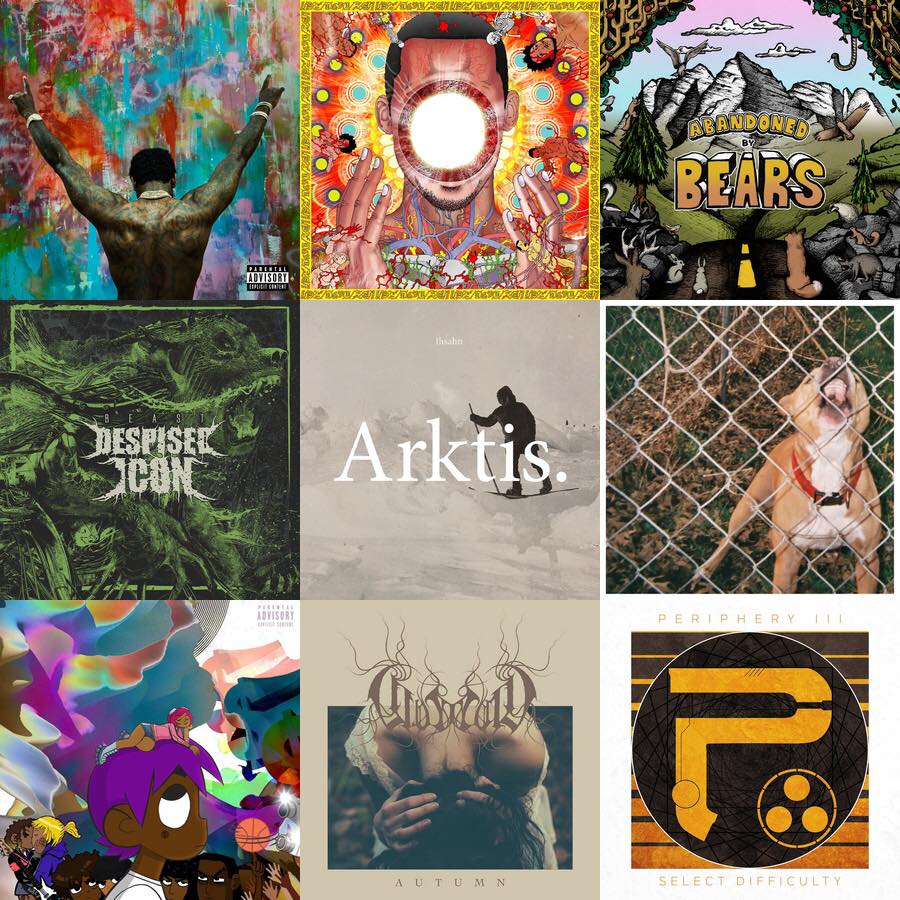 Gucci Mane – Everybody Looking
Flying Lotus – You're Dead!
Abandoned by Bears – The Years Ahead
Despised Icon – Beast
Ihsahn – Arktis.
Knocked Loose – Pop Culture
Lil Uzi Vert – Lil Uzi Vert VS. The World
ColdWorld – Autumn
Periphery – Periphery III: Select Difficulty