It isn't lost on me that given the online metal community's collective disdain for nu-metal in hindsight, it would be appropriate to write a piece in defense of each and every album in the Korn discography. However, one album that holds a special place in my heart is one of the most reviled: Korn's 2007 untitled record, their second release after founding guitar player Brian "Head" Welch's exit in 2005.
Metacritic is hardly a barometer of good taste, especially in the context of anything metal-adjacent, but for the sake of reference, Untitled is the second-worst reviewed album of the albums released in the site's existence, beginning with 2002's Untouchables. Putting it lightly, Untitled received "mixed reviews" with a score of 51, while Untouchables incidentally earned universal acclaim with an average score of 80. Surprisingly, 2003's Take A Look In The Mirror barely earns the honor of their worst reviewed album listed at a score of 49.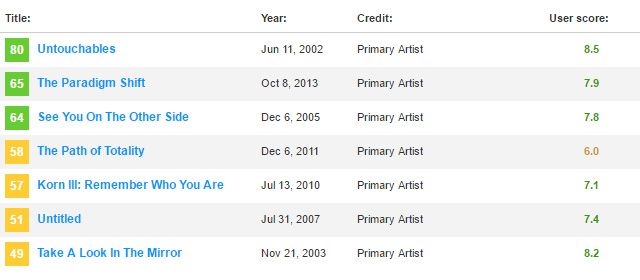 To understand Untitled, it's important to understand its context within the Korn discography. Since the beginning of their career, Korn famously never allowed their musical style to stay still for very long, with each record having its own nuance and personality. However, after Head's less than amicable departure from the group, the band made their most stark change in sound. The band compensated their loss of a main songwriter by hiring a team of producers and songwriters including duo The Matrix (whose major credits at that point included Avril Lavigne, Brittany Spears, and Shakira) and frequent Nine Inch Nails collaborator Atticus Ross.
In turn, the band ended up taking on a more industrial and experimental tone, with songwriting techniques including having jam sessions recorded, cut up, and remixed to form fully-fledged songs from the stems. This lead to the creation of See You On The Other Side, which featured some of the band's most successful hit singles — "Twisted Transistor" and "Coming Undone" — with a super-polished production style that was a contrast from the band's more stripped back and rawer approach. It paid off, with some truly catchy songs, some memorable riffs, and the record eventually earned a Platinum sales award from the RIAA.
See You On The Other Side's style and relative success (as well as yet another departure of a founding member, this time from drummer David Sylveria) would send the band spiraling further down the rabbit hole of industrial and experimental rock. The band brought back Atticus Ross to produce the follow-up, employed full time keyboard player Zac Baird, and nabbed legendary prog drummer Terry Bozzio as a contributing songwriter and session drummer to create what is the group's most ambitious and inspired records, Untitled.
Untitled features heavy use of keyboards and studio effects to build a massive and atmospheric sound. The record's intro track sets the album's tone with a chromatic piano melody building into a climactic circus chorus that pays off throughout the record's cinematic and epic experience. The initial handful of proper tracks to follow feature fuzzy, propulsive bass-heavy riffing and prominent use of synthesizers with a sound comparable to a more commercially friendly and sonically-adventurous Marilyn Manson record.
"Starting Over" features some of Jonathan Davis' best work to date, an emotionally vulnerable and energetic song about his near-death experience with a blood disorder that occurred the year before. "Bitch We Got A Problem" sees bassist Fieldy trading his slap technique in favor of leading the song with a monstrous overdriven bassline. Elsewhere, the band takes up influence from The Beatles for the delicate ballad "Kiss", while the suicidal "Hushabye" hits similar somber tones. Guitarist James "Munky" Shaffer experiments with lap-steel guitar and mandolin in each track respectively, a first for the outfit. Munky boasts the band's first ever guitar solo for "Innocent Bystander" and as simple as it may be as series of whole notes played legato, it's technically true; this is an album of firsts and onlies (onlys?).
The chromatic theme from the intro returns with "Ever Be" and "Love & Luxury", both written about Brian "Head" Welch's Jesus-like public persona and tell-all approach about the band and his history of drug abuse. "Ever Be" is truly one of the group's most expertly crafted songs in their entire career, finding inspiration in film scores and is grandiose in turn with a scope that is almost indescribable. "Love & Luxury" makes an immediate turn with its almost jarringly poppy and tongue-in-cheek gospel-like quality that is unlike anything the band has done before or since.
Thanks to Bad Religion's Brooks Wakerman co-handling session drums as well as Bozzio's prominent input, the album features some of the most complex and intricate drumming on any Korn record to date, with a fully-fledged drum solo during epic prog closer "I Will Protect You," which also features the album's only use of Jonathan Davis' trademark bagpipe skills. The band approaches death metal during the appropriately titled "Killing," which sees Davis doing his best Corpsegrinder impression while blastbeats and pick-tapping death metal riffs ride the song to a destructive close.
It makes no sense that the group's most experimental and thematically focused record is one of the worst reviewed. Perhaps it is due to its nature as an oddity in the Korn discography that critics and longtime fans took issue with it during its release cycle, but in hindsight Untitled is a snapshot of a band that could have made a half-assed attempt at recapturing the by-gone era of nu-metal glory (which they later tried with the indefensible Korn III) and instead chose to pull on the threads of inspiration and dared to do something unique and adventurous. How anyone can fault them for that is beyond me.
-JR