For those who missed our last installment, We post biweekly updates covering what the staff at Heavy Blog have been spinning. Given the amount of time we spend on the site telling you about music that does not fall neatly into the confines of conventional "metal," it should come as no surprise that many of us on staff have pretty eclectic tastes that range far outside of metal and heavy things. We can't post about all of them at length here, but we can at least let you know what we're actually listening to. For those that would like to participate as well (and please do) can drop a 3X3 in the comments, which can be made with tapmusic.net through your last.fm account, or create it manually with topsters.net. Also, consider these posts open threads to talk about pretty much anything music-related. We love hearing all of your thoughts on this stuff and love being able to nerd out along with all of you.
Scott Murphy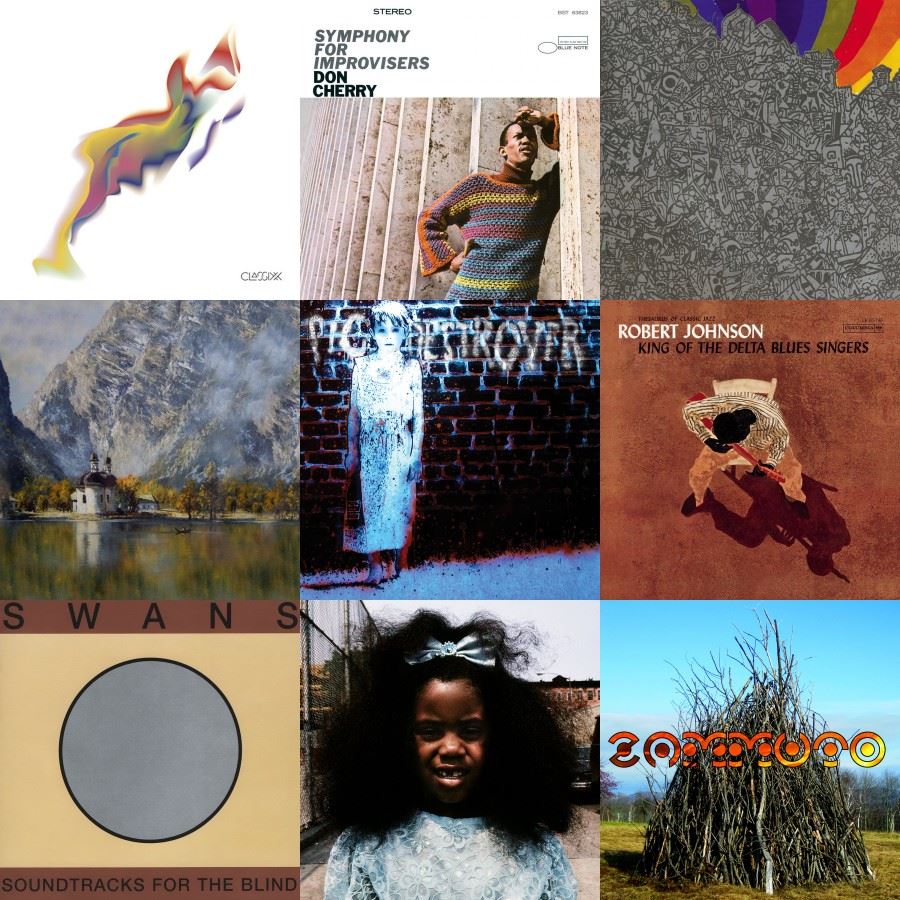 Classixx – Faraway Reach
Don Cherry – Symphony for Improvisers
Lightning Bolt – Wonderful Rainbow
Pantha du Prince – Black Noise
Pig Destroyer – Book Burner
Robert Johnson – King of the Delta Blues Singers
Swans – Soundtracks for the Blind
Xenia Rubinos – Black Terry Cat
Zammuto – S/T
Matt MacLennan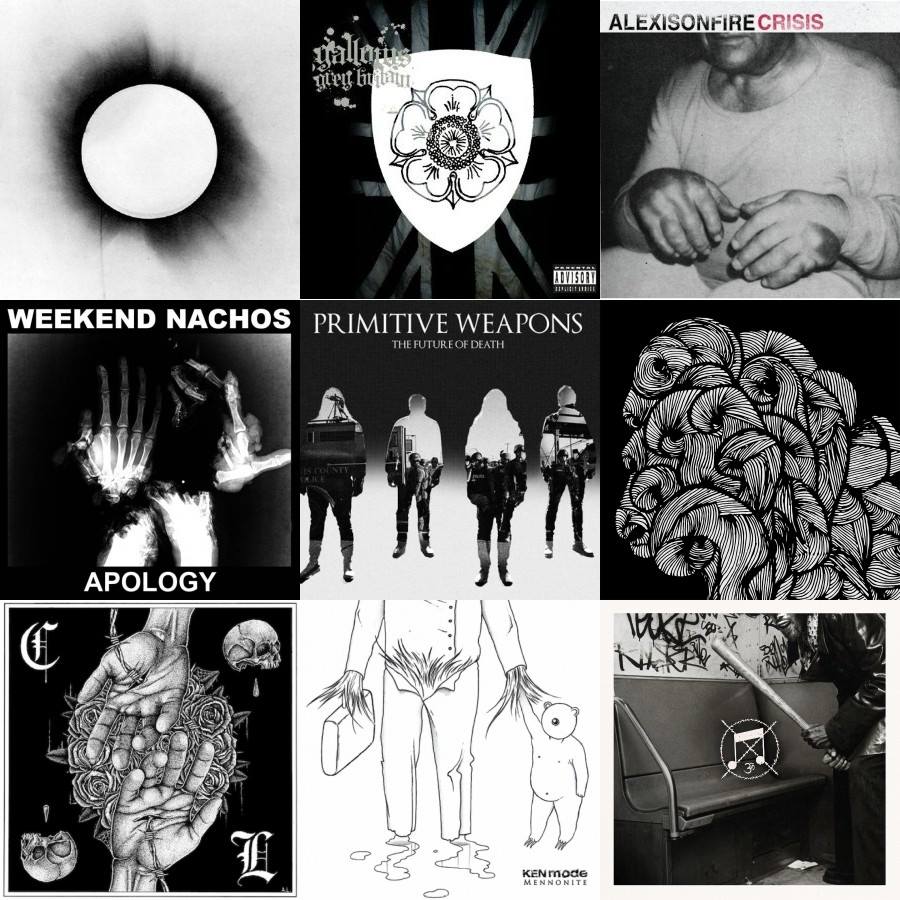 Architects – All Our Gods Have Abandoned Us
Gallows – Grey Britain
Alexisonfire – Crisis
Weekend Nachos – Apology
Primitive Weapons – The Future Of Death
Svalbard – One Day All This Will End
Cult Leader – Lightless Walk
KEN mode – Mennonite
Magrudergrind – II
Mark Valentino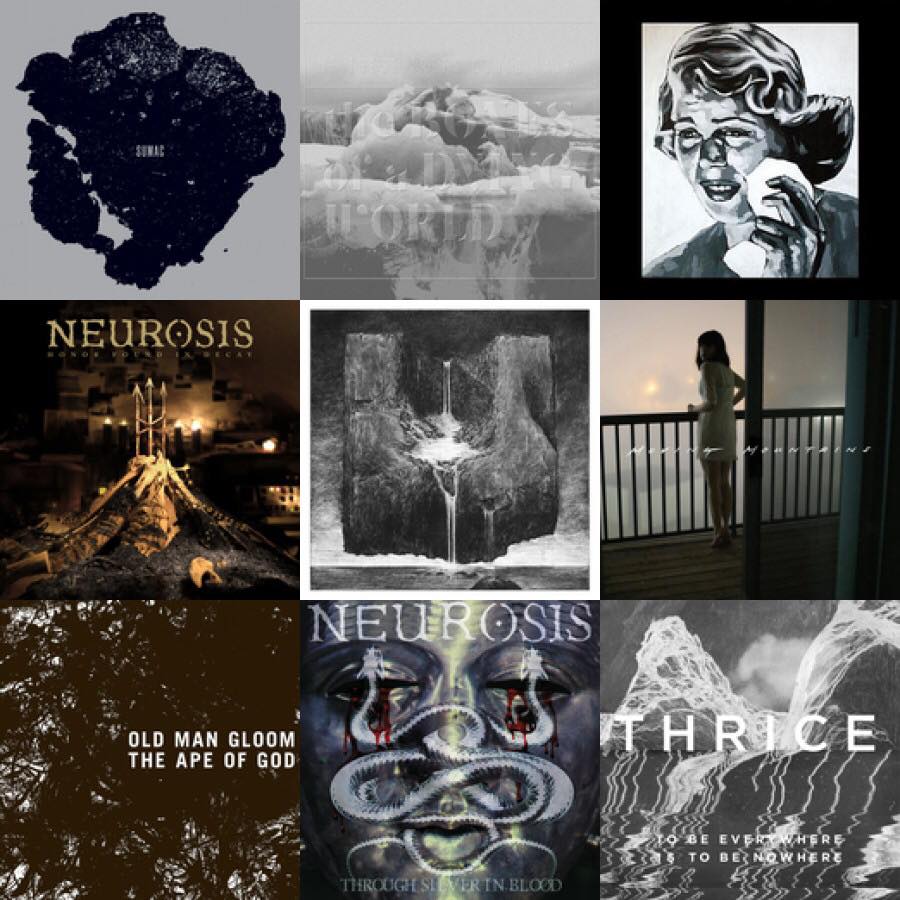 Sumac – What One Becomes
If These Trees Could Talk – The Bones Of A Dying World
Daughters – Daughters
Neurosis – Honor Found In Decay
Zhrine – Unortheta
Moving Mountains – Moving Mountains
Old Man Gloom – The Ape Of God part I
Neurosis – Through Silver And Blood
Thrice – To Be Nowhere Is To Be Everywhere
Kit Brown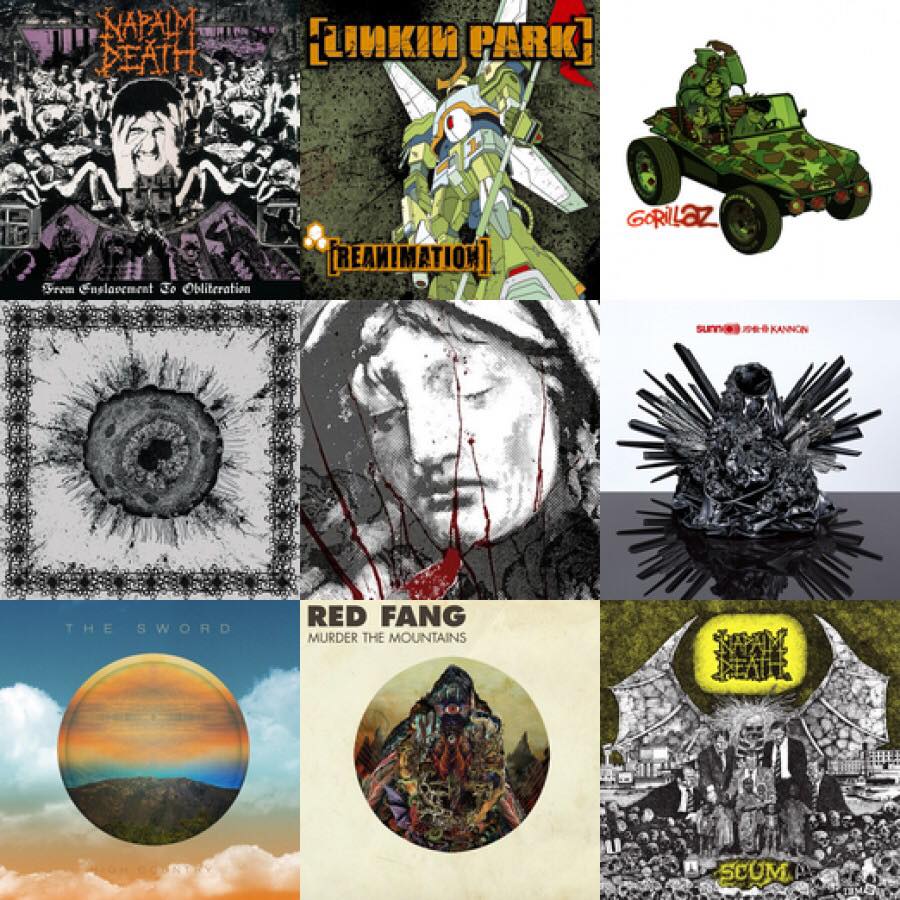 Napalm Death – From Enslavement to Obliteration
Linkin Park – Reanimation
Gorillaz – Gorillaz
Pyrrhon – Growth Without End
Full of Hell – Split
Sunn O))) – Kannon
The Sword – High Country
Red Fang – Murder the Mountains
Napalm Death – Scum
Ahmed Hasan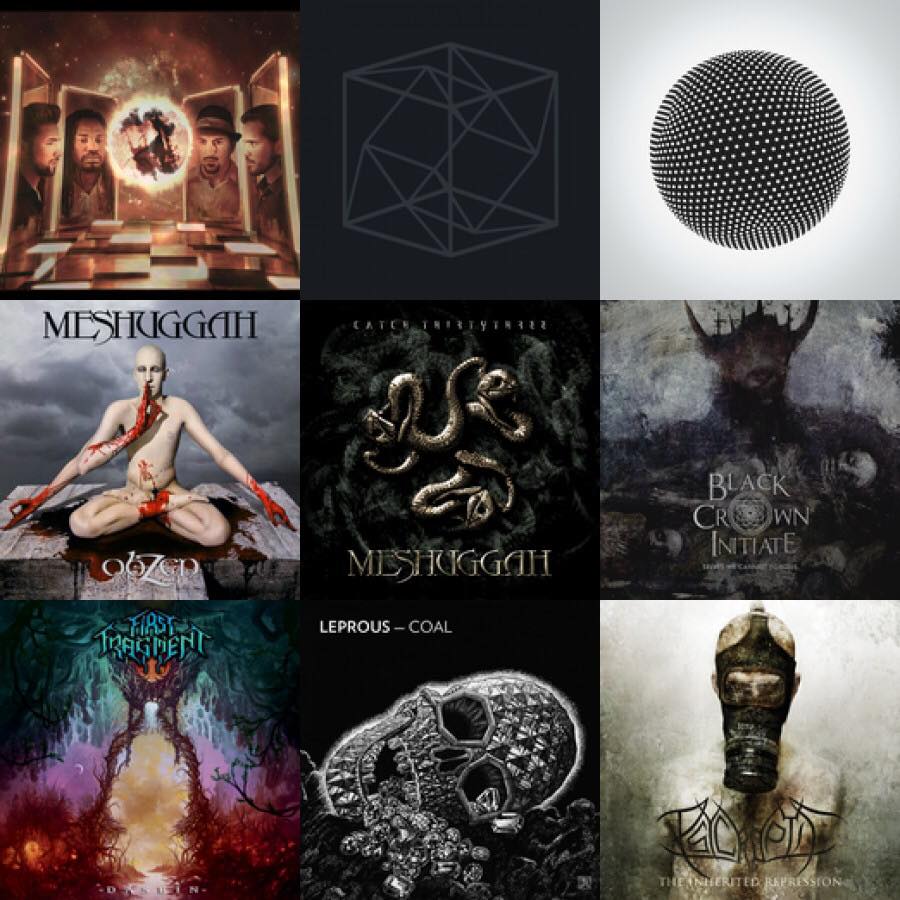 Novallo – Novallo II
Tesseract – One
Tesseract – Altered State
Meshuggah – obZen
Meshuggah – Catch 33
Black Crown Initiate – Selves We Cannot Forgive
First Fragment – Dasein
Leprous – Coal
Psycroptic – The Inherited Repression
Andrew Hatch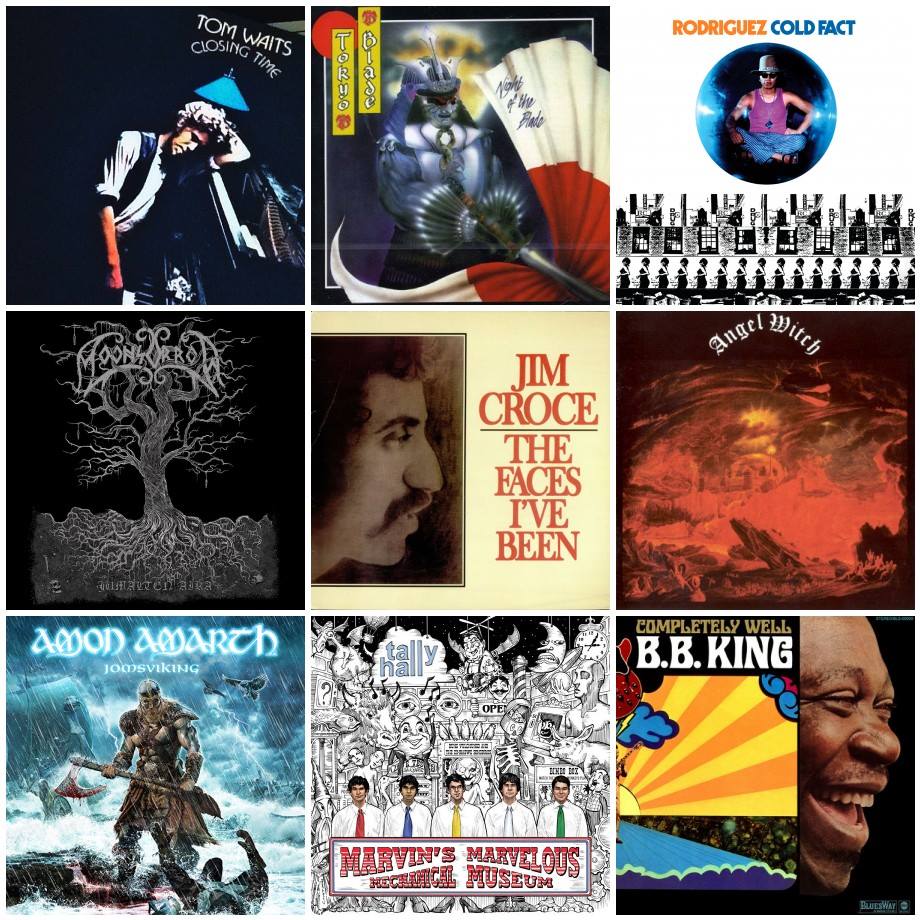 Tom Waits – Closing Time
Tokyo Blade – Night of the Blade
Rodriguez – Cold Fact
Moonsorrow – Jumalten Aika
Jim Croce – The Faces I've Been
Angel Witch – Angel Witch
Amon Amarth – Jomsviking
Tally Hall – Marvin's Marvelous Mechanical Museum
B.B. King – Completely Well
Simon Handmaker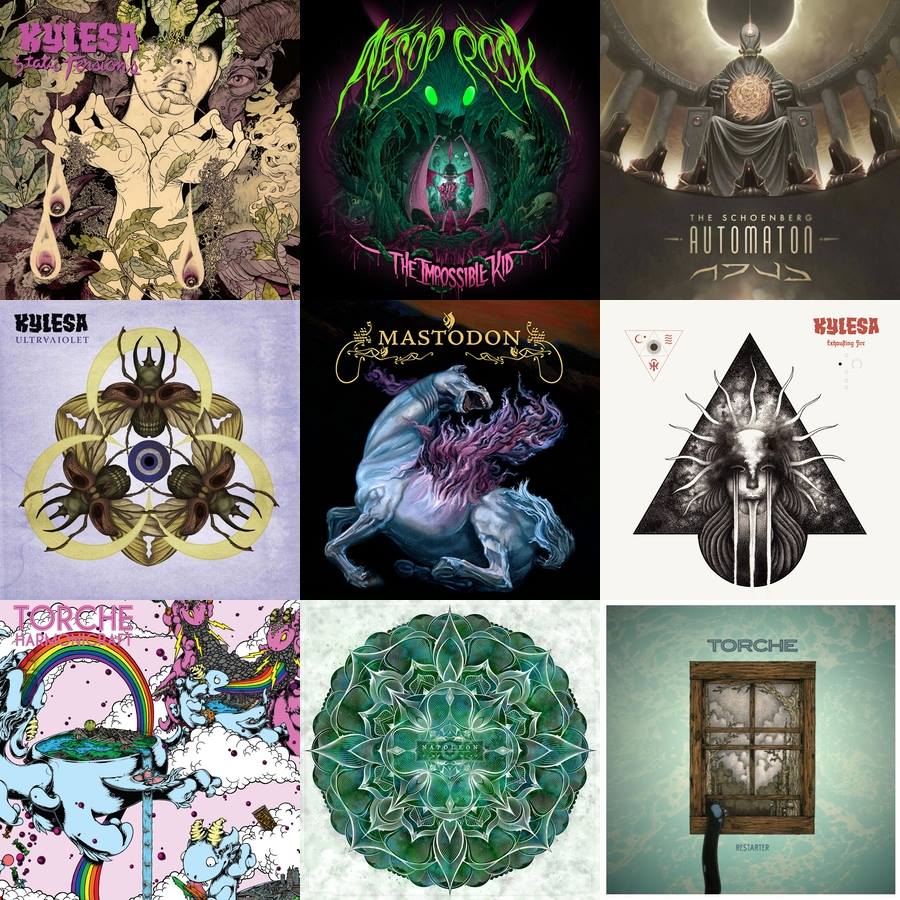 Kylesa – Static Tensions
Aesop Rock – The Impossible Kid
The Schoenberg Automaton – Apus
Kylesa – Ultraviolet
Mastodon – Remission
Kylesa – Exhausting Fire
Torche – Harmonicraft
Napoleon – Newborn Mind
Torche – Restarter
David Aleksov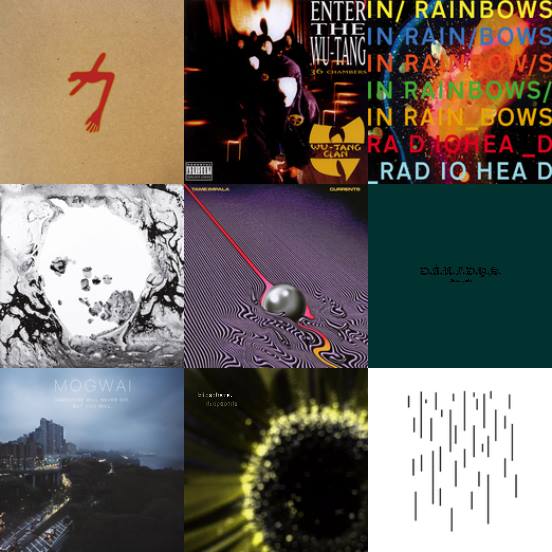 Swans – The Glowing Man
Wu-Tang Clan – Enter the Wu-Tang (36 Chambers)
Radiohead – In Rainbows
Radiohead – A Moon Shaped Pool
Tame Impala – Currents
D.Å.R.F.D.H.S. – Förensligandet
Mogwai – Hardcore Will Never Die, But You Will
Biosphere- Dropsonde
GoGo Penguin – v2.0
Jimmy Mullett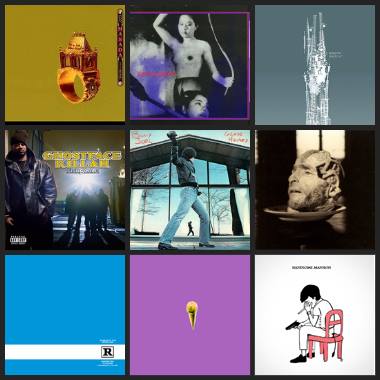 Masada – Live at Tonic 2001
Rosetta – Wake/Lift
Naked City – Torture Garden
Ghostface Killah – Fishscale
Billy Joel – Glass Houses
Naked City – Grand Guignol
Queens of the Stone Age – Rated R
Campaign Committee – Let's Die?
Handsome Mansion – Handsome Mansion
Karlo Doroc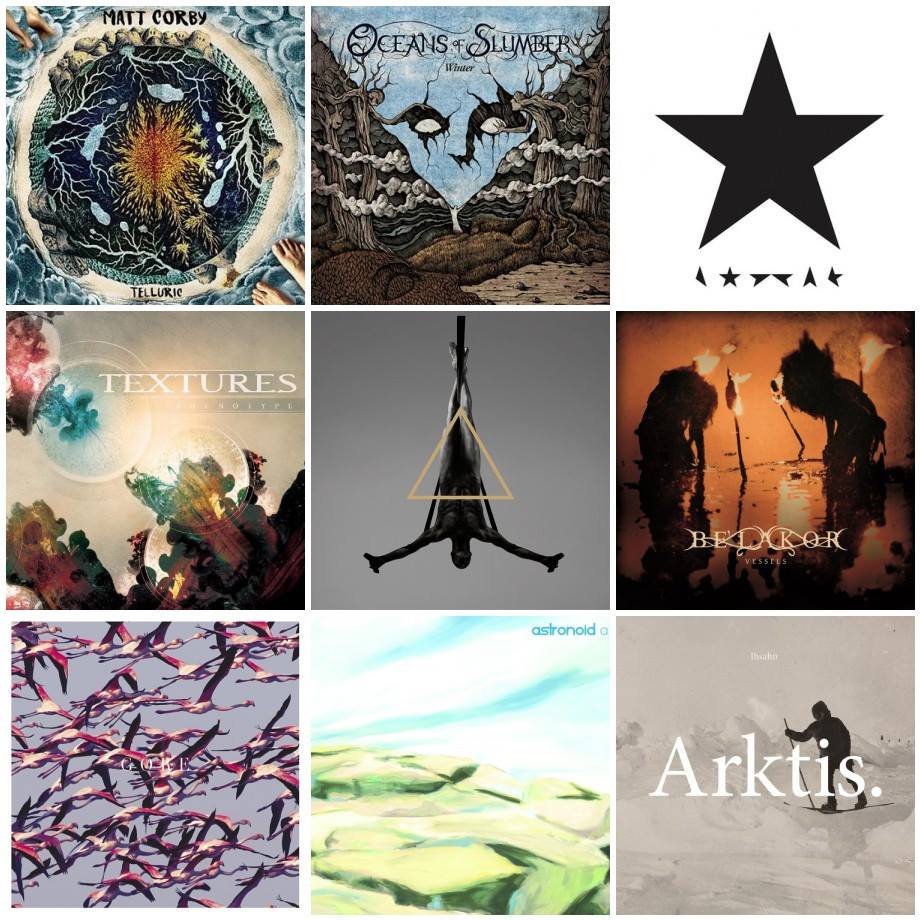 Matt Corby – Telluric
Oceans of Slumber – Winter
David Bowie – Blackstar
Textures – Phenotype
Schammasch – Triangle
Be'lakor – Vessels
Deftones – Gore
Astronoid – Air
Ihsahn – Arktis
Spencer Snitil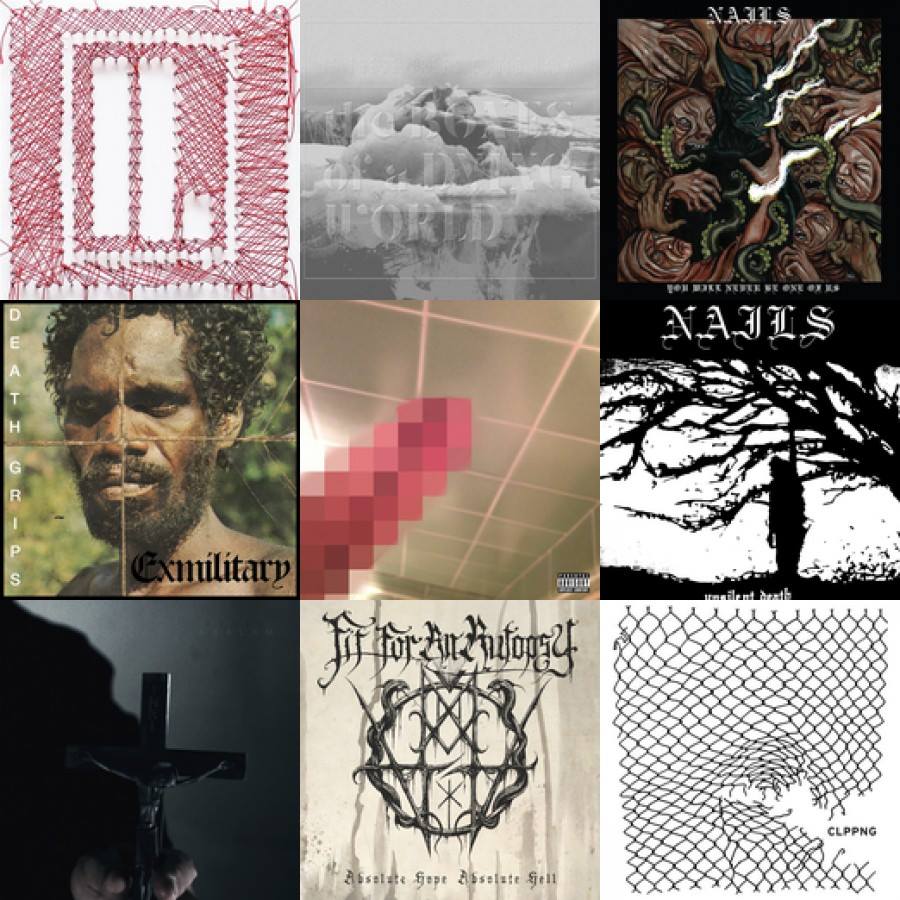 letlive. – If I'm The Devil…
If These Trees Could Talk – The Bones Of A Dying World
Nails – You Will Never Be One Of Us
Death Grips – Exmilitary
Death Grips – No Love Deep Web
Nails – Unsilent Death
Hexis – Abalam
Fit For An Autopsy – Absolute Hope Absolute Hell
clipping. – clipping.
Eden Kupermintz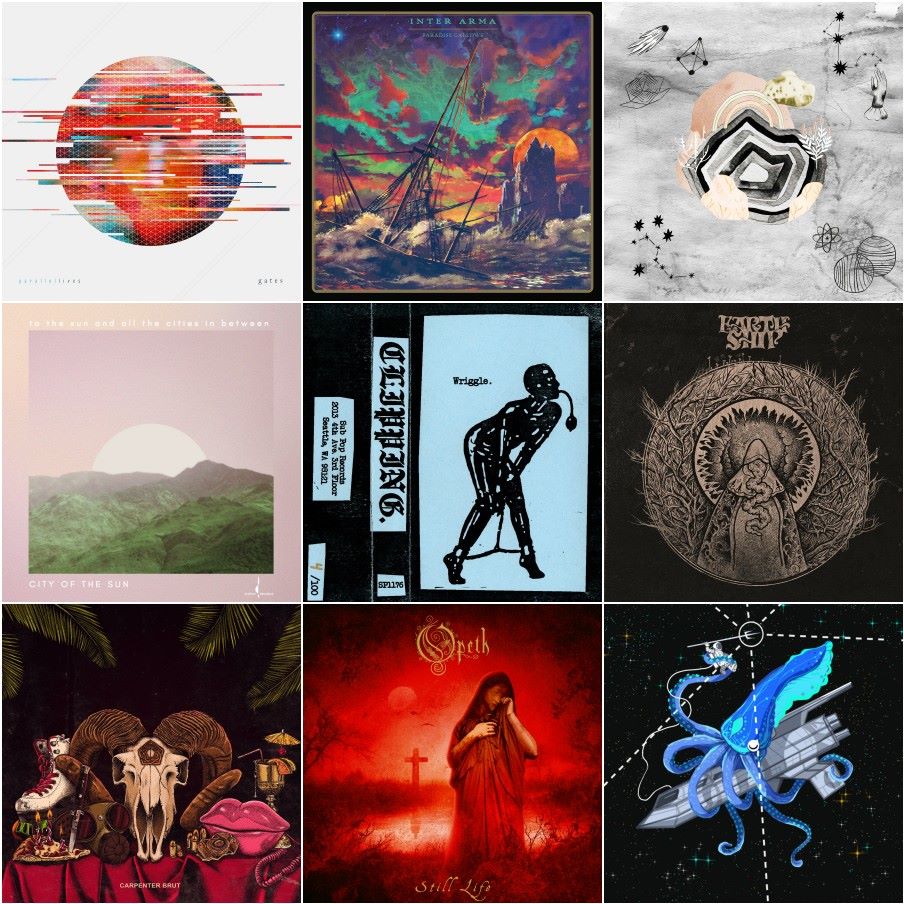 Gates – Parallel Lives
Inter Arma – The Paradise Gallows
A Great Adventure Or Nothing – Self Titled
City of the Sun – To the Sun and All the Cities in Between
Clipping – Wriggle
Earthship – Hollowed
Carpenter Brut – Trilogy
Opeth – Still Life
Red Hands Black Feet – We Must Fall Forever if We Survive
Nick Cusworth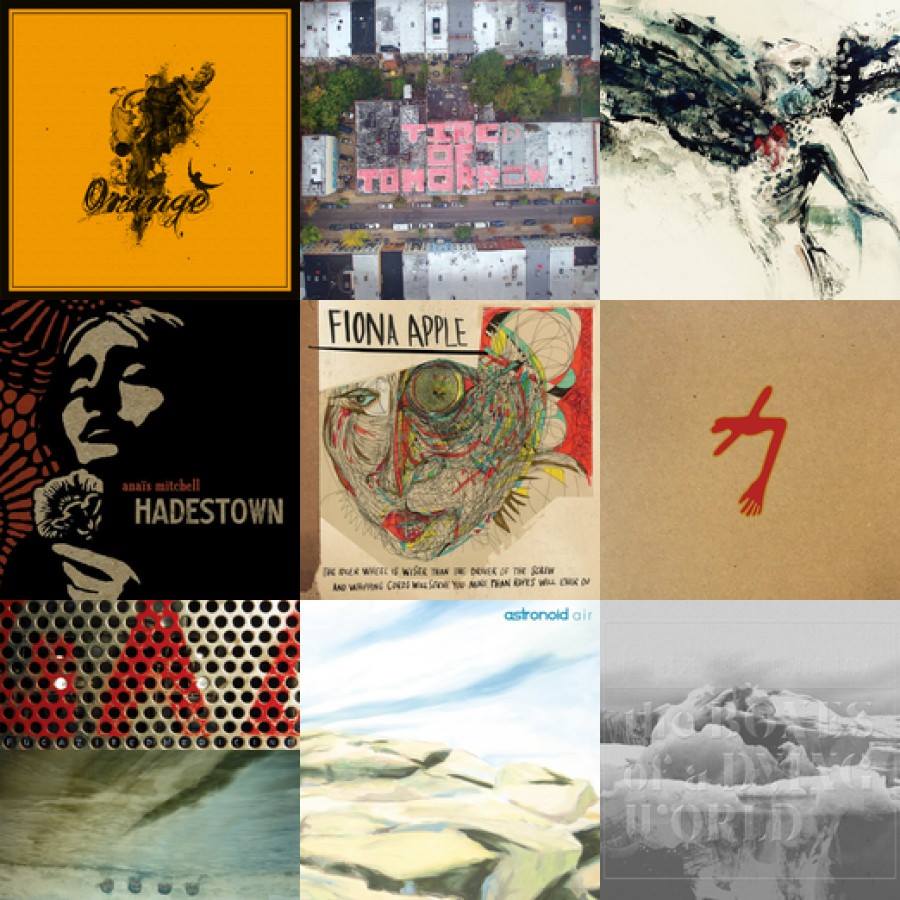 Dark Suns – Orange
Nothing – Tired of Tomorrow
Dark Suns – Everchild
Anais Mitchell – Hadestown
Fiona Apple – The Idler Wheel Is Wiser Than the Driver of the Screw and Whipping Cords Will Serve You More Than Ropes Ever Do
Swans – The Glowing Man
Fugazi – Red Medicine
Astronoid – Air
If These Trees Could Talk – The Bones of a Dying World
Colin Kauffman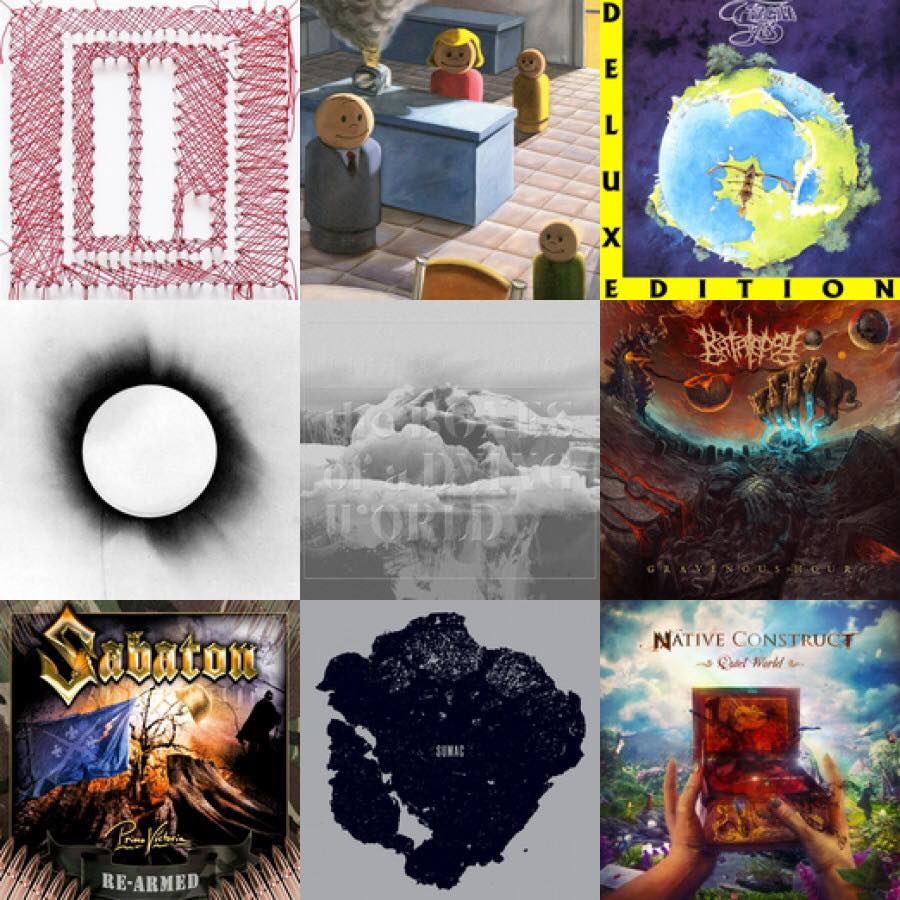 Letlive. – …If I'm The Devil
Sunny Day Real Estate – Diary
Yes – Fragile
Architects – All Our Gods Have Abandoned Us
If These Trees Could Talk – The Bones Of A Dying World
Katalepsy – Gravenous Hour
Sabaton – Primo Victoria
Sumac – What One Becomes
Native Construct – Quiet World