A few crafty Reddit users pieced together some sparse information about an upcoming progressive tour that is sure to open some third eyes everywhere. Reddit user taylorj474 posted the above image on Reddit saying they had it on "good authority" that this tour was happening. The above image is a mobile screencap of an email stating that TesseracT are headlining a show with The Contortionist, ERRA, and Skyharbor at the Troubadour in West Hollywood, California.
Are you excited yet? Well, you should be, because another intrepid Reddit user managed to piece together tour dates from a very small and out-of-focus tour poster. Bless them.
The SHOWstubs page (now unavailable), which was the original home of the tour poster below, was deciphered by Reddit user jcs12c for the following dates: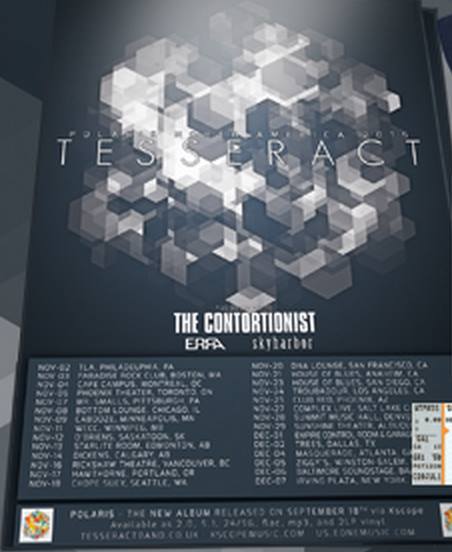 Nov 2 Philadelhpia, PA
Nov 3 Boston, MA
Nov 4 Montreal
Nov 5 Toronto
Nov 7 Pittsburgh, PA
Nov 8 Chicago, IL
Nov 9 Minneapolis, MN
Nov 11 Winnipeg, MB
Nov 12 Saskatoon
Nov 13 Edmonton, AB
Nov 14 Calgary, AB
Nov 16, Vancouver, BC
Nov 17, Portland, OR
Nov 18 Seattle, WA
Nov 20, San Francisco, CA
Nov 21 Anaheim, CA
Nov 23 San Diego, CA
Nov 24 Los Angeles, CA
Nov 25 Phoenix, AZ
Nov 27? Salt Lake City, Utah
Nov 28 Denver, CO
Nov 29 Albuquerque, NM
Dec 1 Austin, TX
Dec 2 Dallas, TX
Dec 4 Atlanta, GA
Dec 5 Winston Salem, NC
Dec 6 Baltimore, MD
Dec 7 Irving Plaza, NY
Now this. This is a tour.
Venues are still to be confirmed, but rest assured, the announcement will come in an official capacity sometime next week.
-KG