A little less than  a month ago, we covered the first wave of band announcements for the third annual Housecore Horror Film Festival (more info here), a horror film and heavy music soiree scheduled for this August. The bands packed into that announcement included Suffocation, Autopsy, Cripple Bastards, Nails, SYk & Dalila Kayros, YOB, Eyehategod, Child Bite, Warbeast, with still more bands to be announced. That day has no arrived, with another impressive list of bands being added to an already exceptional roster. Head past the jump to see the new additions to the festival: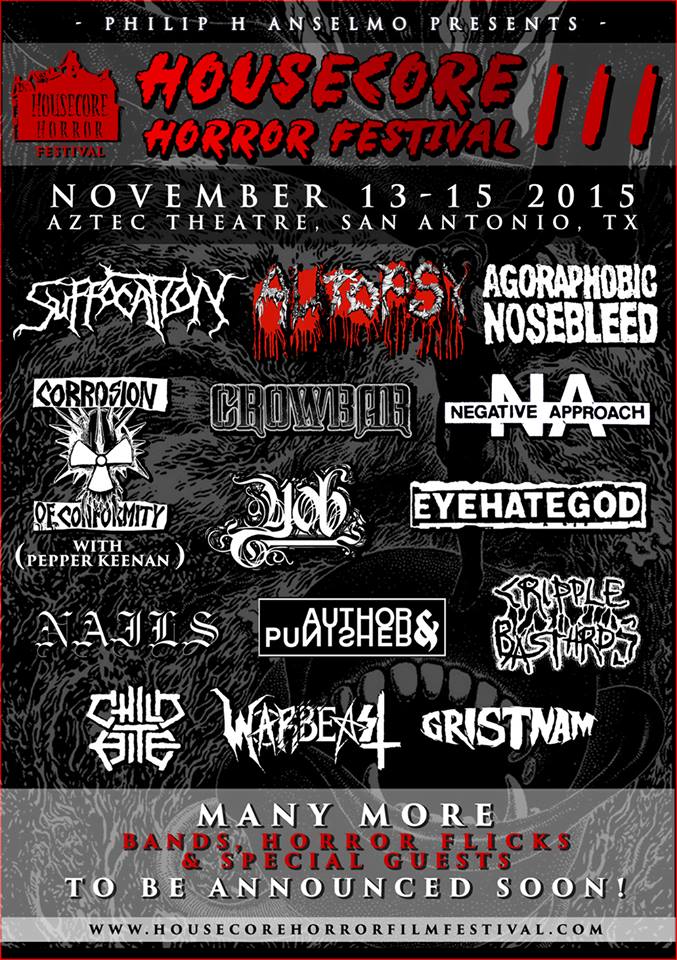 Second Wave of Bands:
Corrosion Of Conformity (with Pepper)
Crowbar
Author & Punisher
Agoraphobic Nosebleed (2nd live show ever)
Negative Approach
Gristnam (formerly haarp)
None of these additions are particularly surprising, but they are all excellent. Agoraphobic Nosebleed just performed their first live show at this year's Maryland Deathfest, so anyone who missed that and is in the Texas area should unquestionably aim to attend this event. An additional highlight is the inclusion of Pepper Keenan on lead vocals for C.O.C., as he just rejoined the band in 2014 after leaving in 2006. Authore & Punisher is perhaps the greatest announcement here, due largely in part to how much we adore the mhere at Heavy Blog. Look for a review of their new album Melk En Honing from yours truly later this week.
For more info on the festival, including ticket info, head to their website here.
-SM