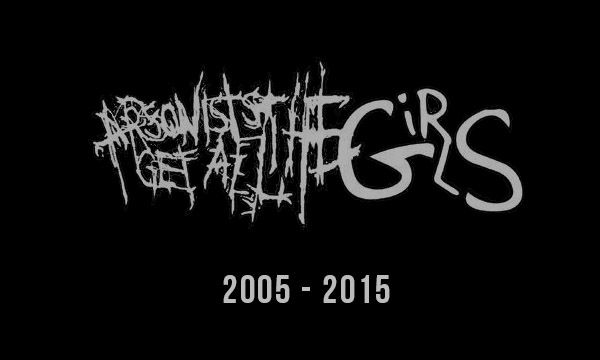 In the words of Robert Frost, "nothing gold can stay." And unfortunately, it's my duty as a news writer for Heavy Blog Is Heavy to tell you that something gold has left. The experimental-deathcore-turned-psychedelic-deathgrind masters, Arsonists Get All The Girls, have called it quits.
To be honest, this has been a long time coming. Their Facebook page has been inactive since November of last year, and recently, they've had trouble organizing to follow through with any perks from a crowdfunding campaign they did to raise money to help their touring situation. And now Garin Rosen, the only remaining original member (up until two days ago), has let the cat out of the bag: yes, the band has broken up.
Posting on personal Facebook today, Rosen confirmed the rumors:  "Thanks again for everything! Now everyone knows . It's been a fucking hell of a ride! Thanks for everything again. I love you all." Attached was a screenshot of this Lambgoat article.
It's unfortunate, but the death of AGATG has been a long time coming. The band's activity slowed to a crawl shortly after the release of their 2013 swan song, Listen To The Color, and recently, all voice from them has been lost. My only regret is that I never got a chance to see them live. Rest in peace, Arsonists Get All The Girls. You've gone the way of all of my other favorite deathcore bands.
– SH